Ian Treuer's daily commute is a short one; a mere 100 steps separate his residence and jobsite at Lakeside Farmstead, a dairy, beef and potato operation owned by Jeff and Coralee Nonay 30 minutes north of Edmonton.
In 2018, that operation expanded into the realm of cheese with Treuer, who first acted as facility design consultant before donning the cap of head cheesemaker. The mastery of rennets and cultures is not a new undertaking for Treuer who turned his hobby of cheesemaking into a profession a decade ago.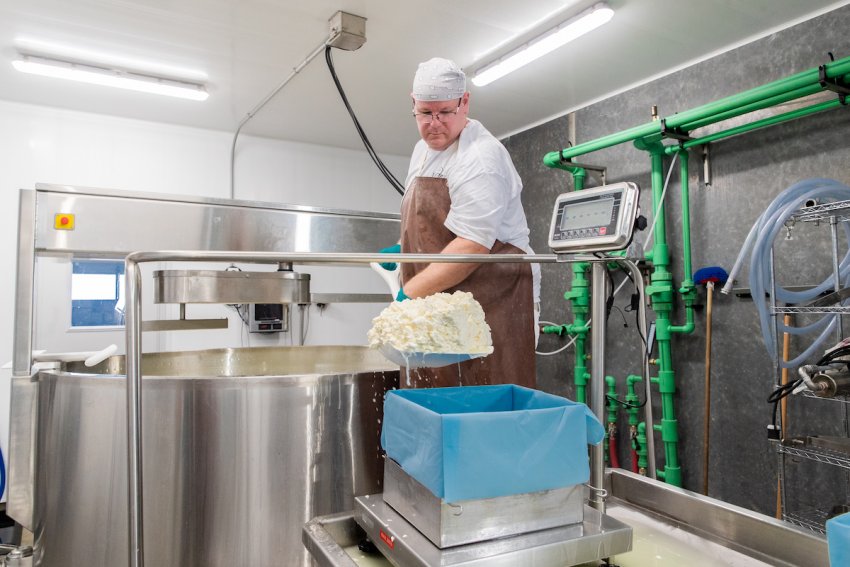 After tasting, testing and tweaking recipes for nearly a year, Lakeside Farmstead's first cheese product, fresh curds, landed on store shelves in October 2020. A half-dozen other cheeses followed, including two types of soft ripened cheese and the world's first Chaga Cheddar.
Chaga is a fungal, woody growth, unique to Alberta birch trees. Soaking the curds in chaga-infused tea followed by weeks of aging creates a firm cheddar with a nutty flavour and marble-like aesthetic. It's been an interesting and fulfilling journey for Treuer who is happiest when he's either talking cheese or gowned up and elbow deep in the process.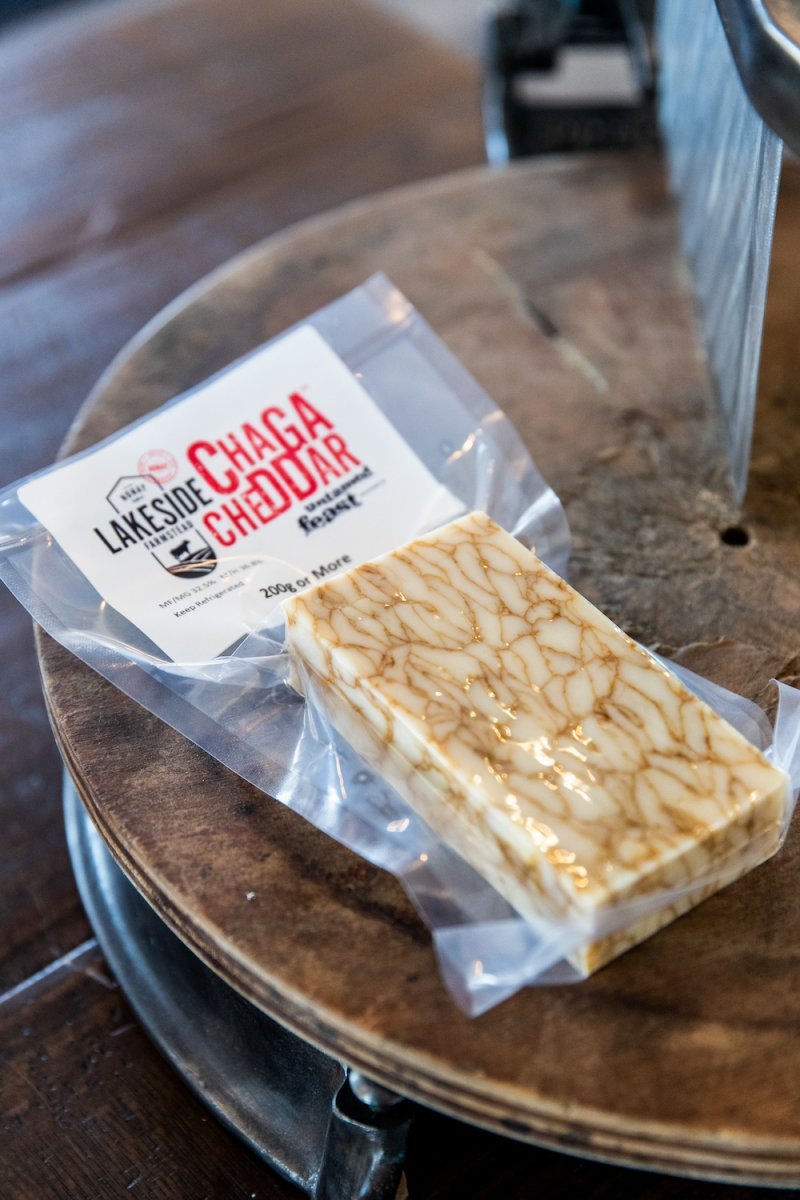 "Every couple of days, I pick up the cheese, turn it over and wash it with solution," he says. "It's a very hands-on experience, and I like that."
He's speaking specifically about the soft, ripened, Washed Rind cheese which he calls underrated because of its distinct, somewhat funky aroma. That unique characteristic is not indicative of the flavour. It is a luscious cheese; full-flavoured but not overbearing. Pair it with a white Burgundy, a chewy baguette, and it would be easy to escape our cold Alberta winters for France, if only in an imaginative sense.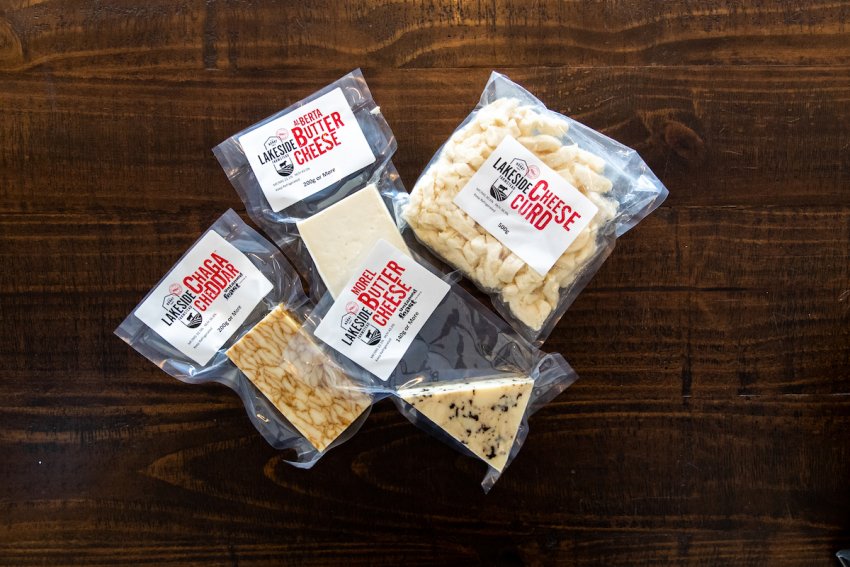 Every Lakeside Farmstead cheese—from the firm Morel Cheddar to the whipped ricotta-like Fromage Blanc—is made from milk provided by the Holstein herd in the dairy operation of the Nonays' diverse farming portfolio.
The issue of milk sourcing is important. This is single herd cheese, and just like single estate in the word of wine, the singleness of the raw product speaks to terroir and the very essence of the product. The taste, the smell and the texture of the cheese is not only a result of Treuer's fine-tuning, but also because of what the animals are fed and how they're raised.
While Treuer turns milk into cheese, and Jeff Nonay turns manure into compost, sows seed into soil, and tends to all the other vagaries of farm life, the dairy barn team ensures the cows receive the best food and care in a clean, low-stress working environment.
"Sometimes I ask myself if I'm crazy to be doing all of this," Nonay says. "Though when I look back, sitting in a rocking chair with Coralee, I want to think that the cheese is probably the coolest thing we did with our ability."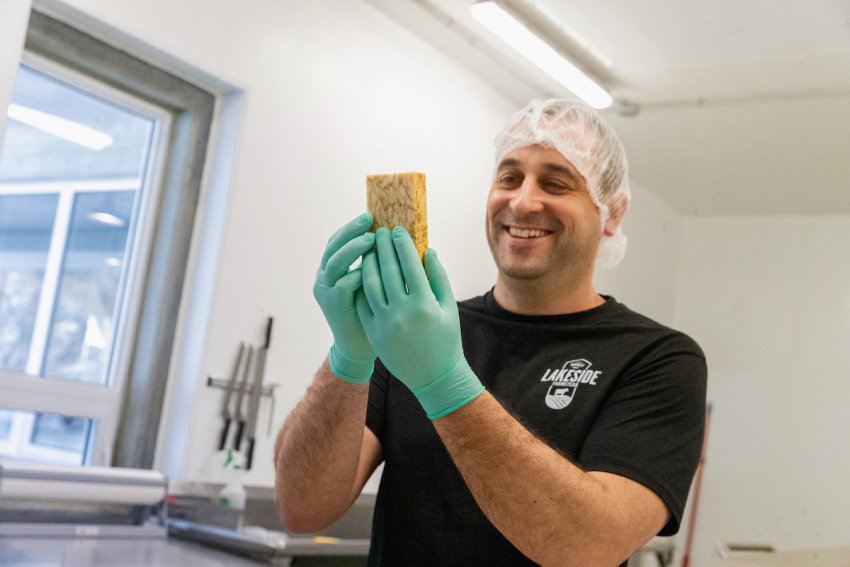 The cheese idea sprouted after a young man from Quebec came to the farm as part of an agricultural placement project for his education. "He had a backpack with a guitar, some maple butter and a block of amazing Gruyere inside," says Nonay recalling the student's arrival.
When the placement ended and the young man returned to Quebec, Jeff and Coralee received a thank you note from his father, who, as it turned out, was Jean Morin, champion cheesemaker at Fromage du Presbytère in Sainte-Élizabeth de Warwick. Over the years, a friendship between the Alberta farmer and the Québécois fromager blossomed, and with that friendship, visits to Morin's facility and an introduction into cheesemaking.
"Everything Jean did spoke to my soul," Jeff Nonay says, inspired not only by the creative process but by the enjoyment he witnessed from Morin involving the small community in his work at the church-turned-cheesiry, for in Sainte-Élizabeth de Warwick, those who make cheese together, eat, drink and rejoice together, too.
The first gratitude get-together, or "Happening Friday Night" as Morin calls it, was held in 2009 and comprised less than a dozen people. The events are now a weekly occurrence that sees 2,000 folks (sometimes more) descend upon the little village of 100 residents to celebrate its cheesemaking efforts. The ringing of the church bells on Friday signals that fresh curds are ready and plates of poutine flow to the masses.
This act of gratitude also spoke to the Nonays who suffered a devastating loss in 2017 when a fire razed their dairy barn, taking over a hundred cows with it. Community rallied around them then with support and local contractors assisted with the rebuild. After the barn was complete, Jeff and Coralee threw their own "Happening Friday Night" to thank everyone who got them through those difficult times.
Community, family and gratitude has long formed the backbone of farming life, and in this case cheesemaking life too. The facility at Lakeside Farmstead is staffed by community and family members who package and promote the product to an increasing list of retailers in Alberta.
Also increasing is product variety. Expect a clothbound cheddar as well as European-style butter (near 84% butter fat) and cream (up to 58% butter fat) to hit store shelves in the upcoming months. Higher butter fat means less water, something that should excite bakers and eaters alike.
Lakeside Farmstead products are available at several stores in the Edmonton area and have just landed in Calgary at the Italian Centre Shop and European Deli as well. Check Lakeside Farmstead's Facebook page for more information and updates on where to find their cheeses.