What do you get when you cross a Wagyu bull with a Holstein heifer? Some darn good beef, that's what! And two dairy farmers are introducing this new product to palates across the Prairies.
Jeff Nonay began selling his Wagyu-Holstein cross beef two years ago, in a project that was years in the making.
"It takes over three years from the decision to cross [the animals] until they're market ready," said the owner of Lakeside Dairy north of Edmonton, who began retailing his Holstein beef six years ago with the help of D'Arcy's Meat Market in St. Albert.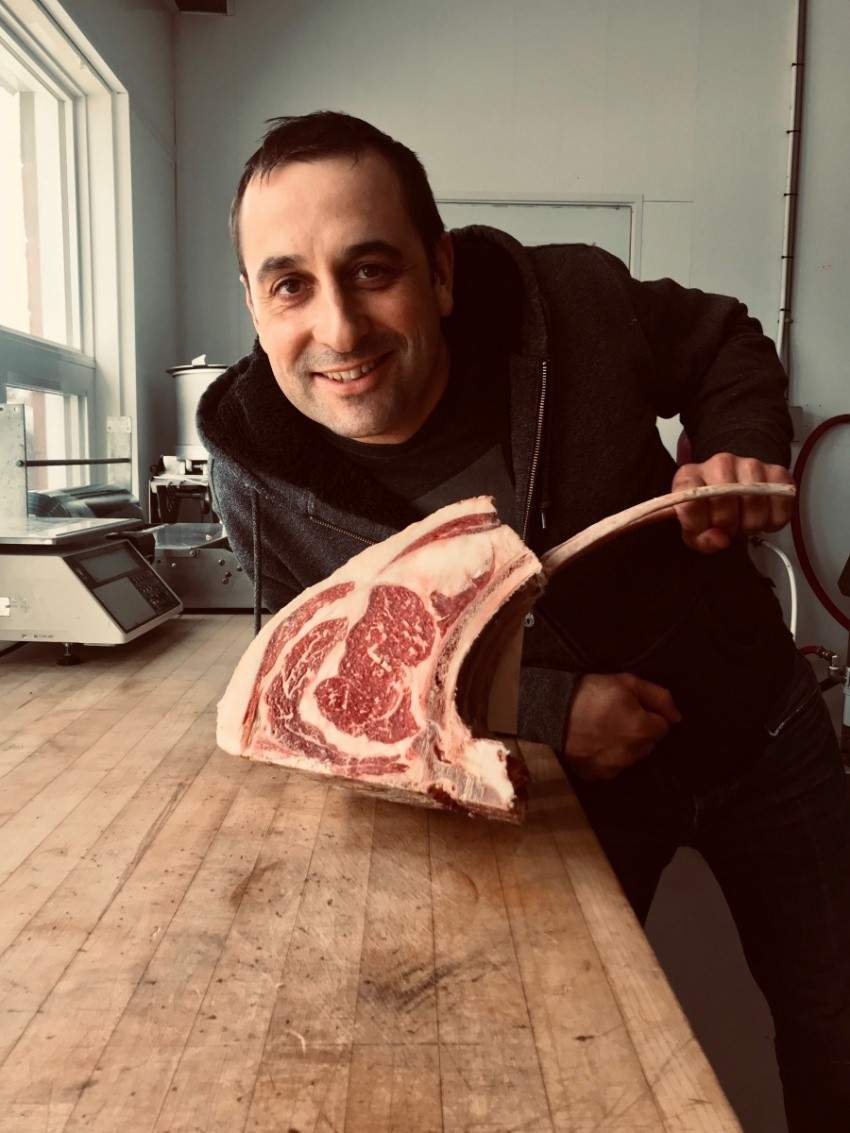 "I walked into [D'Arcy's Meats] with a couple of steaks in a Ziplock bag, asked the owner to grill them up and let me know what he thought," he says. "Despite my crude delivery, Kyle [Iseke] was nonetheless impressed with the flavour and quality of the steaks and decided to try out a couple of steers."
Nonay and Iseke held a launch party at the St. Albert shop, inviting food writers, chefs and friends, who all left with great first impressions and reviews.
Developing the correct feeding program for the Wagyu-Holstein crosses has been critical in ensuring a consistent end product. Steaks are dry aged 30 to 100 days, which Nonay says helps set his beef apart. It's a product born out of his passion to bridge the rural-urban divide.
"It takes tremendous effort, organization and facilities to raise beef in small lots, year-round to always have product ready," says Nonay. "The reward for the effort we put into this adventure has more to do with the relationships we have formed than any financial opportunities."
East of the border, Ian Crosbie is working to create "the best beef in Saskatchewan".
Crosbie saw an opportunity to expand his Benbie Holsteins dairy farm by crossing Wagyu with Holsteins and creating a market for his ultra-marbled Saskatchewan Snow Beef.
"With Holsteins, no one ever talks about how good of beef they actually make. And the Wagyu is on a whole other level," Crosbie says.
Crosbie bought Wagyu semen from Ken Kurowatsu of Ontario's Wagyu Sekai, one of the first to import Wagyu animals from Japan in the early 1990s. Just like Nonay learned, it's an extensive process to finish the animals properly.
After a year and a half of living with the regular dairy herd, Crosbie transitions his calves to a controlled finishing program for 300 days. He works with a Wagyu nutritionist and imports the cattle's specialized grain ration from Texas.
All that specialized care pays off. The snow beef is melt-in-your-mouth tender, with enough buttery marbling to make your tastebuds sing.
A few dairy farmers in Saskatchewan are venturing into similar beef breeding operations, but Crosbie is the first to try direct-to-consumer marketing for his product.
"There's no market cut out for you. The only way to do it would be to market yourself," he says.
But creating a market for premium beef is easier said than done. And his experience in running the dairy never included marketing. The other challenge, of course, comes from chefs requiring only certain cuts (he would prefer to sell larger portions). Once the market is more established in Saskatchewan, Crosbie will scale up production, and beef lovers will rejoice!
Nonay Beef is sold at RGE RD, Jack's Burger Shack, Workshop Eatery, WoodWork, Wilfred's and XIX Nineteen, along with D'Arcy's Meat Market.
Saskatchewan Snow Beef is on the menu at The Capitol and Crave Kitchen + Wine Bar in Regina.