Dear COVID, it's me, Twyla.
On behalf of every person who works in the food and hospitality industries—every cook, caterer, server, baker, producer, farmer, restaurant and business owner; every single person employed in this sector, including people like me who write about it— I've got a bone to pick with you.
We're tired of pivoting. We're tired of worrying and tired of seeing friends lose their business. We are so done with stressing about what we need to do to survive.
And yet, that's all we can do, thanks to you: we pivot, we worry, we struggle...but we also hope because right now, that's all we have to keep us going.
We hope that from this experience, we come out stronger; more appreciative, more compassionate...and we hope you go away.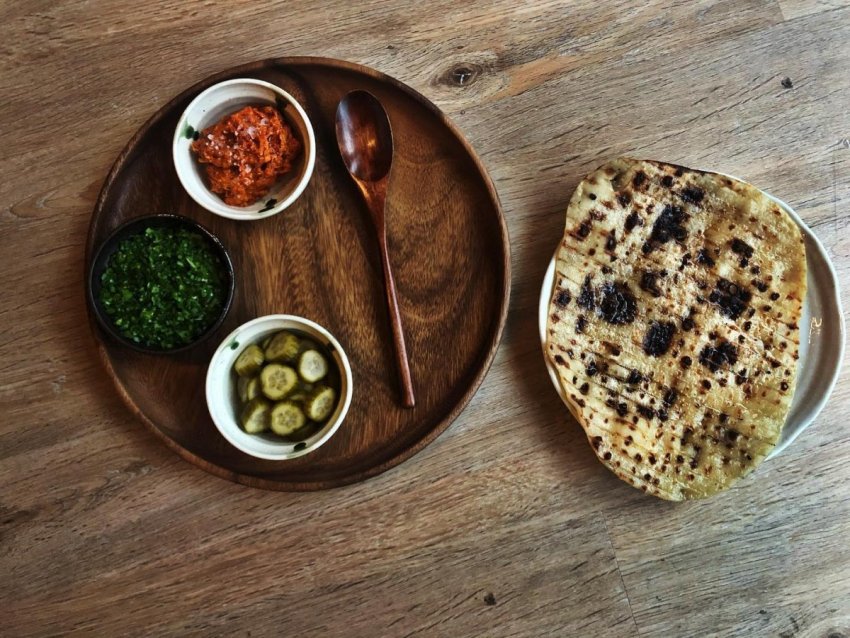 Photo via Smokey Bear's Facebook page.
So, you showed up in March, the same time I ate at Smokey Bear, a new restaurant headed by chef Riley Aitken. His menu was created around local ingredients cooked over fire. It was a spectacular start to 2020 and, even then, I knew this restaurant had the chops to earn my CBC pick as best new restaurant of the year. My next review on Edmonton AM was slated for mid-March. It would have been about Smokey Bear, but then you showed up. My reviews were put on hold (still are) and Smokey Bear, like most every other restaurant out there, flailed in the wake of your ugliness.
On a personal note, Eat Local, the magazine I was lucky to be a part of for one issue folded, thanks to you. With no ad revenue from the food and hospitality industry, there was no way to keep it alive. I'm still licking that wound.
We did our best to support a decimated food industry by ordering takeout or having food delivered and then learned of the high costs charged by third-party delivery services; some taking up to 30% of the billed amount, further driving home the harsh realities of the thin margins in the restaurant world. In an effort to protect their dwindling resources, about three dozen restaurants turned to providing their own delivery. The list grows as I speak.
You're a real downer, C-19.
Just as you began to flex your viral muscles, chef Paul Shufelt, took over the food operations at three golf courses—Victoria, Riverside and Rundle Park—because running Workshop and Woodshed Burgers wasn't enough of a challenge, I suppose, but what you don't know is that inside Shufelt's head is an idea factory that runs 24/7. He was one of the first to alter his menus, promote takeout and offer curbside pickup, and while he (like everyone) took a major financial hit, he found ways to give back.
While you roared and taxed our frontline workers, he collaborated with Delux Burger to donate 150 meals to them. Right now, Shufelt is running a holiday campaign at that sees one meal donated to Ronald McDonald House for every $100 in gift cards or holiday meals sold. They're closing in on 700 donated meals, as we speak. Best of all (a selfish declaration on my part), he made his glorious raw burger patties available for retail purchase at Effing Seafoods in St. Albert and at Woodshed on 124 Street so that we could enjoy those insanely delicious burgers at home.
You turned our downtown into a ghost town. Royale Burger on 104 Street, a Kevin Cam (Baijiu and Pablo) restaurant with star-chef Alexei Boldireff behind the menu, opened in December 2019 and was set to break records, but with no foot traffic and no nearby office workers, it closed in April.
In October, after five years of dishing up thousands of bowls of prairie-inspired ramen, the much-loved Prairie Noodle said goodbye to its loyal patrons in a heartwarming Instagram video and closed its doors in October. One month later, Al Centro, a gorgeous new Italian eatery specializing in Romano-style pizza, espresso and gelato, followed suit. Wishbone didn't survive your wrath, either.
You are an unwelcome guest; expensive, distressing and challenging beyond belief and the catalyst for change that nobody wanted, but change we did.
Photo via Tres Carnales Rostizado's Facebook page.
Rostizado redecorated and rebranded as Tres Carnales Rostizado with a menu that was less sit-down extensive, and more quick-serve taco and burrito. It's sister, Tres Carnales, the little taqueria a few blocks over didn't seem to miss a beat. Tacos, as it turns out, are a great grab-and-go item for any occasion, be it day, night or global pandemic. Rosti's margarita and mule cocktail kits were a smash, and no surprise why: those tamarind margaritas have a magical quality. Anyone who knows, knows.
Other restaurants got on board with kits, too. You couldn't scroll through any social media platform without running across a post about some place offering booze-to-go, and that's okay. If we couldn't go to the source, it made good sense to have the source come to us. Buying a meal kit helped to support a favourite restaurant while allowing us to feel like a chef in our own kitchen. Enjoying a bottle of red or white from the restaurant's wine list helped make quarantine and isolation a little easier to digest.
The lockdown and the slower pace of life forced upon us made us all a bit stir crazy after a while. Chefs felt that too.
The team at Biera offered up the "Biera Box", an assortment of charcuterie, bread, cheese, and drink, later switching it to "Basically Biera". The new concept was designed to highlight the culinary team's unique travelling experiences. The family-style glazed chicken dinner was a hit, and I suspect the latest menu, one inspired by Thai street food, is being met with the same appreciation. Wild boar satay? I'm game for that.
Andrew Fung of XIX and his St. Albert chef, Rino, both of Chinese heritage, revisited their ancestral roots and offered up Cantonese dishes on menus that changed every few weeks. Dishes like Kurobuta pork dumplings, peanut Kung Pao chicken, Mongolian beef short ribs and Guangdong chow mein offered a sharp departure from the regular options like gorgonzola mussels and lobster ravioli. Look for new Cantonese dishes in January.
And just because the reach of your pandemic arms prevented people from attending classes, it didn't mean the learning stopped. In fact, Kathryn Joel's virtual tutorials at Get Cooking Canada were snapped up as quickly as they got posted on the website. Try as you might, you could not dampen our appetite for knowledge especially when delivered by the likes of Elyse Chatterton (butcher), MasterChef Canada season four finalist Mai Nguyen, and Joel, a graduate of London's Le Cordon Bleu and Leiths School of Food and Wine. For anyone wanting to learn how to make gougères (aka cheese puffs), you better sign up for the January 10 class before word gets out.
Photo via Lakeside Farmstead's Facebook page.
On the topic of cheese, I'll have you know it ruled supreme in this longest year of our lives, thanks to a couple of new producers. Jeff Nonay, a farmer near Legal joined forces with cheese wizard Ian Treuer (formerly of Winding Road) to open a production facility called Lakeside Farmstead. They now supply retail outlets with chaga infused cheddar, velvety soft blanc fromage, German butter cheese, and fresh curds for poutine.
And there is more cheese being made in the sausage subterranea known as Meuwly's. One of Get Cooking's frequent instructors, Aditya Raghavan, is making cheese under the label, Fleur Jaune Cheese. Raghavan's fresh cheeses are similar to the washed rind cheeses of France, or the soft cheeses like Taleggio or Stracciatella of Italy. These delicacies fit perfectly with the made-in-house meats and condiments often featured in the beautiful charcuterie boards created by Diana Harrison of Art of Charcuterie who, just so you know, moved into Meuwly's in August because it was a good fit for everyone.
Yeah, we've cried our tears, but we've brushed ourselves off and dug in our heels.
We mourn the businesses that we've lost, and we are angry knowing there will be more, but there have also been moments of celebration.
In Beaumont, Chartier, a restaurant that was started and exists because of the support it receives from this close-knit community, shared good news: on February 13, they will be featured on The Big Food Bucket List with John Catucci. We will tune into Food Network Canada on that day to watch. It couldn't happen to nicer folks, really.
Cured meats at The Butchery by RGE RD.
With more people cooking at home, it was the food suppliers and butchers who came through with the fewest scars (relatively speaking) in 2020. Popowich Meats filled a longstanding void in west Edmonton when it opened in in late 2019, but a few months ago, D'Arcy's Meats of St. Albert opened up another store in the Whitemud Crossing and in November, The Butchery at Rge Rd finally opened after several pandemic-related delays. We appreciate our butchers, there is no doubt about it.
We have long ranted, rallied and raved about support for local businesses and producers and you, being the global and local nuisance that you are, really drove home the importance of supporting local.
After you ripped through meat processing plants in spring, more of our food dollars went to initiatives like The Gathering Place, a cooperative of food producers and farmers northeast of Edmonton and to retail farm stores like Serben family farm store near Smoky Lake. Uproot Food Collective, the little shop stocked with craft products that started with two suppliers and now features close to 60, has a growing list of people wanting foods that are sustainable and traceable.
So yeah, COVID, we made changes because of you.
Restaurants changed their menus, some even changed their names. Workshop Eatery is now The Henhouse with a southern barbecue type of menu, and in the new year, Smokey Bear will put aside their exquisite fire-cooked foods and intriguing wine list to set up in the basement at Bandits where they will cook up foods that travel well: fried chicken and beer for all, because comfort is what we need.
In the final days of this year, I reflect on the months past and think about what I've learned, and I'll be honest: I took food for granted. The whole shebang.
I took for granted the people who grow it, and I took for granted the work that went into creating a restaurant meal. I certainly did not appreciate until now, the ease in which we procure food, so, well done, COVID, you taught me a lesson that I didn't think I needed.
If you, reader, are having a similar reckoning, know you are not alone. Only time will tell if we've learned a lesson. I surely hope we have.
The year might be over, novel coronavirus, but the fight isn't.
If ever there was a time to eat and support local, the time is now so that our city remains vibrant; so that businesses stay viable; so that our feisty little food scene can recover. Next year at this time, I don't want to feel like Ebenezer Scrooge yelling "Bah! Humbug!" while I throw this year in review article into your inbox as I stagger off into the twilight.
In the words of Tiny Tim, "God bless us, every one."—may those words find their way to those who feed us and to those on the front lines doing their best to get us through this mess.