The 15th annual Food Day Canada is coming up on August 4th, and this year, it is extra special. A group of Canadian Relais & Chateaux chefs will collaborate on a cross-country tasting menu to celebrate this anniversary at top iconic properties from east to west.
The participating chefs include Warren Barr of the Wickaninnish Inn, B.C. (pictured below with Food Day Canada founder, Anita Stewart); Francis Wolf of Manoir Hovey, QC; Jason Bangerter of Langdon Hall, ON; and Lukas Gurtner of Sonora Resort, B.C. Each of the chefs participating in this project has been awarded for their talent and received Food Day Canada Gold awards in the past.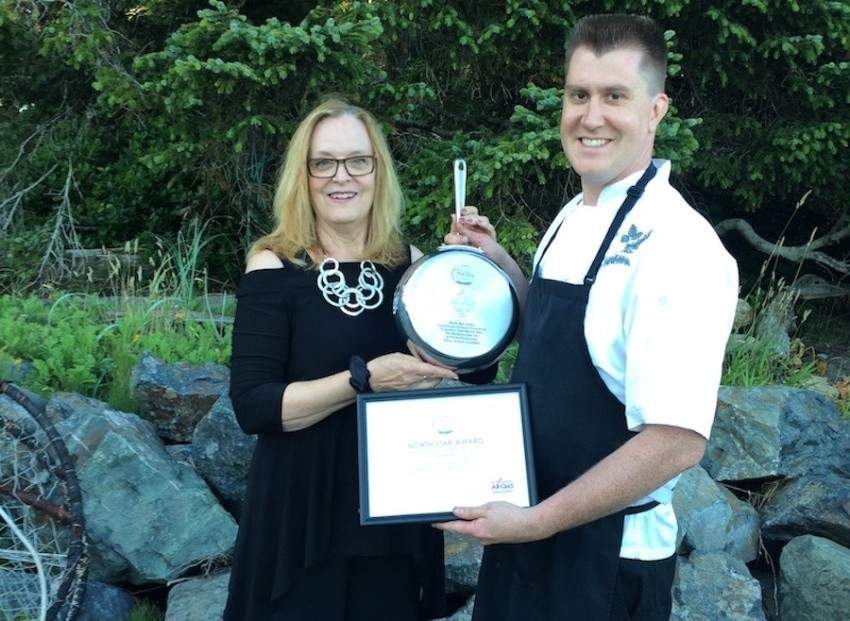 Their locally-sourced menu will reflect Canada's finest. Members of Canada's food community including farmers, fishers and ranchers, will supply their ingredients to create this unique culinary experience. The menu items will be available in each of the chef's restaurants. In addition to Food Day Canada inspired dishes, each guest will receive a small gift specific for various Canadian regions, such as sea buckthorn caramel from Quebec, dried herb and flower team from Ontario, embossed leather coasters and a memory journal from British Columbia.
Food Day Canada Relais & Chateaux cross-country tasting menu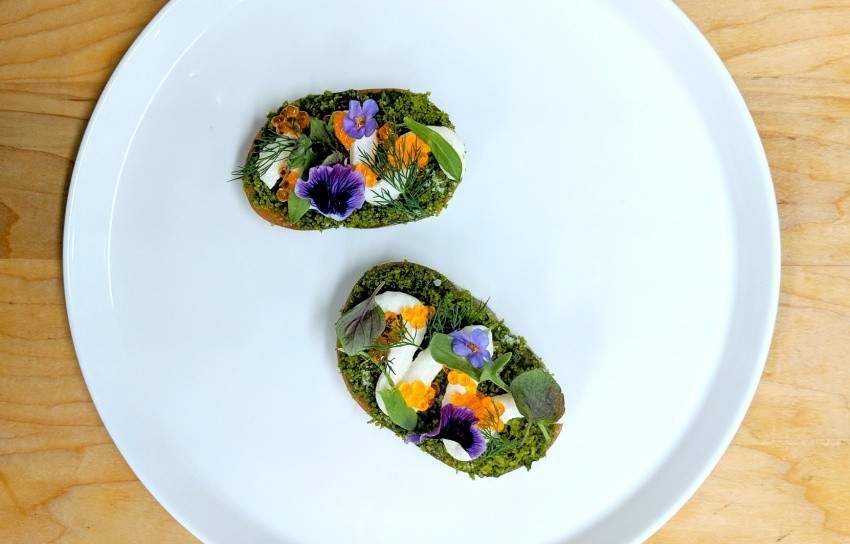 Amuse bouche
Dressed heirloom tomato (pictured above): fresh cheese, Northern Divine caviar, herb puree, garlic crumb. (Chef Warren Barr, The Pointe Restaurant, Wickaninnish Inn, Tofino, B.C.)
Salish Sea scallop: cured egg yolk, beet root, cucumber. (Chef Francis Wolf of Manoir Hovey, North Hatley, Quebec)
Pumpkin seed and mascarpone tortellini: cheese rind consommé, summer squash, basil, pumpkins seeds. (Chef Lukas of Sonora Resort, Sonora Island, B.C.)
Lamb roasted on the bone: eggplant purée, ratatouille flavours, herb braised tongue. (Chef Jason Bangerter of Langdon Hall, Cambridge, Ontario)
Sea buckthorn-inspired dessert