Growing up in Central Europe, trdelník (otherwise known as "chimney cake") was always a part of my life. Seasonal markets in this part of the world come alive in the late fall leading up to Christmas Day with vendors selling everything from holiday trinkets to roasted suckling pig and, of course, the beautifully golden, sugar-dusted trdelník I think of as fondly today as I did when I was younger.
I remember as a little girl, I would walk through the Christmas markets set up on the main square of my hometown in Slovakia, holding my mom's hand, awaiting the inevitable sweet treat that I could smell from a kilometre away. The sound of crackling embers coming from the barbeques inside the Tredelnik stands travels through the white noise of people standing throughout the market, sipping on paper cups of hot Christmas punch.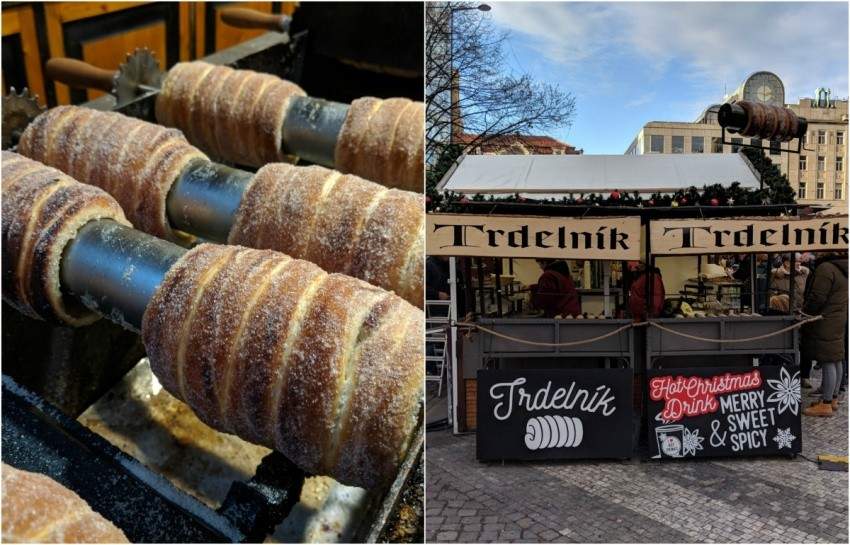 (traditional trdelník stands in Bratislava (left) and Prague)
We'd weave through the marketplace and, suddently, there it was, wrapped up in a paper bag with thin streams of steam rising up with the smell of freshly baked pastry and cinnamon--chimney cakes. With Christmas melodies and laughter in the background, I start slowly unraveling the warm chimney cake, taking the first bites into the delicate pastry. Soft on the inside and crunchy on the outside, trdelník is synonymous with home for me, and it's nice to see that even in Calgary, you can find some for yourself too.
Utca, a Chimney Cake bakery, brings this delightful European street food to Calgary, but very much in its own style. The owners of the bakery, Yadira and Guillermo Rivas, came across chimney cakes for the first time while wandering around a shopping mall in the Middle East. Their kids fell in love with the pastry right away.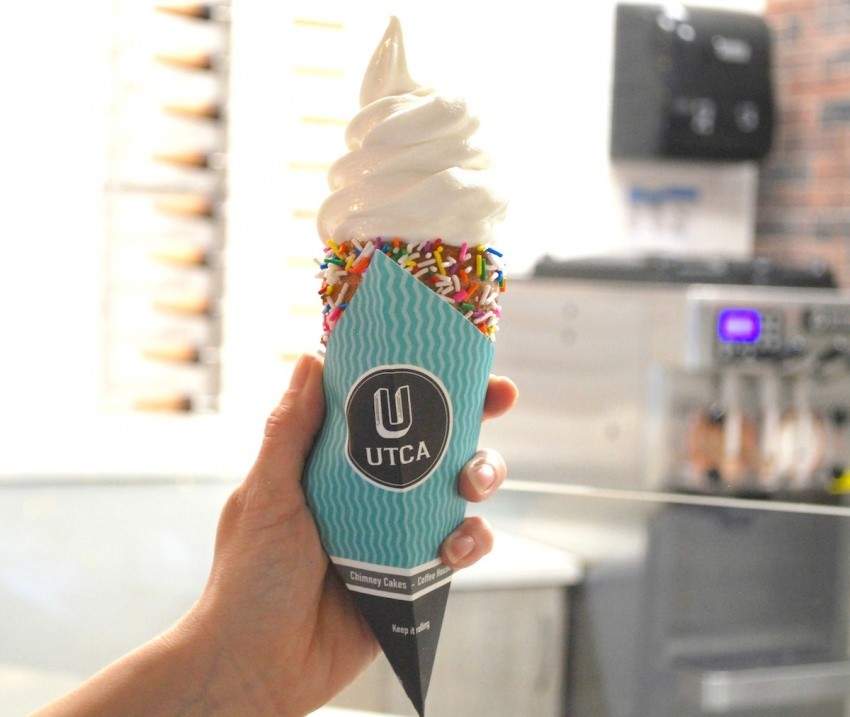 "I am really curious about the food, and I always try to replicate whatever I eat outside," said Guillermo. "However, I couldn't do it with chimney cakes, so I started to research more, and I discovered that they are originally from Eastern Europe."
More thorough research revealed to Guillermo that this pastry originated in Budapest, Hungary. The couple then made a trip to the capital of Hungary to learn how to make these tall, delicious treats.
In Central Europe, the chimney cake is a popular street food and it might even be the most popular street food. That is where the sweet shop's name draws inspiration from. "Utca" means "street" in Hungarian.
"We wanted to honour the origin of the pastry by this name, and it was also the only word we could remember from our trip to Hungary," jokes Guillermo Rivas.
The owners even had to learn how to eat them (and the many ways you could eat them), before learning how to make them. Traditionally, making them involves an over-the-coals roasting process where dough is wrapped around thick pipes and rotate slowly, allowing them to bake and the sugar sprinkled on top to caramelize. Utca uses a slightly more modern approach cooking them and uses hot elements.
So, what is the proper way of eating chimney cakes?
"There is no wrong way to do it," said Yadira. The recommended way, though, is to eat it from the top to the bottom, unraveling your bites. The thickness of each loop should be bite size.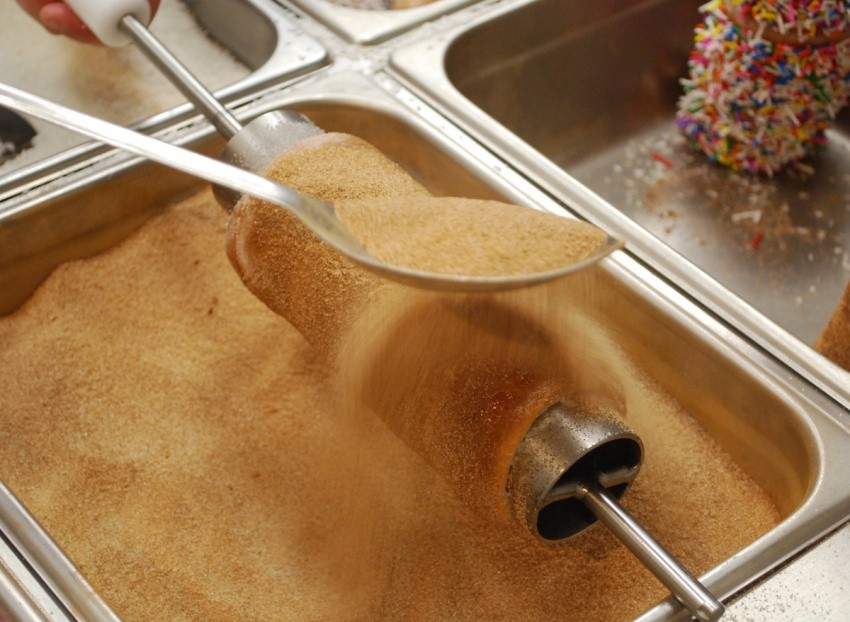 Even though the creations here do resemble the classic taste of trdelník, Utca's Chimney Cakes are noticeably different as their dough recipe is completely vegan. Instead of eggs, milk or butter, they opt for vegetable oil and coconut milk. Visually, the end result is more or less the same, but this way, Guillermo Rivas says everyone can come and enjoy their chimney cakes.
Utca has a variety of toppings you can dust and fill your chimey cake with. Starting with the most traditional ones, such as cinnamon-sugar and walnuts, there's also options like coconut, Nutella, cream cheese icing, soft serve ice cream, and the list goes on.
Being the only place that sells chimney cakes in Western Canada, Utca has gotten plenty of buzz over the past year and continues to evolve as time goes on. This holiday season, I won't be making it home to Slovakia, but I will be popping into Utca for a little taste of home.