Nearly every major city in Canada has a week dedicated to the humble burger during the year, where various restaurants put forth their take on the hamburger for voting. However, it's safe to say that none come close to P.E.I.'s month-long Burger Love. With 73 entries across the province, it's the largest showing since Burger Love's inception back in 2011. Last year alone, almost 150,000 burgers were sold over April. To put that into perspective, P.E.I. has a population of only 146,447 as of July 1, 2015. Yes, more burgers were sold than the number of people that live in the whole damn place.
So what's the beef? Island beef is said to be some of the tastiest in the country (sorry Alberta). I won't start that debate, but it sure warrants a trip to P.E.I. to find out. Because 73 burgers is a lot to choose from, we've narrowed down some choices for you. Here are some of the tastiest (and wackiest) looking burgers in this year's competition!
The Ode to Canadian Hipsters: The Lumberjack at Phinley's Diner and Dairy Bar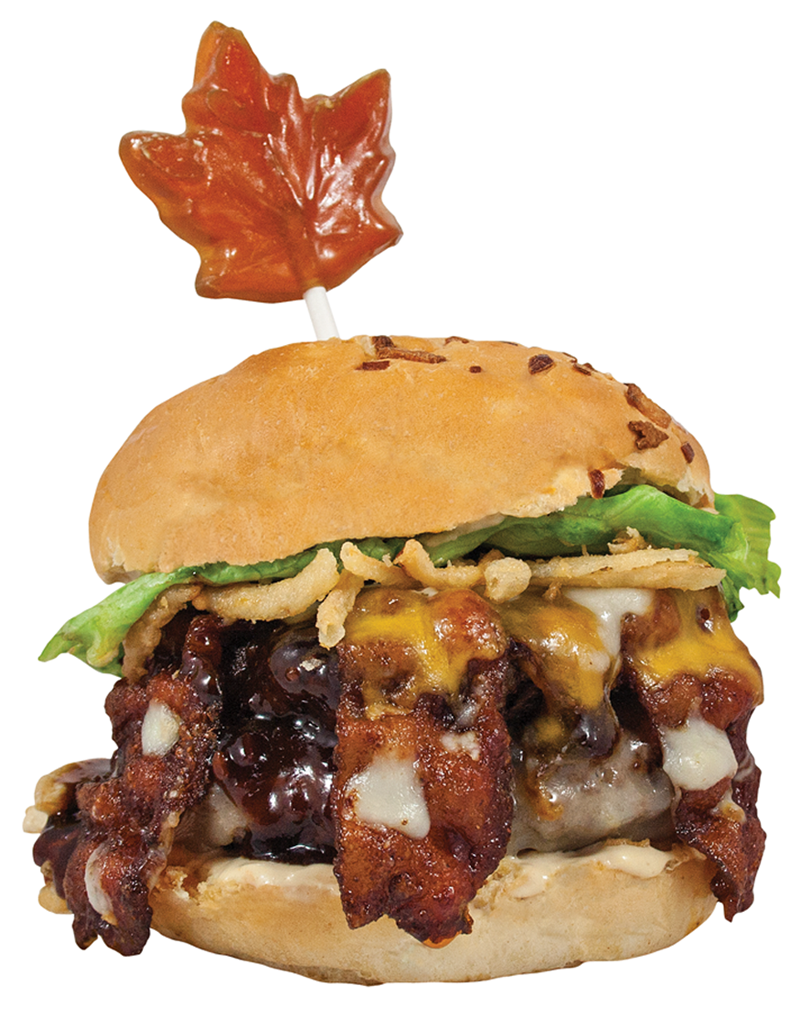 Why on earth anyone decided that they should use a maple lollipop as a skewer, I'm still trying to figure out. Does it somehow make it inherently Canadian? That aside, the Lumberjack is one hulking burger with eight ounces of meat, sriracha smoked bacon, and melty cheese to boot. Perfect for fueling up after you chop down some trees.
The Surf and Turf: Sailor Moo at Living Grace Cafe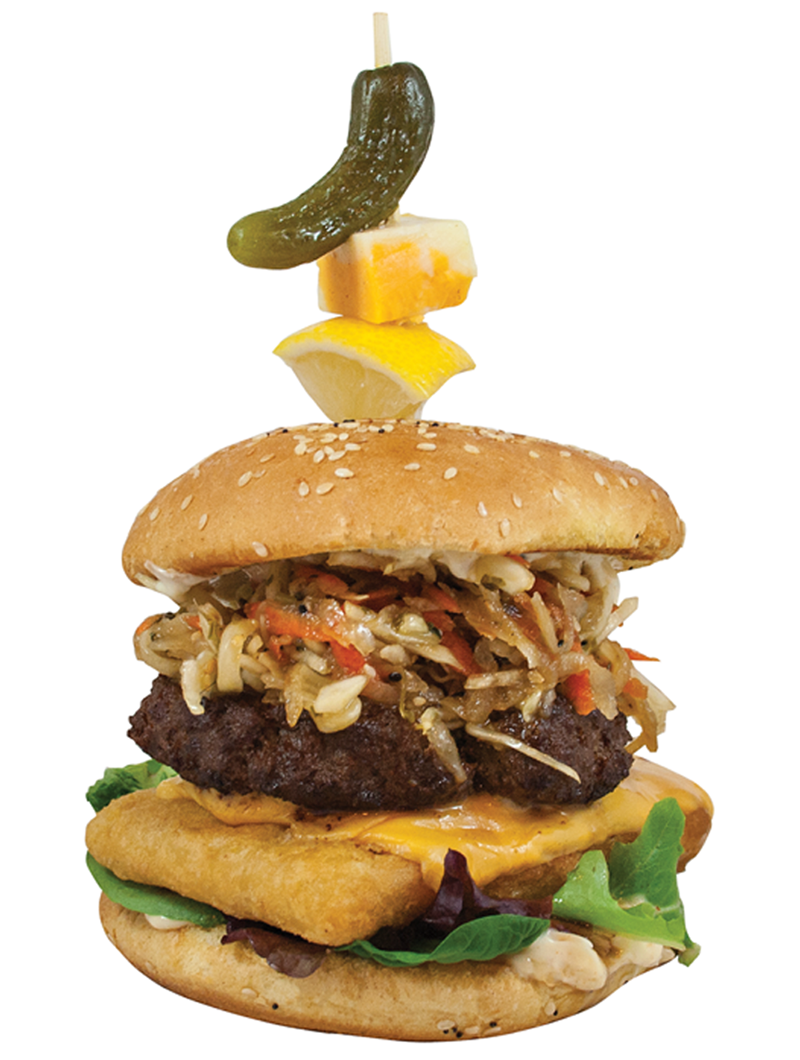 For most people, a battered and fried piece of haddock, sandwiched between a bun, is a meal in and of itself. But that wouldn't qualify for Burger Love, would it? Add in a beef patty and some sesame daikon slaw, and you've got the Sailor Moo. I have to give it to them for that name too. Eleven points for creativity!
The Meatiest: The Wrap Around at The Tailgate Bar and Grill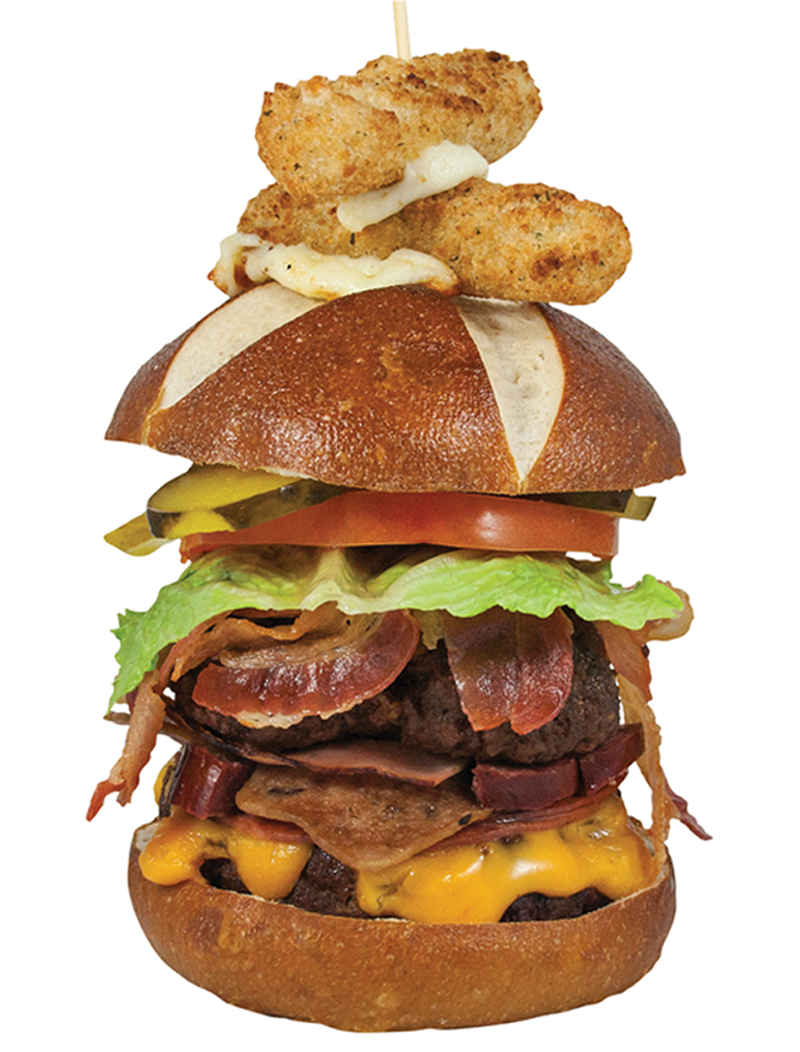 Thinking about consuming 16 ounces (that's a whole pound, if you do the conversion) of beef is frightening enough. Once you add on the two types of pepperoni, ham, salami, donair meat, and bacon, there's no telling how much this thing weighs. Kudos to anyone who manages to finish this one in a single sitting.
The Burger for Breakfast: All Day Breakfast Burger at Granville St. Diner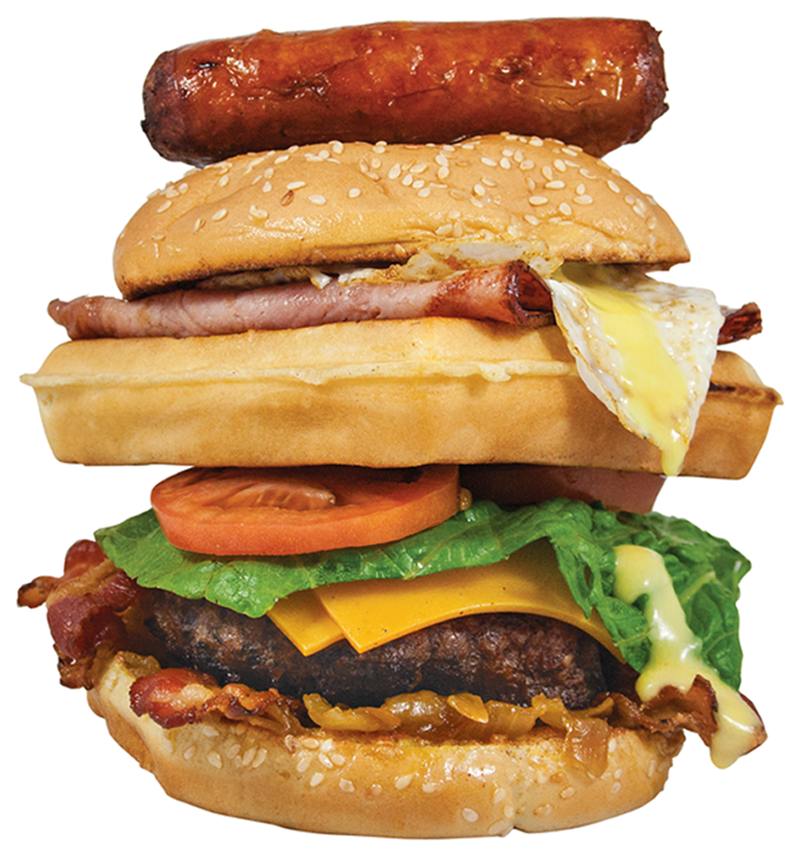 Hollandaise sauce on a burger. That's all that really needs to be said about. Oh, did I mention the ham, fried egg, and naturally, and a whole freaking waffle sandwiched in there as well? Thankfully, Granville St. Diner opens at 7 a.m., so you can wake up and head straight there. You probably won't have to eat for the rest of the day.
The Holiday Cheermeister: Christmas Dinner at Pizza Delight Summerside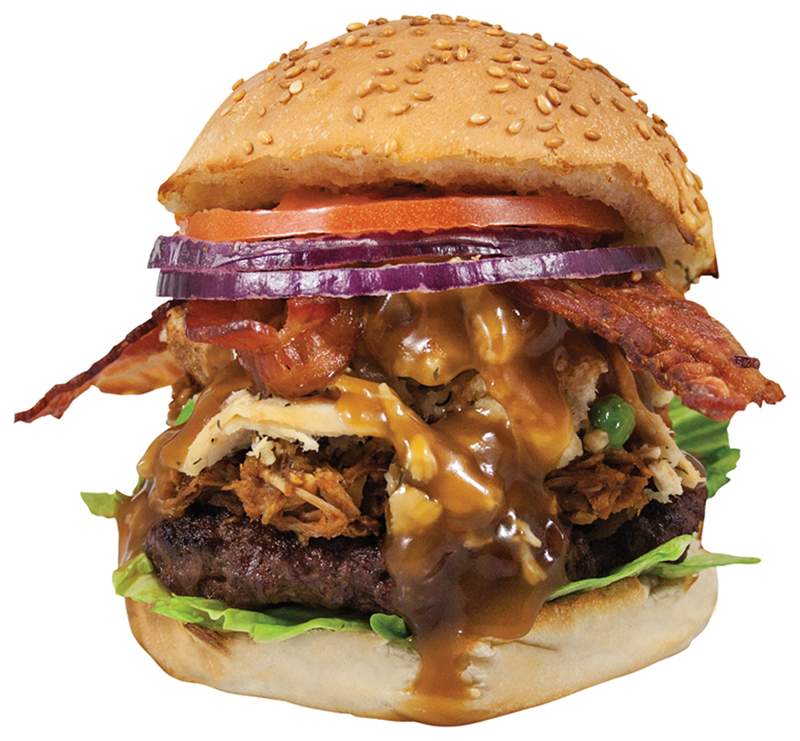 Pulled chicken, stuffing, and gravy sound like elements of a standard holiday meal, but not in this case. Rather, they are components of a (surely food-coma inducing) burger. Naturally, there's some bacon in there, for good measure.
The Beeriest: The Brewben at PEI Brewing Company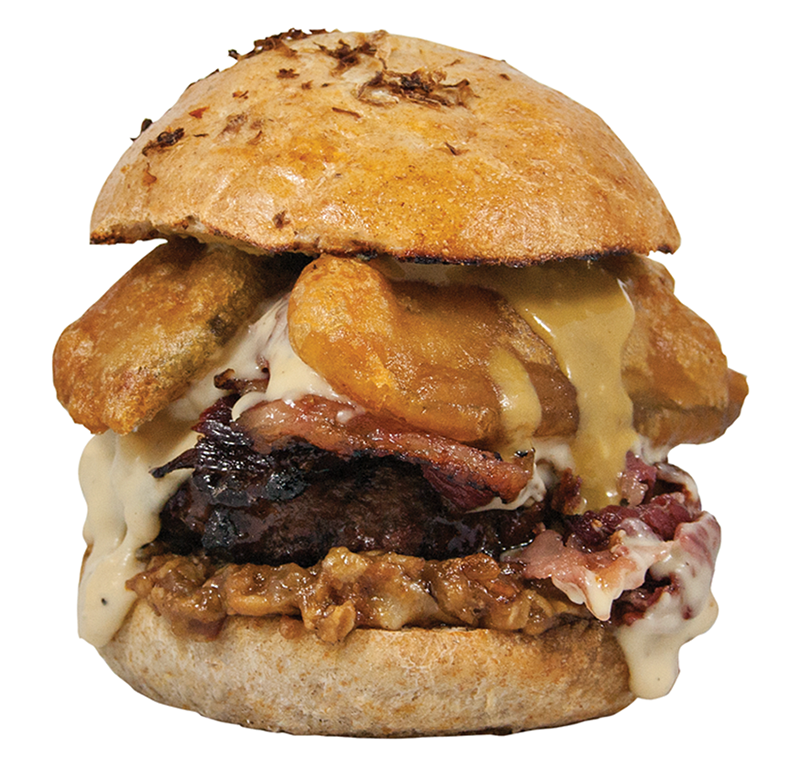 P.E.I. Brewing Company does its selection of beer total justice with this bad boy. To start, there's beer in the patty itself. Stout is also added into the bacon jam, honey wheat into the mustard, the pickles are fried in red beer batter, and it's all topped off with an ale cheese sauce. You may actually stand a chance of getting drunk off this one!
The Cheesiest: The Holy Cow at Holy Grill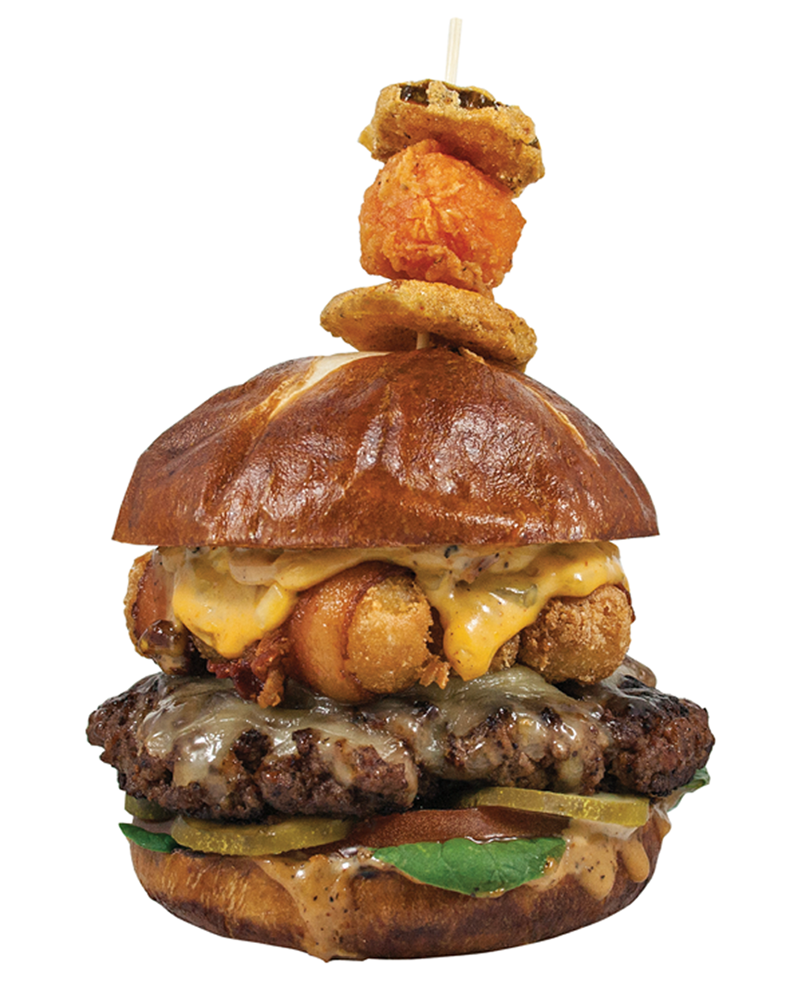 The name of this burger is almost as much of a mouthful as the burger itself. Any sane person would consider bacon-wrapped mozzarella sticks as an appetizer to share, or a meal on their own if you're feeling gluttonous. Putting three of them on a burger though? And top it with even more mozzarella? AND a deep-fried sriracha cheese ball to garnish? It's just too much to comprehend.
This Shit is Bananas: Go Bananas at Frosty Treat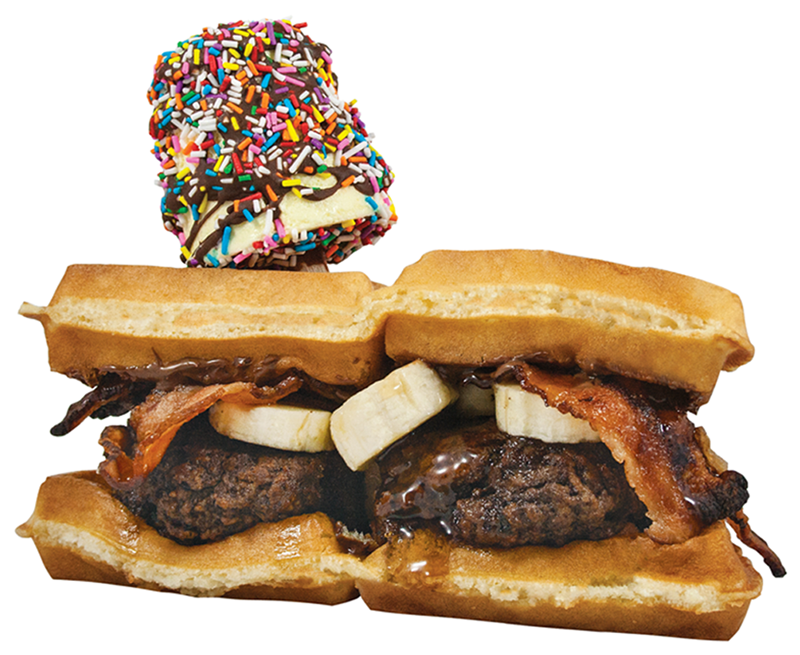 I'm trying really hard not to be overly dramatic here, but just thinking about consuming beef smeared with Nutella is bad enough, let alone adding bananas, maple syrup, bacon, and ice cream into the mix. This is definitely the "eat it for shock value" option of the bunch. Considering that last year, they offered a burger sandwiched between two ice cream sandwiches though, it doesn't seem quite as bad.
The Fruitiest: Triple S at Family and Friends Restaurant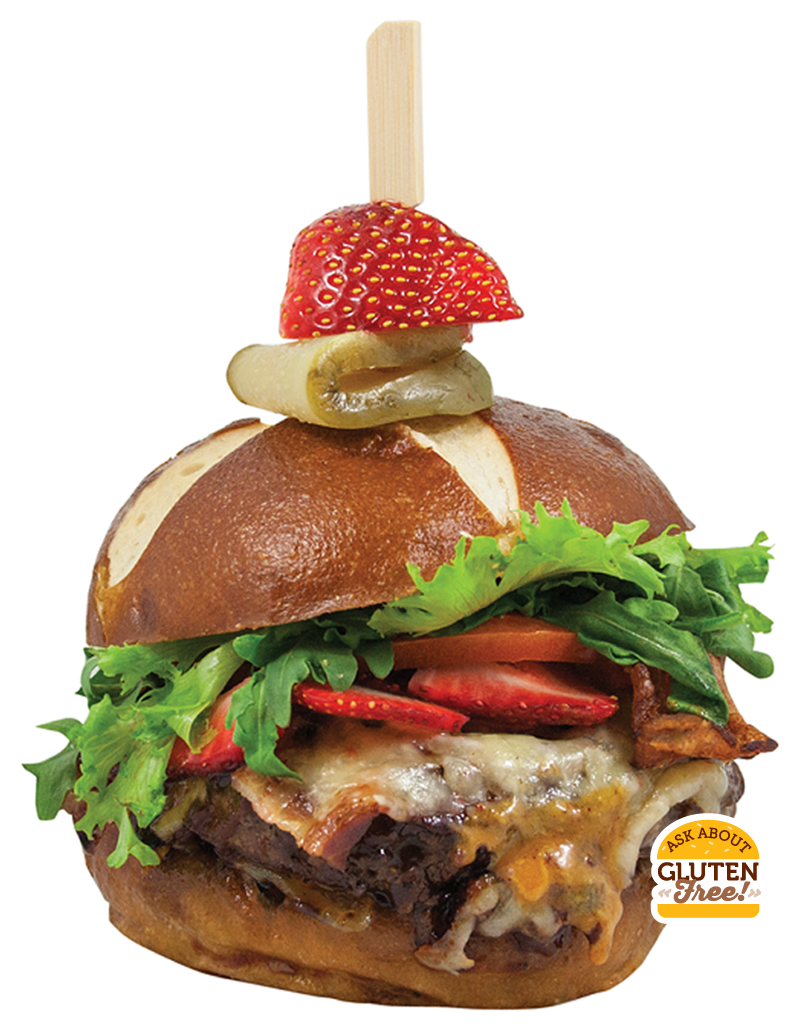 It sounds kind of like a Chopped mystery basket. The ingredients for the entrée round are ground beef, blueberry root beer BBQ sauce, gouda, pickles, and strawberries. I guess making a burger seems like the obvious choice?
The carbs on carbs: The Bautista at Cedars Eatery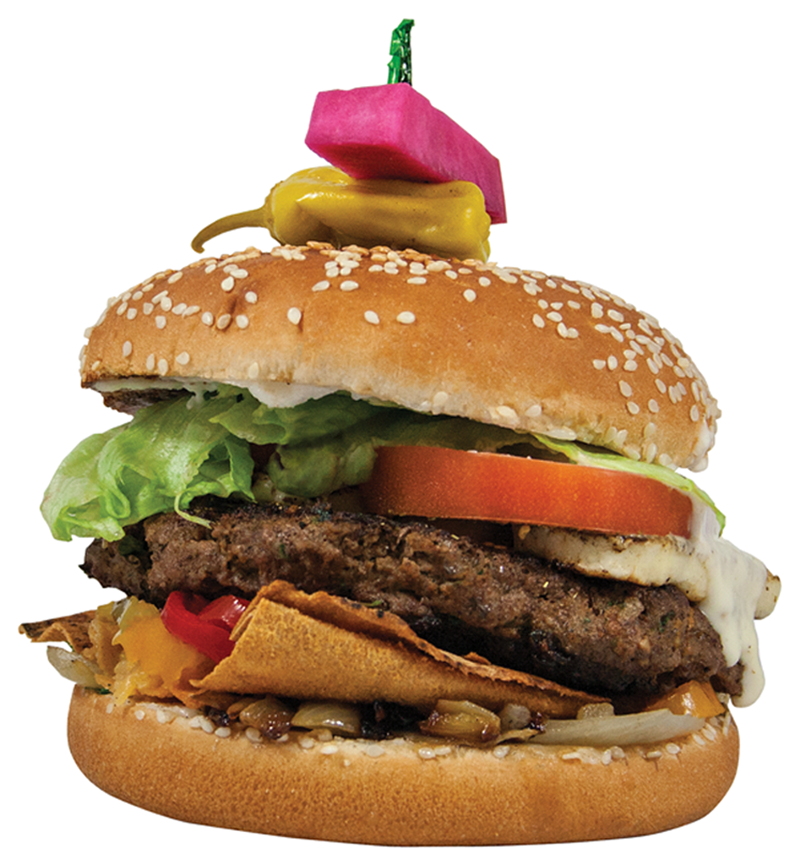 Not really sure what Jose Bautista has to do with a Mediterranean-inspired burger, but I'll run with it. It seems to be a common theme in this year's competition to put various forms of chips (everything from dill pickle potato chips to Sun chips) on burgers, but Cedars takes the concept of carbs on carbs to the next level by adding toasted Lebanese bread. A creative way to add crunch, I'll say!
The best garnish – B2 Bun-Sai burger at Brothers 2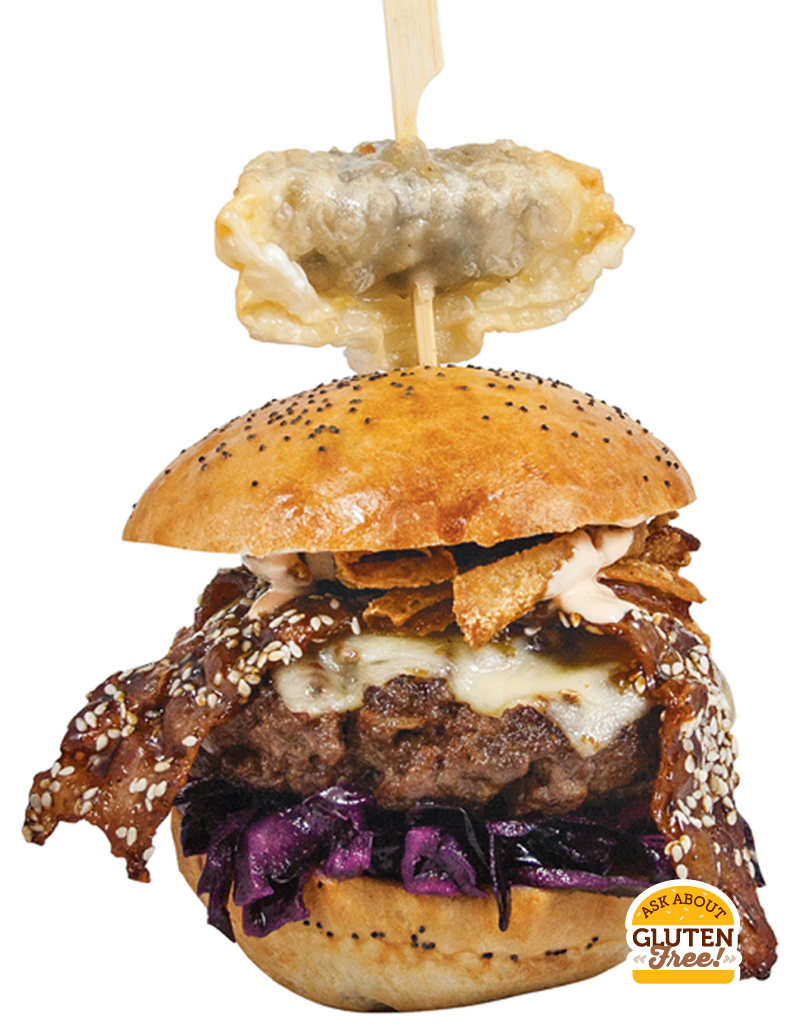 In this competition, you have to remember that the garnish is just as important as the burger itself. There are some pretty ridiculous ones this year but a veggie pot sticker takes the cake. It even makes sense with this Asian-inspired offering stuffed with teriyaki bacon and ginger sesame slaw.
The Globe Trotter: Seoul Mate at The Landing Oyster House and Pub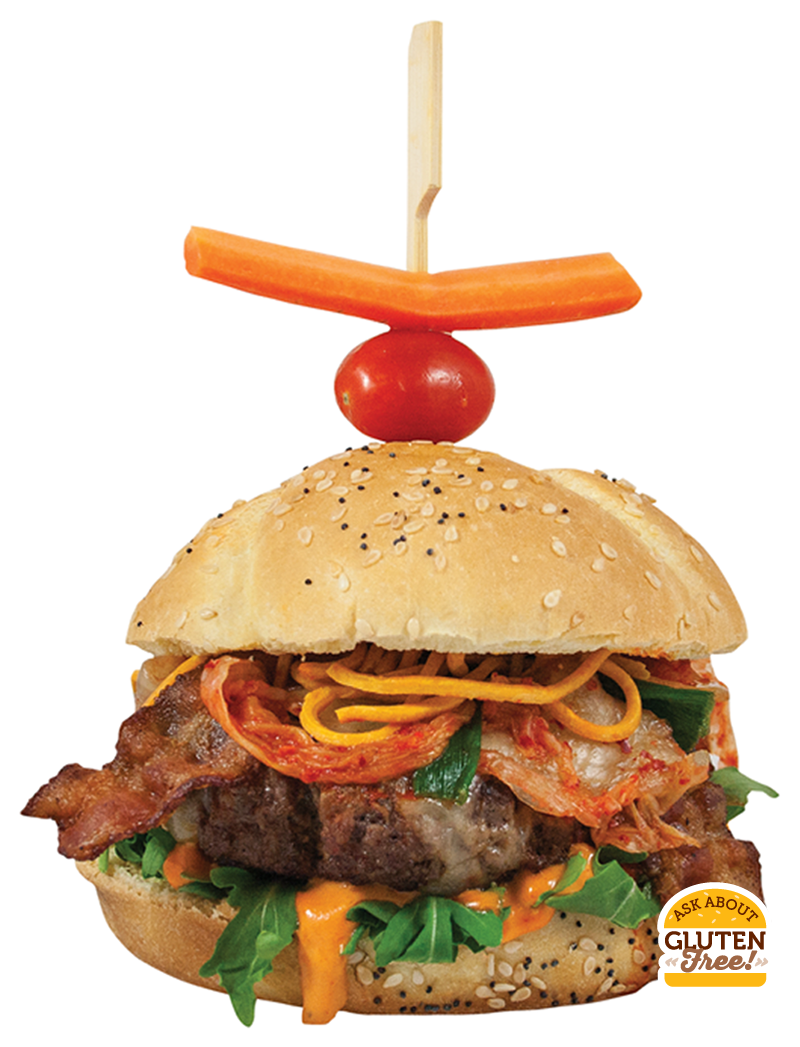 This burger had me at "grilled kimchi" (and housemade kimchi at that). Plus, they're sticking with the Korean theme with their spicy Korean aioli and Korean barbecue sauce. I'm not sure if they realize that they are switching countries by adding crunchy chow mein noodles though.
The "You Might Need a Fork For That": The Clyde River Crusher at Market Chef at The Charlottetown Farmers Market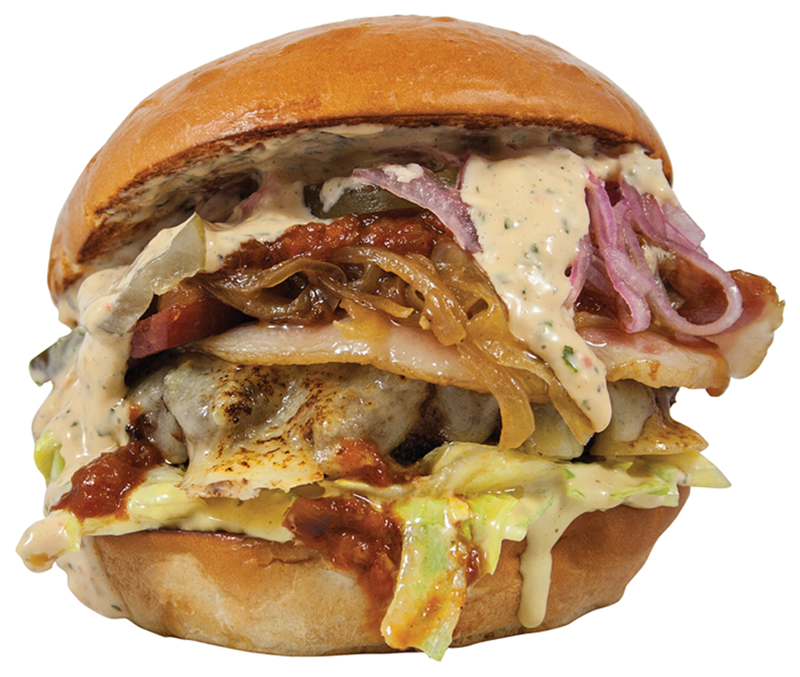 I'm not really sure what the best strategy would be to go about eating it. With all of the moisture from copious amounts of smoky mayo, "secret sauce", and Moroccan-spiced ketchup, this burger might disintegrate before it even makes it into your mouth. That being said, it sounds interesting enough to give it your best effort.