In any given year, "best" restaurant lists across multiple media outlets almost always feature the same places, time and time again. Whether it's a well-established restaurant, or the next up-and-coming hotspot, these places receive no shortage of press, and usually for good reason. On the other side of the spectrum, there are mom-and-pop joints and neighbourhood bistros with little to no social media presence, who tend to fly under the radar. They're the secret, local haunts for those who frequent these establishments, but they don't get a lot of attention otherwise. We reached out to chefs and other food personalities across the country to find out their favourite local haunts and why they feel these spots deserve some love.
Janet Zuccarini – Top Chef Canada judge and restaurateur (Toronto, ON)
When you think of the Ossington strip, you think of this cluster of incredible restaurants; but the one that really put Ossington on the map was Foxley, chef Tom Thai's bistro. I believe it's been around for over a decade now. The food is this unexpected fusion of pan-Asian and Latin American cuisine; a true representation of the melting pot of cultures in Toronto. I'm partial to the ceviche but you can't go wrong with anything on the menu.
Pay Chen – Food writer and media personality (Toronto, ON)
It might not be in the middle of all the action, but the cafe and arepa hotspot Pomarosa is worth a visit to the Danforth in Toronto's east end. At just over $10 each, the cornmeal arepas are stuffed with fresh ingredients and bold flavours. While there's a chicken, beef, and pork arepa on the menu, carnivores and plant-based eaters alike should try the Flores: bright in colour and taste with hibiscus flowers, cauliflower picadillo, cheese, avocado and chipotle-lime cream. Pair it with a coffee or Venezuelan horchata made with sesame seeds, soy milk and cinnamon.
Daniel Costa - Chef/restaurateur (Edmonton, AB)
Tokiwa Ramen has become one of my favourite lunch spots since it opened. A limited amount of soup is made daily, which keeps the flavours fresh and vibrant. My favourite soup is always changing, but I am currently loving the Hokkaido Miso.
Lauren Mote – Co-proprietor, Bittered Sling Bitters (Vancouver, BC)
I am a sucker for good ramen; I seek it out in every city. I'm always delighted to return home to Vancouver, and head straight to Marutama (in Vancouver's West End). The magical, cloudy chicken broth is flavourful, rich, and ethereal.
Tim Forster – Editor, Eater Montreal (Montreal, QC)
My pick: Pizza Bouquet in Little Italy. Located in cool-but-not-fancy bar Notre-Dame-des-Quilles (although officially a separate business), Pizza Bouquet is my ideal version of what bar food should look like. These New York-style pies and slices are well thought-out but unpretentious; affordable, yet, it doesn't skimp on quality. It also fills a gap in Montreal's slightly polarized pizza scene, which is made up of either old-school pizzerias that slather on the toppings (read: "Montreal-style"), and trendy new haunts that, while good, do not seem to realize that there are pizza styles beyond Neapolitan. All that, and it's run by people who came in without substantial restaurant experience, especially in the pizza realm—a victory for DIY, no-culinary-school-required cooking.
Scott Bagshaw - Chef/restaurateur (Winnipeg, MB)
As far as under the radar spots, I like Nhu Quynh, a little hole in the wall Vietnamese joint on Ellice Ave. I am a bit of a pho purist but their satay soup is fucking fantastic. I don't have any pictures because I don't take pictures of my food, 'cause that is lame.
Jesse Vergen - Chef/restaurateur (St. John, New Brunswick)
Kim's Fry Time in Quispamsis N.B., a little suburb outside of Saint John, is a fun little family favourite. It's set beside a gas station ten minutes away from my house, the decor is spartan and the sign outside is nondescript but the food is deadly. Its authentic Korean fried chicken comes by the whole bird with your choice of it being tossed in sauce or not, we take the half and half. The silken tofu hot pot is packed full of mad flavour and a must order item, but it's the housemade pickles and kimchi made by a Korean grandmother that pushes the food into the drool-worthy category.
Michael Bonacini – Chef and Co-Founder of Oliver & Bonacini Hospitality (Toronto, ON)
Chabrol is a hidden gem in the heart of Yorkville (Toronto), and its food is as much the star attraction as its secluded location, its size and its design. I've had the pleasure of knowing Doug for many years. His small but well-curated menu—which is deeply rooted in classic French cooking—paired with a French-inspired wine list and a terrific bar, have made Chabrol a neighbourhood favourite that my wife and I visit often.
Renée Kohlman – Food writer (Saskatoon, SK)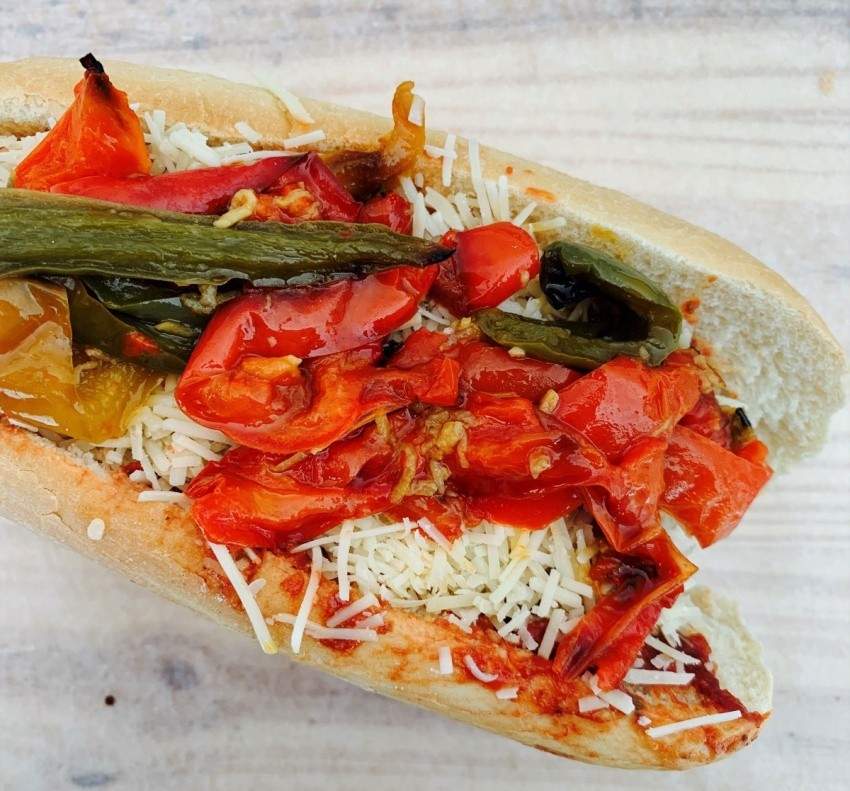 My favourite out of the way place to eat lately is Gangsters Italian Sandwiches, located at 816 16th St. West here in Saskatoon. It's a small sandwich shop, with only one table, and a tiny menu. I love the Italian meatballs in a bun: loads of flavour with fire roasted peppers and grated Parmesan cheese in a fresh, crusty bun. It's a saucy affair, so take lots of napkins. I also love the Italian deli sandwich, which features locally-made Calabrese and Genoa salami, mortadella, plus plenty of provolone, lettuce and basil mayo.
Located in Riversdale, just moments away from Victoria Park, these sandwiches are perfect to take on a little picnic. Plus, with Dark Side Donuts and Fable Ice Cream just around the corner, there are plenty of options for dessert.