Canadian singer and songwriter, Hawksley Workman, may reference a handful of nostalgic '80s candy in his latest single, "Battlefords", but his present-day palate is anything but childish. Having travelled the globe for his music career, Workman initially made his name in France and subsequently fell in love with steak tartare and 1997 Côtes du Rhône. Workman now calls Montreal's Mile End home and has for the past year and a half. We sat down with him in the neighbourhood's favourite Café Olimpico to get the scoop on Montreal's food scene, eating while touring, and more.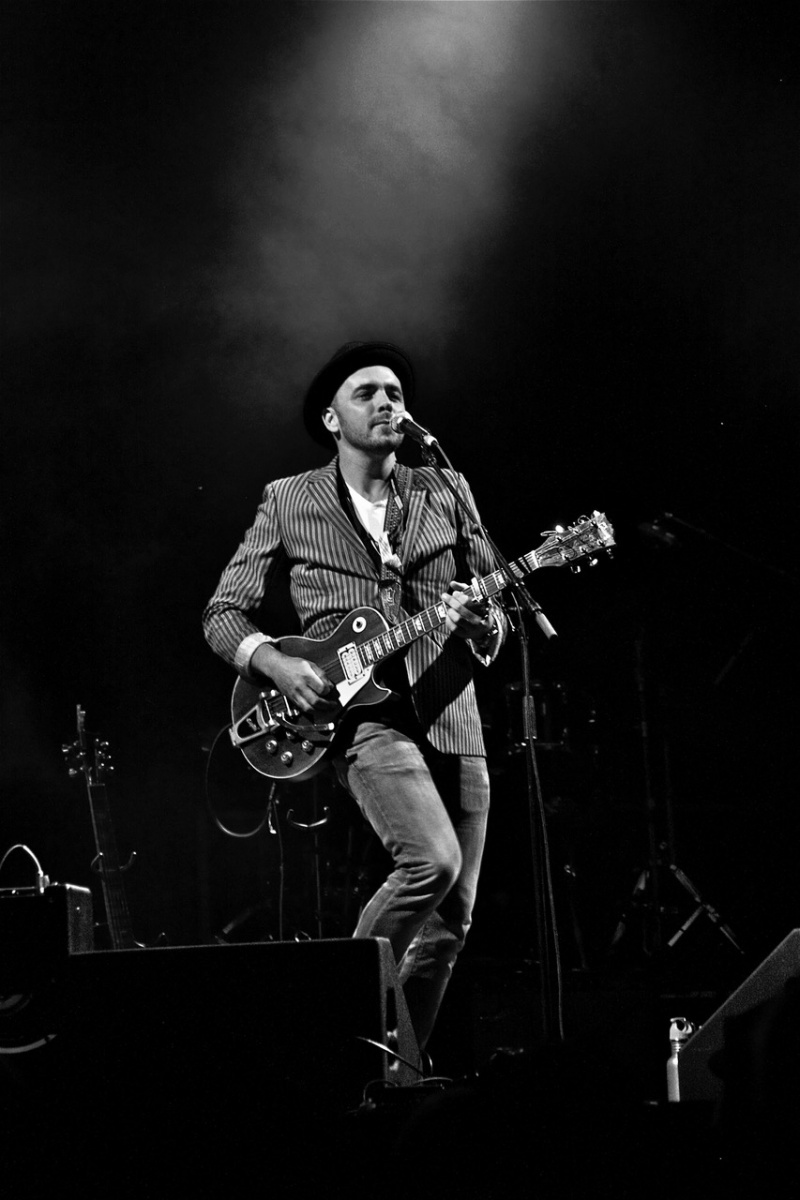 What do you think about Montreal's food scene?
It feels pretty robust. After living a very vehicle-centric life in the country, we have been car-free now for a year and a half. I've embraced my little life in Mile End and in Mile End, there are a lot of interesting options.
Our local diner is Nouveau Palais. They make an incredible burger. That's our go-to place. Our favourite hair-of-the-dog hangover weekend spot is Le Pourvoyeur near Jean Talon Market. They also do a great fish and chips with curry in the batter. I don't know why that seems spectacular but it's quite good. There's Larry's too, right around the corner. For that sort of evolving hipster culture-type food scene, it's still great.
Anywhere outside your local neighbourhood that you enjoy?
L'Express is a semi-regular go-to because we're fanatical about French food. My wife's a brilliant cook, very dedicated, so we live a life of a lot of home cooking, meal planning; but when you really want a heavy, buttery, legit French-bistro, we go to L'Express.
When it comes to up-market, we go to Vin Papillon and Derek Dammann's place, Maison Publique. It's such an event restaurant. I've taken visitors, friends, family; and it's one of those places that you walk away talking about in the cab ride home, and then you wake up the next morning still talking about it. I know Derek a little bit and I think that that level of artistry is really exciting. These kinds of places are not your day drivers. To go and even have access to that wine list is quite something.
How does food and eating fit into the picture when living on the road?
We have a real appreciation for that whole array; living on the road, usually, your best moment of the day is a great meal. When you have a shit meal, it is such an affront. Everyone is grumpy because there's just no excuse for it.
Are there any meals that come to mind as your worst meals ever on tour?
We had a road manager in France that had a strict "no seafood on the road" policy, but I've been sick on the road from food poisoning for sure. I remember having sushi in Hollywood on Grammy weekend. The producer I was working with had connections and we were suddenly on the guest list for Prince's afterparty. I went to Melrose Avenue and bought a whole new outfit. I went to see this exclusive concert that the Roots were playing in Beverly Hills. You know when you're going to be sick from food poisoning? I was watching the Roots and was like, "Oh my god, this is going to happen, I need to get outside right now." And then, of course, I got outside and walked all along Sunset Blvd back to Hollywood, throwing up the whole way, trying to throw up as far away from my I'm-about-to-meet-Prince jeans as possible. Needless to say, I didn't make it to the afterparty.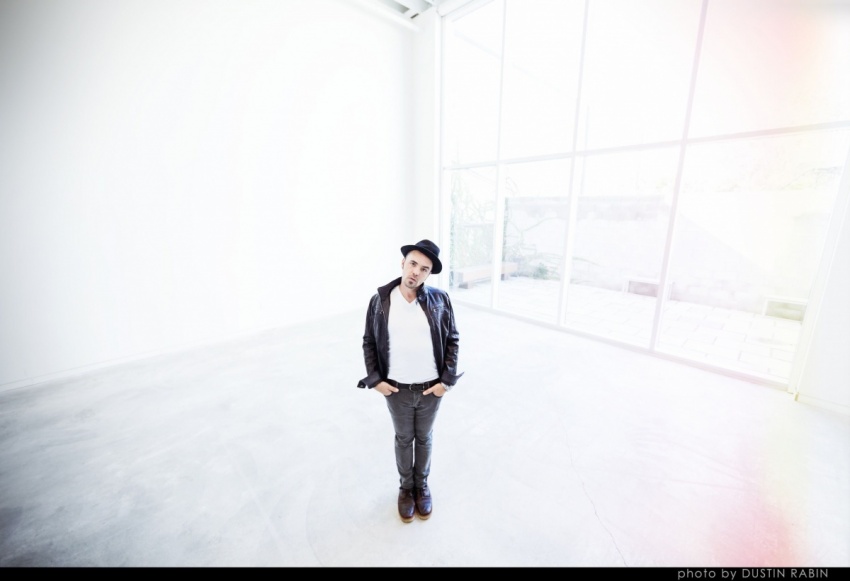 How has food changed since you started touring back in the '90s?
I feel like foodie culture, as nauseating as it can sometimes be, has started to bleed into places that are off the beaten path. There's a great food scene almost anywhere now. There's usually someone clever who has opened up a kitchen. I just had breakfast in Lunenburg this past summer. It felt like an upscale mom and pop bistro, but the breakfast was unbelievable. This is the new normal. I looked around the restaurant and saw normal people who looked like they were enjoying up-market food, but it was no surprise. Even coffee culture, which is also nauseating, and musicians can become really snobbish about it, because on the road, sometimes that's your only bright moment of the day. I don't go there with the coffee, but I can't think of too many bad experiences in recent memory. But definitely, when I started touring in the late '90s, food culture wasn't a thing yet.
How do you feel Montreal's food scene compares to that of other Canadian cities?
I've always said that even artistically, my perception as an Anglo-Canadian is that Toronto musicians are making records to sell to people in Vancouver, Calgary, and Edmonton. I feel like people here [in Montreal] have this spirit, this sense that the French side of things, the cultural products they engage in, they're selling to the rest of the world because they don't have direct access to the rest of Canada. That feeling, that level of excellence–Joe Beef is a world-famous place–I get that sense that when you're dining in Montreal, you're dining in a world-class place with global influence. Here, it feels like they're broadcasting their energy to a bigger market.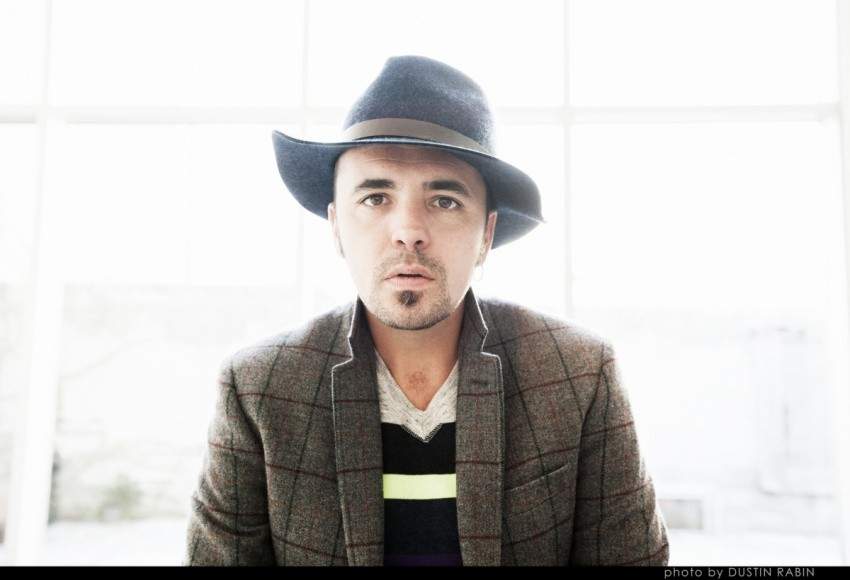 It seems like you have a pretty significant appreciation for food. Has that been fostered through travel?
I think so, yes. For a kid who grew up in the rurals, my mom was a good cook, my grandma was a good cook. Moving to Toronto was always the goal, but I think I really became acquainted with food and food culture when I started to tour in Europe. Then, living in France, where the focus on cuisine is just so elemental and they're so opinionated. When you're an up and coming rockstar, you're being taken to all these places by people who want to show you French culture operating in its highest form. Your tongue, it trains up pretty good. If you're in the business of culture-making and generally operating at a high level, you're attracted to other things that operate at a high level as well. It was natural to be in France and have my career explode there, and then have access to a world that a 25-year-old doesn't usually have access to.
What did you take away from that experience?
That uppity French culture; I wish Canada could have more of that. That pride, which some people are really turned off by when they go to France and think people are so snobby, but if you live in a place that nails architecture, nails culture, and nails food like the French do, [then it is warranted]. If anyone stands out and is snobby about something, Canadians like to take them down a peg or two. In France, it's part of how you appreciate things. It's right to call something great when it's great. Culturally speaking, we could all learn to call bullshit when it's bullshit. At times, it is, but we are afraid to say it because we are led to this understanding that there must be some authority that knows more than me.
Watch: Hawksley Workman "Battlefords"