In Montreal, bagels reign supreme. There's no question of their superiority to New York's doughier counterparts, but you'll always get asked, "Are you team St. Viateur, or team Fairmount?" The two competing bagelries have inhabited Montreal's Mile End neighbourhood for decades, each with a sizeable following. However, what many people don't know is that Montreal's bagel scene features more than just two players. Newest to the scene is Griffintown's Le Trou.
Cleverly translated from "the hole", the spot is run by wife and husband duo, Alexandra Grenier and Damien Cussac. Grenier brings her experience in hospitality, passion for bagels, and dedication to the community to the table, making Le Trou a neighbourhood go-to for approachable, affordable eats.
"When we see local families coming to the shop and buying bagels for their kids and they leave with a smile, that's why we do this," Grenier explains. "We're not trying to be fancy, we're trying to be accessible."
We chatted further with Grenier to get more details on her experience in opening Le Trou, thoughts on what makes a great bagel, and more.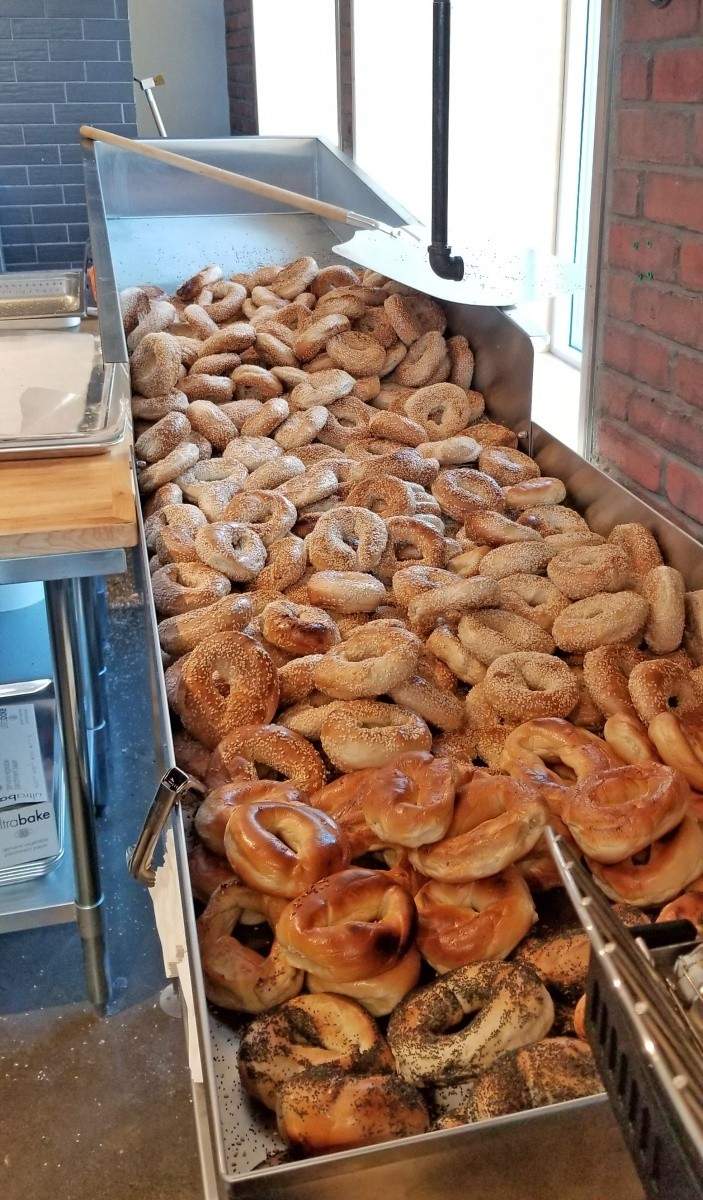 What made you decide to open a bagelry, especially in Montreal, where there's such a history behind this specific item?
I was always a big fan of bagels myself. As a kid, we would come to Montreal and I'd eat bagels as a little girl. We've been living at the border of Griffintown for 12 years now and have seen the area evolve a lot. We wanted to open a business and realized there were no bagels. So, I started making bagels in my own kitchen. Neighbours and friends would come for brunch and I'd make bagels. They started asking for them for their own friends and family. At that point, we decided to open our own shop.
What sets Le Trou's bagels apart from the classics like Fairmount and St. Viateur?
The baking. They're baked in a natural gas oven, not a wood burning oven. People think they were baked in a wood burning oven though. We had thought about it and contacted the city because we wanted to bake them the traditional way. Montrealer's don't mess with bagels. If you don't do the right thing, you're not going to survive. The city was going to give us the permit but said that in a year, they might have to revoke it. We also didn't want to be a bad neighbourhood [given all of the recent controversy with the wood burning ovens in Mile End] so we decided to go for natural gas. It's the same oven they're [St. Viateur] using, just not wood fired.
Have you encountered any difficulties entering the Montreal bagel scene as a newcomer? If so, what have they been?
Our biggest challenge is consistency; making good quality bagels day after day. That was our first concern. We took a bit more time to open to make sure our recipe was good, stable. From day one, you get compared to the legendary places. The first thing people say when they get into the shop is, "How do your bagels compare to St. Viateur and Fairmount?"
Our second challenge was to make sure Montrealers actually like them. And they seem to.
Have you started to notice people coming in from other places outside of Griffintown?
We've really been doing a lot of marketing and business development. I have lots of contacts from my work in the hotel industry. We're starting to see tourists come from places like Chicago, thanks to hotels referring guests to us. Griffintown residents themselves are also very present on social media. They love their area and are very attached to local shops, so they've provided amazing promotion of the place. Sometimes, we see them tagging us in posts with St. Viateur and Fairmount. We see that as a very positive thing.
Any plans for the future of Le Trou?
My first idea was to become one of the major players in the Montreal bagel scene, not to open multiple locations, last five years, and then close. We have lots of bagel shops in Montreal, but people only know about the two. When tourists come to your shop, that's success. That's my goal, to focus on this location and make it become a big player.
Last but not least, if you had to pick, which would you go for: Fairmount or St. Viateur?
I'm team St. Viateur. Fairmount is a bit too sweet for me.