If you've never had the chance to experience the magical part of Canada that is the Yukon, make a point of adding it to your must-travel list once the pandemic is behind us. Whitehorse–the territory's capital–is brimming with plenty of interesting restaurants, bars and breweries. Not surprisingly, the small, but mighty northern city boasts a robust music scene as well.
Adrian Burrill is a part of said scene, playing trumpet and sharing vocal duties for a popular funk band, aptly named Major Funk. Last month, the band released their debut LP Is That You? and are no doubt itching to hit the road and tour when travel restrictions ease up and live music is permitted in major cities once again.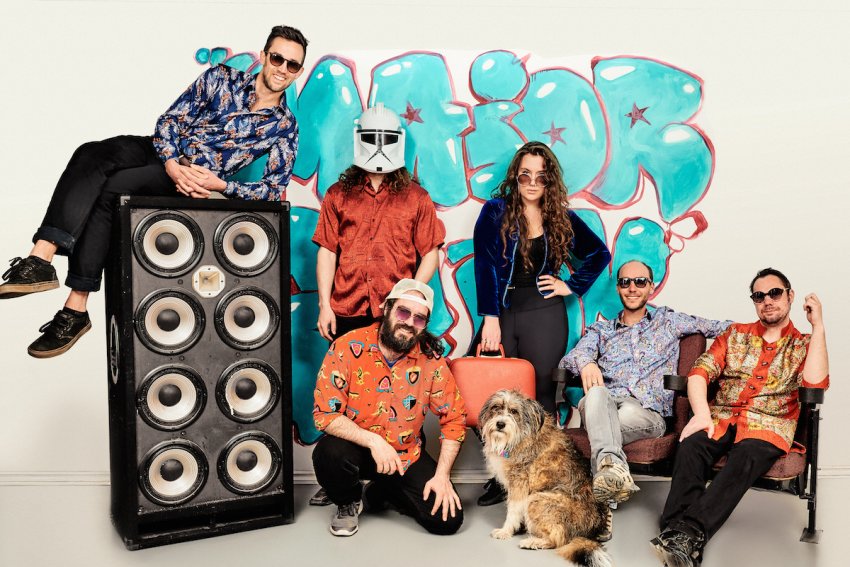 Originally from Pictou, N.S., Burrill spent time living and studying in Montreal and Victoria before settling in Whitehorse in 2014. Aside from music, his other passion in life is making Montreal-style bagels which he does with plenty of vigor by way of his own shop, Bullet Hole Bagels.
"What started as a fun passion project selling bagels at the community market quickly turned into something much bigger, and I now co-own a brick and mortar shop making hundreds of bagels and bagel sandwiches every day.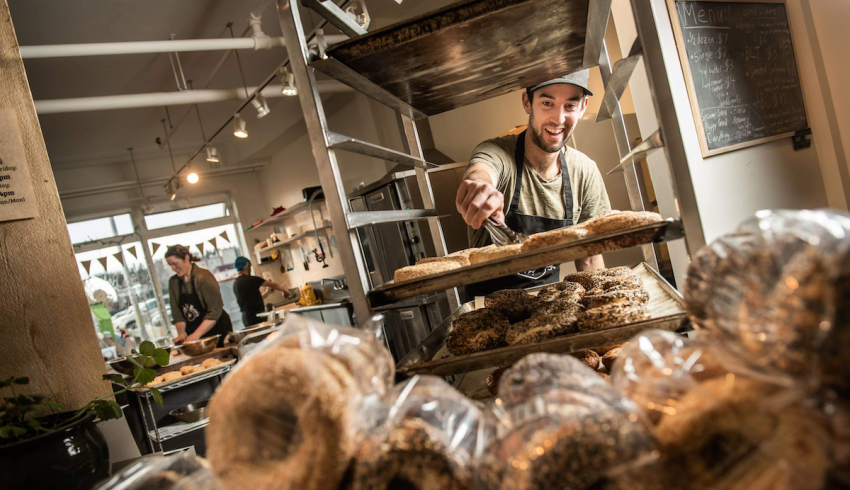 "Major Funk guitarist Brent Gallant also works at the bagel shop with me, coming up with delicious bagel sandwich ideas on the regular. Bagels and funk music, it's a good life!"
Outside of starting his day off at his own shop (and with bagels as good as his, who can blame him?), here's where Burrill loves to eat and drink around Whitehorse.
Breakfast
I am obviously very biased here, but of course Bullet Hole Bagels is my favourite everyday place. My true breakfast love is a good bagel, but to treat myself to something special, I love our neighbours across the street, Burnt Toast Cafe–great ambience and great options on the menu!
Lunch
It's hard to tear myself away from my usual BLT at the bagel shop–[my bandmate and coworker] Brent makes a mean lemon-garlic aioli and also I work there most days–but when I do it's for some tasty ramen at Wood Street Ramen.
I love lunchtime noodles! I gotta say this is a tie though, with the braised beef at Panda Panda Noodle House, which is also unreal.
Dinner
I love me a good burger and there are too many great options to choose from! The southwest chicken burger at the Gold Pan Saloon tugs at my heartstrings–pre-pandemic I would host a monthly trivia night there with my buddy Jona Barr and this is our go-to meal–but I'll have to go with the bison burger at the Dirty Northern/Miner's Daughter on Main St. Relaxed atmosphere, great drink options, and the burger is loaded with onions, aged cheddar…[now that I'm thinking about it] I might actually have to get one tonight now.
Drinks
The beer scene in Whitehorse is as good as the food and music scenes! There are awesome local beer options at Winterlong Brewing, Woodcutter's Blanket brewpub, Polarity Brewing and Yukon Brewing, but if I had to choose one place to sit down for a drink it'd be at Woodcutter's. Not only do they brew their own beer and have a great atmosphere, but they make a mean cocktail to boot!
My favourite is their Old Fashioned–a classic done well. My favourite local beer would have to be Winterlong's Hazy Sexy Cool Hazy IPA. It's lightly citrusy, not too hoppy, and as smooth as a sexy sax solo from the 80s...and our latest record!
Watch: Major Funk - SLIPPIN' (official video)