Unlike in other provinces across the country, the availability of alcohol in Quebec extends far outside liquor stores. Although the SAQ is your best bet for imported beer, wine and spirits, if you're on the hunt for something local, you may want to look elsewhere.
Depanneurs (convenience stores) almost always offer alcoholic drinks, but not all deps are created equal; far from it, in fact. While most stay in the realm of mass-produced and basic bar fixtures, more and more depanneurs are choosing to jump on the local, craft bandwagon and supply Quebec beer, cider, and meads to avid consumers.
Some specialty food stores also opt to extend their specialty to beer and wine, making them a one-stop-shop for picking up dinner and drinks. So whether you live in Montreal, or are visiting from afar and looking to grab a few bottles to enjoy on a sunny day in the park, these unorthodox spots for great bevvies are worth going out of your way to check out.
Boucherie Dans La Côte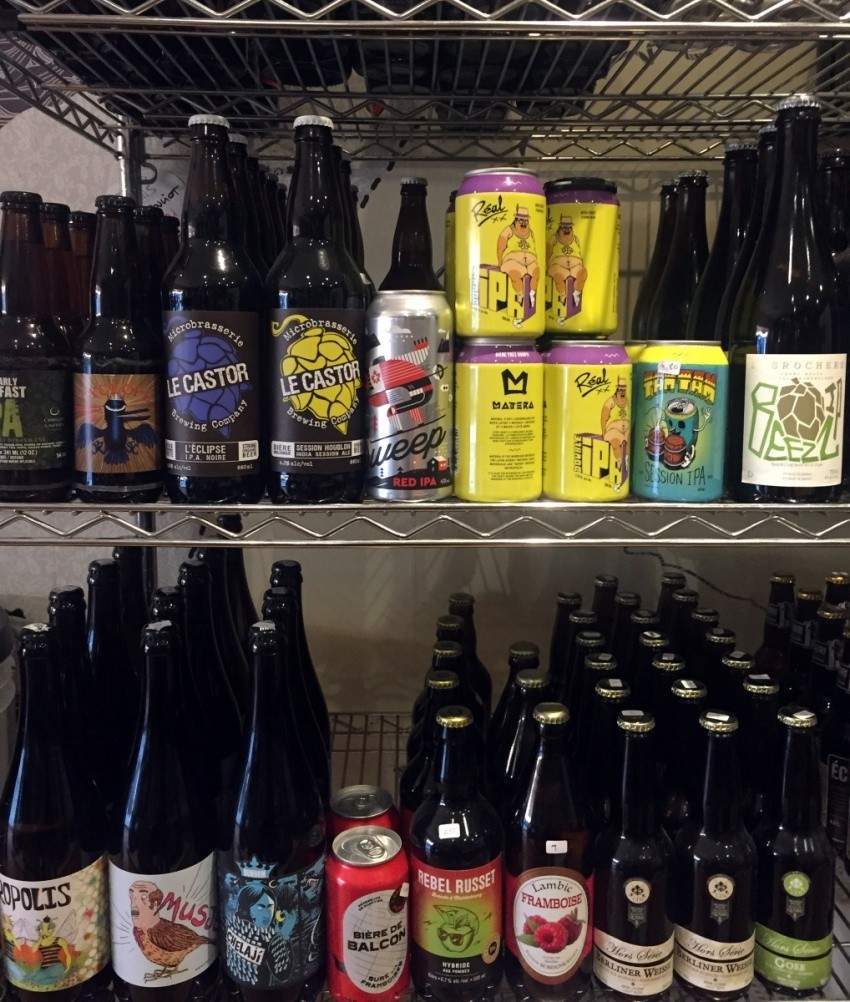 Not a dep but rather a butcher shop, this spot is conveniently located in the heart of downtown's Place des Arts. With the help of contacts he accumulated from his former life as a chef, shop owner David Aghapekian brings in an incredible selection of local beer, cider, mead, and wine, in addition to great steaks. He prioritizes taste, while striking a balance between unique and superbly quaffable. Take, for example, Desrochers Beezz products, an assortment of hydromels flavoured with everything from raspberry to petit lait. Whether you're a mead fanatic or have never tried the stuff before, you'll want to add them to your drinking rotation.
Boucherie Dans La Côte also offers an incredibly comprehensive selection of Quebec wine.
"I'm proud to supply Quebec wine," Aghapekian says. "Ten years ago, people would have laughed at the idea of wine from Quebec, but now, people are lining up for it." Be it bubbles from Domaine Bergeville or Seyval-Chardonnay from Les Pervenches, Quebec wine producers are showing Canadians that you can find great wine outside of Niagara and the Okanagan. As a butcher, first and foremost, Aghapekian notes that supplying good wine was a natural fit. "You can walk away with a steak and a bottle of wine, and you're set for the evening."
Depanneur AS
As you head up St. Laurent into the Mile End, perhaps to check out some of the neighbourhood's famous bagelries, don't forget to stop at Depanneur AS to pick up a few beers. With what can only be described as an overwhelmingly extensive selection of craft brews, it's hard to know where to start… or where to stop, for that matter. It offers more than 600 different beers, both local and imported, although the local offerings are definitely the best place to start. Try La Microbrasserie Coaticook's lineup of brews, from a not-too-hoppy IPA to its Maplehurst, an amber ale with maple notes.
The added bonus is that it's incredibly close to a local-favourite brew pub, Dieu du Ciel, so you can celebrate a successful shopping excursion with a pint or two.
La Bièrothèque
This Little Italy shop is a stone's throw away from Jean Talon Market, making it the perfect place to pick up some beer before or after perusing the market and its plethora of produce. The store's name is a play on bibliothèque (the French word for "library"). It's fitting, given that the place is practically a library of beer (although they don't expect you to return your purchases after seven days).
Its offerings rotate with the seasons, ensuring that customers are supplied with weather-appropriate beverages. Just in time for the summer sunshine, you can find bottles like Brasserie Vrooden's piña colada, a white beer with pineapple and coconut, or Le Naufrageur's Strawberry Fields, a Berliner weisse with, you guessed it, strawberries. It also focuses on many lesser-known Quebec breweries, so you can drink your way through all that the province has to offer.