Opening a traditional Thai curry shop in Montreal's Little Italy neighbourhood isn't necessarily a move you'd expect from anyone, let alone a Canadian from a small town in Alberta, but locals have learned to expect the unexpected when it comes to Jesse Mulder. After travelling extensively around Southeast Asia, predominantly Thailand, Mulder moved back to Canada and opened his Thai pop-up Chak Wow, quickly achieving a cult following. With Pumpui, he now has a permanent location to showcase the traditional Thai dishes that people from near and far go crazy for. We sat down to learn more about his education in Thai food, and what he hopes to get out of sharing it with the people of Montreal.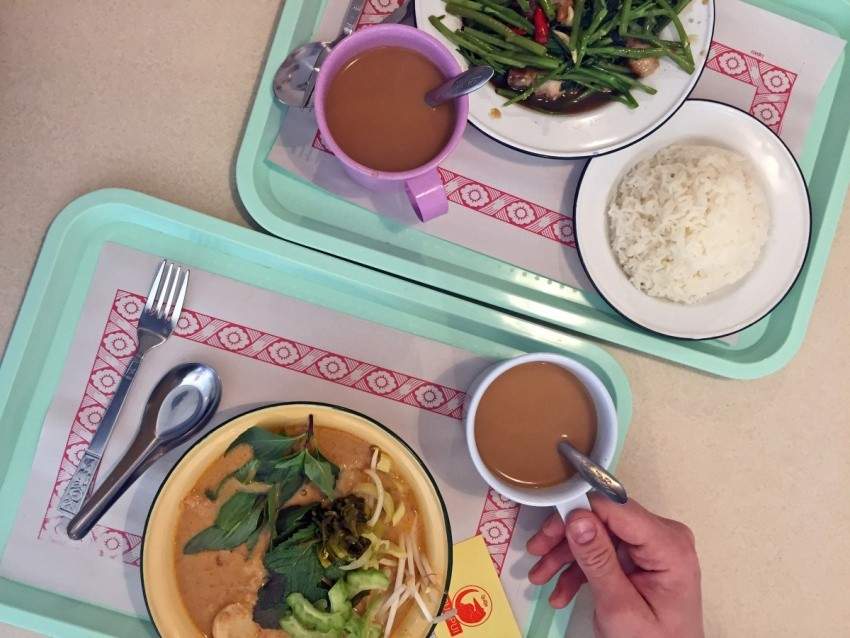 How did you come to be known for your Thai food in Montreal?
I'm definitely a student still and learning about the cuisine and the culture constantly. I started travelling back in 2003. It was supposed to be a trip to Australia with a stopover in Malaysia. I got completely blown away by Southeast Asia. Within 10 days, I found myself in Thailand and postponed my Flight to Oz for three months because I was so enamoured.
What, in particular, was it about Thailand that drew you in?
The food made a pretty big impression on me. Also, the laid back friendly attitude of Thai people in general and their philosophy of sanook, which literally means having fun. It's not just having fun, it's a way of life, seeing the lighter side of everything and poking fun at yourself. That was a pretty big draw. Everyone was just so friendly.
Did you have experience in the culinary industry prior to that?
No, no. Apart from doing the three-day Thai cooking course that a lot of tourists in Thailand do, I didn't really experiment with cooking Thai food until I came back to Canada about a year after that. It was just basic stuff at that point. A career in hospitality had never crossed my mind.
How did you continue to further your education at the time?
I did a lot of observing sidewalk chefs: street food stalls, cooking their wares. I was just kind of hawkish to a certain degree, going back to certain spots where I really enjoyed their food and then just sitting there for hours at a time watching them cook the same dishes over and over.
Was language a barrier to learning?
By that time, my Thai language skills had been progressing; I started picking up Thai immediately once I stepped foot in the country. I'm by no means fluent, but I'm pretty conversational. So, that definitely helped in learning ingredients names and conversing to a certain degree with those chefs. You meet locals and get invited to family dinners. You go into the kitchen maybe if you're lucky and mom shows you a couple of things. There was definitely a lot of that happening too. Then when I was living in Bangkok, I had a small kitchen and I would just practice what I had learned on a fairly regular basis. As I spent more time there and immersed myself, I met more people, and that turned into going and staying with grandma for a couple of weeks at a time--tending to her orchard, cutting red ant nests out of the bushes, picking herbs that grow on the side of the road, and then preparing Northern Thai food with her in the kitchen.
It takes a really adventurous person to just throw themselves into that!
Maybe to a certain degree. I'm pretty outgoing but I wouldn't call myself extraverted. When I have an interest in something, I tend to pursue it fully. I'm pretty autodidactic. I just get really deep into my interests.
At what point after all of that did Chak Wow (Mulder's Thai pop-up) happen?
That happened when I moved to Montreal. I had been in Bangkok on and off for about five years. A job opportunity fell through and by that time, I had depleted my savings so I decided to come to Montreal where I had some connections. Chak Wow arose out of a need to employ myself. I had been cooking Thai food at home for my friends and they were all like, "Holy shit! We've never had anything like this, this is amazing."
I was just brainstorming one night about how I could make more money, so I decided to start a Facebook page and see if I could sell anything. And it took off.
It very much took off to land us here today at Pumpui. How has that transition been, from having a pop up--where you can do what you want, when you want--to having something more set in stone and structured?
It has definitely been pretty challenging to several degrees. The whole Chak Wow was a delivery and catering service, so it was pretty lax. I created my own hours, I worked when I wanted. There was a serious lack of administration or organization. There was nothing. So this has been a pretty steep learning curve, opening this place. But if you're willing to take the risk, fortune favours the bold.
How has the shift been from being a staff of one, to having to pass that knowledge onto other people who are working in the kitchen with you?
That's a good question. It's proving to be quite difficult. I took a lot of notes but none of them are standardized: it's like a pinch here, a mitt full of that, taste it, this is what it is supposed to taste like… You're not brunoise-ing; irregularity is what you're after. It's going against the mentality of someone who has been classically French trained. But that's what we're after. Also, a lot of the recipes are in my head. I have moments of clear communication, but a lot of the time, I'm confused myself about how to describe a technique or the recipe. It's all by taste. If you have that palate memory, it's easier, but for someone who doesn't know what it's supposed to taste like, there's no reference point.
Where do you see Pumpui moving forward?
We're not really in this for the money. If we were, we wouldn't have opened a grocery store restaurant. This, for me, is more of a passion project than anything. I would love to turn this place into almost an embassy for Southeast Asian culture. I want Thai and Lao people to come here and be reminded of home, the flavours and the smells. This is for them. I'm in no way taking claims to this food. These are not my recipes, these are recipes I learned from the gracious people of Thailand.
Do you ever get a negative response in terms of cultural appropriation?
I haven't yet and if I do, I'm not really too concerned about it. Whoever wants to have that conversation, we can have it in Thai. Or I can kindly refer them to my Thai and Lao friends to speak to. The Thai and Lao community here is small, but if we can bring something to them, then awesome.
With the local population, what is the initiation to more traditional but less familiar dishes?
We had a Cambodian family in here the other night, and one of the woman mentioned how 10 years ago, this never would have worked because the local population wouldn't have been able to wrap their head around it. Now, they're getting more adventurous. That being said, it's definitely not for everyone. If you don't like the food, I personally don't care. This is what I'm doing; you can take it or leave it.