There's no denying that beer is, primarily, made with dudes in mind. Let's not kid ourselves.
I've never seen a bottle of beer with a scantily-clad guy gracing the label, all greased up, hair majestically blowing in the wind, delicate thong providing just enough coverage to keep it from being classified as pornographic.
I appreciate a beautiful woman as much as the next person, but come on; if a company is brewing good beers, nudity is not necessary. In fact, I think that if a brewery comes up with a kick-ass product, but throws a lewd label on the bottle, they're not going to receive the attention they deserve for the quality and flavour of their creation. Instead, beer lovers like myself will question the company's choices and move on to the next brew.
That said, the times, they are a-changin'. Folks are getting wise to the fact that both men and women (gasp!!) drink, make, and are involved in beer.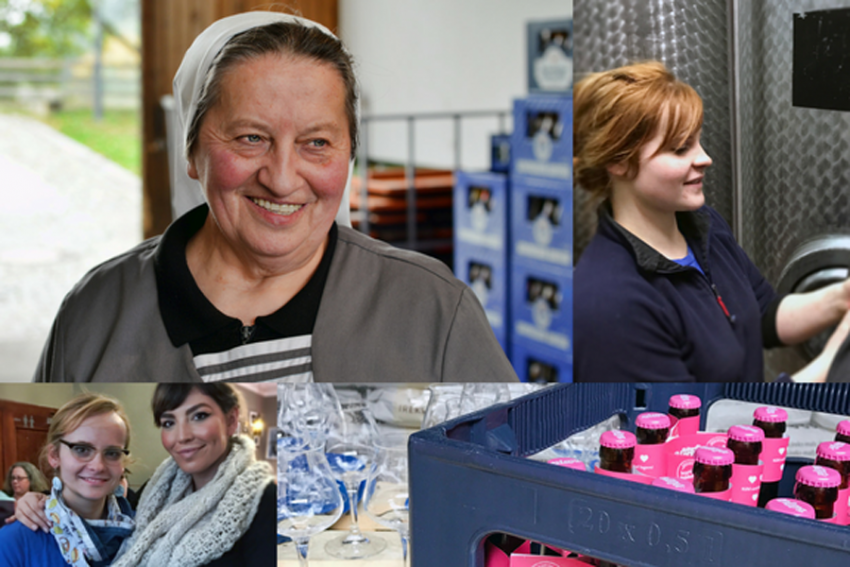 A little while ago, I had the honour of travelling through Bavaria with a group of incredible women from the Pink Boots Society for a Beer, Bratwurst, and Beyond trip, where we visited a wide variety of breweries: centuries-old brew houses, brand new facilities, and nun-run joints with the most fascinating of people at the helm (like Sister Doris, and Moni and Gisi Meinl-Hansen, pictured above). The majority of the breweries we visited were led by women, some were carrying on family names, others were challenging the rules and borders of the ever-so-stern Reinheitsgebot, but all were women who were really making a name for themselves in a male-dominated industry.
Here in Canada, we have the advantage of being a young country, and that means that all of our breweries are really new, by European standards. We don't have hundreds of years of tradition, stereotypes, and cultural norms guiding the trade in the same way that many older countries do. In fact, women in Canada are doing some pretty amazing things in the beer world: opening a brewery, being brewmasters, brewers, or working in the industry in some other way. If you ask them, which I did, they feel pretty equal to their male counterparts. I'll raise a pint to that!
So, who are some of these libation superstars? I interviewed six women from across the country to get their take on their start in the industry, and picked up a few tips for those looking to get into beer.