As a young cook coming out of culinary school in the late 2000s, it was hard not to hear about the scrappy new chef David Chang and his restaurants Momofuku, Ko, and Noodle Bar. The rise of internet food journalism caught him in the right place at the right time, and soon the restaurants and chef quickly grew into something of a legend.
While this legendary status was achieved, many restaurant trends were also shaken by their presence. Music in dining rooms got louder. Stiff, white chef jackets were replaced by t-shirts, online reservations became necessary…but perhaps most importantly, Korean food and flavours entered the limelight. Lines between European and Asian techniques blurred and the food world was forever changed.
It would be challenging to find a chef in the middle of 2010s who didn't know of David Chang, what he was doing and what he was trying to say. Not only did his restaurant empire grow, but he expanded his philosophy into cookbooks (Momofuku) , guiding other chefs to greatness (MilkBar), and even launched a truly unhinged quarterly magazine, Lucky Peach, that helped evolve food journalism.
Then came a memoir, a podcast…and an entire Majordomo Media platform with a series of shows on the way produced in the company's own studio.
Priya Krishna used to work at the infamous Lucky Peach alongside Chang. She is an incredible food journalist for the New York Times and contributes to Easter, and TASTE. She has written two books (Indian-Ish and Ultimate Dining Hall Hacks), and much like Chang, she has garnered the utmost respect and attention of home cooks and industry professionals across North America and beyond.
In 2020, I began listening to The Dave Chang Show podcast. It became a pandemic touchstone for me. To listen to a giant of our culinary world stop and sit with big feelings and wrestle with the future of what hospitality would be. His guests shared wisdom and knowledge that helped me and my own small company get through the past couple of years with some sanity.
Fast forward to October 2021 and Cooking at Home: Or How I Learn To Stop Worrying About Recipes (and Love My Microwave) by Chang and Krishna was released. In our home we had just wrapped cooking through cookbook number two during the pandemic and I was thrilled to give this new book a crack.
I was excited to get the opportunity to sit at the feet of two masters of their field and soak up the knowledge they had fought hard to earn. As life and work returned to its busy normalcy, it took me a little londer than a year to make my way through this one, but I am certainly happy I did.
What I learnt cooking my way through 'Cooking at Home' by Dave Chang and Priya Krishna
I was greeted with an urgency I had never seen before. These recipes were speed runs. Instead of carefully planned ingredient lists and thoughtful procedures, I was hit with "procedure" only and a 'choose your own adventure' philosophy when it came to measurements and types of ingredients, glugs, spurts, handfuls, pinches. The onus was on me now, the quality of the meal relied on my instincts. There was some insulation, but with flavour building blocks like soy sauce, fish sauce, agave, and green onions, it was hard to make something that didn't taste good.
Like most things these two authors do, this book challenges everything you know about your kitchen and what you can accomplish. It builds your confidence in your instincts. It makes you a more competent cook and gives you tools that transfer to other recipes and cookbooks.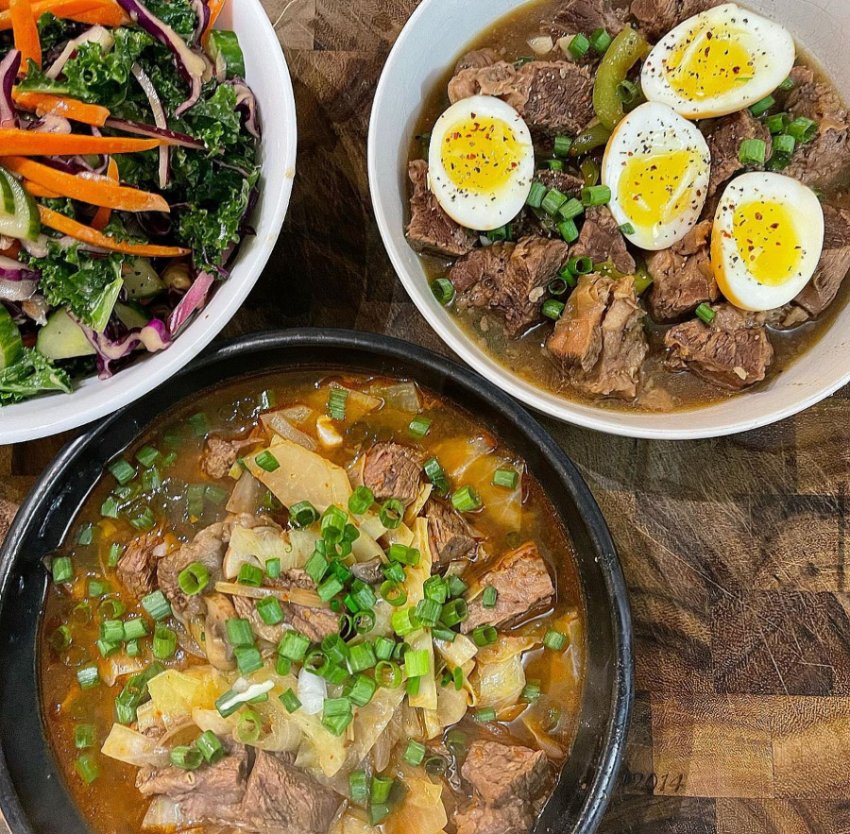 They build trust by including sources of where their riffs on authentic cuisine comes from and who to go look at for more knowledge. Want to explore the flavours of Jamaica, India, Korean, or Japan? New flavours are just a dash/pinch/drizzle away with this book's pantry list of must-have food items.
There are interviews in Cooking at Home that break down the science of why this "recipe" layout is superior, and why your microwave is an underrated tool that can help you deliver flavour in record time. I especially loved this as there is almost always a struggle with time and budgeting when planning to cook meals at home. Here, you are guided to what you can do under your own constraints.
Priya Krishna and David Chang have watched the food world change over the past 12 and they chose to release a cookbook at one of the most vulnerable times in food history. It a book that explores the choices between time, commerce, authenticity, and of course, deliciousness.
I loved every page of it.