My wife, Lourdes, has been a fan of Jillian Harris and Tori Wesszer for years. I have always been a casual observer, offering husbandly-style advice when asked an opinion about what is being highlighted in an Instagram story or post.
For Christmas 2019, she received Harris and Wesszer's cookbook as a gift. I thought it would be fun to cook through this book together.
Fraiche Food, Fulls Hearts is a vegetarian-forward, clean, and simple cookbook. The recipes could be made together, or I could whip them up if we happened to be in a hurry.
In January 2020 we began; initially diving head first into pastas–Lourdes is Italian–and we started off with the butternut squash carbonara. We started posting our prep and end products on our social media platforms and we were knocking off recipes once or twice a week. We had no road map, we just cooked what we wanted, which in hindsight we should have thought about more. Trying to make a meal out of sides and sauces towards the end became its own challenge.
The weeks went by; vegan "bolognese", vegetarian chili and cornbread, squash risotto, smoked salmon cakes, Tori's thin crust pizza, pink pasta for Valentine's Day, fried rice, jackfruit sliders, harvest kale salad...the list goes on and the recipes always delivered.
These were all brilliant and easy recipes that were also fun. We started eating only vegetables in our home.
Cooking dinner whether it was together or by myself, was something we started to really look forward to when it came to sitting down and eating together.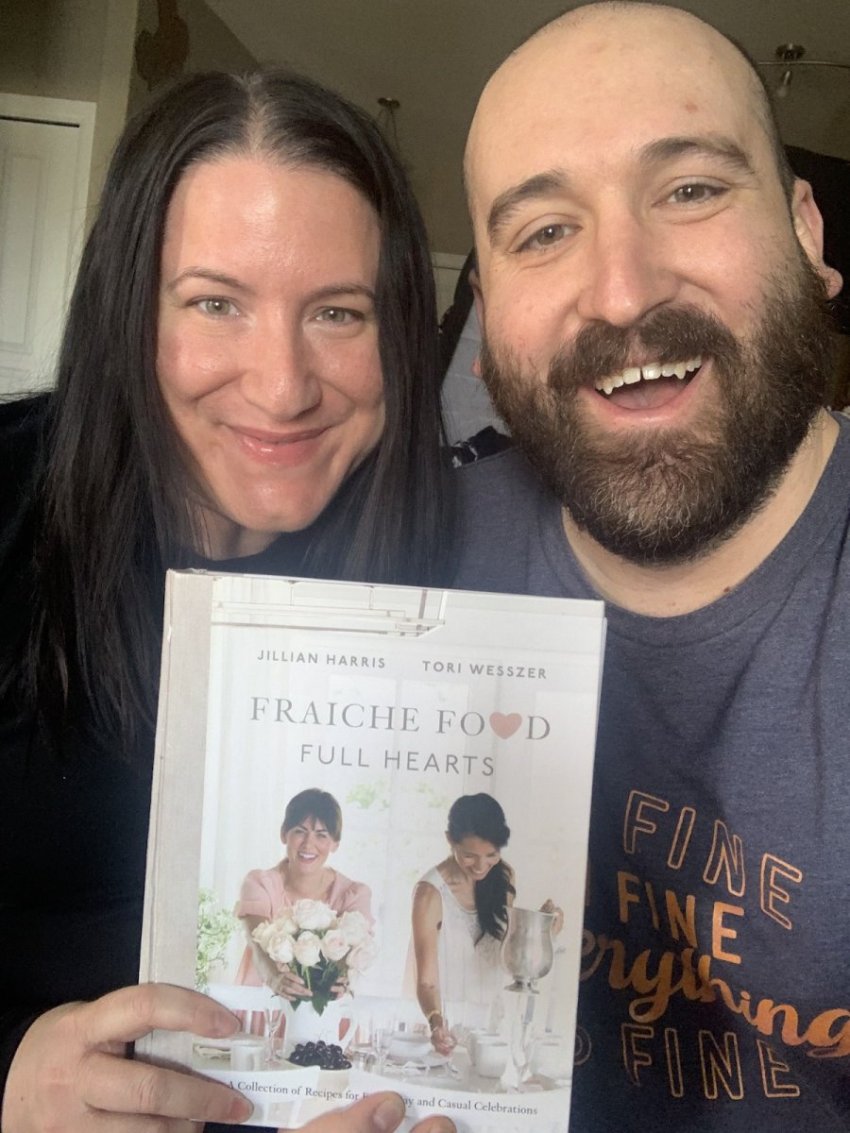 I am a professional chef, so I rarely cooked at home, or if I did, it was staples that were convenient or easy for me to prepare off the top of my head. Dishes that could be executed quickly and usually with a drink in hand. But there was something special about this; I enjoyed going to the store, finding our ingredients–which were all very accessible–and coming home and following the instructions.
My mind was able to focus on a task and I was able to unwind from my day more easily.
We stayed as close to the recipes as we could, rarely making modifications outside of some seasoning, which is always subjective to some degree.
There were times when when cashew cream was needed; instead of using the recipe provided in the book that requires the cashews to soak overnight, we would add the nuts in hot water and microwave for two minutes, then puree, this would soften the cashews in no time and yielded a similar product. Plus it kept the cost of cashew cream down.
I only adjusted my cook times slightly, the chili I found needed double the amount of time the recipe claimed, but that was probably because of the cookware and stove that the recipe was tested on. Or perhaps I was a coward with heat!
When COVID-19 started affecting everyone's lives and livelihoods in March 2020, we used Fraiche Food, Full Hearts as an anchor.
Both of us were anxious and stressed–Lourdes is a teacher–but we never worried about what we were going to cook. It became my meditation. I would put on a podcast or an album and have a dance party while making dishes like Jillian's comforting veggie stew with dumplings or her French toast with bourbon peaches.
The stories about the recipes and the inclusion of family favourites provided us with insights on how the dishes made it from their family collections to our bellies. It was cool. I have stacks of cookbooks and this has been the only one I have cooked from cover to cover.
Ramsey, Oliver, White, Chang, Keller, Waters, Hughes, Samuelson, Cren...they are all sitting on a shelf staring at me, but it was Harris and Wesszer for the cover-to-cover win!
I learned plenty about ingredients that are essential to vegan cooking and began to really appreciate them all, including vegan butter. Yes, it is a thing.
Made from soy, it is truly a fantastic butter substitute. I initially jested in our Instagram stories that it was the bane of my existence, so it is frustrating that it works so well. Admittedly, it is expensive, but hopefully in the years to come it will become cheaper and more accessible than butter.
As the summer peaked, Lourdes and I started to take the extra steps for our own health. We were a meat-free household, and we started walking outside every day for an hour. After these walks we would make dinner and unwind after our stressful days, the pandemic looming ever overhead.
I am very proud of our casual healthy life. I am not going to plug this book for its health benefits, but it was a catalyst and touchstone for some very positive changes in both of our lives.
As the fall months rolled in we cooked up "Granny's Borsht", white buns, mushroom kale garlic toast, and more. We made our way through all of the dessert recipes and were left with something like 20 items, all of which were scattered throughout different areas of the book.
I had it in mind that we could finish before the year's end, but I quickly let that go when December hit and we both got busy with our jobs and personal lives. It was a hectic time, but we did manage to still share meals together and recenter ourselves. I also had to remind myself that no one was timing us a la Julie & Julia.
In the final days of cooking through Fraiche Food, Full Hearts we spent two days finishing off the drinks portion of the book and ended off with "Terry's Big Mussels", and a seafood bake that we scaled down for two. There was a lobster involved–this was one of few recipes that are pescatarian–yet vegan butter was still used...and it was delicious.
It's over now, and it is bittersweet. I sit here pouring over the book, looking for a requested "top ten" from people who have followed along on ourn adventure since the beginning. I am finding much harder than I expected as so many food memories are now flooding back.
I remember feeling angry and determined to make my own pumpkin pie filling because of hoarders at our local grocery store. Cooking the vegan hollandaise recipe with vegan mayo, and being stunned at how well it worked.
Being transported far and away from my own stresses in life with the smell of the oatmeal bread coming out of the oven. The same goes for the lentil shepherd's pie. Fighting with phyllo pastry over the salmon spanakopita.
Finally, I remember watching our world change forever with the onset of the pandemic. While our province locked ltself down in March, we stayed tucked away in our kitchen making lime capellini.
Fraiche Food, Full Hearts is a love letter from Jillian Harris and Tori Wesszer to the food that brought their families together again and again throughout the years. This book reminded Lourdes and I that even when the world feels dark and cold, there is always a time and a way to celebrate with those you love.