The Mangalitsa, a roly-poly, curly-haired pig, was initially bred for royalty of the Austro- Hungarian Empire. The animal was prized for its generous amount of lard—a vital commodity in pre-modern days—and for its dark red, lavishly-marbled meat. Industrialization, refrigeration and the introduction of cooking oil ended its popularity: the slow-growing Mangalitsa was replaced by pigs that could be quickly raised and brought to market. By the 1980s, the breed was almost extinct.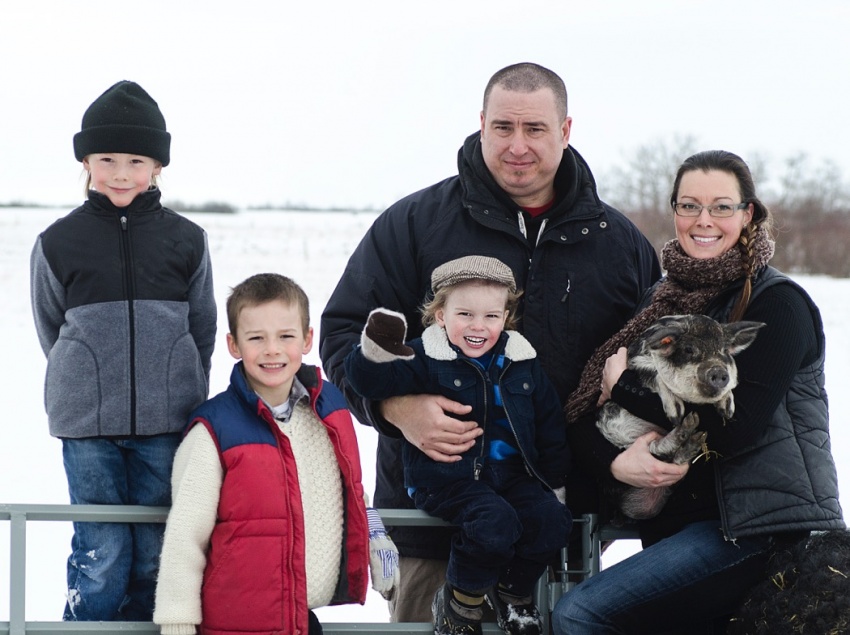 Malorie Aube of Country Accent Farms near Edmonton is part of a Mangalitsa renaissance. She bought her first pig in 2013 and now has a herd of 200 Swallow-bellied (black and blonde) and Red Mangalitsa. She is one of a handful of breeders in Canada, and the only one who raises Mangalitsa both for product and for breeding stock. Aube's pigs remain outside even on the coldest winter day; the animal's insulating woolly coat makes it a perfect choice of livestock to raise in northern climes.
As anxious as we are to peek at the porkers, Toronto chef Joshna Maharaj and I can't resist Aube's invite to first take a seat in her kitchen and taste some "Manga" charcuterie. We fall silent at first bite, sigh in unison, and then toss all restraint aside. We plow through piles of peppered salami, speck, and a mound of whipped lardo that melts like the butteriest of butters the moment it hits our tongues.
The flavours are concentrated; bold and delicate at the same time, or as Maharaj so eloquently puts it, "Oh my God…oh Lordy."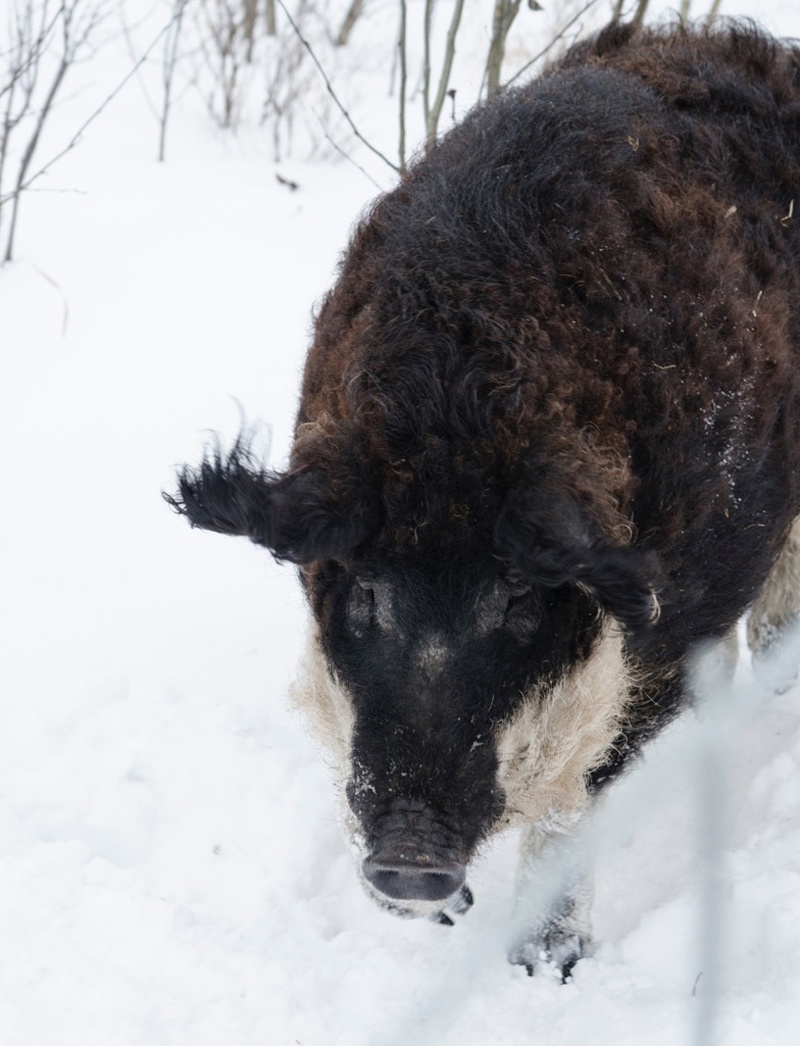 We head outside, fortified with food and knowledge, to view the source of these spectacular cured meat products. Sows and young ones cautiously approach. They sniff the air and bob their heads as they check us out. Then, the whole mass dashes off in quick-footed fury. It's a surprising thing to witness, considering the average adult pig in this pen weighs 300 pounds, of which 40 per cent is fat.
The young ones are weaned at three to four months—the age when conventional breeds go to market—and then spend another 20 months (or more) growing, eating and foraging on the land. The extra time spent on raising these animals also raises the price of the end product, but comparing Mangalitsa to conventional breeds is like comparing dandelions to orchids, or, Little Penguin to Chateau Margaux…you get the idea. The two are worlds apart.
"You can't rush terroir," says Aube, adding that the longer you raise the animal, the more flavourful the meat, and the better the fat works for charcuterie.
Because of its rich colour and marbling, Mangalitsa is often called "the Kobe beef of pork". The bright white fat melts at room temperature but has a high smoking point of 350 degrees Fahrenheit, which makes it ideal for frying foods. One Mangalitsa can produce 70 litres of pure, sweet, rendered lard—which should attract the attention of not only home cooks, but bakers as well. The Mangalitsa fat is also what makes the meat taste so good and keeps the meat from drying out when cooked; but don't let the fat scare you: the meat is full of omega-3 and -6 essential fatty acids, and high in monounsaturated fats—the ones responsible for lowering LDL ("bad") while increasing the HDL ("good") cholesterol levels.
The Mangalitsa are relatively new to Canada's culinary scene, but in Hungary, it is a plentiful and much celebrated product. People descend on Budapest every February for the annual Mangalica Festival where Mangalica, as it is spelled in Europe, flows as far as the eye can see: piled on tables, hanging on hooks, sliced, cured, and roasting on spits over open fires. Several Michelin-starred restaurants in Europe feature the meat on their menus. In the U.S., Thomas Keller's French Laundry first used Mangalitsa in 2010. Acclaimed restaurants Blue Hill at Stone Barns, Eleven Madison Park, and The Spotted Pig routinely showcase Mangalitsa on their menus.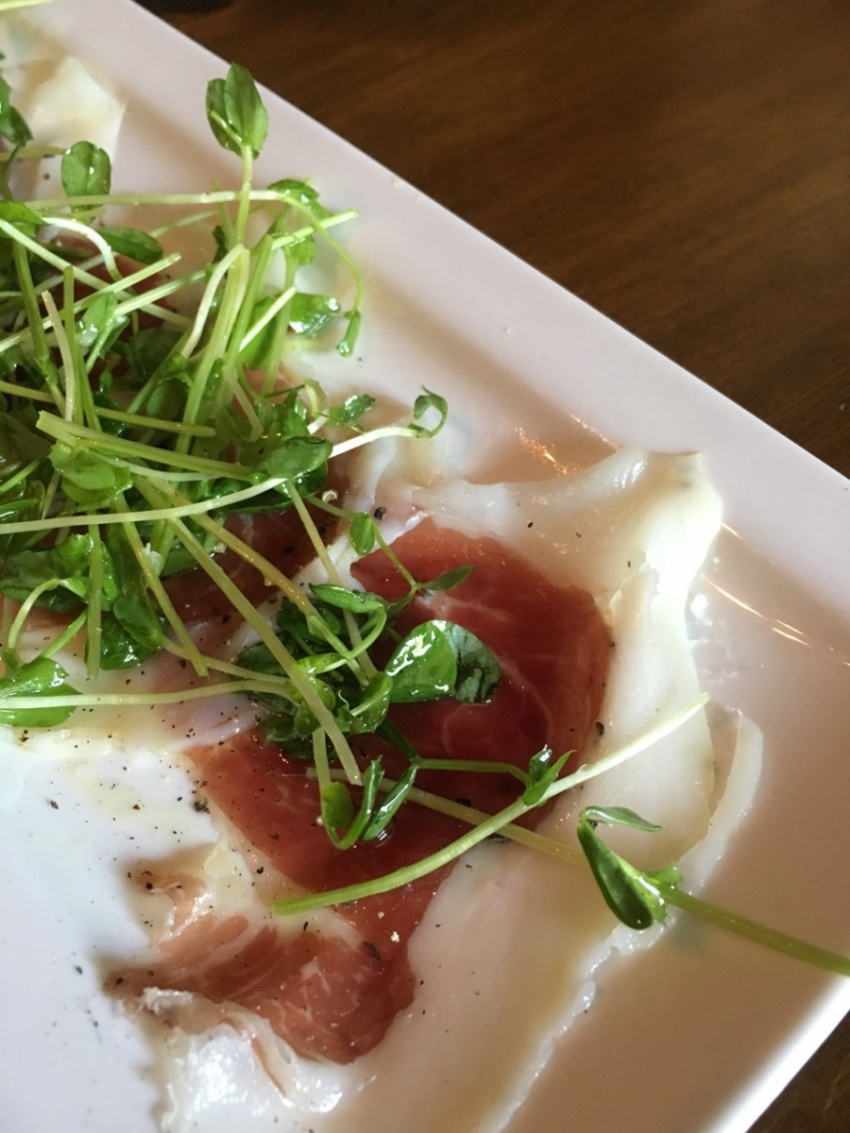 Closer to home, Ryan O'Flynn of The Guild in Calgary is busy turning Mangalitsa into charcuterie for the fall menu. In the meantime, he's preparing bacon, English bangers, and pork pies to add to the current menu. The River Café is working on Mangalitsa salumi, including three legs of prosciutto curing in the cooler. In Edmonton, Vivo Ristorante has been serving Aube's Mangalitsa for over a year. Its new location in the Ice District will feature an expanded selection of charcuterie to complement the wine list. Steve Furgiuele, of Fuge Fine Meat Inc., uses Aube's Mangalitsa for his salumi and in his sausage recipes; Rosario Caputo offers house-cured Mangalitsa lonza at Cibo, and Daniel Costa is currently working on a Mangalitsa dish for Corso 32.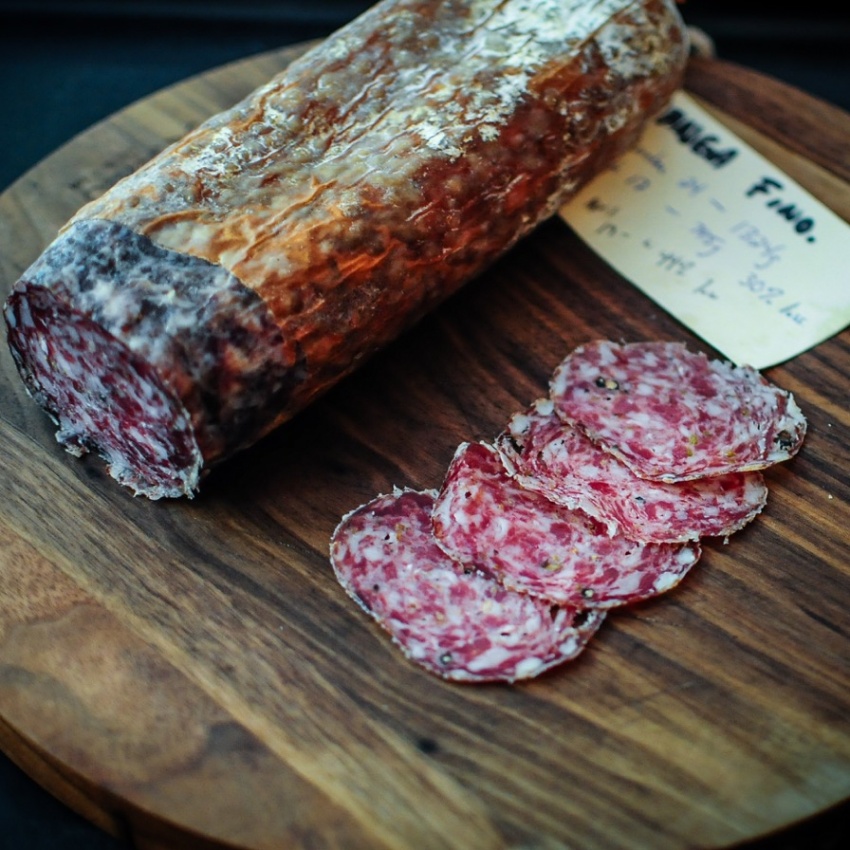 Look for Mangalitsa at Acme Meats in Edmonton once again for barbecue season. Be warned, though: owner, Corey Meyer, says the product flies off the shelf the moment he posts about it on social media. I can vouch for that. Last fall, I was a day late and the only thing left was one Manga cutlet. I grabbed it and ran.
It made the best schnitzel I've ever tasted.