In 2015, the Marriott group acquired the Delta Grand Okanagan and embarked on a $9.4 million dollar lobby and restaurant renovation.
Goodbye to the faded dusty rose and forest green colour scheme of the foyer and Grand Bay Café, and hello to Oak + Cru, a 263-seat, modern bistro and wine bar.
Kelowna of 2015 (and now) is not the Kelowna it was in 1992 when the hotel was built. The time was right for a substantial redo—not just in design but in the company's collective approach to food, as well.
Chef Daniel Craig, with several awards and years under his belt at Ritz Carltons across the country, came to Oak + Cru in January 2018. Under his direction, the food is modern, fresh and "emphatically local".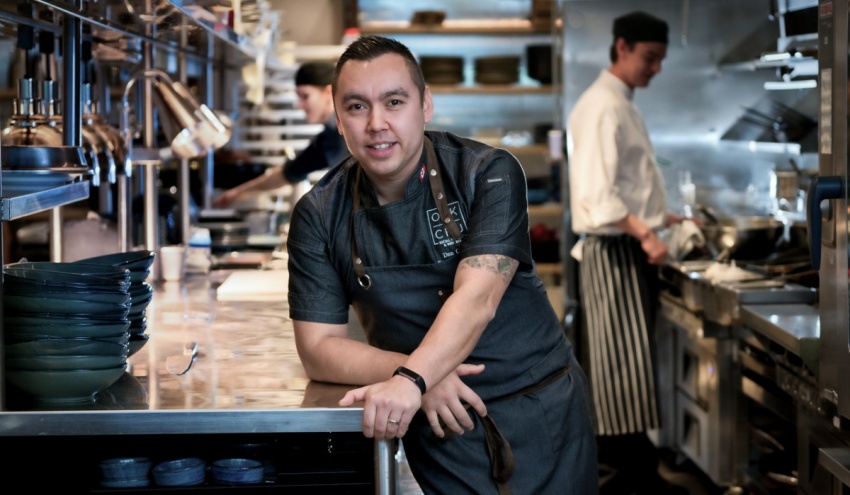 The website states: "the OAK + CRU crew have raised the bar for wine lovers and gourmands throughout the valley."
"We use almost exclusively local here when in season," said Craig in an email exchange. "Our vegetables and fruits come from a farm in Oliver and we get a lot of vegetables from the parents of one of our breakfast cooks who have a farm called Roots and Greens in Grindrod. You would have to try very hard not to use local produce working in the Okanagan… Everyone is growing everything here."
Breakfast offerings like the wild mushroom omelet stuffed with spinach, tomatoes, and Carmelis goat cheese and the Superjuice (a blend of apple, kale, spinach, celery, cucumbers, pineapple, watermelon, mint and ginger) will prepare guests for a session of yoga on the beach or a day of winery touring.
Fresh, healthy fare is front and centre for lunch, too, with offerings like the Ancient Grain Salad that features quinoa, black barley, hemp seed and wild rice salad bolstered with butternut squash, roasted pears, pumpkin seeds and local aged gouda in a house-made ginger and kombucha vinaigrette.
At least half a dozen dishes contain sustainable seafood items like scallops, prawns, yellowfin tuna, and wild Canadian salmon (when available).
The main dining area has windows that fully open to the waterfront patio, the place to be (in the warmer months) to watch the sun go down while sipping on any one of the creative cocktails, craft beers or two dozen Okanagan wines available by the glass.
In the meantime, seats at the bar—always the best place to sit when dining solo—or with friends in the private dining cellar surrounded by 2800 bottles of BC wine, are great options.
I'll keep my eyes peeled for the sweet corn and jalapeno soup, a seasonal dish that will hopefully appear again on the summer 2019 menu. For now, the buttermilk fried chicken, the savoury wood-fired flatbreads or the Brant Lake wagyu tenderloin will have to suffice.
If this is how one struggles through an Okanagan winter, so be it.
See you at the bar.