With a booming year of dining almost behind us, we toast to some of the bigger food news stories of 2016 in Edmonton before heading into what is expected to be another great year for food. Here's a recap of some of the people, events and restaurants that are putting Edmonton on the culinary map.
Vignettes does dining
This event in September was one that paired the design community with the culinary industry. It was a show-stopping amalgamation of art, design and food that transported ticket holders to what felt like a movie set in New York City. Sea cans were turned into dining spaces, white lights were strung across parking lots, art installations were set up, and musicians played while diners enjoyed multi-course meals, wine and cocktails on a late fall evening in downtown Edmonton. Four restaurants participated for this inaugural event. I hope we see at least double that number next year.
Slow Food Edmonton's wild game dinner
This was the second From the Wild Table event put on by the Slow Food convivium with proteins secured by local hunters. This year saw a menu featuring black bear and Canada goose, with dishes created by four chefs and a butcher. The event was held to enlighten the public about sustainable eating using whole animals sourced from the wild. It not only attracted curious diners and people who support this mandate, it also attracted media, protestors, and the presence of Edmonton City's finest. Stay tuned for Kevin Kossowan's video of the event.
Chartier
On March 5, 2015, Darren and Sylvia Cheverie embarked on a Kickstarter campaign to raise $95,000 to open a rustic, French-Canadian restaurant just outside of Edmonton, in the town of Beaumont. By April 24, they had not only reached their goal, but surpassed it by $13,000. Their campaign has become the most successful restaurant Kickstarter program to date, in Canada. In spring of 2016, Chartier officially opened its doors and has become a hotspot for locals and closely located south-side residents, but people will drive for miles to dig into the hearty fare, especially the brunch poutine: a heaping helping of fries, peppered bacon, soft poached egg, cheese curds, scallions and truffle hollandaise.
Cocktail culture
Boozy things started brewing about three years ago. It started with Three Boars, Woodwork and then North 53. El Cortez, Ampersand 27 and Rostizado then joined in; but this year, Chartier and District Café also bellied up, matching new and/or revamped menus with well-crafted cocktails to round out the dining experience. It was the opening of Have Mercy and then Clementine, though, that blew the doors off the collective gin joint. Have Mercy is gritty and raucous and its cocktails have whimsical titles like the Hyaw Now! Punch, and the Rattlesnake; while Clementine is polished and elegant, and offers libations with obscure botanicals and top shelf elixirs, usually with some historical aspect attached. Think prohibition and absinthe, suspenders and bowties.
Hot new restaurants
2016 was slow out of the gates for restaurants but Uccellino and Clementine fired things up in the home stretch.
Daniel Costa opened his third Italian restaurant, Uccellino, right next to Bar Bricco, making everyone wonder if his ultimate plan is to take over the entire block. We can only hope. Uccellino means "little bird" and was chosen to reflect a more light-hearted menu compared to Corso 32 two doors down. The food, as expected, is typical Costa, which is to say, magnifico. What's unexpected is that half the seats are left open for walk-ins, which means, finally, there's a very good chance you can get a seat at Costa's table with little or no notice. Fingers crossed, anyways.
Roger Letourneau, Chris Szelagiewicz and Ashley Brandin, are a culinary tour de force in the kitchen at Clementine. The trio returned to Edmonton inspired by their travels through Europe. All interned at high-end restaurants but more importantly, learned about the heart and soul of the ingredients directly from the farmers. The elegantly provincial menu reflects this: macerated and cultured ingredients, and foods that are braised, pickled, fermented, and smoked.
Effing Seafoods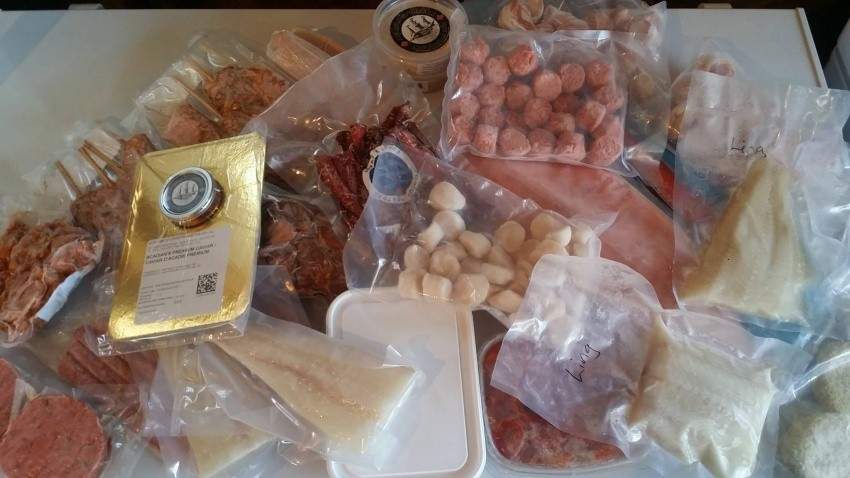 Like water to a dying man, Rob Tryon brought sustainably harvested seafood to our prairie town and added a whole new dimension to our food scene. Sure, his product is spectacular, but he's become just as well known for his high-energy approach, his silly singing videos on social media, and his positive attitude on life, the universe, and everything. There are probably more oysters consumed in Edmonton than ever before, thanks to him. Want to know where your seafood comes from? Ask him, he'll tell you exactly from where, exactly from whom, and exactly when and how it was harvested. We have the effing seafood dude! We're lucky, and we know it.
No tipping
Café Linnea, a joint venture between chef Kelsey Johnson and Duchess Bakeshop's Garner Beggs, opened the doors to this Scandinavian-French-inspired restaurant in June and the public didn't exactly know what to do. "What do you mean, we don't tip?" That's right: the servers are trained professionals, confident and skilled in the knowledge and intricacies of their profession and are paid a higher wage to reflect such. The quality and execution of the food is untouchable. The space is gorgeous. Lineups for this breakfast/brunch café snake out the door. We're seeing the start of what's perhaps the ripple effect of this no tipping policy; it appears to have inspired Grain of Rice in the west end to adopt the same practise.
Pop-ups by David Leeder, Christine Sandford and Israel Alvarez
These are three chefs to watch, each of them staging and/or working at top-ranked restaurants in the world: David at Noma in Copenhagen; Christine at In de Wulf in Belgium, and Israel at Pujol in Mexico City. Every pop up done by each of these chefs was astounding and tickets sold out usually within the day of being posted. Sandford will be heading the kitchen at the new brew pub set to open in Ritchie Market, but Leeder and Alvarez are, still, free agents. Pop ups allow artists to really push the envelope. Although I'd love to see Leeder and Alvarez in their own restaurants, I'm expecting even better, crazier, wilder events from these two culinary renegades in 2017.
Food trucks
Call us Portland North because we have what might be the strongest food truck culture in Canada. A big part of that is thanks to the efforts of Sharon Yeo and Mack Male, the founders of What the Truck. The event has come a long way since the first one in May 2015 when 12,000 people RSVP'd making it obvious that Edmontonians love their food trucks. In 2016, five WTT events were held with 90 trucks participating. Ninety—that's a pretty big deal for a Canadian city. Make sure you keep your eyes open for the 2017 schedule. Herding food trucks is no easy feat; Male and Yeo deserve a medal.
Passing of Brendan Brewster and Gail Hall
In 2016 our hearts broke with the loss of two beautiful and talented people. In March, we said goodbye to Brendan Brewster, bartender extraordinaire, responsible for setting up cocktail programs in various Canadian cities. He introduced us to Fernet Branca (a.k.a. the bartender's handshake) and gave us the Smoke and Oak Fashioned, now a legendary cocktail at North 53. Sitting across from this bear of a man while he made a cocktail made you feel like the most special person in the bar. In November, chef, food advocate, local food supporter, Gail Hall, succumbed to breast cancer. Those who knew Gail admired her for how she confronted, fought and gracefully accepted the hand to which she was dealt. Her humour and positive outlook was amazing, and until her last breath, she remained an inspiration to everyone around her. Our city is poorer without Brendan and Gail here but forever grateful that we had them while we did.
Here's wishing everyone a safe, prosperous and delicious 2017. I raise my glass of Fernet to you all.