It's not always easy to recall individual events within an entire year, let alone a dish you've eaten. But, for these food writers, recalling their dining experiences is central to their work. So, we asked seven of them for the most memorable dishes of 2016.
John Gilchrist
John Gilchrist has been providing Calgarians with food news and mouth-watering reports of his restaurant adventures for years, contributing to CBC and the Calgary Herald, as well has hosting and judging for numerous food events throughout the year. His most memorable meal took place at Waterfront Wines in Kelowna in February, where Mark Filatow's chef's tasting menu exhibited outstanding commitment to local and seasonal products.
"Filatow doesn't actually do a tasting menu but a group of ten of us just asked him to throw food at us until we asked him to stop. It was amazing. The roasted organic carrot salad with Arlo's honey, quince, and the Bella Stella Formaggella cheese custard is outstanding; and the steamed Salt Spring mussels are creamy, smooth and luscious. And I could live on the ragout of sprouted beans, peas and lentils with salted onions and pickled tomatoes. Gorgeous."
Lia Rinaldo
Heading into its seventh year, Devour! The Food Film Fest (which takes place in Nova Scotia) is the largest food and film festival in the world, celebrating not only the cross section between food and films, but also everything food, internationally: food trucks, pop-ups, wine seminars, and all kinds of dining experiences. Organizer Lia Rinaldo, obviously savvy when it comes to who the players are and what the latest trends are in the culinary arena, has a few favourites from the past year.
"During a weekend of adventurous eating in St. John's, Newfoundland, trying things I had never had before–seal, arctic hare, every part of the cod including tongues, moose every which way–I discovered cod sound: the fish's air bladder that controls its buoyancy. Entire communities were once sustained by this iconic fish and [this was eaten] in the spirit of nothing being wasted. [This] is the cod sound chicharron with Acadian Sturgeon caviar and creme fraîche, part of a 12-course tasting menu at Raymonds Restaurant, St. John's, Newfoundland."
It was really difficult to choose just one memorable dish, so here are a few others that Rinaldo mentioned as outstanding bites of 2016.
Amy Rosen
Amy Rosen, has been witnessing the growth of Toronto's food scene for decades. A James Beard award nominated writer, she's been the editor for both Chatelaine and House & Home magazines, and regularly contributes for enRoute and the Globe and Mail, among others. She recently opened Rosen's Cinnamon Buns, a cafe that serves its titular homemade treat, cinnamon bread pudding and coffee. For Rosen, the best dish she ate in 2016 happened just recently at the spectacular holiday lunch at Edulis.
"The dish was a poached lobster with cashews and shaved fresh hearts of palm with a vinaigrette made from lobster oil and fines herbes (chervil, tarragon, chives, parsley). A beautiful dish in every conceivable way."
Pierre Jury
Pierre Jury, political and food writer for Le Droit in Ottawa, covers the capital's restaurant scene. Coincidentally, the most memorable dish of the year took place at the restaurant where he and our own Dan Clapson met in Ottawa.
"The one thing that pops first in mind is the spätzle poutine at Murray Street Bistro, on, you guessed it, Murray Street in Ottawa. Chef and co-owner Steve Mitton is a military brat who spent a few years on the Canadian Base in Germany where he developed a taste for that typical Alsatian pasta, spätzle. So when he wanted to create his own version of a 'Canadian' poutine, he left the fries in the fryer and went for spätzle instead. He uses better cheese curds and duck confit for a wonderful result. Alas, Murray Street Bistro is closing permanently in a few days, on Dec. 31st. But, foodies like me are convinced that Steve Mitton will be back in a kitchen somewhere soon..."
Renee Kohlman
For Saskatchewan-based food writer and pastry chef Renee Kohlman, the best food of the year was part of a memorable overall experience her boyfriend, at a family-run italian restaurant, where the warm and cozy atmosphere created the best setting right off the bat.
"Freshly-baked bread was on our table as soon as we sat, and the bread basket was never empty for the remainder of the evening. I had the homemade cheese-stuffed gnocchi in the most perfect mushroom cream sauce. It was impeccable. My guy had the linguine with prosciutto with mushrooms. Again, so good! The portion sizes were gigantic, and everything was so well done. I love made-from-scratch Italian food, and Amarone hit it out of the park. For over two hours, we were in love with the place. We loved it so much, we went back the next night for more, something I have never done before, and it was just as great. We still talk about that meal at Amarone and that Montreal night. I think I'll remember it forever.
Pay Chen
Torontonians are likely to be familiar with Pay Chen, TV and radio personality and food writer, who has been on almost every major station from YTV and Treehouse to CTV and CBC, covering a wide selection of lifestyle topics. She's been covering food in TO for years and her favourite from the year was the chicken liver tart at Canis.
"Recently I had the most amazing liver tart from Canis restaurant in Toronto. I would go back just for that. It's also really beautiful. It has a thin layer of grape jelly so the tart is a light purple colour on the top. It's beautiful, creamy and the slight sweetness of the grape jelly compliments the richness of the mousse.
Mike Green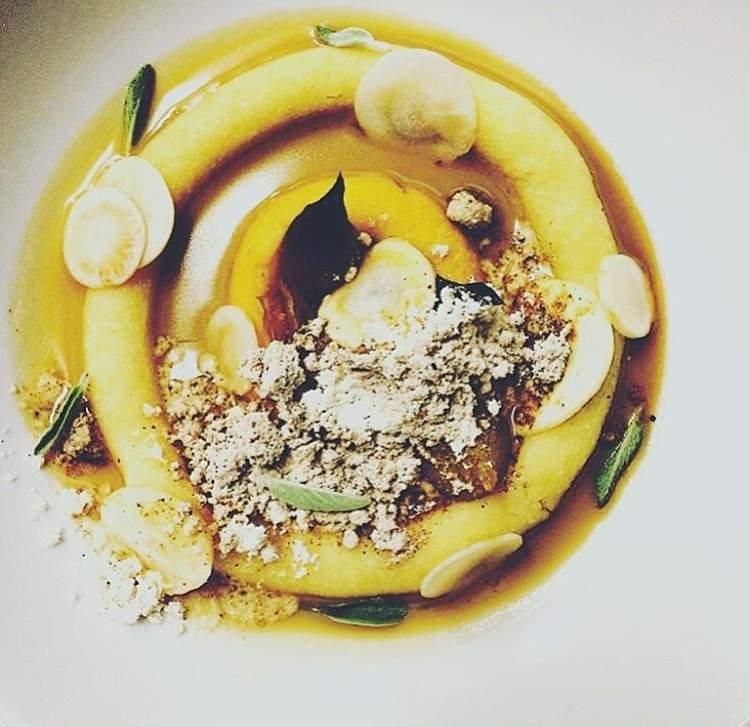 As Winnipeg is becoming more recognized for its food and restaurants, writer Mike Green isn't missing a beat, covering all the newest and best spots in the city. His favourite of the year was a part of The Sentruhl Project in Februrary, a pop-up dinner that celebrates Canadian cuisine. The dish, an homage to Arthur Lismer's Saint-Hilarion, is what Green calls autumn on a plate. It's a creamy and herbaceous smoked-rosemary-steeped turkey broth with parsnip and rutabaga puree, with parsnip marmalade and chestnut snow, which was the second course in their Group of Seven tribute dinner.
For Green's detailed account of the dinner and a recipe for this dish, read his post on Peg City Grub.