Canada's Maritimes is certainly on a culinary roll and there was no sign of it stopping in 2016. From world-renowned chefs touching down in Nova Scotia to Canada's oldest oyster producers taking home an award, it's been an exciting year with much more to look out for in 2017.
Taste of Nova Scotia's "Seafood Trail" debuts in summer of 2016
Seafood lovers, look no farther; Taste of Nova Scotia launched the Seafood Trail for the first time this past summer. Join in on a seaside lobster boil, shuck a few fresh oysters and indulge in a bowl of good ole chowder. The Seafood Trail highlights some of the province's top-notch restaurants, fisheries and retailers.
Local craft liquor store, Liquid Assets, opens
This venture was launched last spring with one objective in mind: to showcase Nova Scotia's handcrafted alcohol products. With more than 20 wineries, 40 craft breweries, distilleries and cideries, there is a local imbibe for everyone. You can take home one or more of these fabulous finds at the Halifax airport. The beauty of Liquid Assets is that it's a post-security shop, so sample the goods, grab them and board the plane with no hassle at all.
Devour! highlights talented female chefs
"The World's Largest Food and Film Festival" was back in full force this year in Wolfville, Nova Scotia, with a special guest in tow. The World's Best Female Chef (as awarded by The World's 50 Best Restaurants 2016), Dominique Crenn of Atelier Crenn and Petite Crenn San Francisco, opened this year's festival, much to the delight of foodies from around the country. Crenn made sure to indulge in Halifax's official staple food, the donair. She even went back for seconds.
Bay Enterprises named producer of the year
Did someone say oysters? Charles Purdy knows a thing or two about them. His family has been cultivating these succulent beauties out in Malagash, Nova Scotia, since 1899--that's 150 years of shucking. This past fall, Bay Enterprises was named producer of the year at the Taste of Nova Scotia Awards. It was a long time coming and the Purdy Family could not have been more delighted.
Highwayman
Forty seats and fabulous food is what it took to put this new restaurant on the map. Named one of Canada's best new restaurants in Air Canada's enRoute magazine, this Halifax spot is buzzing. The menu is filled with Spanish dishes like the patatas bravas and the delicious chorizo. Be sure to swig back the Sword & Pistol cocktail when you're there.
Hop Yard
Charlottetown's newest spot, Hop Yard Craft Beer bar, is doing it right. The concept is a cool one: grab a pint of beer from the great selection of North American brew, order some grub off the menu (all under $8) and pick a vinyl record (there's more than 500 to choose from) to create the perfect soundtrack to your meal. The kimchi quesadillas are a must-try.
Steinhart's new Nova Scotia blueberry gin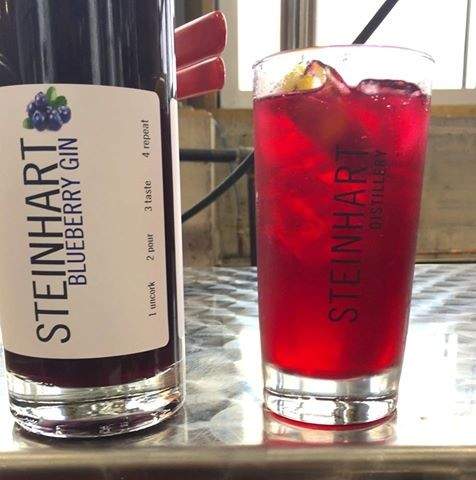 Have you ever been to a "ginstitute" before? Neither had we. Nova Scotia's Steinhart Distillery, known for its superb gin, has recently introduced weekend courses on how to make your own gin. Learn from one of the finest alcohol alchemists around, Thomas Steinhart. Craft distilling has been part of his family tradition for more than 300 years back in his native Germany. Speaking of gin, the latest product to come out of Steinhart is blueberry gin, and yes, the smooth fruity taste is just a wee bit addictive.
The Stubborn Goat Gastro Pub takes over the waterfront beer gardens
A favorite spot to dine for many Haligonians, this pub debuted its beer garden this past summer on the waterfront under the ownership of craft beer hotspot, Stillwell. This year, Stubborn Goat has taken over the lease. It's a perfect spot to enjoy the North Atlantic breeze and a great selection of local brew. The menu is pretty fabulous too, serving up many of the fresh dishes they are known for, like its queso fundido and its lobster mac n' cheese.
Barrington Steakhouse & Oyster Bar
This is the newest restaurant from the Murphy Group, the folks behind P.E.I.'s Gahan House and Halifax's Waterfront Gahan House. They teamed up this year to open a much-anticipated steakhouse and oyster bar on Halifax's historic Barrington Street. The focus is freshness, from the freshest oysters found throughout the Maritimes to the perfect cut of steak.