After a beautiful six days in Wolfville, Nova Scotia packed with more 70 film screenings, culinary events and workshops, the 8th annual Devour! The Food Film Fest has now unveiled its Golden Tine Award winners for 2018.
"This year's film program was chock full of incredibly impactful films", says the festival's managing director Lia Rinaldo. "We are thrilled to present this year's winners with the prestigious Golden Tine Awards. They should not only be proud of their achievements, but also the thought-provoking conversation their films have inspired."
Six award-winning films and four honourable mentions in five different categories were decided upon by this year's festival jury that included Anita Stewart (Food Laureate, University of Guelph and founder of Food Day Canada) and Greg Rubidge (Syndicado Film Sales), as well as myself.
On a personal note, I am walking away from this film festival feeling inspired, impassioned, but also more knowledgeable about the wide world of food because of each of film I was able to experience this year as a member of the jury.
Best Feature Drama - As Needed, directed by Francesco Falaschi
This Italian film won over the jury with its beautifully-combined elements of human potential despite the odds, commitment to one's values, and an honest love of food and culinary traditions.
Best Feature Documentary (tie) -Mark Tchelistcheff's André – The Voice of Wine and Soufra, by director Thomas Morgan
André is a captivating film about a relatively unknown Russian immigrant winemaker who helped create the world-renowned California wine industry from the ground up, enriching the understanding of viticulture and oenology for wine regions globally.
Soufra, on the other hand, is equally captivating as a spirited emotional journey that sees stateless Palestinian women in Beirut rise above cultural, political and economic obstacles in search for a better life. Their passion for food, culinary tradition, and their determination become the springboards to achieving financial independence, and security for their loved ones.
Best Short Documentary - A Butcher's Heart by Marijn Frank
In addition to the wonderful cinematography, the jury loved the discussion, and reflection, on the slaughtering and eating of animals as revealed through the innocent lens of a young boy's eyes.
Best Animation - The Common Chameleon by Tomer Eshed
An adorable and vibrantly animated tale of gluttony that was just downright funny.
Best Short Drama-Cups and Robbers directed by Jim Simone
The jurors were impressed by the film's progressive humour, which reflected the highs and lows of running a diner.
Golden Tine honourable mentions
Our Blood Is Wine (feature documentary, Emily Railsback)
The ancient techniques of Georgian winemaking using kvevris are captured beautifully in this documentary. Watching the passionate winemakers in Georgia create their unique wines and how the end product is intertwined with their everyday lives is nothing short of fascinating.
The BBQ (feature drama, Stephen Amis)
A humorous look at the importance of taking time to rediscover one's self and appreciating the people around you. It's hard not to be charmed by this story of an underdog, especially when there's a little barbecue on the side.
How Mr & Mrs Gock saved the Kumara (short documentary, Felicity Morgan-Rhind)
I was taken by this short film, which is filled with bright visuals, humour, whimsy and a lovely rhyming narration. The Gocks, both with a twinkle in their eye, are excellent farmers and along with their undying love for one another, are helping to grow and share their particularly rare sweet potato (kumara) with the world.
Pulled Strings (short documentary, Vicki Chau)
Evocative imagery, beautiful choreography and entrancing music help showcase an age-old noodle-making technique that is very much alive and well today.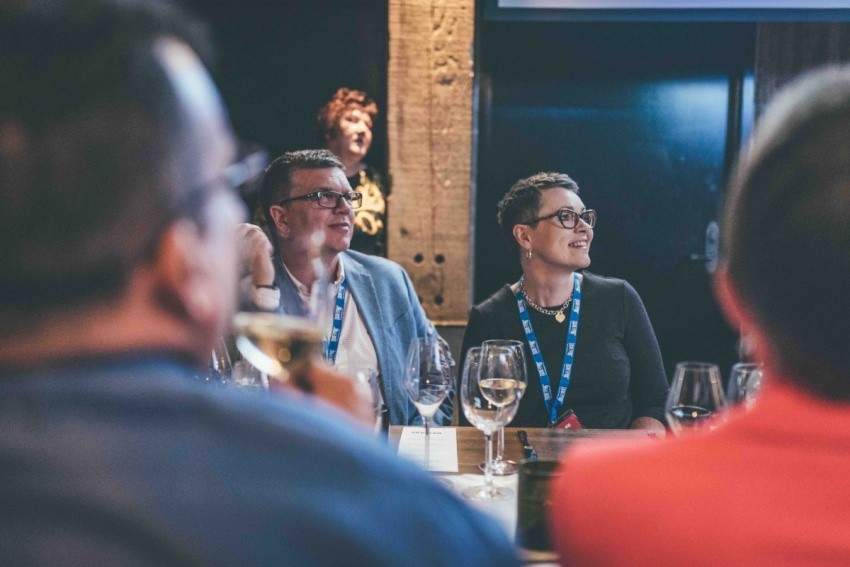 The awards brunch at the picturesque Lightfoot & Wolfville Vineyards also acknowledged the young winner of the Nourish Nova Scotia Youth Food & Film Challenge, which was presented by CBC's Brett Ruskin to Kieran O'Neill from Berwick, Nova Scotia. O'Neill took home a $500 prize to support a healthy eating initiative in his school or community for his film, School Food and was also awarded a $500 GoPro Kit.
Having been able to watch this one-of-a-kind film festival grow and evolve over the years has been a wonderful experience. I truly feel this is one of Canada's most unique culinary events and cannot wait to see what 2019 will bring for festival co-directors Lia Rinaldo and Michael Howell and Devour! The Food Film Fest.