Here in Calgary, people like to joke that the city only has two seasons: winter and construction. In the winter, you can find Calgarians cozied up inside their homes, toasting by a fireplace in an effort to thaw their fingers and toes after spending an hour outside shovelling heaps of snow from their driveways. Construction season, on the other hand, typically runs through the warmer months and rouses a daily eye roll from the many Calgarians who have to reroute their daily commutes to avoid yet another bridge improvement project.
That said, Calgary does have another season. It's a season that people are quick to forget during the unforgiving winters and in the heat of their frustration with the bustling city construction. During the summer months, Calgary is the perfect place to settle down outside and soak up the sun as you sip a cold drink before the breathtaking Rocky Mountains sunset, with shades of pink and purple off of the gleaming downtown skyline. Yes, I'm talking about patio season.
As a local patio enthusiast, I have searched high and low, and travelled to the ends of the city in search of the perfect patio. There are so many amazing patios to explore, that I can't narrow it down to just one. So, let this serve as inspiration to get out there and find your perfect patio!
So, here in no particular order, are a few of my top patio picks in Calgary.
Julio's Barrio
It's a warm, sunny day and you're walking down the quaint streets of Kensington, admiring the river view and window shopping the local boutiques. Suddenly, a lively melody strikes your ear. Is it a banjo? No. A ukulele? No. A xylophone? Probably not. Intrigued, you follow the noise to the entrance of Julio's Barrio, where you realize that it is the sweet sound of a mariachi band.
You breeze through the restaurant entrance. A cool wave from the air conditioning washes over you and you inhale the savoury smells of Mexican cusine. A hostess grabs a couple of menus and leads you through the vibrant restaurant and its coloured tiles and festive Mexican decorations, including a set of sombreros hanging above the bar. You're led up a winding staircase to the second level of the restaurant and back out into the open air, onto the patio.
You settle down at a small table, sheltered by a large umbrella that provides just enough shade. It's the perfect weather to enjoy a cold drink, but do you want a margarita or a beer? Both. So you order a Bulldog, a classic lime margarita with a beer bottle tipped upside down in the margarita glass, mixing the two drinks together into a wonderfully sweet and slushy concoction. As you work on the drink, your mouth waters a the thought of a warm plate of crispy tortilla chips, doused in melted cheese, dressed with fresh tomatoes, onions, jalapenos, and topped off with a dollop of sour cream and a side of mild salsa. Naturally, you order some nachos.
Everything looks delicious. You sit back in your chair and absorb the warmth of the sun, gently sipping your bulldog and nibbling at your nachos as you gaze out over the river view and the city skyline. Life is good!
National on 8th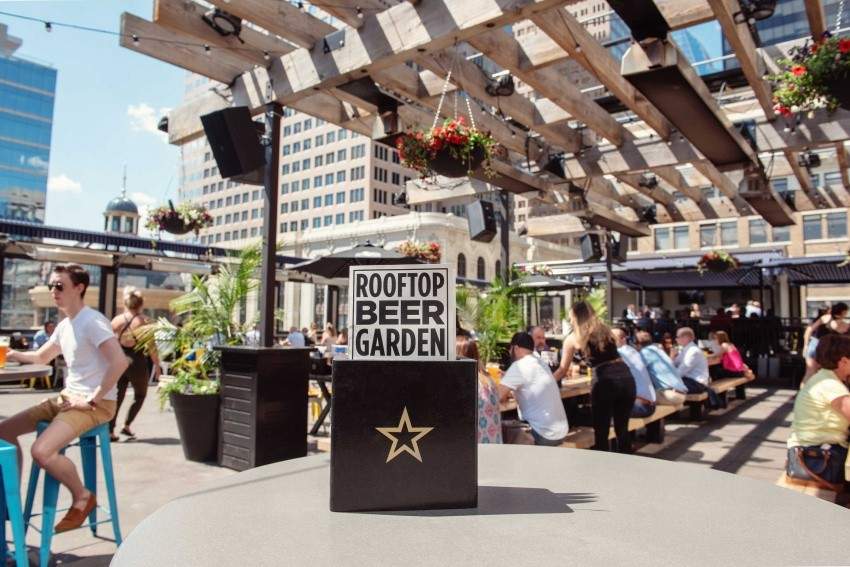 It's a bit of a quest to get to National's rooftop beer garden, but I promise you that it's worth it.
First, you must navigate your way through the CORE Shopping Centre. After a series of escalators and interactive mall maps, you finally arrive at National's front entrance on the third floor of the Scotia Centre, but your journey to the patio is only just beginning. You enter the restaurant, and try hard not to get distracted by the delicious smells, glittering lights, and giant "Good Times" sign. No, you must persevere to the patio. You stray to the back of the restaurant, where you are faced with a great climb—multiple flights of stairs. You know what you have to do. You summon all your energy and begin your ascent. Finally, you arrive at the top, where you advance down a long, winding hallway.
"Welcome to National!" the hostess greets you. You've made it!
You take a moment to admire your reward. The patio is expansive, with a series of wooden tables, colourful chairs set in the middle of the area, and multiple potted plants and hanging baskets of flowers. At the far side of the patio, a group of people play a game of corn hole. The sounds of laughter echo across the patio. What a happy place!
You stroll over to one of the three bars on the patio and order a cold drink, but not just any cold drink—a Meadjito! You watch the bartender create the drink by filling the glass with a light mead, adding a shot of white rum, and mixing it with soda water before splashing in some lime juice and mint.
As you sip your drink, breathe in the summer air and let the sunlight warm your skin, you admire the twinkling patio lights above, set against the spectacular views of Stephen Avenue. The "Good Times" mural on the far wall catches your eye and brings a smile to your face.
Royale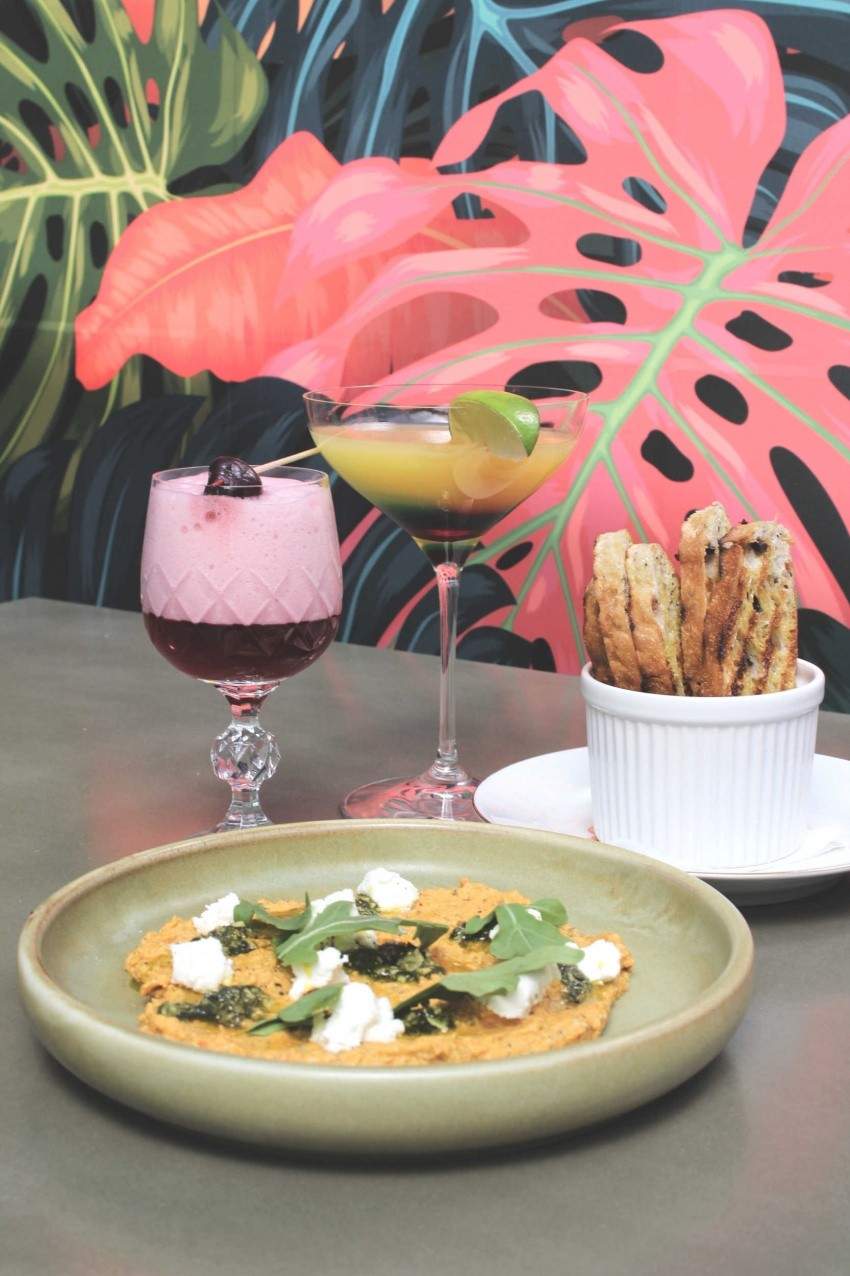 There are many great patios to choose from on 17th Avenue, but in my personal opinion, Royale is one of the best.
After a long Sunday morning of shopping and taking in the city's entertainment district, you stroll into Royale's grand entrance. It's a pleasant sight. The room is amply lit by the glass ceiling above, from which two glass chandeliers hang. A sprawling bar lines the far right wall and is decorated with multiple potted plants. "This place is fit for royalty!" you whisper to yourself. Maybe that's why it's called Royale? It must be.
A preppy hostess greats you and leads you through the restaurant and onto the patio. Similar to the restaurant's interior, the patio also features an abundance of greenery with a variety of flowering trees, potted succulents, and crawling ivy. A set of lights drape above the sprawling patio, bringing an extra sparkle to the extravagant atmosphere. You take your seat at a small but cozy table in the middle of the secluded setting. The hostess informs you that mimosas are on special for $5, so you decide to indulge yourself and order one—and while you're at it, you'll also have the duck confit eggs Benedict.
You take your time to savour your mimosa's bubbly brilliance, sitting back in your chair and letting your eyes wander, further absorbing the patio scenery. Part of you wants to pull out your phone and Instagram the serene setting, but mostly, you're content to just sit and enjoy the moment. You take another sip of your mimosa, adjust your sunglasses, and let out a deep sigh.