Even if you're just a small part of Canada's food scene, there's a fairly good chance that you know of Amy Rosen. Straight out of journalism school, Rosen started out freelancing for enRoute magazine before climbing the culinary writing ladder with ease, becoming Chatelaine's food editor (a position she departed from about three years ago), authoring multiple cookbooks including last year's Toronto Cooks and much more. She's known for her intoxicating writing style that draws readers in and makes them wish they were by her side, be it on the tundra in northern Manitoba or traipsing around Portugal in search of the best ceviche.
This week, Rosen announced a very different venture, one that's most likely to ground her a bit more from her worldly travels. She's set to open a gourmet cinnamon bun shop later this year. It's rare for a food writer to venture into the food industry, but with a degree from Le Cordon Bleu and years of experience writing recipes, or as Rosen puts it, "Making cooking approachable, feeding people and licking the bowl is what I do best," Rosen is set for success.
So, why cinnamon buns? There aren't really many independent shops in Canada that focus on making good quality cinnamon buns. In a country that has more macaron shops, patisseries and doughnut makers than you can shake a stick at, this sweet new business venture definitely looks like it will fill a niche. When asked if there is a fond food memory or Rosen family tradition that sparked the writer's deep love for cinnamon buns, she says that the sweet swirl of cinnamon dusted dough isn't just her love affair, it's pretty much everyone's.
"I'm not doing this because I love cinnamon buns, I'm doing this because everyone loves cinnamon buns. The idea came to me at the cottage during the tail end of the Christmas holidays. The whole family was up there, we made cinnamon buns and I realized that from my smallest niece (who's not yet two), to a gaggle of tweens and teenagers, 40-somethings, and my parents in their 70s, cinnamon buns were the one food that everyone ate with zeal."
In addition to the seemingly unanimous love for the sweet treat, she notes the lack of good quality products out there.
"People love cinnamon buns and besides a few bakeries who put out a pan or two each day, nobody was doing really great, homemade cinnamon buns for the masses," she explains. "So, I saw a need. I could see people picking up a dozen on their way to work and showing up like a friggin' conquering hero."
I agree, a batch of warm, lightly-glazed cinnamon buns are always more welcomed than a dozen doughnuts from Timmy's.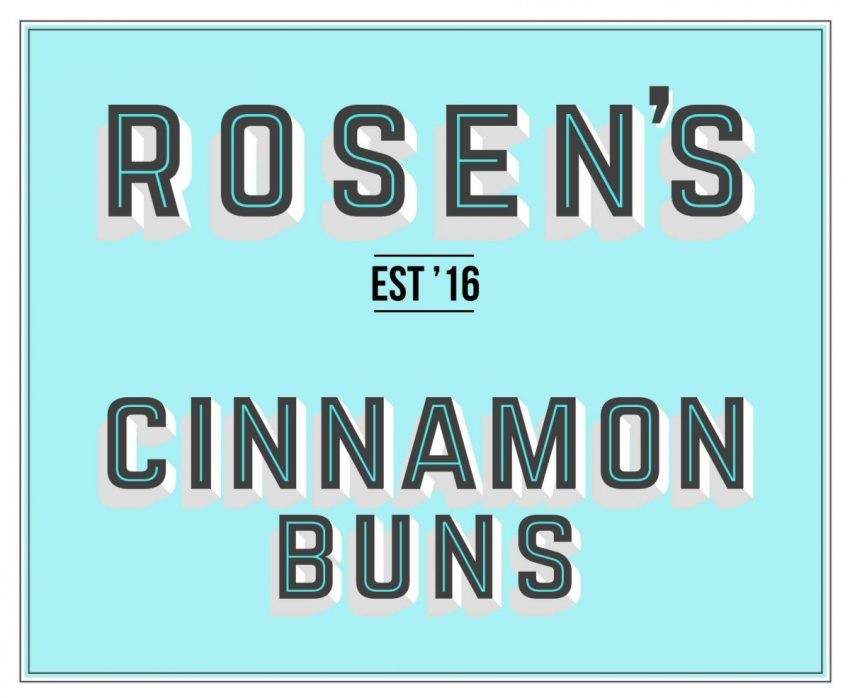 She continues, "I've also been pretty intrigued by the success of some local places doing one thing really well, like Bang Bang's ice cream sandwiches. I asked a bunch of chefs and bakers I admire if I should do it and they all said I should go for it, without hesitation. They were all so encouraging."
So, what should cinnamon bun fans be on the lookout for and what can they expect from Rosen? She says that the name will most likely be Rosen's Cinnamon Buns, and the place will be fashioned after an old Kensington market Jewish bakery. It'll feature two main items: large buns and minis, and cinnamon bun bread pudding (loaf sized and small), all made with the best ingredients.
"Ezra Braves from Ezra's Pound in Toronto is a big inspiration on that front in terms of a cafe doing things right. And I'll serve amazing drip coffee and warm cinnamon-spiced Ontario apple cider for the kids," Rosen explains. "But it won't be eat-in. Get your buns and your drink and get the hell out of my place. Once I get comfortable, we'll start with seasonal flavours and perhaps funky toppings, because you cannot stop progress!"
Don't think Rosen is stepping back from writing. In fact, that's far from it. You will still see many of her captivating travel pieces in enRoute magazine and there is also a new cookbook on the horizon, as Toronto Cooks 2 was just given the green light after the massive success of the original. So, after years of traveling all around the world eating and drinking a plethora of amazing things, where does Rosen think a person can find the best cinnamon bun?
"Without a doubt, Solly's in Vancouver makes the best cinnamon buns in the world. If mine are half as good as theirs, I'd consider it a win," she happily admits. "Theirs are different from any bun I've had; very thinly-rolled dough is packed with cinnamon, butter and sugar, and there's a kind of cinnamon caramel drizzled on top. Fluffy, darkly burnished--a total delight."