Cadbury Mini Eggs may be considered one of the most iconic seasonal chocolate treats come springtime, but Vancouver's Beaucoup Bakery is re-imagining the chocolate egg in a very cool way for this upcoming Easter.
Drawing inspiration from prehistoric times and available for purchase beginning today, Beaucoup's owner and pastry chef Betty Hung has created vibrant dinosaur chocolate eggs, dinosaur-shaped chocolates, a "T-Rex-Misu", and "hot cross lava" buns. As a lover of dinosaurs through and through, this fun collection is right up my paleontological fanboy alley.
"My team and I had a lot of fun creating our first Easter Chocolate Collection," says Hung, who co-owns the bakery with brother, Jacky. "The love for dinosaurs spans generations, and we definitely wanted to create something both families and their kids could relate to, especially during these times. We certainly hope our guests will enjoy hunting for our Easter eggs!"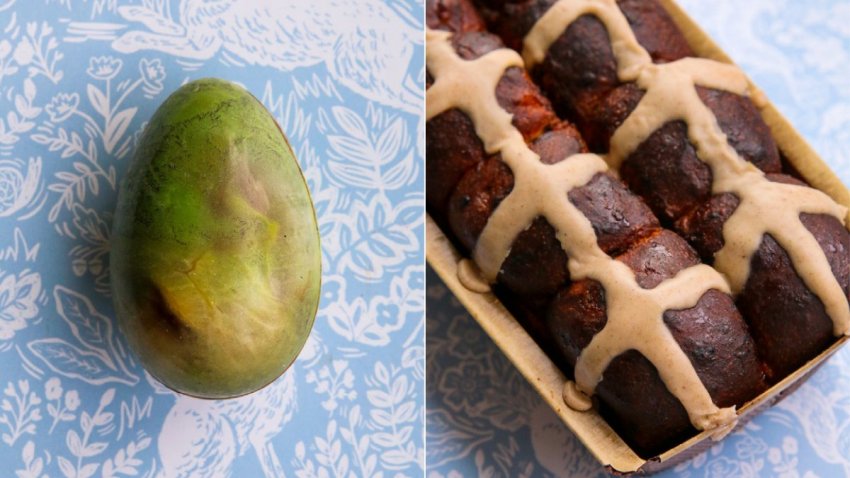 Her dinosaur chocolate eggs are available in small (Eggstinct, $9.95) and large sizes (Dino-mite, $49.95). While the smaller 3.5" egg (Eggstinct, $9.95) sounds relatively enticing with pistachio almond praliné chocolate and pistachio nut filling encased in a painted dark chocolate shell, the Dino-mite ($49.95) is the real showstopper.
A 7" milk chocolate egg filled with mini dinosaur chocolates–flavoured with passionfruit, strawberry, and yuzu–chocolate-covered cacao nibs, and dark chocolate and salted caramel crispy pearls. No edible paleontological dig is complete without something to chip away with, so all of these large egg collections come with a mini wooden hammer. On top of that, three of the Dino-mite eggs will have a $75 gift card hidden inside.
The entire collection is now available for pre-order online for pick-up at the bakery. As well, limited quantities will be made available daily for walk-in customers.