Chef Craig Wong's skills may not be immediately apparent upon walking into the bright and bold dining room at Patois or by watching the lively diners snugly fit into tables around you and saddled along the bar sipping on cocktails in between bites of jerk chicken chow mein or dirty fried rice. His past, however, shares a much different story. From working at Auberge du Pommier every day after high school, close to 20 years ago, to cooking in France—where he worked for world class chef Alain Ducasse for part of the time— and working under Toronto heavyweights like Claudio Aprile and Mark McEwan, Wong's refined technique could likely rival any esteemed Canadian chef.
With a solid culinary foundation, Wong has been running his first restaurant, the vibrant Chinese-meets-Jamaican Patois, since 2013. The electric atmosphere in the restaurant is a catalyst for his kitchen team's fusion creations to make magic with his patrons. Because of its unique approach to cuisine, the restaurant has fans far and wide, which has resulted in a second location in the works, but you'll have to book a flight to Dubai to have a taste.
Here, the charismatic chef and restaurateur opens up about his eclectic heritage, how selling "fun" is essential to his success and the surprising connections one can find between the two cuisines Wong loves so much.
You took cooking very seriously even during high school. Were you a bad student?
It's not that school was hard for me or anything, but I was just never really into it. I wasn't motivated to invest the time and thought into my classes. As soon as I started cooking after school though, I started getting straight As. I was working there for free for six months. I went there every single day after high school. I'd start around 4 p.m. and would work until midnight. Back then, I didn't even want any pay, I honestly just wanted to learn how to cook.
It was there that I found that focus that I really, really wanted. It was probably because in cooking, I found something that I could never truly master. Even these days, I'm always going to be growing.
When you finished school and headed over to France, were you still just cooking for free at acclaimed restaurants?
Ha, ha. No, no. Definitely making money by this point, but I guess it was basically for free. In Paris, I was working for Alain Ducasse, which was pretty bad-ass, obviously, but our pay was 650 euros a month and my rent for a furnished apartment there was 625 euros. So, I was basically living off of 25 euros a month, but the restaurant always took care of our daily meals and provided transit passes for us to get to and from work as well. W
What's Claudio Aprile like to work for?
He is very focused. I worked with him awhile back, way before the MasterChef Canada days. I was also able to open restaurants for the Oliver and Bonacini group and did some managing for them. All of that gave me such great insight on the business side of running a restaurant.
Because at a successful restaurant is not just about the food!
That's the thing. These past six or seven years, I've really spent honing my management skills over cooking. I think there's a point [for a chef] where cooking just becomes a base skill. Like, if I don't have my cooking down by now, I never will. You need to evolve in your career. That's where I'm at right now. When I was younger, I'd be seeking to become the best cook that I could be, then the best chef I could be, now it's trying to be the best restaurateur. That, in and of itself, is partially about coming to terms with being a businessman over being just a chef--the foresight, the marketing, coming up with new ideas and making it all work.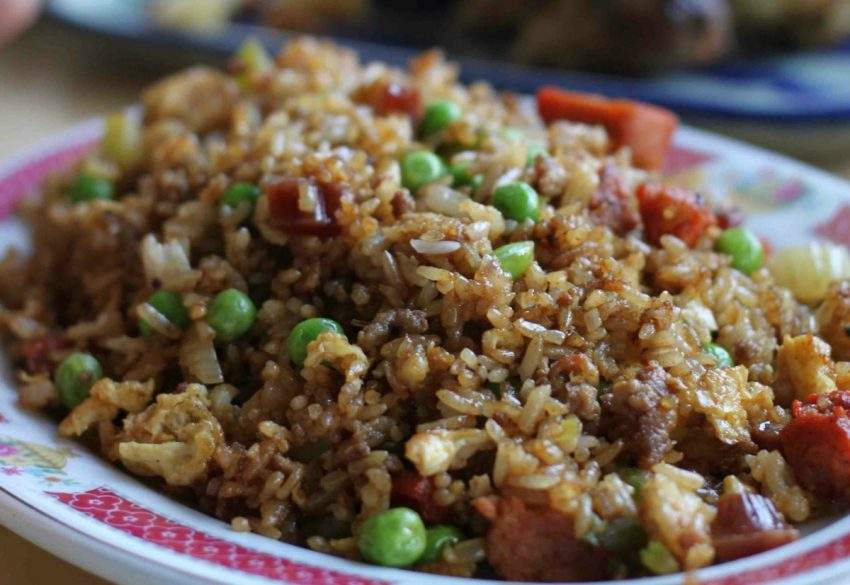 The whole idea behind Patois might some a little unorthodox to some people, but there's actually a large Chinese population in Jamaica, right?
So many down there! There was a huge influx of Chinese people moving to Jamaica decades ago and, surprisingly, the two cultures go really well together. You see a lot of Chinese ingredients in classic Jamaican food there. For example, jerk paste used to be made with pig's blood. Soy sauce has taken the place of pig's blood in a jerk paste, giving it more umami, better flavour and it's more shelf stable.
So, what's your connection to Jamaica?
My family goes back three generations in Jamaica. My grandmother grew up there. She knew the mixing of the two cultures because she saw it firsthand. From her, I was [essentially] tasting fusion-type dishes even when I was a kid and didn't know it. This kind of cuisine is as genuine and common to my personal upbringing as Italians', with their nona in the kitchen making them Sunday dinner.
This city's food scene is massive. It's a juggernaut. How do you stand out amidst all of the white noise?
I feel really lucky. Since day one, we've had great reception. This place has been busy since we opened and it's never stopped. I definitely feel appreciative and I honestly love this city. There is a culture of food that's coming up in Toronto. I see the quality of restaurants that open here and I genuinely love going out to see what other people are doing, not to take inspiration, but to really show other chefs and restaurant owners that I am just as much of a fan of everything around me as I am a player in the industry.
Your menu is very value-driven, especially considering that you can order the whole menu for just over $100.
Absolutely, it is. I want the experience here to under-promise and over-delivered every time. Ha, ha. With the pricing the way that it is, the restaurant the way that it is, I want it all to be fun. I want people to come in here and have a great time. I love good food, I love great service, but more than anything, what I really feel what we sell here at Patois better than anybody is fun. People are going to come in and feel this island vibe, and I want it to be like that for every single person.
What do you look for in a dining experience?
Honestly? I don't remember every single dish that I've had from all of these different restaurants, I don't remember every cocktail or glass of wine and I don't even really remember the service that much, but do I remember if I had a good time? Of course. Do I remember how many jokes I got to crack with my friends, smiling the whole dinner? That's what I remember and that's what I think people want to remember. That's where our goal is set at here.
Let's say you've had 50 young cooks drop off resumes for you last week. Who is the perfect candidate?
Someone that's hungry. I talk about this "hunger" all of the time with my team here. It's a hunger for learning, for improvement. It's that search for delicious food and perfection and just loving that craft. It's an amazing feeling to come into work and feel that you've grown a bit each day. I find a lot of people come in and they want that chef position right away and that's not cool man. It took me years, years to get to where I am. That attitude is definitely not appreciated.
I feel like some Canadian cities have a lot of fairly young executive chefs. Halifax and Calgary are both examples of that, but that's definitely something you do not see in Toronto.
Hell no! Ha, ha. It's not to say that it's an old man's game. There are very talented mid-20s chefs out there, but those are few and far between. All too often, if I get a resume from someone who's, say, 24 years old and it says executive chef on there, chances are, I'm going to look at it and think that they got hired out of necessity, hired for a role to fill. And usually in those situations, if you ask what their salary was, it doesn't correspond. A cook's pay for a chef's position sort of thing. I still have yet to be proven wrong when it comes to that kind of disparity between experience, talent and someone's age. It all goes hand-in-hand.