It's not very often (alright, pretty much never) that you see a Toronto-born chef move west, especially to Winnipeg, where that statistic gets even smaller. Eraj Jayawickreme did just that about a year and a half ago to head up the kitchen at the Fairmont Winnipeg and he has loved the growing food scene ever since. Being at the hotel, his first order of business was refreshing its main dining destination, The Velvet Glove--now VG--which used to be a pretty stuffy, meat-and-potatoes sort of place. These days, Jayawickreme brings subtle modern techniques and worldly palate to the menu here, creating all sorts of beautiful dishes for patrons, locals and hotel guests alike.
From being mentored by celebrity chef John Higgins in high school to owning a restaurant and falling in love with the research and numbers side of the busines, here's chef Jayawickreme's thoughts on the industry and why he's happy he's discovering all that Winnipeg has to offer.
What was your first serious kitchen job when you were really in charge?
Well, when I was 21, I owned a restaurant. I operated it for four years with a partner. Unfortunately, it didn't work out. It's actually where Bar Chef is now. It was an old diner from the 1950s called The Bluejay and the owner lost his liquor license because he was selling to minors. So, I met the landlord and blah, blah, blah... This was 1999, way before Queen West was what it is now. We took it over and started construction. Man, being 21 years old and trying to open a restaurant, that was one of the best learning curves of my life. You are building to code, all of these specs--steep learning curve. It got tight because it's your own business. I slept in the basement for a month, never saw my family, got overweight and to open up during hard economic times is always freaky too.
You said it didn't work out. Was there any big life lessons there?
I wouldn't call it a regret, but one of the things I should have done a little more research on was the dining patterns of the city at that time. After that job, I took jobs in different styles of restaurants in the city, just to find out what that magic number [to a successful restaurant] was. To this day, I still find that $25-$28 for a main course is the perfect number for a patron. It's a little hard to do now because, really, we all go grocery shopping and we all know what kind of numbers we're dealing with; but from a restaurant concept or menu development standpoint is when you'll see guests coming back more than once a week. It's not a huge hit on your wallet. That's what we've tried to change here and we've been able to do that. Everybody has this stigma that The Velvet Glove is this super fine dining, suit jacket sort of place. That's why we've rebranded it to The VG restaurant. The food is accessible to anyone. As long as you like good food, made with quality ingredients, then you'll like it here. We are starting to see the change, seeing some younger people come in.
Is this your first time working for Fairmont?
This is, yes. Previously, I was the executive sous chef of the Hilton in downtown Toronto, before that the Sutton Place Hotel, before that it was mostly higher end restaraunts in Toronto. I started cooking in high school and was able to do my high school work placement under chef John Higgins (now head of culinary at George Brown). I'm scared of him to this day, ha, ha, ha, but he is one of the greatest influences for me as a chef. He helped me really fall in love with something I already loved. Walking into those kitchens with the proper European chef, full system with how a kitchen worked--I was completely enthralled with it after that. I took that and ran with it later in life.
Is there any solid piece of advice John Higgins gave you that you still think of today?
You always take a little bit from each job and strive for greatness. He always taught me that it doesn't matter how old you are or how long you've been cooking, there are always things to learn in this business, just like any other business. Never think you have arrived. I always think that you can look at any chef's menu and tell when he or she stopped doing research and stopped following what's going on. For me, I've always pushed myself to constantly be evolving. Otherwise, your food gets stale.
Alright, so to you, what is a trend that's on the rise right now?
Well, now Latin flavours are getting more and more popular, so you'll see those being incorporated into more and more menus. I really loved modernist cuisine for what it was and all of those other trend waves, but it's about taking certain ingredients or concepts and putting them on your dish, just taking those little things to add spark or whimsy to a plate of food. Liquid nitrogren, spherification--restraint is more important than going bat-shit crazy with one certain thing!
Do you go home to Toronto a lot? Do you miss it?
We do, we just had a baby, so we try to go back every three to four months. I don't go as much as I'd want to, but it's the things that you do to progress in your career. This was such a great opportunity to come out to Winnipeg and saw it as a budding or emerging scene, like Toronto once was, and I thought it would be amazing to go through the wave again, that renaissance of food. Scott Bagshaw's spots, there's cool stuff popping up at The Exchange all of the time. Chew is one of my favourite spots as well.
Are there things you see happening in Winnipeg that have happened in Toronto maybe a few years prior?
The doughnut thing is big here now, same with artisan coffee shops. But with each city, different things become popular at different times. It's not even about wondering why it's popular, it's knowing that the general public ready for it. You need the general populace to be ready to embrace something. Maybe in Winnipeg, coffee began a thing a little later on, same with doughnuts. It is a small community here. There are only X amount of diners that every restaurant has to share, so the market needs to be ready for certain things.
It's funny that you mention doughnuts. Calgary was actually the first Canadian city to jump on the gourmet doughnut train five years ago or so.
I like to see very simple things like a doughnut, a grilled cheese, or mac and cheese become this thing where everybody just goes nuts over and see some amazing ideas come out of something as basic as a doughnut. It's cool to see that concept gain traction here. Burgers are a really big thing here too. There are also a couple of great gourmet sandwich shops here now. Sherbrooke Street Deli is a great spot.
Have you gotten to know a lot of local chefs since you came to Winnipeg one and a half years ago?
You know in this industry, you work so much that it can be hard to find time to sit down and really make those connections, build those bonds and friendships, especially if you are new to town. I've been thinking about doing some more collaborations with local chefs. We were doing backdoor burgers here [in the summertime] and this year, we're thinking of doing a backdoor collaboration food court sort of thing. It's the summertime, right? I am also trying to get a chefs' soup kitchen going, where different people can get involved and we provide some food to the homeless once a month...It's my mandate for 2016 to give back more to the community. You get caught up in your bubble and you can forget about the people who are less fortunate. I always have something up my sleeve!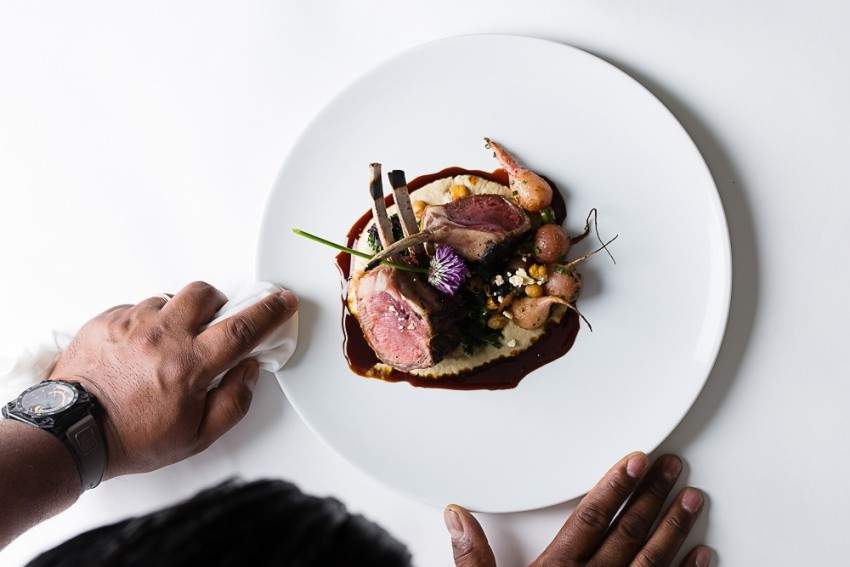 The dishes you put on the menu here are pretty unique; frog legs in phyllo with foie gras and watercress, especially. Are you doing anything cool in the dessert department?
We are actually one of the only Fairmonts that does not have a pastry department. So, I conceive all of the desserts for the menu too. We are doing an aerated chocolate right now on one dish, which is really neat.
Like an Aero bar?
I was thinking about it one day, it's like an Aero bar essentially. I was doing research on it and the chef from WD-50 used to do an aerated foie gras. It's a little hard to explain, but you can make it with a special canister. I actually found one online. It's really cool!
Do you like that sort of scientific aspect to cooking?
For me, the research part is always more fun than the day-to-day. If someone comes up to me and says, "Hey, I need this special menu." I love disappearing for a couple of hours and just thinking about things. Be that non-hotel chef doing food that most of the more avant-garde places are doing. To have that in a hotel environment is great. I haven't been to a lot of hotels in Canada that have that balance that I do here. Our outlets should feel like you're sitting in an independant restaurant. Take away the lobby and you should feel like you are just in a restaurant, not a hotel. That stigma for North American hotels only--in most other places in the world, there are spectacular restaurants in the best hotels. In North America, it can feel like the other way around.
Ten years ago, Fairmont probably wouldn't have let you be this experimental, but it's good to see them freshening things up!
Exactly, you see them focusing on the people in this city. That was the huge disconnect when I first started. We were relying more on in-house guests to fill our restaurants. Turning that around, working with the local media and doing as many charity events that I can, just to show people that, "Hey, we're not that stiff upper lip place that your grandma used to come to!"