The energy inside Queen-Richmond Centre West was electric last night as ten restaurants, industry experts and food lovers alike gathered to discover who would be part of Air Canada enRoute magazine's esteemed Canada's Best New Restaurants list for 2019.
For attendees, the event saw the top ten concepts immediately announced by way of canape stations where each chef-owner was present to serve delicious bites lincluding Donna's (Toronto) succulent pickled mussels with sweet potato and fennel or Pluvio's (Ucluelet, B.C.) indulgent tuna tartare with fresh truffle. Still, suspense remained as even the restaurants themselves did not know where they landed in the top ten rankings until chef Chuck Hughes took the stage to share his congratulations to all the awarded restaurateurs and introduce a vibrant video countdown.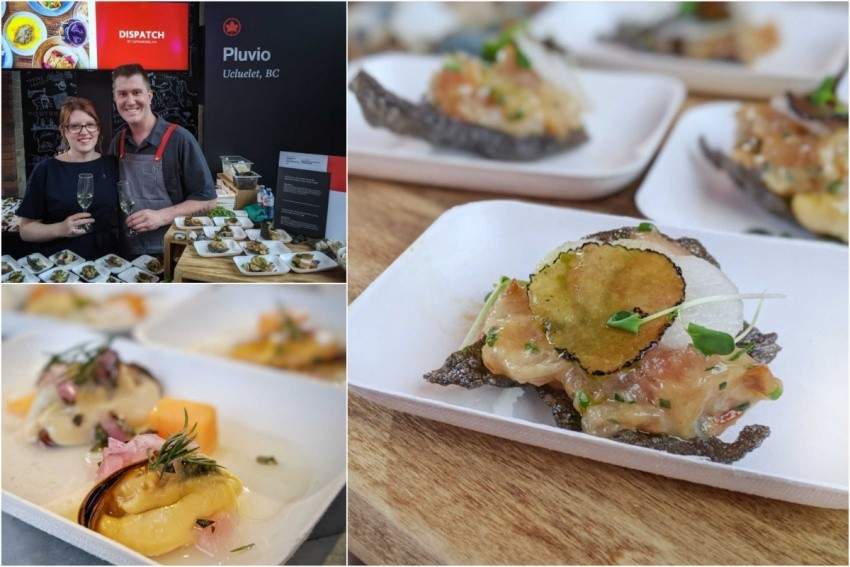 Even though cities such as Calgary, Edmonton and Saskatoon did not see their nominated eateries crack the top ten this year, enRoute's chosen ten best new restaurants for 2019 still showcases plenty of diversity, both in concept and geography.
It's amazing for our team too," says Pluvio Restaurant and Rooms co-owner Lily Verney-Downey on being named fourth on the list. "We have such an amazing team there and be recognized on this level with other restaurants in [major cities] across the country? It's a spectacular feeling!"
"It's gratifying. We've been doing this for a long time, I've been in the industry for 20 years, but didn't open up our own restaurant until six months ago and now here we are in Toronto being celebrated," adds Pluvio's chef and co-owner Warren Barr. "The fact that we're sort of the beyond the edge of nowhere out in Ucluelet, but we still got found and wound up on this list, it's crazy right?"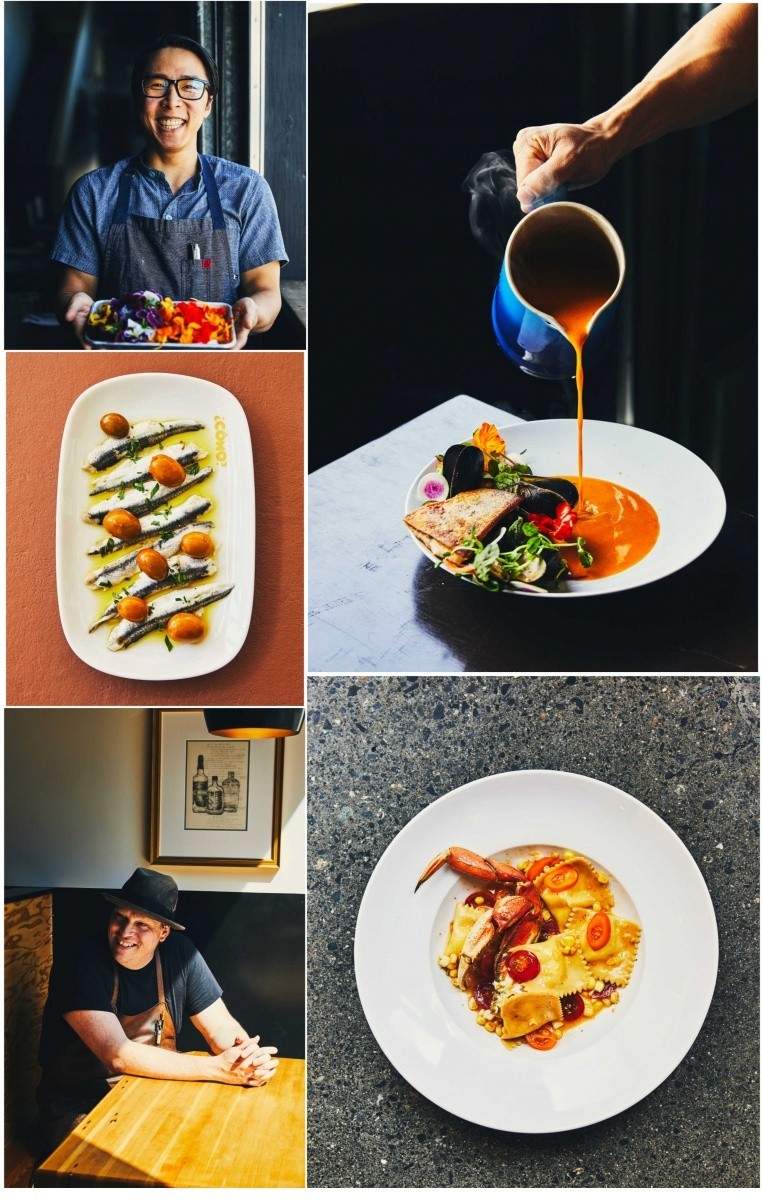 (clockwise from top left: Brian Ng of Wayfarer Oyster House, Wayfarer's curried spin on chowder, dungees crab pasta at Nowhere, Nowhere's chef/owner Clark Deutscher, boquerones and olives at Como Taperia)
Jokes of being on the "edge of nowhere" aside, Barr and Verney-Downey's restaurant isn't too far of a drive from another list member, Nowhere *A Restaurant in Victoria, B.C. that landed at a respectable number five.
"There are a lot of interesting ingredients and products on the island and Nowhere gives us a chance to showcase them all," says chef and co-owner Clark Deutscher during the Air Canada enRoute event. "It's rare to see two restaurants from Vancouver Island on this list and things like this just helps to get more people out the coast to see what we've got going on."
Another exciting entry on the Air Canada enRoute Canada's Best New Restaurants list was Wayfarer Oyster House of Whitehorse. In the seventh spot, this is the city's first-ever nomination and placement on the list. The restaurant's creative take on seafood, led by chef Brian Ng, is definitely worth making a point of checking out should you find yourself heading north.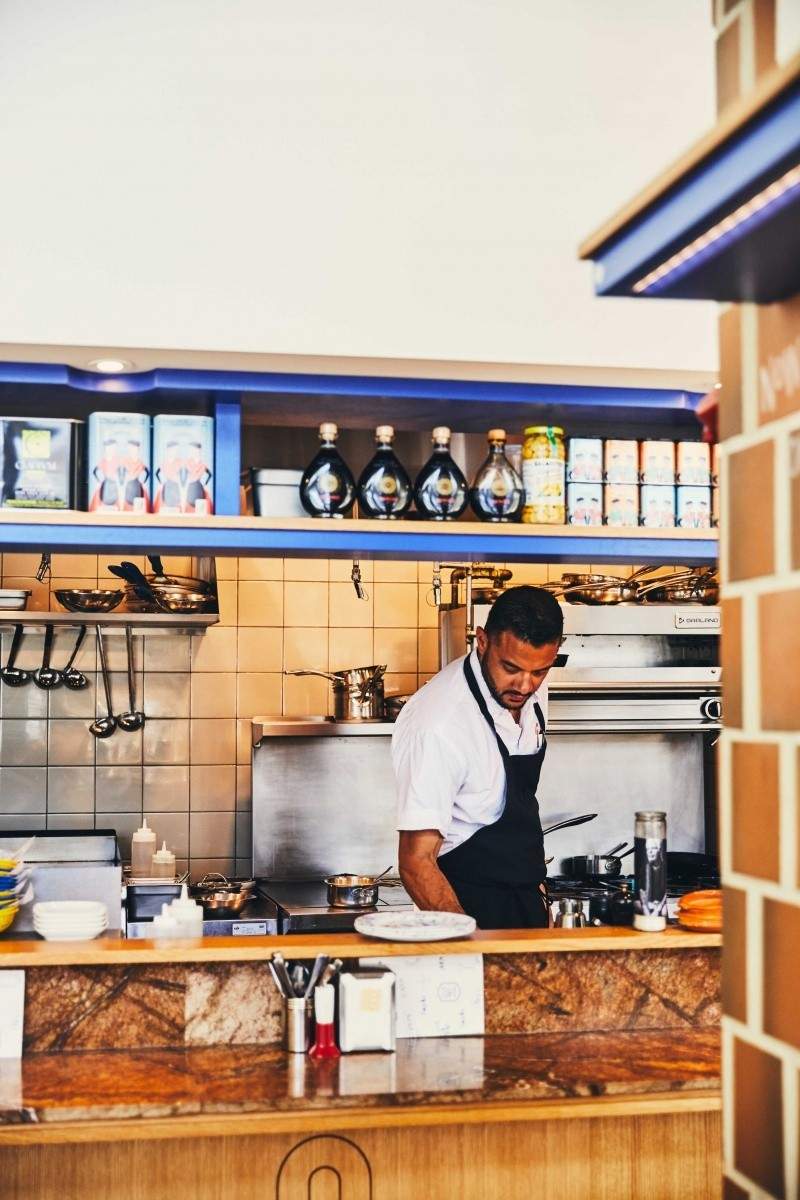 Close to the top was Vancouver's impeccable Spanish eatery Como Taperia, which took the runner-up spot to Quebec City's Arvi.
"All we wanted to do was give Vancouver a little piece of Spain we love so much," says Shaun Layton, who opened Como Taperia last year with fellow co-owners Frankie Harrington and Justin Witcher, "where people can enjoy popular Spanish drinks and creative, yet, simple tapas together in an intimate space with fun and great hospitality. It's an incredible honour."
The full list of Canada's Best New Restaurants is now available online via Air Canada enRoute.