On the scene since 2013, Collective Arts is no stranger to the world of libations by way of their craft brews and their partnerships with visual artists worldwide for the designs of their beer cans. Recently, the brewer added spirits to their list of alcoholic offerings and, so far, have released two types of gin: plum and blackthorn and rhubarb and hibiscus. This week, they announced they would also be debuting pre-mixed gin cocktails in April.
The canned grapefruit, lemon and thyme gin cocktail will first be available at LCBO locations across Canada with liquor stores in Western Canada and select U.S. states to follow.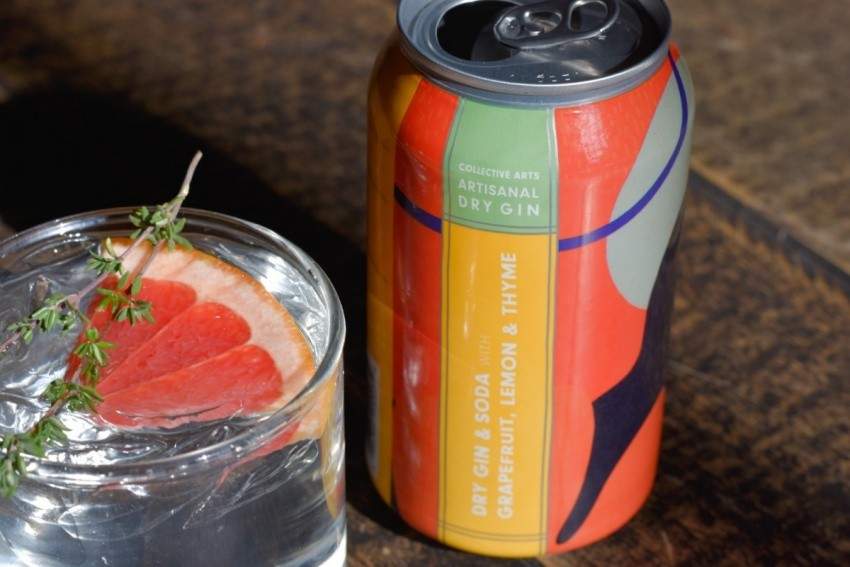 "We got into [distilling] because of its ability to amplify creativity in mixology. Our sparkling gin cocktails are meant to be a more convenient way to consume real, low in sugar cocktails that don't sacrifice taste," explains Matt Johnston, co-founder of Collective Arts. "We also believe a more creative world is a better world, and our gin cocktails will feature rotating works of art by international artists."
Collective Arts beers are currently distributed across Canada, as well as 20 American states, Europe, China and Australia.