With interesting canned drinks being offered up by micro-distilleries like Burwood or Wild Tea Kombucha and even cocktail hotspot Proof, there is no shortage of quality cocktail-in-a-can options to crack open here in Alberta. That said, there's always room for one more, right?
After a successful launch earlier this year in B.C., Victoria Distillers' The Strait and Narrow Pacific Coast Cocktails lineup is now crossing the border..well, the provincial one anyway. Officially available on Friday, November 20 at select liquor stores across the province, the canned cocktail line features three flavour combinations that are much more unique than what's become standard from brands like Truly and White Claw.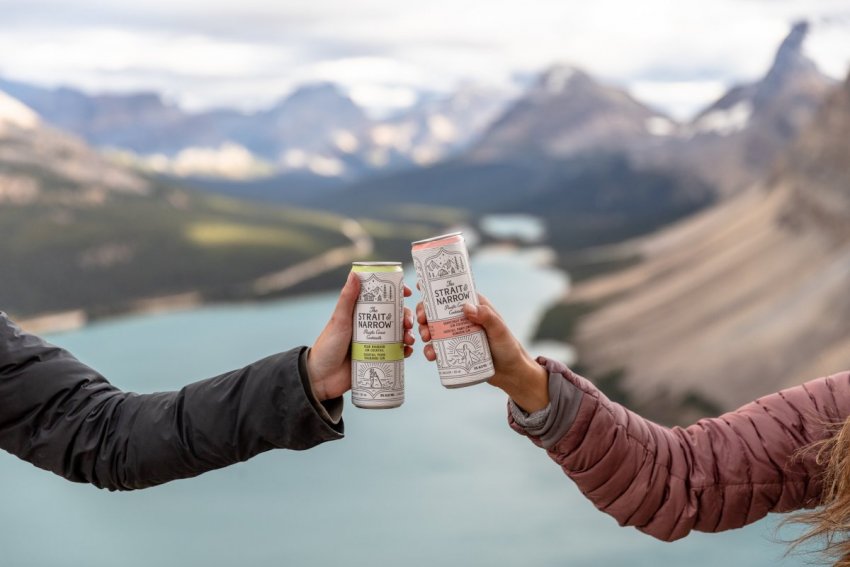 Grapefruit and rosemary, pear and rhubarb, and lemon and lavender are the respective options mixed up with Victoria Distillers' gin, soda, and four grams of sugar–which is, admittedly, at least double the amount of most competing national brands. All varieties come in a 355 mL can format and are available in packs of six or in a "Discovery Pack" (i.e. a mixed case of six cans).
"Supporting other small, local producers is important to us as members of our community," said Victoria Distillers' president and master distiller Peter Hunt in this week's announcement. "When we set about to create custom-distillations to bring unique aromatics and flavours to each of our cocktails, we reached out to Ravenhill Herb Farm to use their exceptional and beyond organic lavender and rosemary."
To start, The Strait and Narrow Pacific Coast Cocktails can be found in Calgary at stores like Bricks Wine Co., Vine Arts and Collective Craft Beer and in Edmonton at Color De Vino, Devine Wines and more.