Next year, a team of Canadian butchers will be competing in what I'd personally like to coin the "Olympics of Meat".
Originating in 2011 as a competition between Australia and New Zealand, the World Butchers' Challenge is a growing international competition meant to put butchers from countries around the globe in the limelight, showcasing the immense technical abilities it requires to excel at the carnal craft.
With the next competition happening in Sacramento, California on September 5, 2020, a group of talented Canadian butchers have decided to throw their collective hat into the ring. The first-ever Team Canada is comprised of nine butchers from across the country: Aaron McLaughlin (Old's College) Brent Herrington (Herrington's Quality Butchers), Corey Meyer (ACME Meat Market), Damian Goriup (Florence Meats) Dave Vander Velde (VG Meats), Elyse Chatterton (freelance butcher, Edmonton), Peter Baarda (J&G Quality Meats), Taryn Lee Barker (The Little Butcher) as well as the upcoming winner of Ontario's Finest Butcher 2019 competition.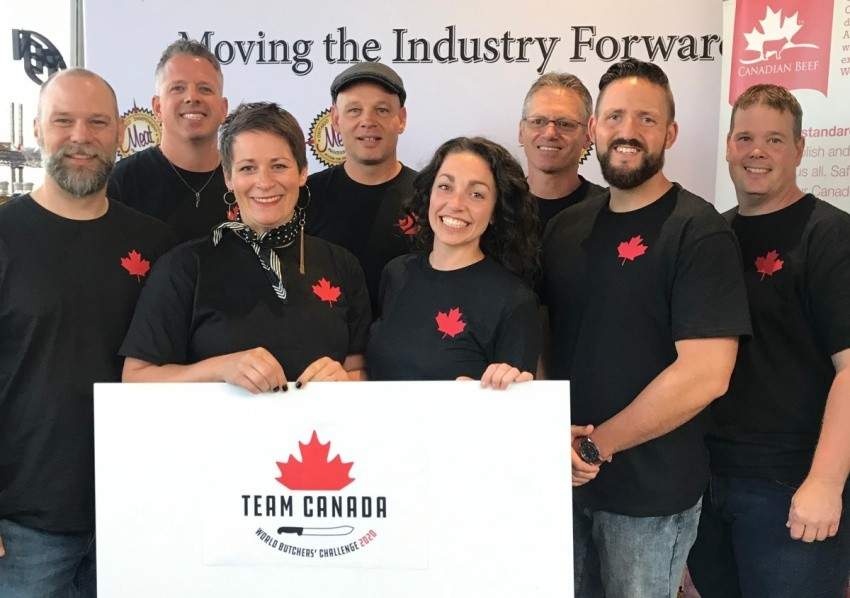 "We all applied months ago and were asked to complete a series of photo and video challenges to showcase our butcher skills," explains Team Canada member, Elyse Chatterton of Edmonton. "We met for the first time this past weekend and I am excited [to help showcase] just how amazing Canada's craft butchers really are on a world stage and hopefully inspire more people to consider a career within the meat industry."
Now that the team is assembled, they've got plenty of time to get to know each other and train together to win the competition, but the president of Meat and Poultry Ontario, Carol Goriup implies this is also a great opportunity to create awareness around butchery as a trade that young culinary-minded people can find success in.
"Our industry faces a critical shortage of skilled labour. Esteemed competitions like this help elevate the profession to where it belongs as a true and respected trade. As an association, we are proud to put forward and support a Canadian team in the World Butchers' Challenge," she says.
The team of butchers have also launched a GoFundMe campaign to help with team travel expenses as well as things such as uniforms and "practice" proteins.