The holiday season is a great time of year to take a moment or two and give something back to one's community. From donating clothing to shelters or food items to help stock up food banks shelves that are often rapidly depleted, to volunteering at a local charity, there's no shortage of thoughtful acts one can do.
For the folks who work in the restaurant industry, December is one of the craziest, most draining months of the year that doesn't leave much time to catch your breath. Looking past the hectic holiday season, owner of the popular Torafuku in Vancouver, Clement Chan, has brought together a group of the city's passionate culinary talents on January 14 to raise some much-needed funds for Downtown Eastside Neighbourhood House.
"We live and work in East Van, a community made up of real people, many of whom don't benefit from this neighbourhood the same way we do. We wanted to do something that would provide our neighbours access to healthy food," says Clement Chan.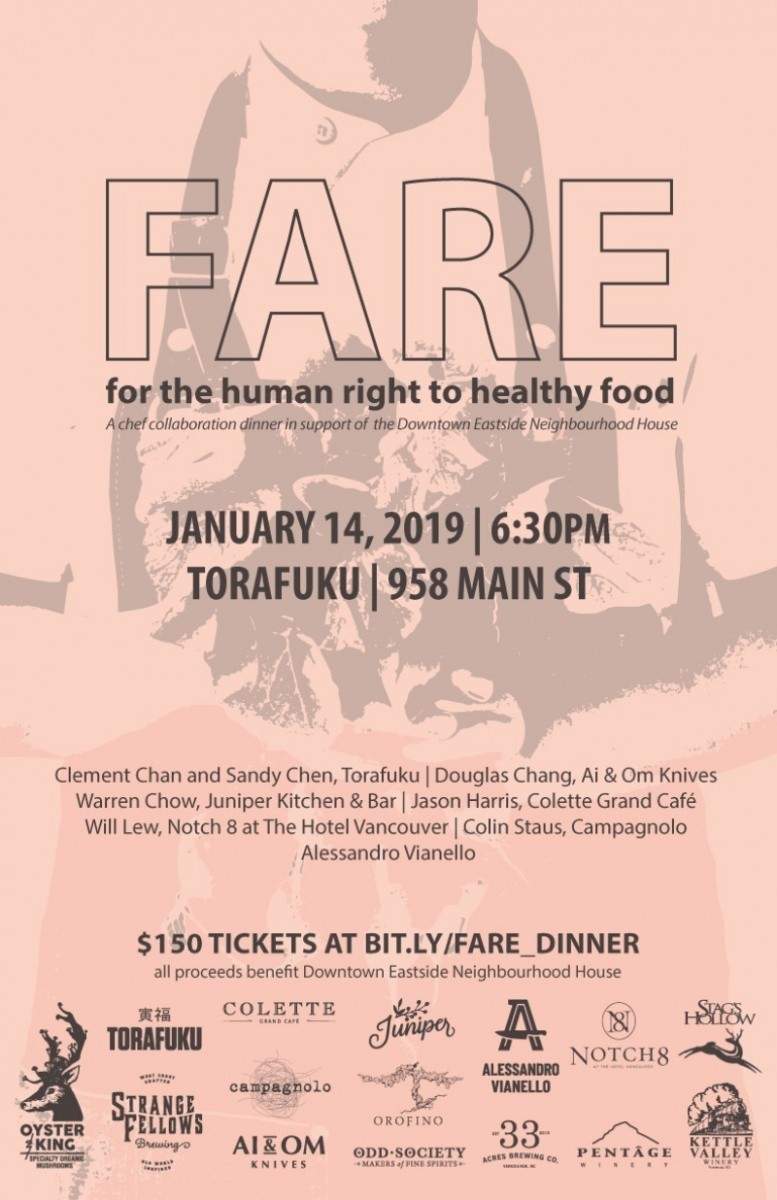 The collaborative dinner, entitled "Fare: For the Human Right to Healthy Food", will take place at Torafuku and includes culinary contributions from Alessandro Vianello, Douglas Chang of Ai and Om Knives, Jason Harris (Colette Grand Café), Juniper Kitchen and Bar's Warren Chow, Will Lew of Notch 8 in Fairmont Hotel Vancouver and Campagnolo's Colin Staus. Ingredient and liquor sponsors for the seven-course fundraiser dinner include popular B.C. producers like Strange Fellows Brewing, Odd Society Spirits, Oyster and King, Stag's Hollow Winery and more.
All proceeds from each $150 dinner ticket will go towards Downtown Eastside Neighbourhood House, enough to either create 75 nutritious meal portions, make 150 smoothies or purchase and distribute hundreds of pieces of fresh fruit to those in need. The non-profit organization works year-round to provide healthy, nutritious food as well as different community and leadership development programs to at-risk individuals of all ages in the city's downtown eastside.
Each ticket for the January 14 dinner also includes one glass of wine and two beers, and a $85 tax receipt is also available for attendees upon request.