What started out as a cross country adventure to discover the depth and breadth of Canadian cuisine has now turned into a big cookbook deal for Lindsay Anderson and Dana VanVeller. After spending months driving across Canada, clocking a commendable 37,000+ kilometres and meeting hundreds of passionate food-loving Canadians along the way, Appetite by Random House decided that the whole experience would probably make one hell of book. A sentiment that I think we can all agree with.
The book, sharing same name with the two ladies' popular and award winning blog, Feast: An Edible Road Trip, is set to be released in fall 2016 and will feature recipes contributed by different culinary professionals from across the country (bloggers, writers and chefs), including Aviv Fried and Michal Lavi (Sidewalk Citizen Bakery, Calgary), Jesse Vergen (Saint John Ale House, Saint John), Renee Kohlman (Saskatoon), Jackie Kai Ellis (Beaucoup Bakery, Vancouver), Julie Van Rosendaal (Calgary), as well as a few Eat North contributors including myself and Kathy Jollimore.
Amidst the book deal excitement and first draft preparations, Anderson and VanVeller took a few minutes to answer a few questions about the new project.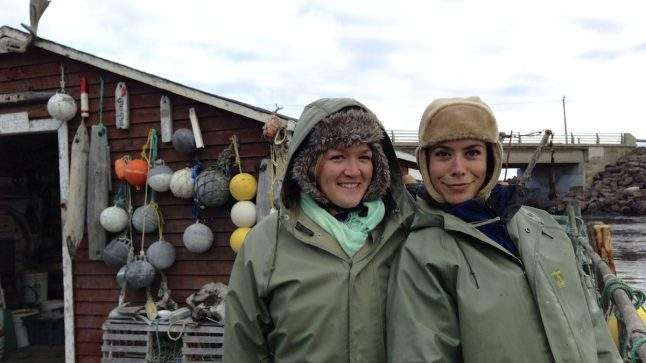 So, was it always your end goal to have a book or did the idea pop up along the way?
Dana: It was a little of both. It was definitely on our minds leading up to the trip, as well as on the road. We thought it would be wonderful to combine recipes from all the extraordinary people we met along the way, a collection that would truly showcase how diverse this country's people and landscape are. However, we quickly discovered it wasn't something we could devote energy to while we were on the road, so we started the long process of writing the proposal once our trip was over.
During your travels across the country, did you see one "Canadian" dish or dishes popping up more frequently than others?
Lindsay: Canadians really love their seafood, cinnamon buns, and bannock! Almost everywhere we went, we encountered these things in one form or another. Seafood, whether from fresh or salt water, always seemed to be a prized local ingredient. Then there are the sweets: Manitoba has its own cinnamon bun trail, while the Yukon is famous for baking up its own large sticky buns all over the territory. We ate bannock, either fried or baked, from vendors all over the country, and from West to East, we ordered more blueberry desserts than we could count.
How will you encompass a cross country discovery of Canadian cuisine in one book?
Dana: The book will be a mix of travel stories, regional features, and a huge number of recipes, both traditional and contemporary. From a First Nations' West Coast salmon roast to classic Acadian pie from Cape Breton Island and wild rice pudding in Manitoba, every province and territory will be represented, with contributions from over 70 people we met along the way or have met since.
Are you hoping that the recipe collection will speak to different regions and their local ingredients as well?
Lindsay: Definitely! Recipes will feature produce from Canadian farmers, wild and foraged foods, cheese from Canadian cheese makers, as well as some less ubiquitous ingredients, like spruce tips and even reindeer. And of course, we're including our absolute favourite versions of Canadian classics, like butter tarts.
To stay up-to-date on Anderson and VanVeller's book progress, follow along with them on Twitter and Instagram at @feast_on or through the hashtag #FEASTthebook.
Feast on, indeed!