As always, the Canadian Culinary Championships (or Gold Medal Plates, as they're called for short) were the talk of the town this past week after a weekend of intense battle in Kelowna between talented chefs in Canada. Further west, Vancouver is having its own cause for celebration over some beautiful B.C. grown truffles and out east, a handful of Toronto chefs are still revelling in their victory over their Montreal contemporaries after a heated ice hockey fundraiser in Prince Edward County.
All of these great stories and a few more in our weekly Canadian food news roundup below!
B.C.-grown truffles are now a thing!
It was a glorious time for Nut Farm on Vancouver Island in December when they finally harvested (well, technically a pig harvested) their first commercial batch of truffles, which has been over ten years in the making. Restaurant critic, Alexandra Gill, details the exciting happening as well as the interesting backstory of how this B.C. truffle producer came to be.
Hamilton brewery offers beer can labels as blank canvas for artists
Calling themselves "the world's most refreshing gallery", according to a recent CBC News story, Collective Arts Brewing in Hamilton has seen over 600 visual artists design labels for its beer cans since 2014. The brewery has received 13,000 artist submissions over the three years and interest continues to grow. Label design is becoming more and more of a focus for craft brewers and this collaboration has led to some outstanding works of art. Very cool!
Read more about the company's interesting artist initative in this CBC News piece.
Alberta chefs command the podium at Gold Medal Plates in Kelowna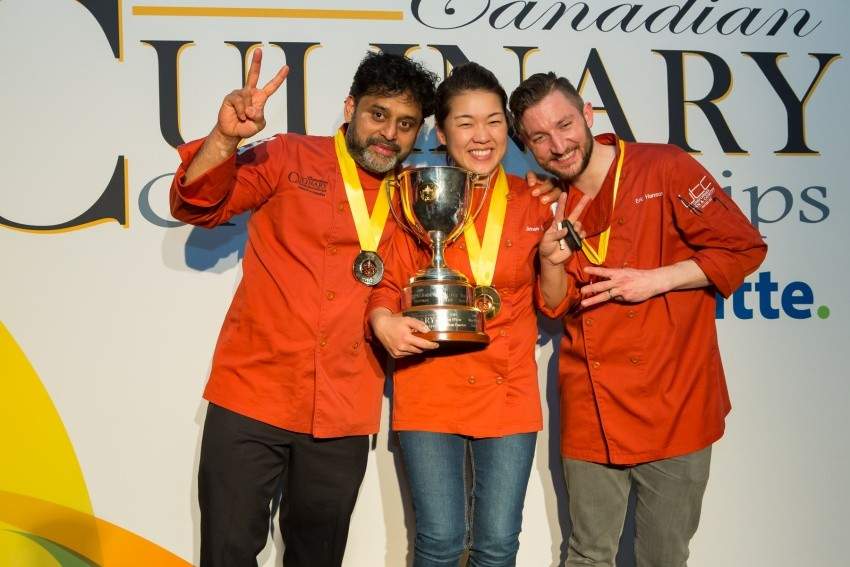 Food policy council starts to take shape in Winnipeg
It looks like Winnipeg is going to get a municipal food policy advisory council very soon after a positive voting result that took place at city hall earlier this week. The pending council's aim is to develop a city-wide strategy to improve Winnipeg food systems. The council will be comprised of a mix of professionals including a health worker, a city councillor, food producers and more.
Read more about the council-to-be in this Metro News article.
Montreal Vs. Toronto: Chefs face off on the ice for charity
Perhaps not as dynamic of a rivalry as the Montreal Canadiens and the Toronto Maple Leafs, but last weekend's Barn Burner Cup was a heated game nonetheless. The Montreal Mashers, comprised of big Montreal food industry names like Chuck Hughes, Derek Dammann and Chris Morgan, took to the ice against the Toronto Grinders (chefs Cory Vitiello, Top Chef Canada alum Carl Heinreich and John Horne of Canoe were a few of the main players on the ice).
In the end, the Grinders took home the cup, with a 6-2 win. The event was organized by The Drake Hotel and prominent food writer/author, Ivy Knight and proceeds from ticket sales are being donated to Community Food Centres Canada.
Read more about the fundraising hockey match (pre-game) in this Montreal Gazette article or in this post-game recap from countylive.ca
Winnipeg restaurateur and former CFL pylayer, Obby Khan, opens up about growing up Muslim in North America
In a response to the Québec City mosque terrorist attack, Former CFL player and owner of Winnipeg's popular Shawarma Khan and Green Carrot Juice Company, Ibrahim (Obby) Khan recently opened up about his experience as a Muslim man in the world of football while growing up in Canada. His openness is heartfelt and speaks to the fact that acceptance and understanding is needed now more than ever. This may not be food-related per se, but the reflection from this Canadian restaurateur is definitely worth taking a few minutes to read.