"I was always intrigued by how people selected their desired pastries. You know, 'I want that lemon tart!' while pointing to the third one from the back," explains artist Leah Rosenberg on her first job at a pastry shop, San Francisco's Miette, as she dabs fresh paint on small paper cards to check the hue as it dries.
There are plenty of baked goods that this bubbly and thoughtful artist could have chosen to convey her observation on human nature while working behind a patisserie counter, but the bright, sunshine-yellow most of us visualize when imaging a lemon tart is the perfect illustration of her colourful approach to her art form. Rosenberg is well known in the California art scene as a visual artist who embraces the colourful side of life, quite literally, through her various art installations that are not simply big bursts of colour, but infects your mind with those colours and pique your interest.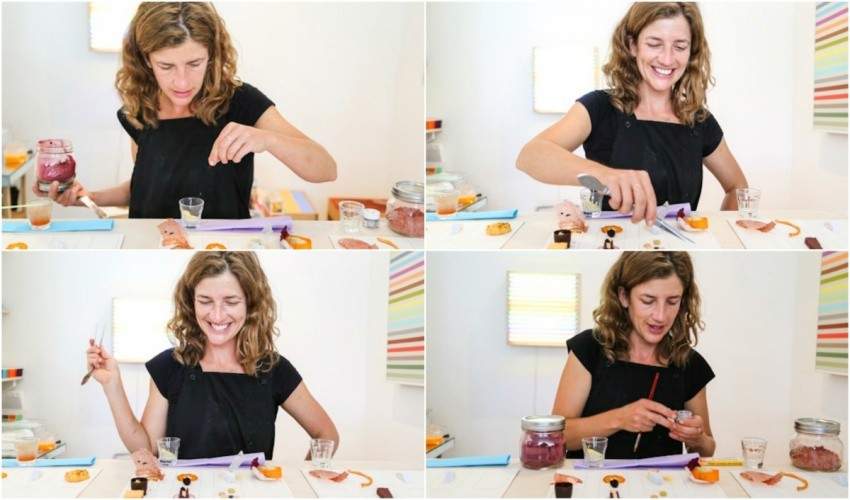 (photography of Leah Rosenberg at her project Color Bar for LPP+ Residency at Little Paper Planes by Airkya Rockefeller)
Raised in Saskatoon, Rosenberg studied art at The University of Saskatchewan, followed by Emily Carr University of Art and Design in Vancouver before heading south to California, where she obtained a masters degree from the California College of The Arts. While studying for her degree, the artist began establishing roots in San Francisco, a city that has always been constantly evolving in its culinary and art culture. Becoming entranced by patrons' connections with specific desserts during her shifts at Miette, she delved deeper into the world of sweets and took a cake decorating course between semesters at the college.
"I took the course to see if some [cake design] techniques might inform my paintings. I would end up with whole cakes that I decorated at the end of the classes. Afterwards, I would take them to my painting critiques," recalls Rosenberg. "The response was one of delight, and I liked that, but I wondered why I didn't get the same response--of delight--to the paintings I had made with the same intention that hung on the wall. After the critique, the cake was gone (eaten) but the paintings still hung on the wall for constant judgement."
The desire to match the same enjoyment from a slice of cake to her paint-based art, or the question "Can painting do what cake can?" eventually morphed into her 1,000-page thesis paper. "It focused on the artistic possibilties of cake. I called it "Mille Feuilles", a playful title (that translates to 1,000 sheets) and an ode to the famous French pastry," she points out, smiling. The creative correlation snowballed and now people have come to expect a unique corresponding culinary experience with her art openings, whether that means a seven-foot, ganache-covered confection containing layers and layers (and layers) of coloured cake, colourful petit fours or otherwise, she happily obliges.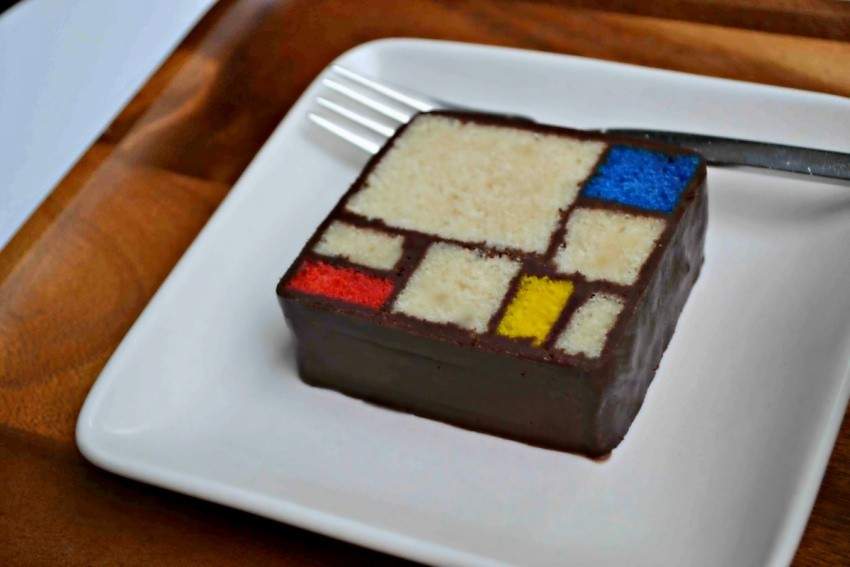 (SFMOMA's famed Mondrian cake, conceived by Caitlin Freeman and Leah Rosenberg)
The most circulated published work that embodies Rosenberg's love for the convergence of food and art would likely be the Modern Art Desserts cookbook. Although authored by Caitlin Freeman, Rosenberg was integral in the creations that appear in its pages, inspired by different works of art located throughout the San Francisco Museum of Modern Art. The book was a hit with serious art and food fans alike, showing the how-to behind their involved edibles, including the multitude of steps that led Freeman and Rosenberg to the success of their striking Mondrian cake, a vibrant envy of most bakers' eyes.
"I learned to work in efficient and organized ways inside a tiny kitchen, where assembling your mise-en-place is imperative. I think I now bring aspects of that into my own studio practice," explains Rosenberg on her time working as a pastry chef at the SFMOMA cafe. "The more experimental, intuitive and it's-ok-to-fail-we'll-discover-something-from-it ways I work in my studio were brought into the kitchen when we were coming up with new ideas. That led to some innovative and fun things. I don't know if [that project was] so much about fusing [food and art together], as it was more of a do-si-do."
In-between creating edible works of art at SFMOMA, creating gallery shows and taking part in various artist-in-residency programs across America, the artist was also tasked with producing installations for two of San Francisco's most buzzworthy restaurants, State Bird Provisions and its sister concept next door, The Progress. At the former, you'll notice a peg board accent wall at the back of the narrow dining room that's speckled with colourful, bird-shaped wood cut-outs. At the latter, you can walk into the private dining/community room to find bold, striped installations on the walls as well as small brightly-hued art pieces.
It's clear she loves to create an impact on dining experiences, but even more evident is her appreciation for the communal feelings that these artistic partnerships can exude. "I'd like to think that the art [you see in different restaurants] has the potential to make the food taste better, but at State Bird Provisions and The Progress I don't believe that they need any help in that department," says Rosenberg, laughing, as both eateries are very highly regarded in the California food scene. "But I do think [art] can give the diner a better sense of who the people behind the restaurant concepts really are. I am so grateful for the support and enthusiasm from Stuart Brioza and Nicole Krasinski over the years."
Now, after spending close to a month in Saskatoon, the artist is getting ready for Mono / Chromatic, her collaborative art exhibition opening this Friday, September 30th at the Kenderdine Gallery on the University of Saskatchewan campus. One half of the exhibition, Ms. Rosenberg's Everyday, A Colour series sees a collection of colours inspired by the sights of Saskatoon, a handful of which highlight some unique culinary aspects of the region. The following evening, she will produce a dynamic drinkable art performance during Nuit Blanche Saskatoon on October 1st called Palette Cleansers. Described as a "choreographed series of sodas", the performance's sodas will change in colour and flavour throughout the evening of Nuit Blanche.
"We'll be serving from an illuminated table nestled in a little cove of trees in Victoria Park along the river," says Rosenberg. "The syrups will be homemade, using ingredients that are selected either because of their local significance like Saskatoon berries or buffalo berries or their colour, inspired by some of the colours that are included in the Everyday, a Colour installation at the gallery.
If there is one person in North America who is on track to mastering the juggling act that lets you have your cake art, enjoy it and eat it too, it is Leah Rosenberg.