I wouldn't necessarily go as far as to say that I am sick of crème brûlée, pot de crème and cheesecakes in jars (ok, maybe I am pretty sick of shit in jars), but there are a lot of restaurants that definitely rest on their laurels when it comes to the sweet finish to a dining experience. Though a restaurants may not always have room in its operating budget for a pastry chef, it should exercise the same creativity with desserts that we have come to expect from the savoury side of a menu.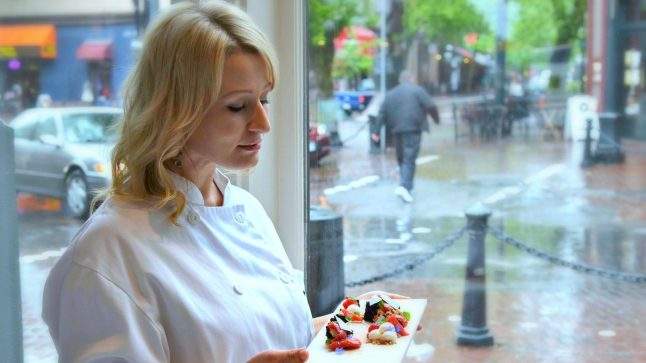 Much like any good quality episode of Buffy the Vampire Slayer, there's always hope. If there's an up-and-coming Canadian pastry chef, it would have to be Vancouver's Kira Desmond. After training at the Culinary Institute of America in Napa Valley, California, this young lady dedicated a few hours in San Francisco kitchens before returning to Canada to work for several years in Calgary, Alberta.
Once this pastry chef was back on native soil, she put her skills to good use at Mango Shiva (Calgary's premiere Indian fusion restaurant), and then at her own business venture, Sweet Provacateur. In the spring of 2012, Desmond decided to pack her bags one more time and head out to the West Coast to help open Secret Location (actual location: 1 Water Street; not so secret) in the slick area of Gastown in the heart of Vancouver.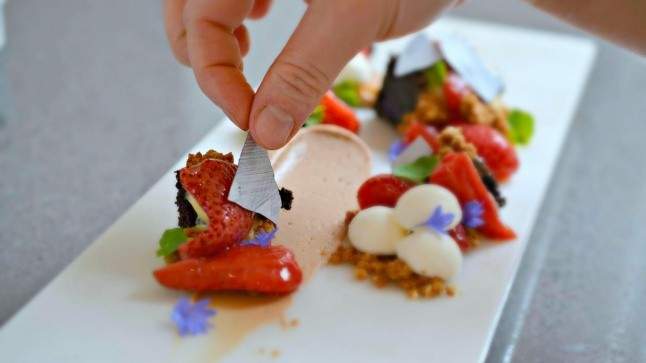 "I chose to attend [Culinary Institute of America] because I knew that by studying there, I would receive some of the best education in the culinary field that was, and is currently, available, while living in Napa Valley. That area is saturated with such a rich food and wine culture," she says passionately while plating one of her popular summer desserts, Strawberry Fields Forever.
"I was very lucky to be able to attend culinary school here and make the connections that I did. I still keep in touch with my former chef instructors, who I see as mentors and friends."
Desmond is obviously no stranger to the dining scene in Napa and, of course, San Francisco. As she started chatting, she happily lists off must-try restaurants for my next coastal culinary adventure. While describing the artistry of highly regarded pastry chefs who constantly inspire her, she puts the finishing touches on her plate and slides it my way. The playful and colourful mosaic of roasted strawberries, halva crumble, tahini gel, caramel cheesecake mousse, coffee ice cream and mocha cake is almost too beautiful to eat. Naturally, I eat it anyway.
"I love to experiment and create new recipes. I rarely feel satisfied in the sense that I always want it to be better," says Desmond. "I see beauty in things that are irregular and imperfect. I never use molds anymore. I find them to be too constricting and limiting. I would say that my style is very natural and organic."
Her goal is commendable. I mean, who says it's only the savoury-oriented restaurant chefs who get to have all of the fun when it comes to plating? Desmond's desserts are nothing short of whimsical, with colour palates ranging from dark and brooding (sexy James Dean-esque brooding) to bold, bright and red. Take her Elixir of the Gods, a composition of Mezcal caramelia cremeux, praline brown sugar micro sponge, chocolate clay, green apple frozen bubbles, cinnamon smoked apple and shiso. If someone was able to take a walk in the forest and reinterpret it as a dessert, this would certainly be it. Sans twigs, of course.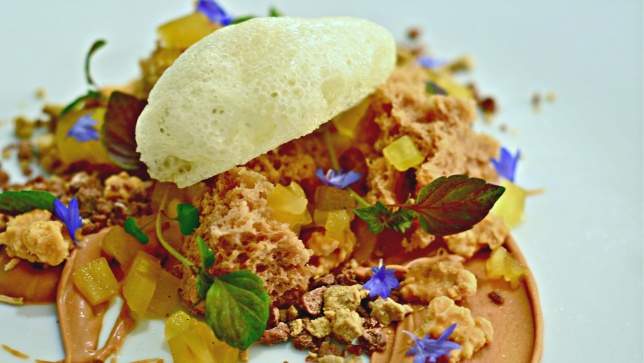 "I love to work with chocolate, herbs and edible flowers, mixing savoury ingredients into my desserts; anything, really. I like the challenge of working with a new or unexpected ingredient," says Desmond.
It would be unfair not to mention Secret Location's ingredient accessibility and the kitchen equipment, which aid Desmond in executing her sugary ambitions. Having said that, you can have the shiniest or fanciest tools in town, but if you don't know how to use them, you're shit out of luck. Thankfully, the kitchen that she has at her disposal only propels her ever-evolving repertoire of pastry arts.
While Desmond is starting to garner a lot of attention in Vancouver for her desserts, she is not one of many in the Canadian restaurant industry.
"There aren't a lot of pastry chefs working at restaurants, which is really disappointing," points out Desmond. "Dessert is such an important part of the meal, in my opinion, because it is the last thing that the guest remembers when they leave the restaurant. Savoury and pastry are completely different realms within the kitchen, and pastry is very specialized."
(1 Water Street, Vancouver, secretlocation.ca, @slocation)
For those with a big sweet tooth, here's a few more of Chef Kira Desmond's creations to gawk at.
Yuzu Truffles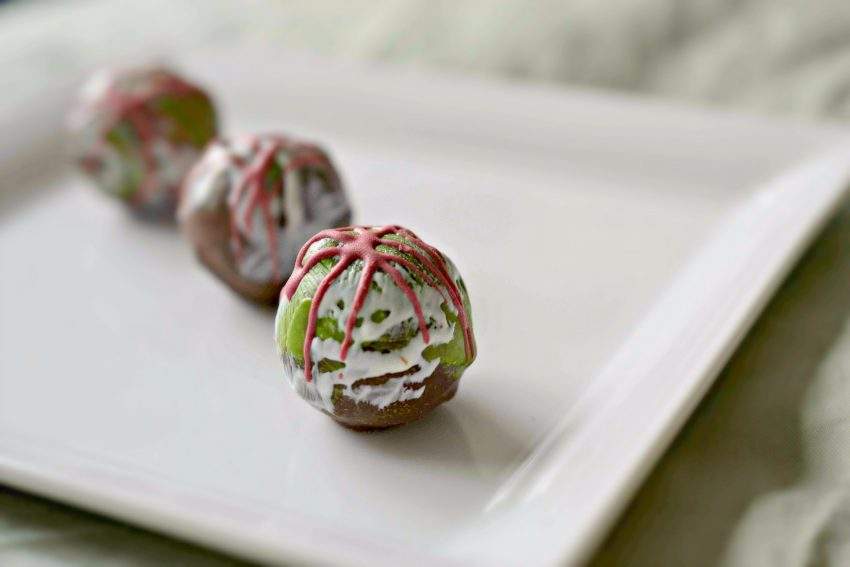 Yuzu truffles with manjari chocolate ganache.
Carrot and Pineapple Cake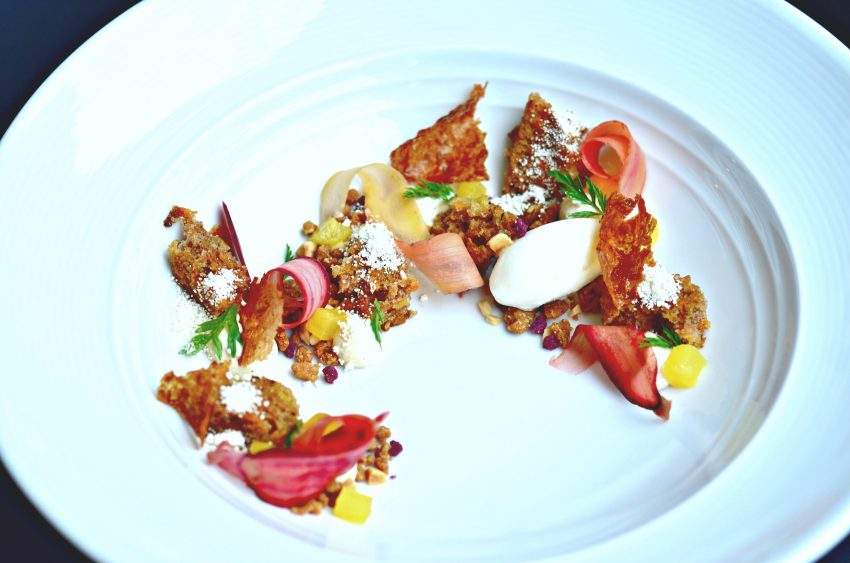 Carrot and Pineapple Cake with dill flower buttermilk sorbet, Brown Butter Powder, Pineapple Vinegar Pickled Carrots, Dulcey Tuile and Cashew Streusel.
Roasted Apricot and Almond Crumble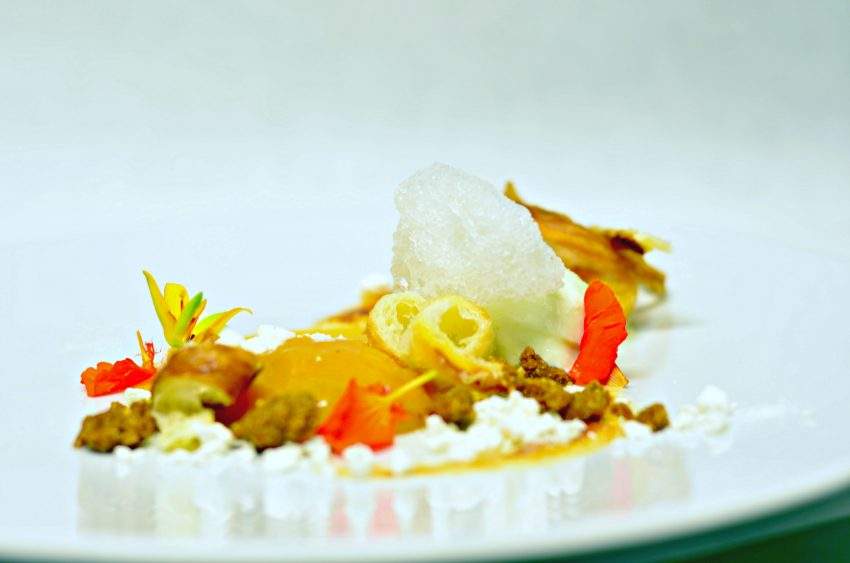 Roasted apricot, litchi pavlova, fig leaf ice cream, croissant croutons, frozen elderflower bubble and almond crumble.