January might not be the most optimal time to talk about delicious ice cream, but when you find something this interesting, it's worth sharing.
Last fall, I took a trip out to Mississauga, ON to explore a somewhat new bakery called Bread and Salt. One half pita factory and one half bakehouse, this Middle Eastern-focused operation churns out an array of delicious baked goods daily, including marouk cinnamon buns, chocolate tahini cookies, za'atar dusted croissants and sambousek (a Syrian meat pie). Walking into the bakery--located in an unassuming building in a fairly industrial area--it's hard not to be captivated by the smells and sights of their bake cases.
One of the most interesting discoveries at Bread and Salt, though, was their array of Syrian ice cream. The bakery offers both traditional Middle Eastern flavours like ashta or pistachio, as well as more contemporay options such as chocolate with Oreo crumbs, but what really stands out upon first glance is how the ice cream is presented.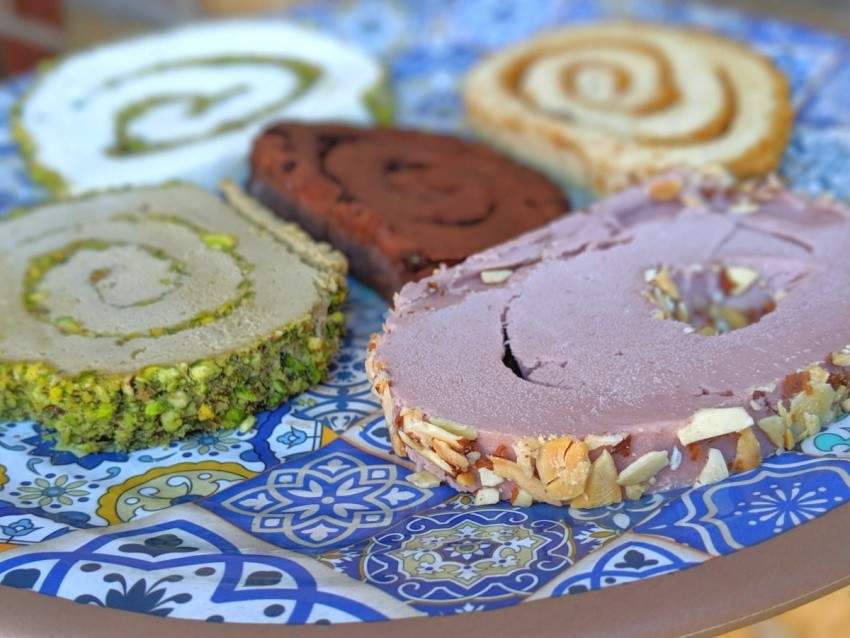 Because it's made using mastic (a resin obtained from trees) and salep (and orchid flour), the ice cream boasts an almost gum-like quality and is fairly elastic. Having a moldable texture, it's traditionally pounded out, finished with some sort of topping such as chopped pistachios and rolled up like a jelly roll cake before freezing and sliced to order.
The texture and flavours of these ice creams are unlike anything else you will have experienced here in Canada as far as ice cream goes. Of all that Syrian food culture can offer, for me, there was an immediate love with this particular unfamiliarity.
"I learned to make the traditional ashta flavour of this kind of ice cream from a Syrian chef based in Dubai, who I met during my time spent working in the Middle East," explains Bread and Salt's executive pastry chef Kira Desmond. "At the bakery, I wanted to offer a blend of traditional Middle Eastern and contemporary innovations."
The chef goes on to explain that pistachios, for example, are used frequently in Syria. Being a prominent ingredient in Syrian food culture, she wanted to create an "double" pistachio flavour, where the ice cream base is mixed with pistachio paste and is covered and rolled with crushed pistachios to finish.
"Our 'Lotus' or speculoos flavour is fairly popular ice cream flavour in both Europe and the Middle East, but not frequently seen in North America. It reminds me of glorified ginger snap flavoured ice cream and people can't seem to get enough of it," says Desmond.
Even at the peak of winter, this unique distinctive ice cream is worth the drive to have a scoop, I mean, slice or two.