Over the weekend, I noticed on social media that Saskatoon's fast-casual eatery Bannock Express had its first birthday in its humble location just off of 20th Street on Avenue B. A year in the restaurant industry is a milestone that not all eateries reach–especially during a pandemic–and when they do, it's a cause for celebration.
Owner Rachel Smith originally launched her business as a farmers' market stall back in 2016. Her business is worth celebrating for more reasons than just finding stability in its day-to-day cooking and opening a bricks and mortar location as it has provided hundreds of meals to marginalized individuals in Saskatoon since opening. Smith does this by way of community donations as well as the Bannock Express donation wall.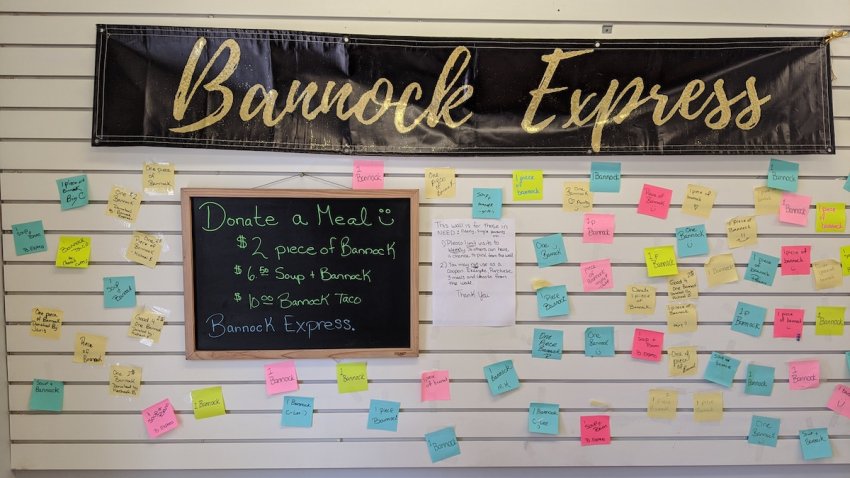 Every time a patron makes an order, they have the option to buy an extra food or drink item (or multiple items) which then get posted to their donation wall. Individuals in need of a comforting meal are able to then pull from the donation wall and have orders fulfilled at no charge. Speaking from personal experience, even when ordering a specific meal package and not wanting a certain item (i.e. in my case, a drink), the staff will add an item to the donation wall.
It's a remarkable initiative in an area of the city where poverty rates are notably high.
If you live in Saskatoon and have yet to try the delicious bannock-centric offerings that Bannock Express creates, make a point of popping in. Grab a bannock burger and some extra bannock to go–the burgers are very delicious–and congratulate Rachel and her team on being a pillar of the community.
Bannock Express is located at 312 Avenue B South and open Mondays 11 a.m. - 7 p.m., Tuesdays to Fridays 10 a.m. to 9 p.m., Saturdays 11 a..m to 9 p.m. and Sundays 11 a.m. to 7 p.m.