Nestled away on the prairie, tucked into the diminutive Shields town site about 30 kilometres south of Saskatoon, in an old Texaco gas station is one of the most charming little restaurants in Canada. Aptly named Hole in the Wall, this blink-and-you'll-miss-it restaurant is run by Peruvian transplant, Chef Nelson Urtega, who followed a Saskatchewan girl to colder climes many years ago, setting down roots in prairie soil. It was there that he raised a family, and started the legacy of the restaurant.
Converted to look like an adobe building with terracotta interiors, Hole in the Wall is a straight up love child of Saskatchewan and Urtega's home country if there ever was one. Hole in the Wall is not for a quick bite or just for a meal, it's a culinary experience where food is paired with good wines or spirits, and each meal is mostly prepared to order. It's often a three or four hour event, but well worth the time and the drive. So, it's not a bad idea to hire a car for the evening or have someone drive you out there.
You sit back and enjoy amazing food, while sipping sangria and sharing conversations with your friends and family. You may meet Urtega, who cruises into the dining room periodically to play the gracious host, greeting his guests face to face, taking time out of the kitchen where he's preparing each meal from scratch. The experience really makes you live in the moment, unplugging from hectic modern life, to revel in the simple importance of food and love.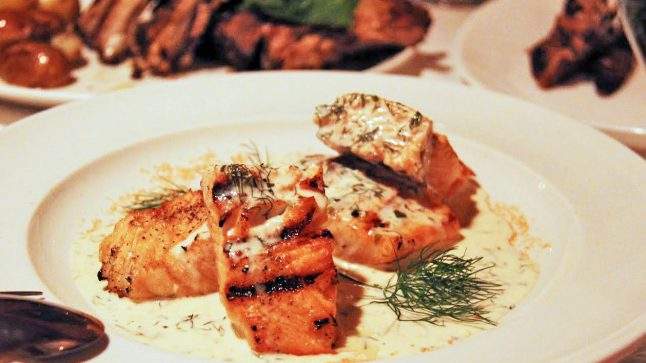 The cuisine could best be termed Latin American. It is refined, but also homey. Dishes that might be served up by a Peruvian grandmother are given a boost with lessons learned by Urtega's years of practice and travel. And if you want to learn some of Urtega's secrets, he also runs small cooking classes (I pried the secret out of him on just what cheeses he uses in the campecinos at one such session).
You can order items a la carte, but it's best to take a tour with one of the tasting menus, which will guide you from appetizer to dessert. The last time my wife and I were there was with a group of friends and we chose The El Presidente. It was a series of courses that took us from hungry with anticipation to roll-me-home-please full.
Hole in the Wall is an amazing little hidden gem, where food, comfort, and hospitality converge to warm your very soul.