We all know that the pandemic forever changed the business approach of chefs and restaurants around the world. Over the past few years, new food product line launches have been on the rise…and they still are today.
Chefs have turned even more entrepreneurial, many offering culinary solutions to make home cooks better. Others have come up with convenient grab-and-go creations. Either way, locally-minded consumers are all for discovering new items that can take them on rewarding culinary adventures in approachable ways.
From cool ramen kits to interesting sauces and even frozen dinners, here are seven Toronto-based chefs that have their own product lines.
Aiko Uchigoshi of Aburi Hana - Japanese drink bases
If you haven't been to Aburi Hana yet, you are really missing out. This modern Kyoto-style restaurant serves up a Kyo-Kaiseki tasting menu where each course outdoes the last. Last year, Hana also earned a well-deserved Michelin Star in Toronto's inaugural guide.
To expand their takeout offerings, executive pastry chef, Aiko Uchigoshi, started experimenting with Japanese-centric drinks. Using premium grade teas, traditional Japanese ingredients and techniques.
Yuzu Ginger which simply requires the addition of still or sparkling water, but it's great with sake too. The Matcha Latte carries a sweet, bitter and mildly nutty flavour and Hojicha Latte has both sweet and earthy notes, with a hint of cocoa. The Matcha and Hojicha are best served with any milk of your choice, or even shaved ice.
These drinks are available to purchase online or via Uber Eats under Aburi Patisserie.
Charlotte Langley  - Sustainable seafood snacks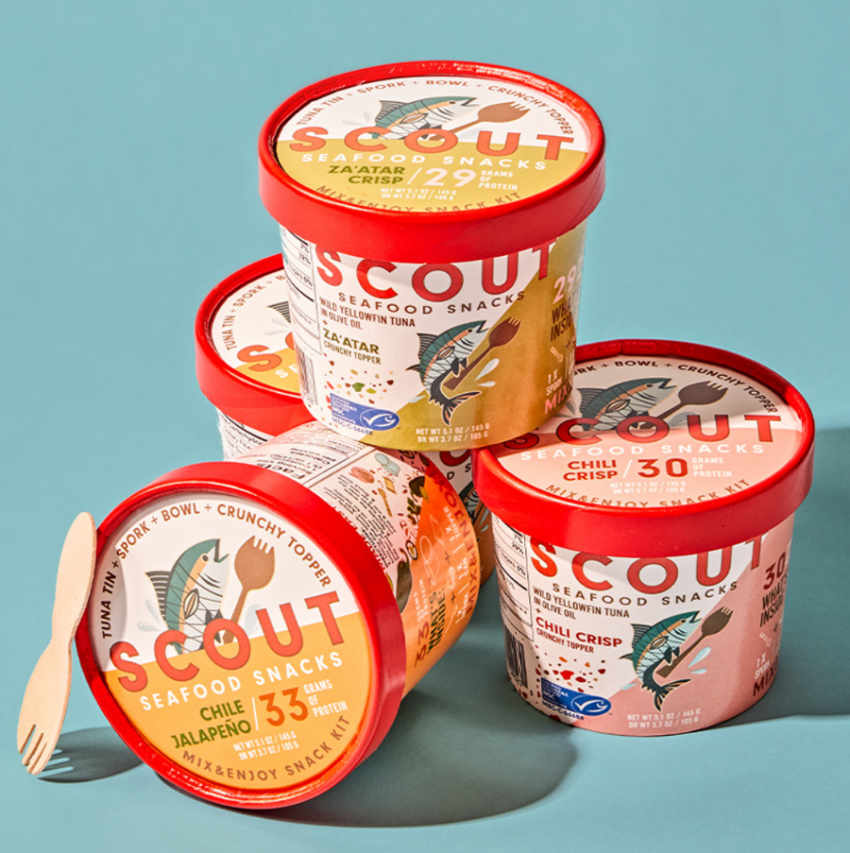 Scout Seafood Snacks are an innovative low-carb, high-protein snack that happily sits in the sustainable seafood category.
The kits— which are designed with zero-waste packaging— feature a can of wild yellowfin tuna in olive oil, a "crunchy topper" and a spork. The toppers come in three flavours: chilli crisp, chile jalapeño, and za'atar
Scout Seafood Snacks will soon be available on Amazon, as well as select Whole Foods stores, and can currently be purchased on Scout's website.
Colin Li  -  Chinese condiment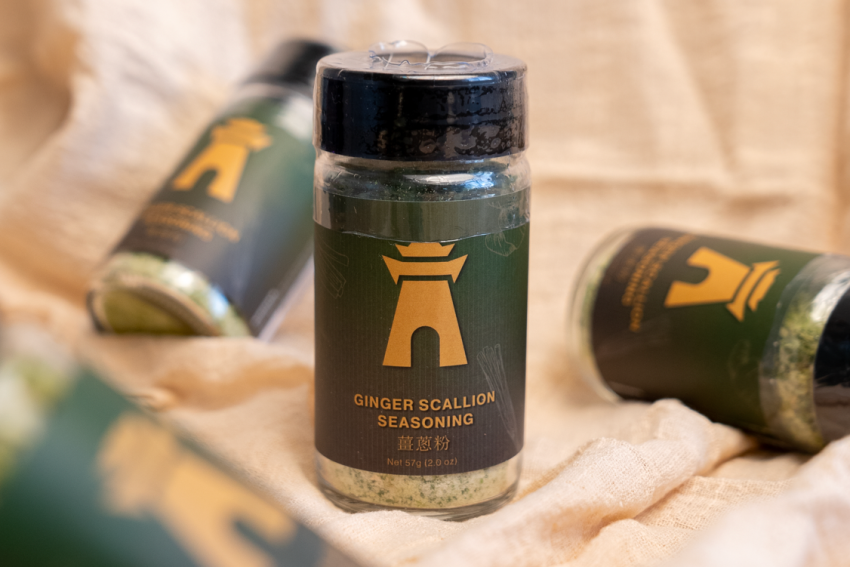 Hong Shing has been around for over 25 years, and is arguably one of Toronto's most famous late night restaurants.
Chef and owner Colin Li recently launched his own Ginger Scallion Seasoning, inspired by the classic Cantonese ginger scallion oil. This seasoning has a rich savoury flavour with warm citrus notes, so it's really versatile.
The Hong Shing seasoning works well on things like eggs or rice, and you can even sprinkle it on popcorn too.
This is available to purchase at the restaurant or online.
Jeff Kang  - Korean preserve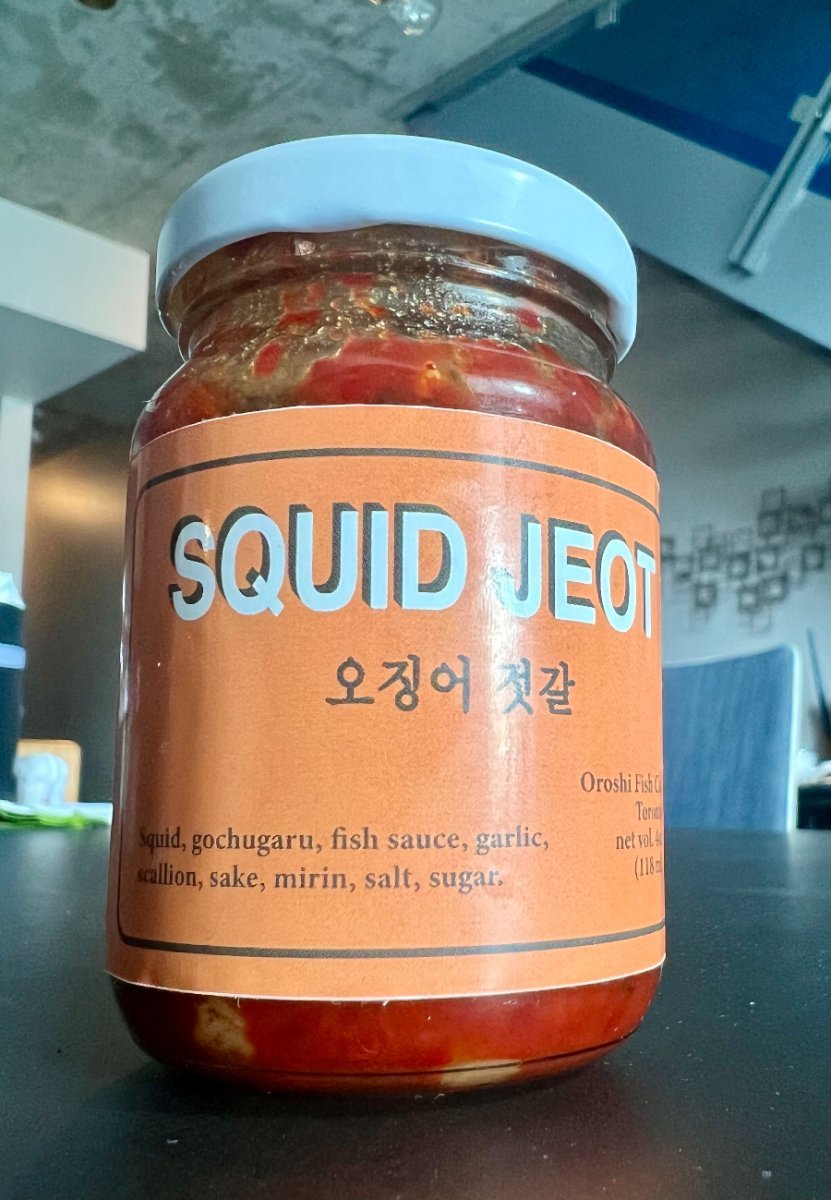 Chef Jeff Kang is the former chef and owner of Canis, a celebrated restaurant that sadly closed during the pandemic. He is now the chef at Oroshi, a takeout sushi restaurant specializing in dry aging fish.
At their store-meets-takeout restaurant, they sell a curated selection of housemade products, such as Fire XO sauce, Hong-Kong-style chili oil, and more. The latest addition to their online store includes Squid Jeot; a fermented squid which can be eaten as banchan, (think of all those fun side dishes served in addition to the main at a Korean restaurant).
The Squid Jeot is made of gochugaru, fish sauce, garlic, scallion, sake, mirin, salt, sugar and squid of course, which means it has a salty, garlicky and sweet flavour with a chewy texture.
This is preserved seafood product is available to purchase at the restaurant and on their website.
Kota Uechi  - Frozen Ramen
Tondou Ramen is the only Okinawan ramen restaurant in Toronto, and it recently celebrated their fifth anniversary. Their ramen is luscious, filling, and a dish that Torontonians can't get enough of.
During the pandemic, like every other restaurateur, chef and owner Kota Uechi was struggling to stay afloat with dine-in being banned and takeout sales not cutting it. He studied how to package his signature varieties of ramen to preserve its integrity and has found great success in selling his packaged creations.
Uechi recently launched Tondou's new signature ramen bowl in frozen, single-serve packaging. All that's required to have restaurant quality ramen at home is a pot, heat and a few minutes.
They offer four types of frozen ramen (Okinawa Soba, Tonkotsu Ramen, Spicy Vegetarian Ramen and Chicken Ramen), which can all be purchased in-store.
Michel Falcon  - Peruvian condiments
As a keynote speaker, hospitality entrepreneur and bestselling author, Michel Falcon was fixated on wanting a challenging customer-facing brand. He did that in 2021 with Brasa Peruvian Kitchen, a fast-casual restaurant that serves salads and bowls made by Peruvian-born chefs from Toronto and New York.
Its signature Brasa Sauce is made up of a blend of peppers, garlic and spices. What makes this sauce unique is the use of the slightly smoky ají panca pepper, which is a staple ingredient in Peruvian cuisine .
This sauce is available in-store, on the Brasa website and on Uber Eats.
Later this year, they will be launching a mango turmeric dressing with aji amarillo (a Peruvian yellow chilli) and Hot Rocoto Lime dressing with aji rocoto pepper (a very spicy Peruvian apple-tomato hybrid pepper).
Wallace Wong  -  High quality meal kits
Wong has worked in some of the most respected restaurants in the world including NOMA, Chicago's Alinea and Momofuku Shoto, which he helped open under David Chang. Across Canada, he's best recognized from his time on Top Chef Canada Season 7.
Wong, along with his business partners, have introduced SPATULA Foods which is a subscription meal kit service, where each dish is ready in about 10 minutes and requires just a spatula and pan. SPATULA dishes are fully prepared by chefs to the point where they're 90% ready, then flash-frozen to lock in the nutrients and flavour without the use of preservatives.
The frozen dinners ship Canada-wide and can be ordered on the SPATULA Foods website.