Whether you've watched one episode of Bravo TV's Below Deck or the entirety of the series, you'll know that unusual situations that grab a viewers attention is the show's specialty. Truly reality television at its best in 2020.
While one is typically left bewildered by out-of-control yacht guests and behind-the-scenes staff dramatics, the most recent episode of Below Deck saw a charter guest make a very unusual order during brunch service on the boat: "eggs Halifax". In what seems to be an accidental sound clip left in the episode, there is no further discussion of the dish, nor is there a glimpse of what chef Rachel Hargrove may have created for the guest.
So, what is this dish?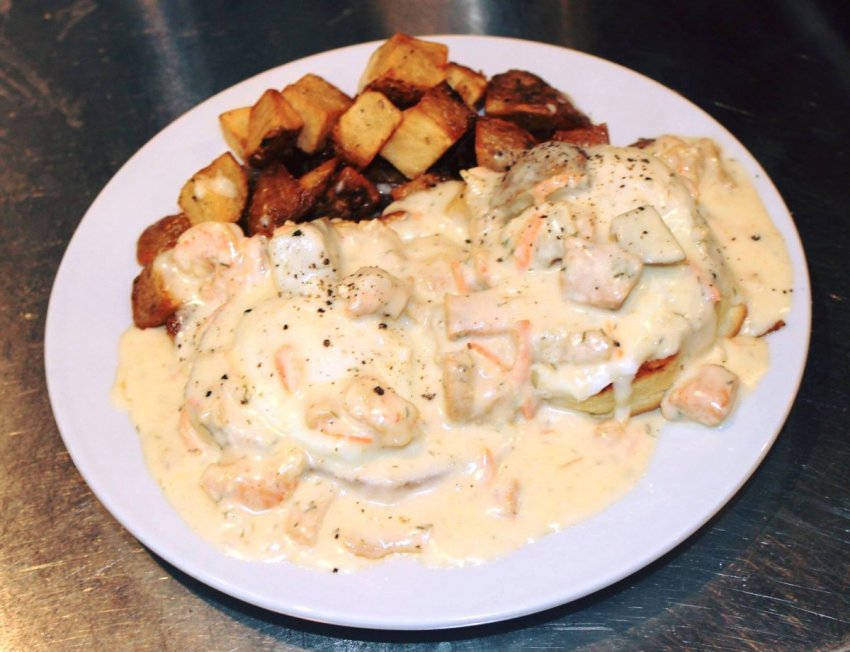 "Eggs Halifax" at Elle's Bistro in Halifax. (photo courtesy of restaurant's Facebook page)
A fairly extensive polling of our Nova Scotian contacts–both industry and non-industry alike–yielded nothing but skepticism and denial...and donair sauce-soaked egg suggestions which did sound somewhat appealing in theory. A Google search did drum up one possible answer that references a menu item at Elle's Bistro, which is served from Fridays to Sundays at its heart-of-Halifax location on Barrington Street.
Debuted at the restaurant in February, 2017, this take on eggs Benedict sees homemade biscuits topped with poached eggs and a healthy ladling of their seafood chowder. Could this be the dish that charter guest was requesting?
I need answers.
I am also not going to lie, I do love the sound of this. A new Canadian classic, perhaps?