A while ago, I was hanging around in the kitchen at Hudson's on First in Duncan, B.C. with Chef Dan Hudson. While he was prepping for dinner service, I was observing and helping with the odd ingredient here and there. When it came time to prepare the amuse bouche for the evening, the chef asked me to pop into the cooler and find the samphire.
"Um, the what?" said I, the confused kitchen novice.
"It's a bag of thin, green stalks. You'll see it," he explained, assuringly.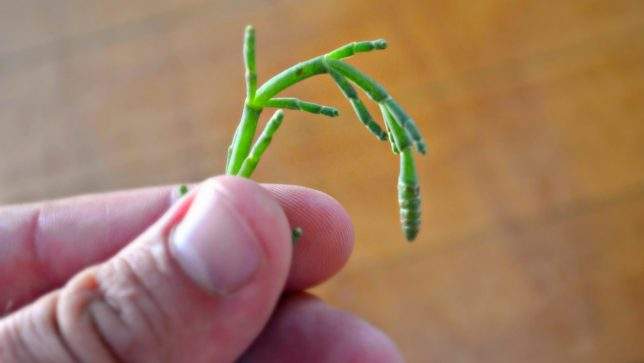 At least 15 minutes Several minutes later, I returned from the cooler with a bag of bright green produce (I thought?) in hand, still unsure of its application. So, I did what anyone would do when they're unsure of what something is: I put it in my mouth. The flavour of the slender stalks were part ocean and part celery-like freshness -- definitely nothing like seaweed, if that's what you're thinking.
For a restaurant like Hudson's on First that's located on Vancouver Island, an ingredient like sea asparagus -- found in marshy areas in B.C. as well as the East Coast -- is fairly commonplace.
Not exclusive to Canada, the alien-looking ingredient is also found in other parts of the world, like Hawaii, parts of South Africa and England. In some cases, it is grown hydroponically; but in our country, the sea asparagus that makes it way onto your dinner plate is generally wild.
You'll be seeing more and more sea asparagus popping up on restaurant menus across the country, which means that it's only a matter of time before you'll be using it at home, as well.
What's in a name?
Not unlike an elementary school playground, there seems to be no shortage of nicknames for this salt water plant. The official name of sea asparagus is Salicornia, but you may also find it labelled as sea beans, pickleweed, even crow's foot greens (due to the plant's shape) in Nova Scotia, or as I was first introduced to it: samphire.
It doesn't really matter what you call it, you will definitely be able to detect this ingredient in a dish.
How to use it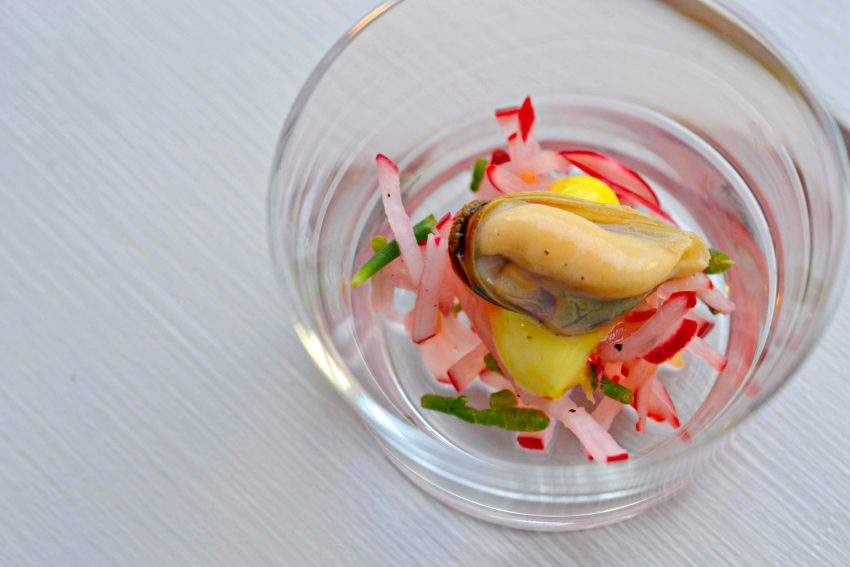 Because of its crunch and briny taste, sea asparagus is a natural fit with most types of seafood. Whether it's minced and added on top of a freshly shucked oyster with a simple mignonette or sauteed quickly with a bit of butter and sidestripe shrimp, it's a vibrant complement to an array of dishes.
If you're a big fan of smoked salmon eggs Bennys at brunch, you can try chopping some of the pickleweed and folding them into a classic hollandaise sauce right before serving to add an unexpected burst of flavour, sort of like the savoury equivalent of adding Pop Rocks to chocolate. (If you haven't tried chocolates with Pop Rocks, you're really missing out on life!)
No salt required
It's not just the fact that these little green spires burst with robust flavour, but they grow in salt water, so they're plenty salty to begin with. Taste a small piece for yourself and see where it stands with your personal salt tolerance.
Adding it to a dish that has already been well-seasoned may be a recipe for sodium overload. Remember: you can always add more of something, but it's usually pretty hard to retract an ingredient while cooking.
Is it good for you?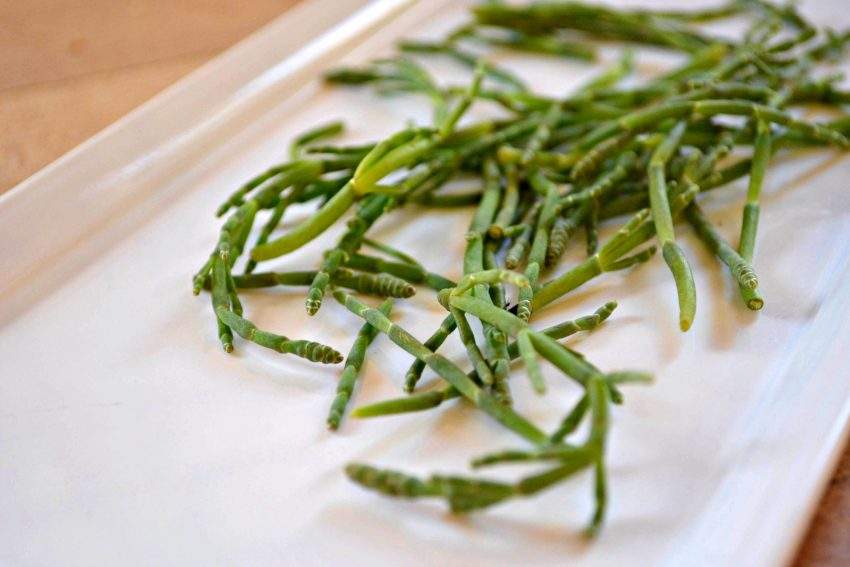 Funny you should ask, because it certainly is! While it's unlikely that anyone would want to sit down with a big bowl of samphire for lunch and go to town, it's reassuring to know that it's loaded with minerals, calcium, iron, Vitamin B and C and is exceptionally high in Vitamin A.
I'll happily take a handful of this stuff over a Flintstone's multi-vitamin any day of the week!
Where to find it
Sea asparagus is abundant on the western and eastern coasts of Canada, typically growing in areas where rivers meet the ocean. Depending on the time of year, you should be able to find it at farmers' markets like the Victoria Public Market or The Lobster Man at the Granville Island Market in Vancouver, Halifax's Seaport Market, T&T Supermarkets as well as through specialty seafood suppliers, like Meta4Foods in Calgary, Alberta.
Most seafood suppliers that deliver to restaurants in large city centres are usually willing to sell to the general home cook, as well. All you need to do is call and ask (politely).