Halloween is the time for food-lovers of all ages to take part in a wide variety of fun and creative culinary activities. This year, Vancouver and the Calgary area in particular have produced some of Canada's most interesting and diverse offerings.
In Canmore, acclaimed chef Tracy Little has not only created a fantastic seven-course Halloween-themed menu, she's also written a hauntingly humourous murder mystery script to go along with it. An hour west in Calgary, Flores and Pine is putting on an eerie event of their own, featuring a multi-course dinner set to take place in the property's stunning Estate Room.
Vancouver's Cibo Trattoria also receives top marks for creativity thanks to chef Curtis Luk's three-course menu that features spooky renditions of Halloween favourites like sweetbreads, octopus, and blood pudding cake.
Lastly, if you prefer celebrating Halloween in the comfort of your own home, B.C.'s premier meat supplier Two Rivers has created a pair of platters that are sure to be delicious, while providing a plethora of conversation and photo opportunities.
Here are six of interesting ways to celebrate the Halloween season this year.
Three-course Halloween menu (Vancouver, B.C.) - Friday, October 25 to Thursday, October 31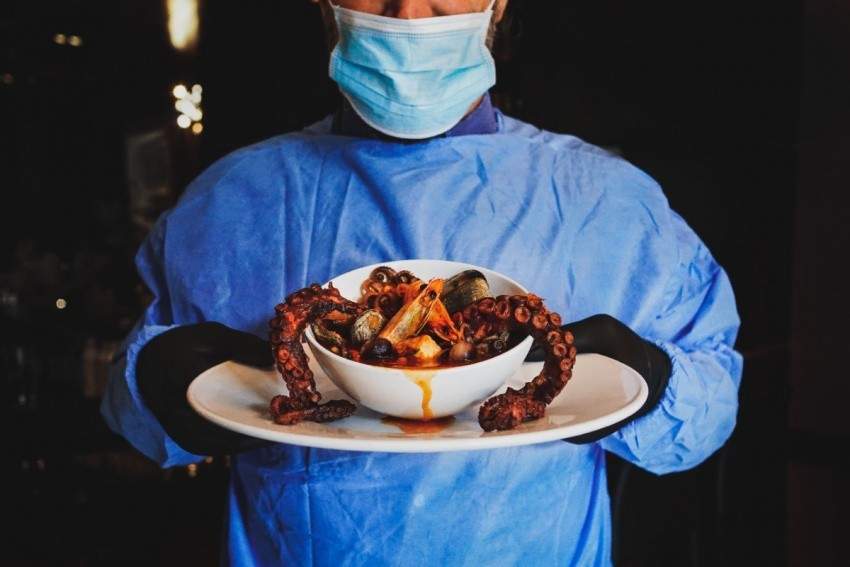 Cibo Trattoria executive chef Curtis Luk has created an enticing menu of pan-roasted veal sweetbreads with foraged mushrooms, kraken cioppino (seafood stew with octopus, mussels, and tomato) and sweet chocolate and blood pudding cake for the week of Halloween.
The Halloween dishes will be available à la carte or as a three-course prix-fixe menu for $52.
Murder Mystery Dinner (Canmore, AB) - Saturday, October 27 to Saturday, November 2, 2019
Of all the Halloween-themed dinners going on across the country, The Sensory's Murder Mystery tasting dinner is possibly the most captivating. Executive chef Tracy Little has not only created a fantastic seven-course menu, she's also written a sensational murder mystery script to go along with it.
Ambitious guests will have a chance to flex their acting muscles while they are taken on a sensory journey through the eyes of Emilia Elkheart--a local chef who finds herself in a tricky situation after the mysterious disappearance of her boyfriend Ben Dover. Guests will have to figure out what happened to Emilia's caffeine-loving boyfriend based on clues hidden throughout each course.
The Sensory is keeping the menu under wraps for now, but chef Little did reveal to us that the menu would incorporate ominous elements of sweetbreads, beet-infusions, red fife sourdough, and local game from North Range Elk and Bison.
Tickets to the Murder Mystery tasting dinner are priced at $85 per person.
Halloween Drag Brunch (Calgary, AB) - Sunday, October 27, 2019
Two Rivers Spooky Specials (Vancouver, B.C.) - Thursday, October 31, 2019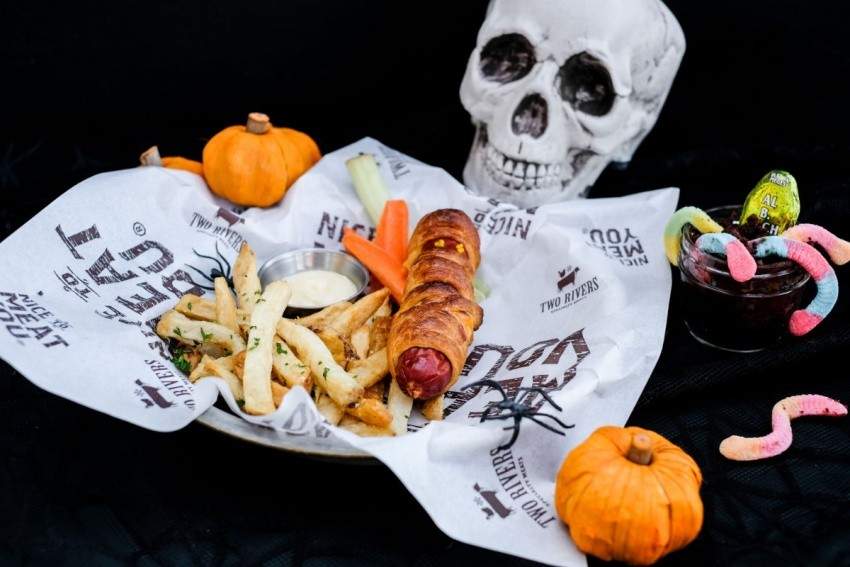 Two Rivers Specialty Meats is celebrating Halloween this year by serving up a variety of spooky specials and feature platters designed to fright and delight. The Carniboard includes mushroom and spinach-stuffed beef heart, braised beef ribs, mini piri-piri sausage links, and fried sweetbreads. Two Rivers is also offering a special Halloween kids platter highlighted by the Mummy Dog, alongside French fries, fresh-cut vegetables with dip, and a Worms in Dirt dessert.
The Carniboard is priced at $55 and the kids platter is going for $12 with an option to add a second Mummy Dog for an additional $5. Two Rivers has extended an open invite to local trick-or-treaters to show off their costumes in exchange for a sweet bite-sized treat.
Odd Society Spirits Halloween Cocktails (Vancouver, B.C.)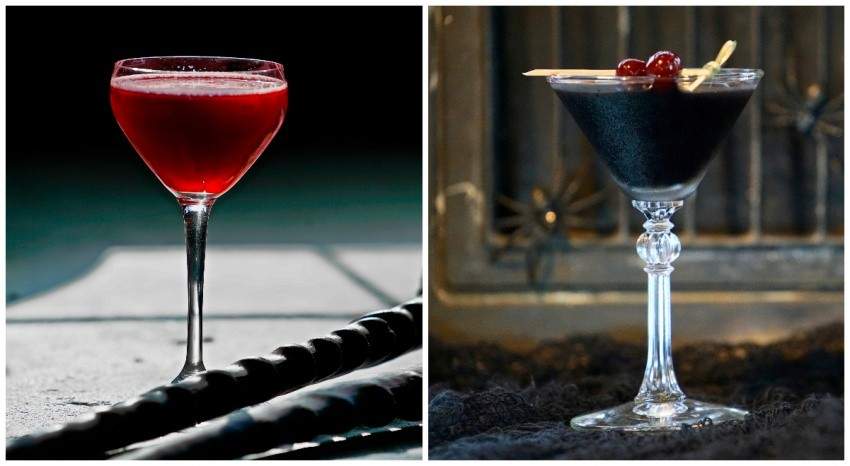 Odd Society Spirits have a pair of pleasantly haunting Halloween-themed cocktails on offer at the Vancouver craft-certified distillery. The Black Heart Manhattan (right) combines Odd Society's Prospector rye whisky with their new salal gin along with vermouth, cherry juice, a spoon of Fernet-Branca, and a pinch of activated charcoal.
The Blood Sugar Sex Magik (left) was created by Kristina Craft at Kelowna's Jack's Pizza and feature's Odd Society's salal gin along with a combination of Pernod, honey syrup, fresh lime juice, and Angostura bitters.
The Halloween cocktails are available from now until November 3.
Midnight in the Garden (Calgary, AB) - Thursday, October 31, 2019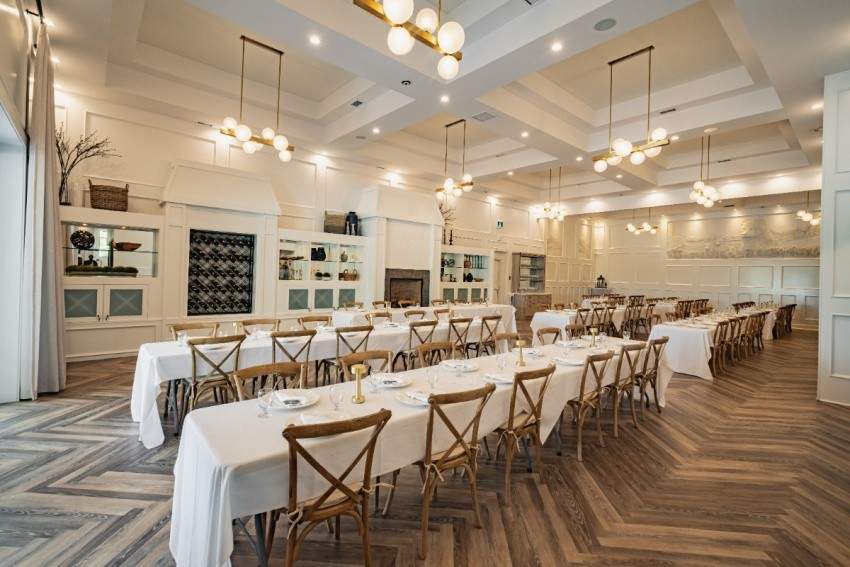 Flores & Pine's mantra of "Linger Longer" will be taken to the next level when guests experience chef Rory McGouran's multi-course Halloween dinner. The stunning Estate Room will be transformed into an eerie dining room with dark and vintage decor. Attendees are encouraged to dress "haute gothic" or in their favourite black attire.
Tickets are going for $69 and include a welcome cocktail. Optional wine pairings are available for an additional $27. A portion of proceeds will go toward the Canadian Cancer Society.