As you grow up, the opportunities to stuff your face with junk food (without judgement and consequences) are few and far between. There's Easter, but unless you have kids around, you'll miss out on the Easter Egg hunts. There's Christmas, but that's for classy candy; no one junks out on Starburst and Cheetos while singing Jingle Bells. And then there's Halloween, where it's totally acceptable to buy mass quantities of junk food to give out to trick or treaters, despite the fact that most kids go to the mall for their candy haul these days. (Leaving you with the leftovers…)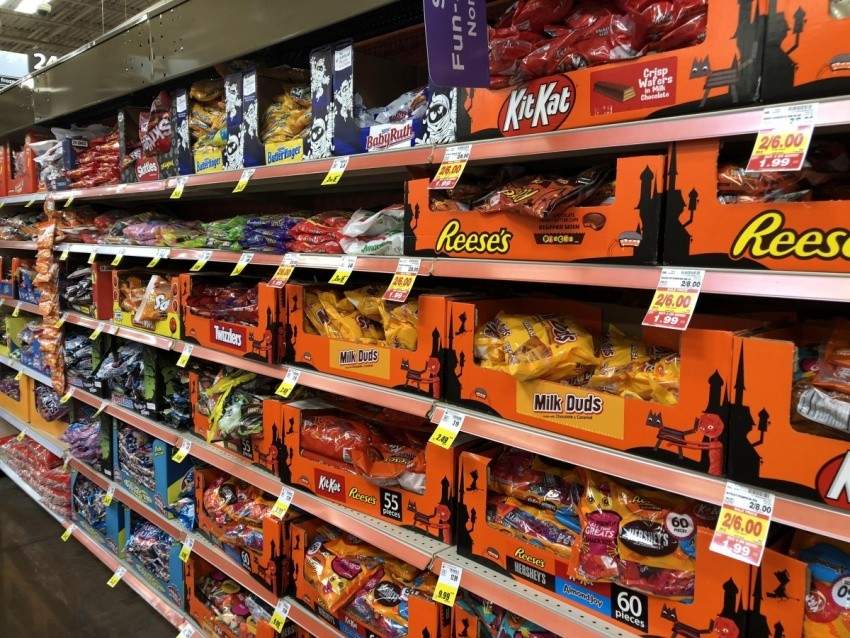 So, as sophisticated adults who like to indulge during this spooky time of year, we have some wine pairings for you. As with any food and wine pairing, it's important to consider body, tannin, sweetness and acidity. Love peanut butter cups? Grab a full bodied white wine like Chardonnay. Savoury, spicy snacks are more your thing? You will never go wrong with riesling. Here are some of our favourite combinations.
Peanut butter cups + 2017 Upper Bench Chardonnay (Okanagan Valley, B.C. $29)
Peanut butter cups are extremely indulgent. Creamy milk chocolate paired with sweet and salty, gooey peanut butter are a literal mouthful. If this is your sweet of choice, you're going to want something that has an equally unctuous texture but also a refreshing dose of acidity. This is a job for thoughtfully oaked chardonnay. Upper Bench Winery from the Okanagan has managed to create a bright and beautiful wine filled with refreshing lemon zippiness and toasty, buttery notes. Hints of crème caramel and candied pineapple also appear on the palate and play quite nicely with the sweet and salty combo.
Twizzlers + 2017 Haywire Pink Bub (Okanagan Valley, B.C. $29)
A general rule of thumb when pairing wine with food is to make sure that the wine is as sweet as the food it's being paired with. Red Liquorice isn't so sweet that it's going to give you a toothache, but the candied strawberry flavours definitely call out for a wine that's got a little bit of residual sugar. This combination of chardonnay and pinot noir from Okanagan Crush Pad offers notes of wild strawberry, ambrosia apple skin and just the slightest note of confectioner's sugar—match made in heaven.
Skittles + 2017 Terravista Fandango (Naramata, B.C. $28)
Now, we just said that you need to match sweet with sweet. So, while this wine will taste fine paired with all the colours of the rainbow, the real magic happens when you come across a yellow Skittle. Often cast aside for flavours of "red" or "purple", these two unsung heroes of the candy bag are delicious when paired with this albarino-verdelho blend. Not typical to Canada, these varietals when combined produce tart flavours of candied lime zest and crisp apple with a surprisingly generous body and crisp, refreshing acidity.
Flamin Hot Cheetos + 2017 Back 10 Big Reach Riesling (Beamsville, ON $23)
This occasion isn't all about candies. If you recall dumping your sack of goodies after a night of trick or treating, bags of chips and Cheetos were the ultimate trade tool. And these craveworthy and wicked hot snacks are perfectly matched with an off-dry riesling. Back 10's small lot riesling drips with notes of sweet pink grapefruit and tart granny smith apple. The beautifully balanced sweetness of this wine complements the heat while the refreshing acidity typical of riesling brings much needed moisture to the palate, helping to quench and reset before bringing another round of pain.
Tootsie Rolls + 2015 Misconduct Muscat (Okanagan Valley, B.C. $29)
Tootsie rolls are the wallflowers of the Halloween haul. As a kid, I was always disappointed to find these guys show up in my loot bag at the end of the night. But now that my palate's grown up a little, I crave these sweet, sticky chocolate toffees. The hint of orange adds just a bit of sophistication to the palate and plays nicely with the muscat grape and Misconduct Muscat is one of the finest expressions we've found. Notes of mandarin, mango and honeysuckle help bring out the citrus notes of the toffee.