After debuting its first two fruit-based chip products this past February, B.C.-based superfruit snack food brand Chiwis announced this week that it will be introducing three new varieties to its fruit-chip family in honour of Women's Entrepreneurship Day on Friday, November 19.
Created by nutritionist and entrepreneur Sarah Goodman, Chiwis chips offer a 100 per cent natural, vegan-friendly, and non-GMO alternative to traditional snack food. Much like the brand's first two flavours–Kiwi Chips and Tropical Chips (kiwi, pineapple and coconut)–the latest creations in the Chiwis' lineup are each comprised of upcycled fruit from local farmers that would otherwise wind up in landfills.
"Store shelves are stocked with snack foods that claim to be good for you but are actually loaded with added sugars, oils and preservatives. We wanted to be able to offer people a truly healthier alternative," says Goodman. "We're excited to introduce a wider range of flavours packed with health benefits, perfect for hiking, camping or at-home snacks and taste good while also doing good."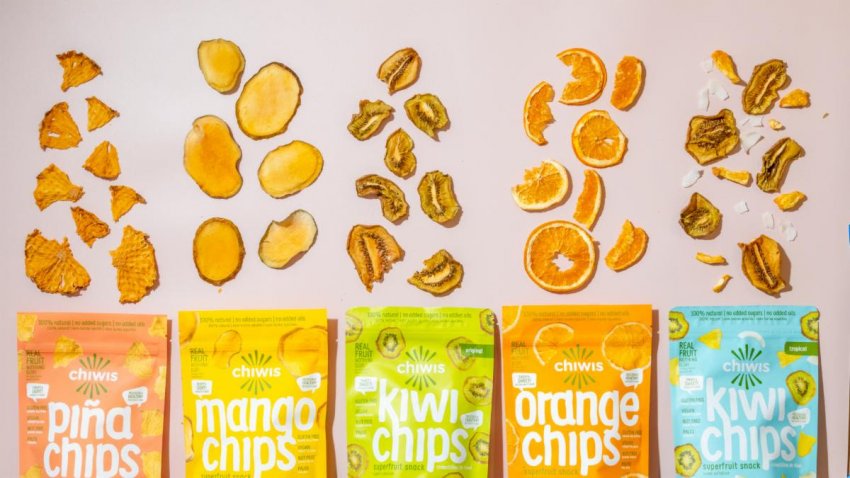 The three new flavours include a Vitamin C-packed Orange Chiwis, a sweet Mango Chiwis, and a light and crispy pineapple-based Piña Chiwis. All of which follow the same philosophy as the first two flavours in utilizing the often-discarded, fibre-rich, and nutrient-dense rinds, cores, and husks of fruit.
Chiwis chips can currently be purchased online and at various retail locations in B.C., Alberta, Manitoba, and Ontario. A portion of Chiwis' proceeds are also allocated to Take a Hike Foundation, which engages and empowers vulnerable and at-risk youth through clinical counselling and outdoor experiential learning programs.