This weekend, a buzzworthy dumpling shop will open up in Vancouver with a selection of house-made dumplings–that pay homage to various regional cuisines throughout China–using ingredients sourced almost entirely from neighbouring businesses.
Located in the space that once housed the iconic Keefer Bakery in Chinatown, BLND TGR is modeled after the Hugong-style alleys of Shanghai with offerings that feature former Ampersand Bistro, Heirloom, and Yuzo Izakaya chef Phong Vo's standout recipes.
"The pork in the Single Malt Xiao Long Bao and Zhong Dumplings comes from neighbourhood mainstay Carley's BBQ & Hot Pot Supply, immediately next door," says chef Vo. "As well as the eggplant and shiitake for the Vegetable Shaomai, we source all our dry goods and spices, such as the cumin and Sichuan peppercorns for the Xinjiang Cumin Lamb Dumplings, from Ga Cheong Herbal Medic around the corner on Gore Avenue."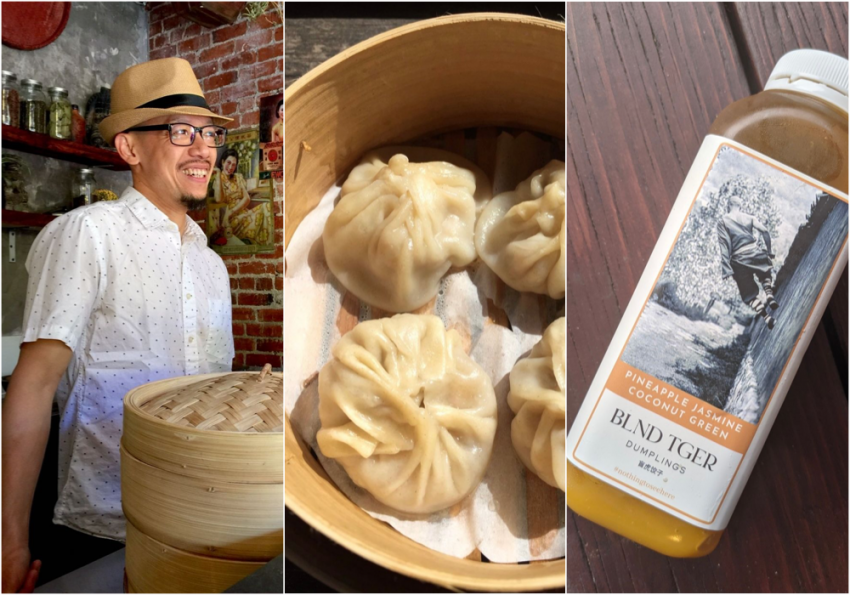 "A reliable supply of yak is tough to get, so we've substituted Two Rivers Meats' bison for the Tibetan style Bison Momos and, in a nod to Vancouver, use a locally based meat alternative in the vegan TMRW Foods & Cabbage Jiaozi," adds chef Vo.
The new eatery has also employed the services of award-winning bartender Alex Black, who will offer up a rotating array of cold-steeped iced teas using premium teas from nearby Treasure Green Tea Company.
BLND TGER opens Saturday, July 17 and will be open for takeout and patio dining Tuesday to Friday from 4:30 p.m. until late and Saturday and Sunday from noon until late.