A new week of MasterChef Canada: Back To Win has arrived and right off the bat we're told that today the chefs will be competing in the first mystery box challenge since the season premier. It's swiftly announced that the theme of today's episode will be comfort food.
Thus far this season, the challenges have generally required the chefs to follow exacting specifications with little room for variance, so we'll see which chefs thrive the most while working with a blank canvas. In particular, Marissa seems very excited for a chance to flex her creative culinary muscles.
The chefs all lift their boxes with varying degrees of perplexed reactions. Comfort food is the name of the game, but under each box is an assortment of plant-based ingredients that range from fruits and vegetables to dried legumes and soy-based proteins.
There are also Becel plant-based bricks. It seems like Becel is really ramping up their advertising as of late, and after watching what happened with Beyond Meat and Impossible Foods, I'm seriously contemplating acquiring some Becel stocks.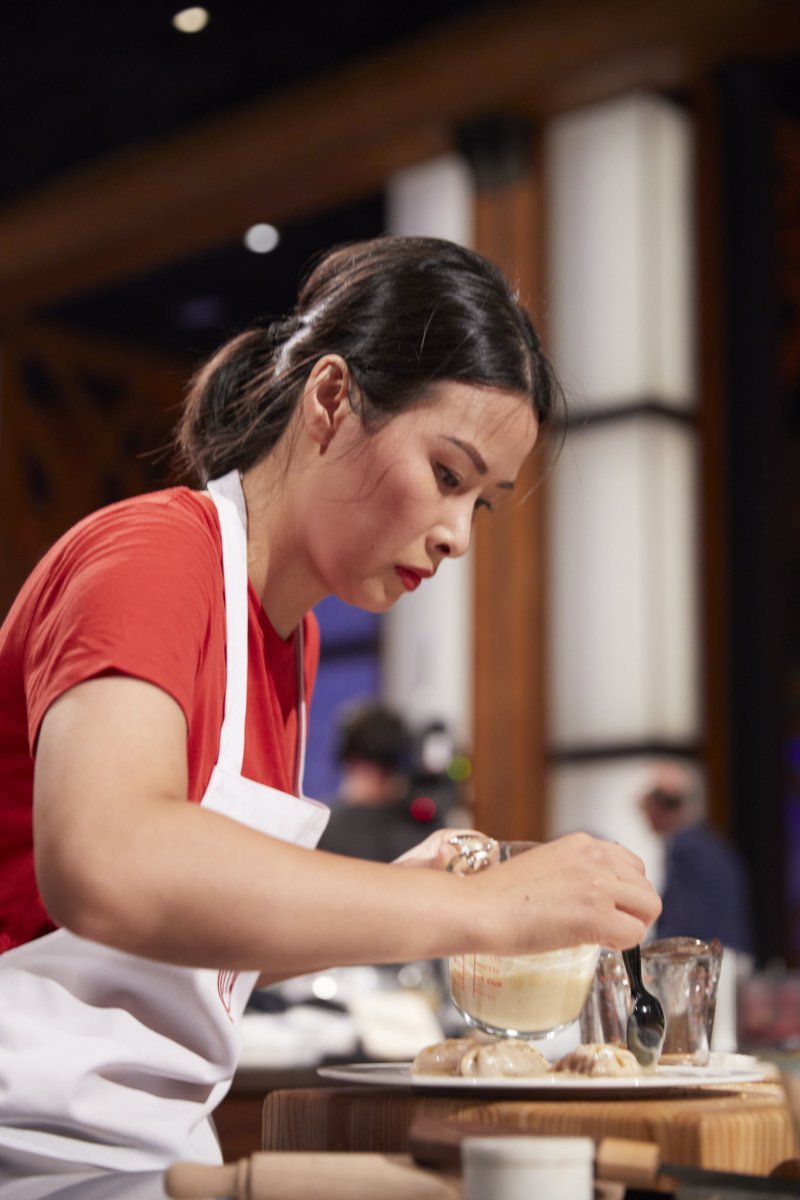 The chefs will be tasked with creating plant-based interpretations of comfort food classics. The winner of the challenge will be given an undisclosed advantage in next week's episode along with a feature recipe on the Becel website. At least one chef will be eliminated.
The concept of plant-based comfort foods has definitely become more prevalent in mainstream culture in recent years, thanks in large part to prominent cookbook authors like Lauren Toyota and Jillian Harris along with a surge of celebrated vegan and vegetarian eateries popping up across the country.
Be that as it may, the plant-based movement hasn't quite achieved universal acceptance as of yet, as confirmed by Barrie, who says he's completely unfamiliar with everything under this mystery box. He says he's going to have to stretch himself beyond his limits so he can show the judges and his fellow competitors that he's someone to be reckoned with.
Without any further instructions or delay, the chefs all race to the pantry to acquire their additional ingredients.
Mystery Box Challenge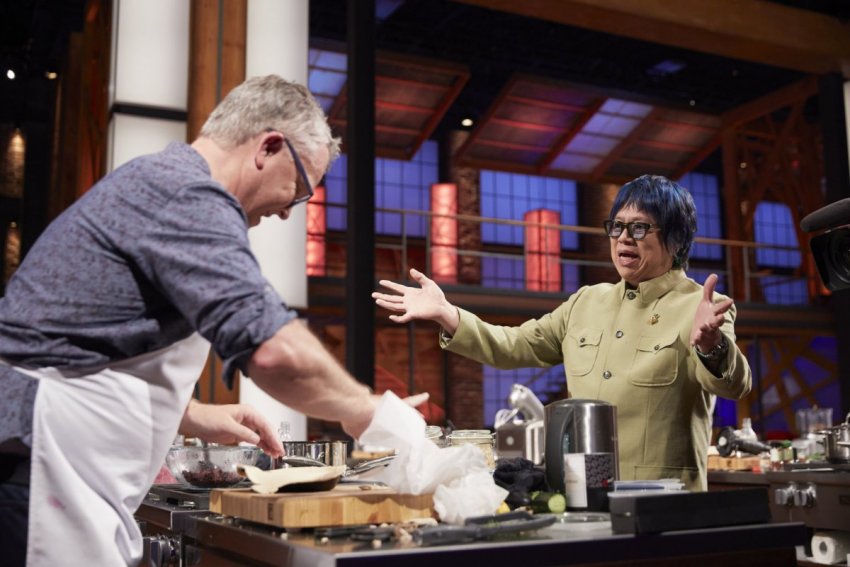 Aside from having to create their own interpretations of comfort food classics, the chefs are basically given free reign to choose their own direction. Christopher mentioned at the onset of the episode that he hasn't had an opportunity to showcase his dessert skills, and it looks like this will be the perfect opportunity for the Ontario-based baker to do just that.
Barrie says the thought of comfort food takes him back home to Sunday night dinners and "mom's pie". He decides to make a Mediteranian meat pie with cashew cream tzatziki, almond cheese, sauteed mushrooms, toasted pumpkin seeds and a variation of a Greek salad.
Jeremy says he wants to find something that can replicate pork. He says texture is key when it comes to cooking plant-based food and when he spots the textured vegetable protein, he decides to use it as his primary component. Although he's never cooked with the ingredient, he decides it's worth the risk, despite seeing Jen eliminated after cooking a protein she had no familiarity with just last week. He says his dish will be a vegan noodle wrap lumpia with roasted vegetables and a sweet and sour carrot sauce.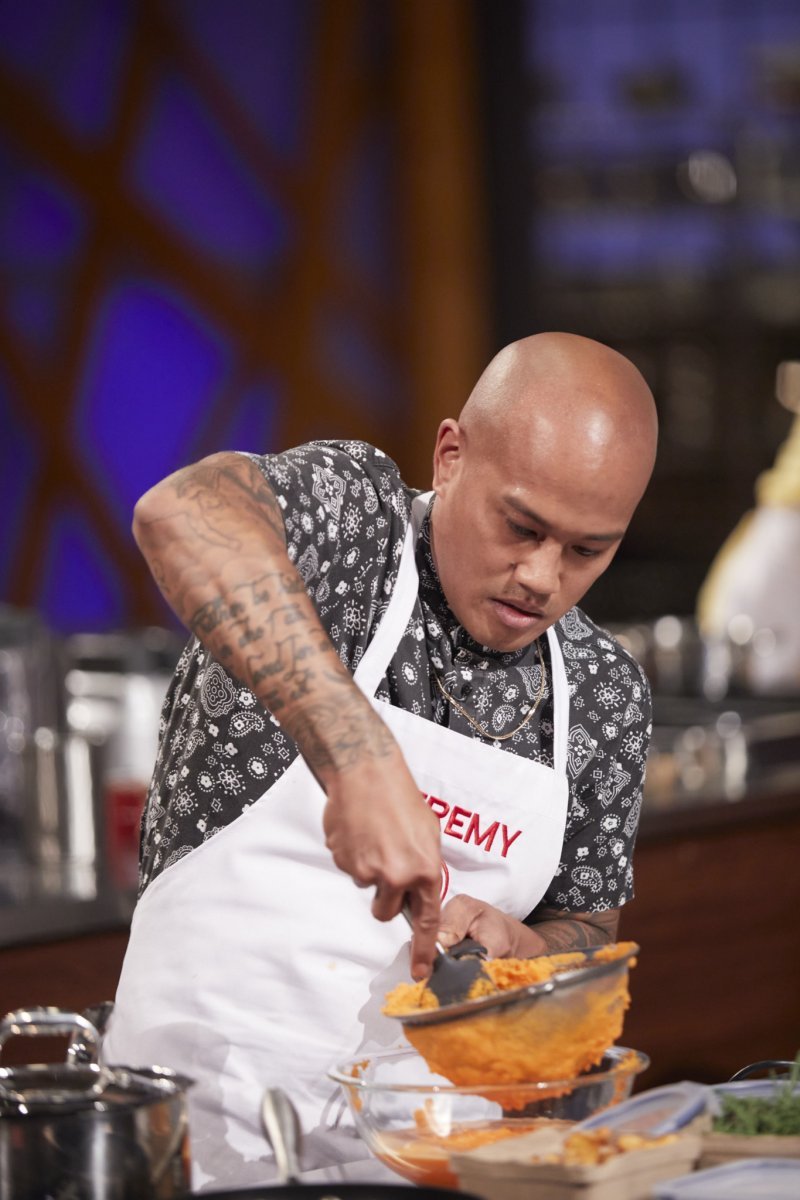 Andrew decides to make a flambé peaches and cream with chai spiced creme anglaise and pistachio praline. He says he thinks he has a reputation for cooking exclusively savoury-centric dishes, so today he's going to showcase his sweet side. During his inaugural MCC run, it was a dessert that caused Andrew's demise, so this will be his chance for redemption.
Christopher confirms that he will indeed be heading in a dessert direction with a play on a Chinese tofu pudding which he plans to elevate with panna cotta made from seaweed-based gel. He says he's aware of the added pressure on him as an expert baker, but he seems ready to rise to the occasion.
Andy also elects to go with a dessert. He's making a layered chocolate and black bean cake inspired by his daughter. He seems very aware of the scientific specifications associated with baking with plant-based alternatives and appears poised for a strong performance.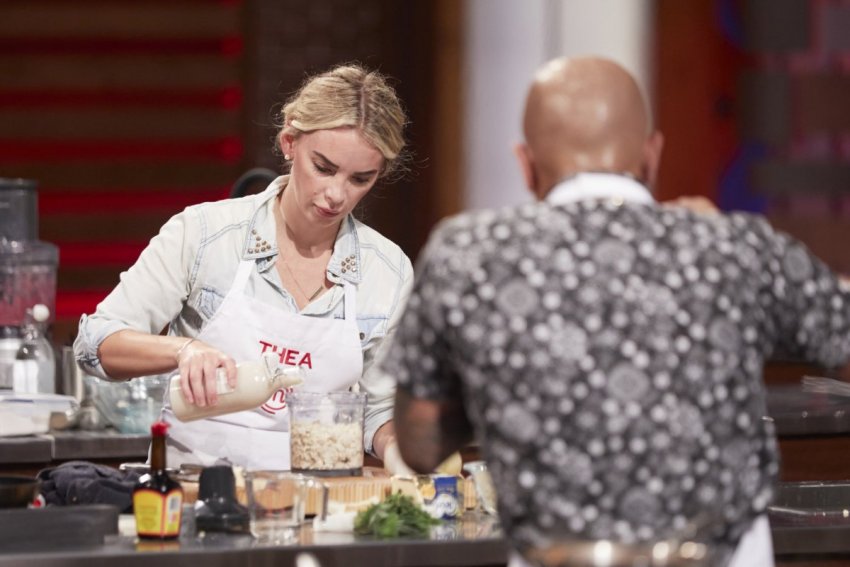 Thea is going savoury with a play on spaghetti and meatballs. Her rendition will be a tofu-stuffed agnolotti in brodo with whipped ricotta and tomato sauce. Thea won a similar challenge in Season 4 to have her recipe published by Jamie Oliver and cooks with plant-based products quite frequently, so she should definitely be on the other chefs' radar for this challenge.
Marissa goes for a Middle Eastern beet-based kofta with textured vegetable protein, beets, and falafel. She has a few issues with the texture of her kofta, but after receiving a bit of advice from Claudio, she seems to course correct quickly.
Andre and Mai round out the remaining competitors, with Andre going for an elevated Jamaican chorizo patty with textured vegetable protein chickpeas, ancho chilli powder, and hemp seed, while Mai decides that her culinary comfort zone is the perfect place to tackle today's comfort food challenge. Her dish will be a carrot cake-spiced dumpling with creme anglaise made from almond milk, akki, tofu and white beans.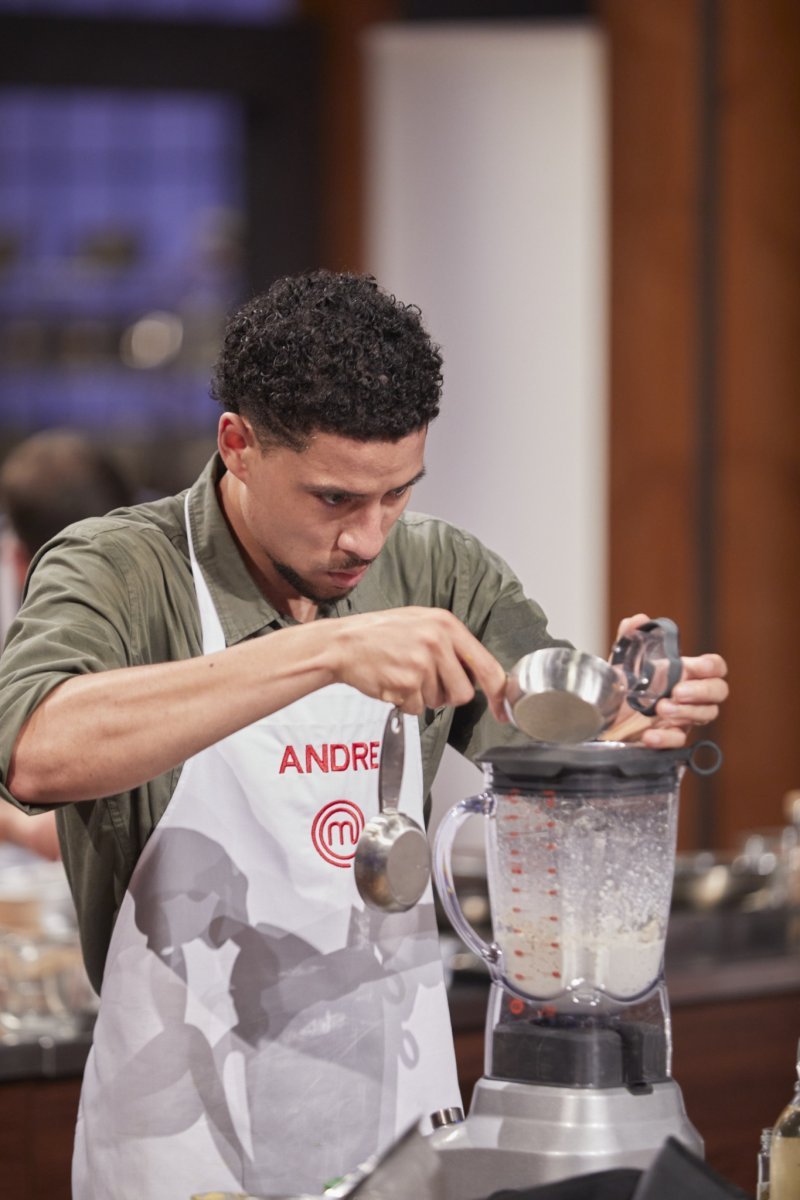 Until this point the chefs all seemed to be performing relatively well, but as the clock winds down the pressure appears to be setting in for some. Claudio says Andre looks frazzled and while he doesn't look quite as shaken as he was in last week's elimination challenge, he's definitely running a bit behind schedule. Andy is also running out of time to cool his cake, but he says he has a backup plan.
Christopher reveals that using the type of seaweed-based gel that he's selected usually requires at least two to three hours for the panna cotta to set. He's increased the overall concentration in hopes that it will reduce the wait time, but unlike Andy, he won't really have much recourse should his initial plan fail.
Judges' Table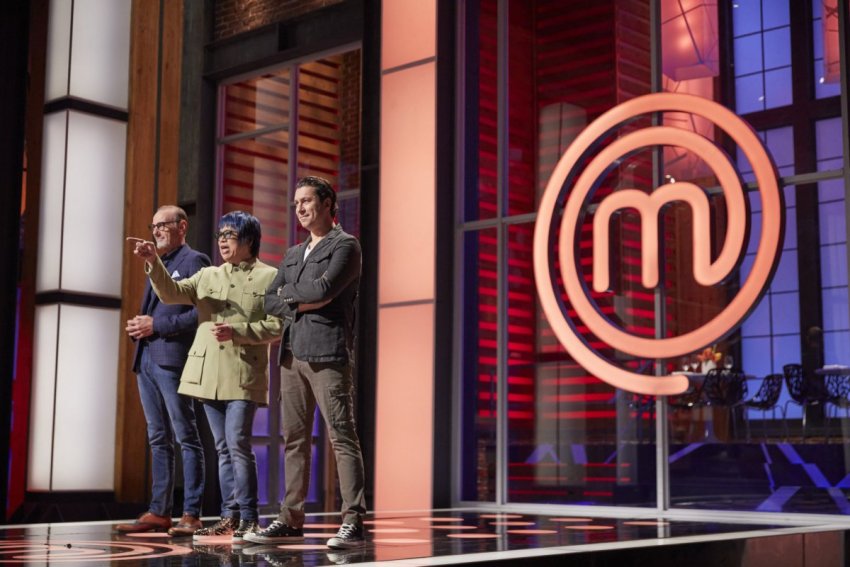 Jeremey is the first to present his dish to the judges. He's calm and composed as ever and by the looks of his final product, he has good reason to be just so. As Michael elegantly pours his sweet and sour carrot sauce on and around the lumpia, he states that not only is Jeremey's presentation impeccable, the flavour profile is rich, flavourful, and most importantly, irresistibly comforting.
Andre sets his dish down next and Alvin seems impressed that he's attempted to replicate the flavours of chorizo. After a few bites he tells Andre that while his sauce is well-executed and his pastries are nice and light-bodied, the texture of the filling is dry.
We finally get a chance to see what exactly Andy's backup plan was. What was once meant to be a layer cake is now what appears to be a deconstructed interpretation of his initial conception with chunks of chocolate cake, buttercream icing, and toasted pistachios. Michael describes it as a delightful tribute to Andy's daughter and sends him back to his station with a smile.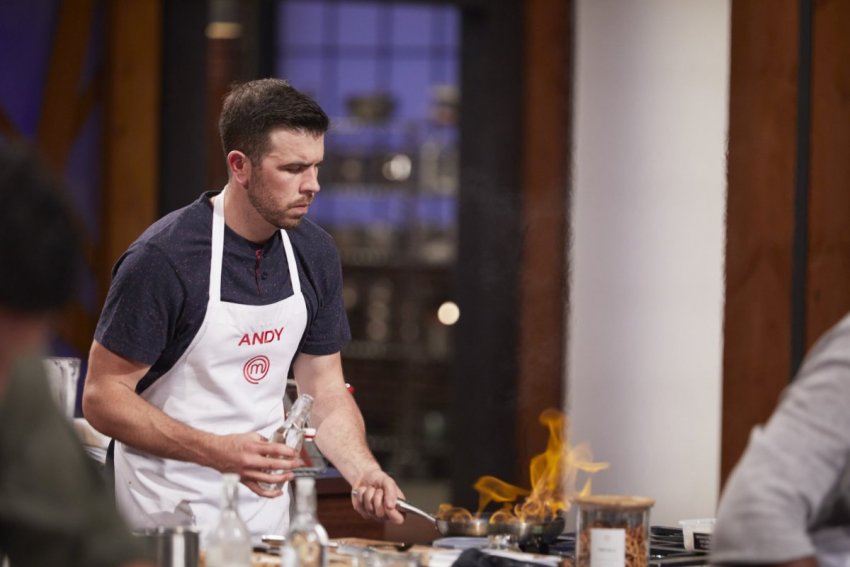 Thea's stuffed agnolotti looks lovely and is actually somewhat similar to the dish she won the Jamie Oliver challenge with in Season 4. Claudio digs in and immediately begins to shower her with praise. The dish is perfectly balanced, the flavours pop, and the agnolotti is ethereal. Michael affirms Claudio's adulation and Thea heads back to her station and likely onto the next stage of the competition.
Before Barrie brings his dish to the judges, he states that he has succeeded in accomplishing exactly what he set out to accomplish, but he's still slightly unsure that what he's made will be enough. Michael tells him his pastry is a tad on the pale side but is otherwise light and fluffy. Claudio offers a few remarks about the lackluster presentation and points out that when chefs elect to use multiple ramekins on one dish, it typically suggests that they haven't quite figured out their concept. Both judges knock him for his pastry filling and for not pushing himself further.
Andrew, who spent a significant amount of time fine-tuning the various minute intricacies of his peaches and cream dessert, sets his dish down for judging and at first glance I have to say the extra effort was worth it. Aside from not cleaning the outside of his dish before serving, it looks spectacular. Claudio says it looks like a three-Michelin-star dish, which has to be encouraging after his previous shortcomings with non-savoury dishes. He goes on to say it's the best peaches and cream dish he's ever tasted, and I think it's safe to say Andrew's quest for dessert redemption is now complete.
Claudio looks to be a bit concerned with the lack of colour on Mai's plate, but Mai ensures him that the colour is on the inside. Claudio confirms that the colours are on the inside and that the flavours are on point, but he tells her she could have pushed herself further.
Christopher approaches the podium and it appears that his panna cotta did not set. He's elected to serve it in a bowl and although it obviously doesn't look like he had initially envisioned, it still looks quite stunning. He doesn't get a ton of feedback from the judges, but they all seem to have thoroughly enjoyed it.
Marissa's plate looks bright and vibrant and the beet kofta she struggled at the onset of the challenge is much more robust than her first attempt. Michael describes the dish as nuanced and compliments her for the balance she achieved thanks to the acidity of her chutney. Unfortunately, in her efforts to solidify the texture of her kofta, she inadvertently increased the gumminess of its texture.
After some deliberation, the judges inform the competitors that Andrew's peaches and cream dessert was head and shoulders above the rest. In addition to a critical advantage in next week's episode, his dish will be featured on the Becel website.
We then find out that the two weakest dishes were made by Barrie and Marissa. They both appear to be pretty displeased with the judges' assessment, but after the judges praise each dish for their probable potential, their demeanours become a bit more relaxed.
Of the two dishes, Barrie's meatless meat pie is deemed the weakest, and for the second time this season, he exits the MasterChef kitchen.
Kitchen Scraps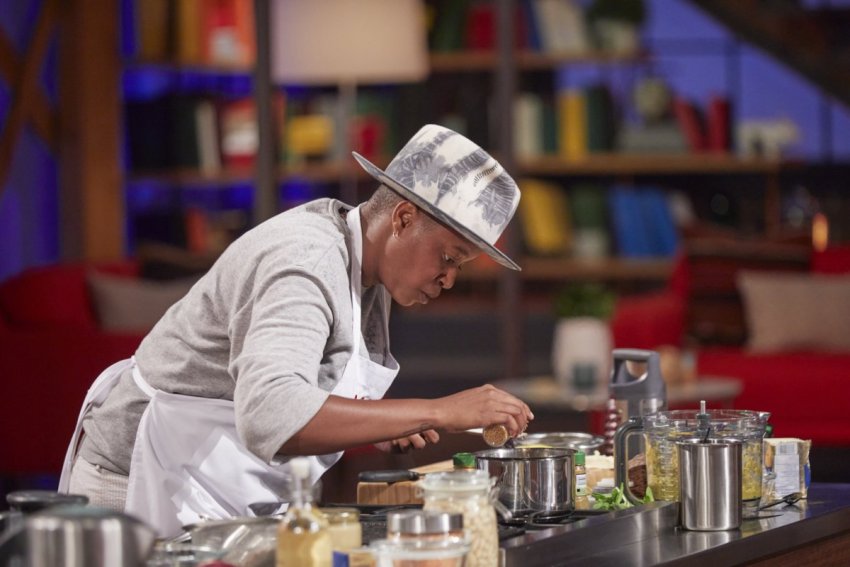 It was nice to see a plant-based challenge come up so early in the competition. Although I've always been fairly open-minded when it comes to trying new cuisines, it wasn't until I took a trip to Kelowna and tried a mushroom burger at Frankie We Salute You that I fully realized the limitless flavourful potential of plant-based comfort cooking.
I would love to try any of the dishes that were developed during this episode, but since I typically tend to lean toward savoury, I think Jeremey's noodle-wrap lumpia would be at the top of my list.
Thea and Andy obviously both stood out as well. While I initially didn't perceive Thea as a frontrunner, she was thoroughly impressive from start to finish this episode, showcasing a great deal of technique, focus, and skill throughout the challenge.
I think the judges probably made the right decision in selecting Barrie and Marissa as the bottom two, however, taking into account all of the feedback we were privy to on camera, I was a bit surprised that Andre's dish wasn't put up alongside the other two for elimination.
We're now five episodes into Season 7 and we've still yet to see much of Marissa on camera, but I will say that her response to the judges' criticisms was a bit worrisome to me. Objectivity of one's personal taste notwithstanding, when she said she disagreed with the judges' assessment of her dish, it definitely set off alarms in my head.
That being said, her reaction was relatively mild and short-lived, so there's a good chance I'm overreacting and the talented Montreal chef will be just fine going forward.
MasterChef Canada: Back To Win airs Sunday nights on CTV.