After taking a yearlong hiatus from production due to pandemic precautions, MasterChef Canada made its highly anticipated return to television tonight with its unique "Back To Win" season. With this new season comes rejuvenated aspirations and dreams of 11 of the show's former finalists and fan favourites as well as plenty of buzz.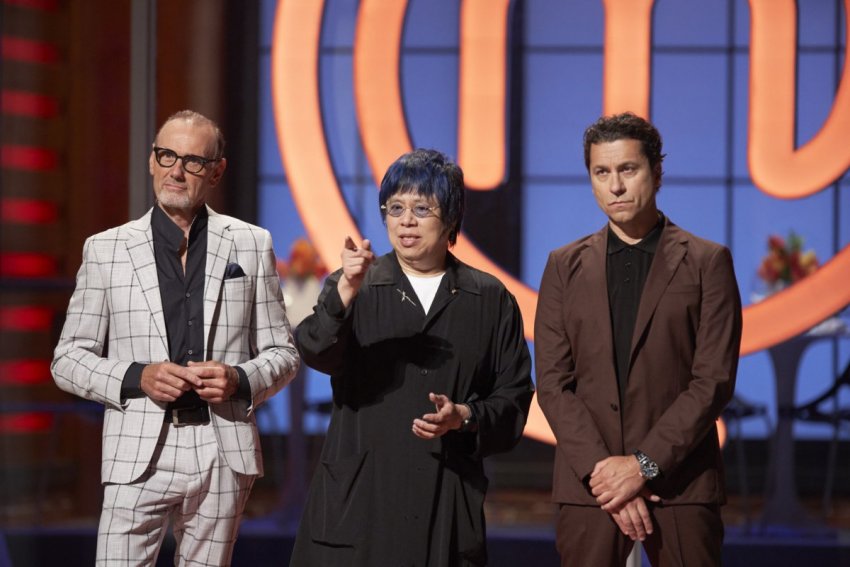 Following a very brief reintroduction to the returning competitors–a stark contrast from previous seasons that gave us multiple episodes of home cook exposition–judges Michael Bonacini, Alvin Leung, and Claudio Aprile take the stage and seem as thrilled to be returning as the chefs themselves.
Right off the bat it seems that the showrunners were equally excited to get things started because after the judges go over the stakes and their enhanced expectations for the second chance season–a theme that will be reiterated often–we quickly jump into the first Mystery Box Challenge.
Mystery Box Challenge
Alvin warns the chefs that this year's challenges will be harder than ever before and that they may not be so excited to be back once they discover what's under the box, but upon lifting the boxes the chefs all seem to be thrilled.
Under each Mystery Box is a duplicate of what Claudio describes to the chefs as "one of the worst dishes you've ever cooked in this kitchen" and suddenly the excitement in the air is replaced by concern and in some cases, embarrassment. The chefs are tasked to take the key ingredients from their failed dish and turn them into a "culinary triumph".
Like previous seasons, the judges run the chefs through the pantry ingredients at their disposal, but unlike previous seasons, this year's pantry features reusable packaging, seasonal ingredients, and a living herb wall. Reality cooking competitions like MasterChef have long been scrutinized for being wasteful, so it's nice to see the show taking steps to increase sustainability.
The judges quickly come through on their promise that this season will be tougher than previous years as they announce that the first Mystery Box Challenge will also be an Elimination Challenge.
As the chefs begin to cook we begin to get a bit more backstory into what the cooks have been up to since their last appearance in a white apron.
It seems like most of the chefs have come a long way; Jeremy Senaris (Season 3), Barrie McConachie (Season 4), and Andy Hay (Season 5) of Halifax each have their own catering companies. Edmonton's Mai Nguyen (Season 4) has her own dumpling business and Marissa Leon-John (Season 5) served as the chef for Pride Montreal 2018 while Thea VanHerwaarden (Season 4) has been doing plenty of recipe development for major brands. Calgary's April Lee Baker (Season 3) is now an executive chef, Christopher Siu (Season 2) is operating a bakery, Jen Jenkins (Season 5) completed culinary school, and Andrew Al-Khouri (Season 2) and Dora Cote (Season 1) each launched their own restaurant (though Dora's restaurant has since closed).
One could argue that Season 6 runner-up Andre Bhagwandat can be singled out as the MCC alumnus with the least amount of recent experience as a frontline worker who had to put his culinary dreams on hold at the onset of the pandemic. With that said, of all of the returning home cooks and chefs Bhagwandat seems to be the most elated to be back in the kitchen.
Judge's Table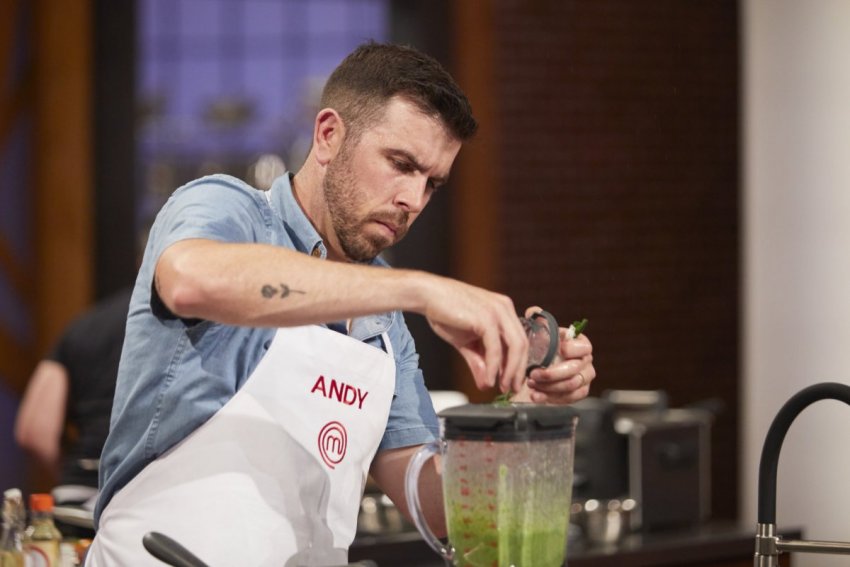 After revealing that the episode's Mystery Box winner will receive a "massive advantage" in next week's episode, the judges start to dig in.
Despite hinting that it might be undercooked, East Coast Andy's lobster and smoked oyster chowder with buttermilk biscuit are predictably on point and Michael describes the dish as "exquisite".
Dora is the next chef to take the podium and before he even tastes the dish Claudio reminds her that presentation is her weakness. Dora is in quick agreement, but I can't help but think her po' boy sandwich with beef cheeks and blueberry barbecue sauce actually looks pretty tasty. Claudio confirms that the sandwich tastes better than it looks, but says Dora will need to lift her game to compete with the talent in this year's competition.
Jeremy's monkfish with tamarind and balsamic glaze receives immediate praise for presentation, and according to Alvin, has flavour to match. Alvin appears to be very taken by the Winnipeg chef and if past seasons are any indication, we may have our first frontrunner.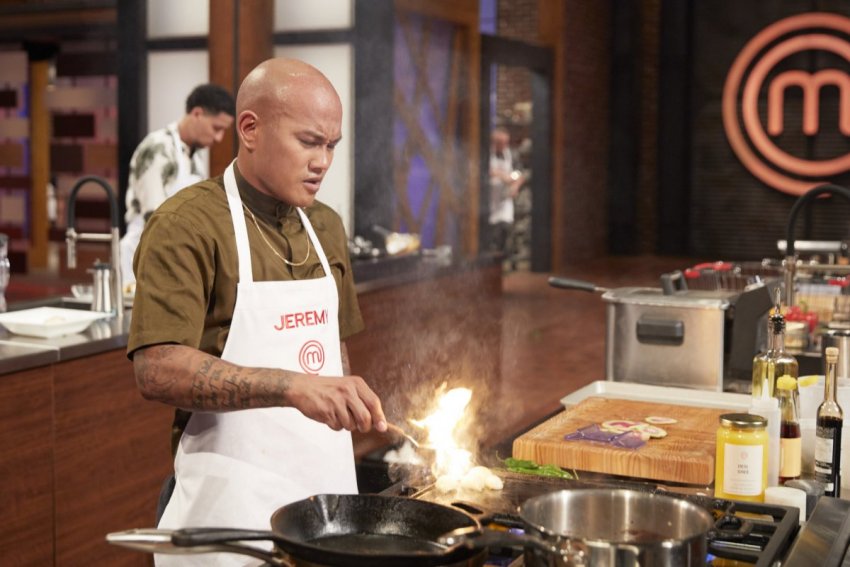 Christopher's trio of dim sum looks exceptionally elegant and while appearing relatively straightforward on the plate, showcases a lot of technique, restraint, and composure from a chef who was critiqued during Season 2 for being somewhat one dimensional.
Thea's crispy chicken breast, Andrew's eggs in purgatory, Barrie's wagyu tartare, and Jen's butter-basted strip all land to some extent but also fail to stand out from the pack. Andre and Mai both submit stunning creations that seem to place them with Jeremy as chefs to keep an eye on in this alumni competition.
April Lee and Marissa clearly both struggled with timing issues and the appearance of their final dishes reflect that. Although the judges admit that both Marissa's tempura squid and pork belly and April Lee's pineapple rum coconut curd clearly missed the mark, they seem impressed by the flavour profiles of each offering.
Elimination
As the judges prepare to reveal the season's first Mystery Box Challenge winner, Michael reiterates that in addition to technique, innovation, and creativity, the judges will also be looking for dishes that specifically showcase growth and ingenuity this season.
After the camera pans through all the dishes that are obviously up for consideration, Andre's pickled guava skin and uni butter coconut pasta is crowned the winner for its beautiful presentation, balanced flavours, and crunchy texture.
No other dish receives any further feedback–there no rewards for being runner-up here in the MCC kitchen, after all–so we jump straight into the elimination portion of the Season 7 premiere.
April Lee, Marissa, and Dora are in the bottom three. April Lee and Marissa are told to step forward and the judges say they both fell short of expectations, but have the potential to do better. In the end, it is Dora that is sent packing.
Dora seems disappointed, but also not overly surprised to be the first chef eliminated from the competition. Without having tasted the dishes myself it's hard to argue with the judges, but of the three, I think Dora's looked the most appealing, and presentation was ultimately what she was knocked for.
Kitchen Scraps
Despite my reservations about the judges' assessment of the bottom three dishes, I tend to agree that April Lee and Marissa both show more potential to go the distance than Dora did in this initial challenge.
It's still very early to say, and editing obviously plays a big part in what we know, but if I had to bet on a few competitors that might win MasterChef Canada: Back To Win my money would be on Mai, Andre and Andrew. Mai and Andre's dishes were undeniable standouts tonight and Andrew appears to have gained a tremendous amount of poise and confidence from his time as a restaurateur.
I'm also keeping my eye out for Jeremy, Christopher, and Barrie, who all seem to have grown exponentially since their last appearance, and seem to have the desire to continue growing, which is a trait that generally lends itself to a long run in episodic competitions like this one.
At any rate, we shall see how things continue to unfold in the MCC kitchen.
MasterChef Canada: Back To Win airs Sunday nights on CTV.