We're now officially into the top 7 and after today's episode, our initial lineup of MasterChef Canada "All-Stars" will be chopped in half. So far, the competition has produced some of the most arduous challenges in MasterChef Canada history, and after watching the opening episode preview, it looks like we may be in store for another especially challenging challenge.
The suspense!
As the chefs reenter the MCC kitchen, Alvin welcomes them to "the future" and asks them if they're ready to look into a culinary crystal ball. Claudio promises that under each box, the chefs will find the future of food and without any further ado, we jump directly into the mystery box challenge.
Upon lifting their boxes the chefs find what Michael describes as ingredients that come with a small environmental footprint and are sustainable: yellow dragon fruit, nopales, prickly pears, beet greens, pumpkin flowers, watercress, okra, black salsify, enoki mushrooms, mung bean noodles, wild rice, walnuts, squab, and farmed salmon filets.
This should be interesting.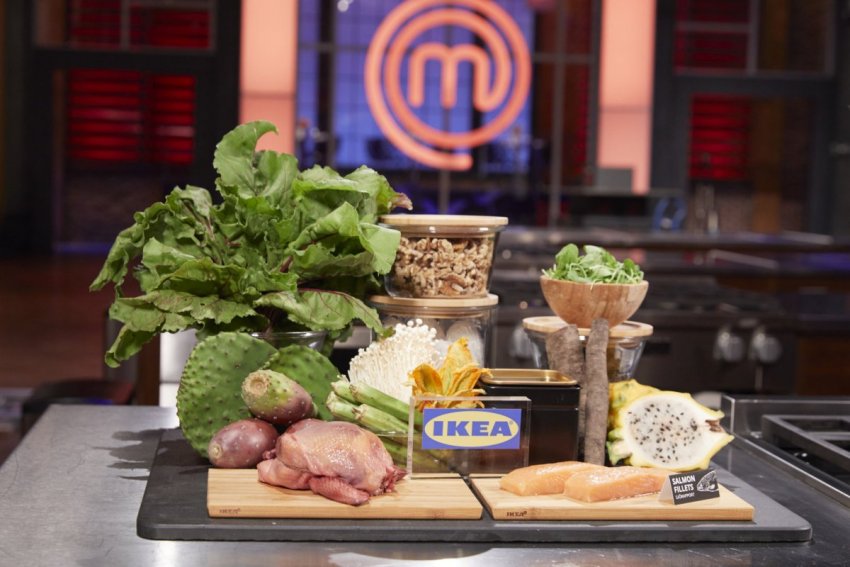 Claudio tells the cast of competitors that more and more chefs are choosing to use ingredients such as these and while he is correct in that many chefs across the country are starting to place more emphasis on the importance of sustainable-minded cooking, food waste is still a major issue for Canadians. Hopefully highlighting the viability of a zero-waste mentality through shows like MasterChef Canada will help that mindset transcend into the mainstream.
If this challenge wasn't nerve-racking enough for the chefs, Alvin points out that within their array of ingredients, they also have an additional mini mystery box.
When I read the title of this week's episode, my first thought was that there would be some incorporation of farmed insects, and lo and behold, inside their mini mystery box is an orchestra of crickets. Some of the chefs look bewildered by the bugs but if they've been paying attention to global food trends over the past few years it shouldn't come as that big of a surprise.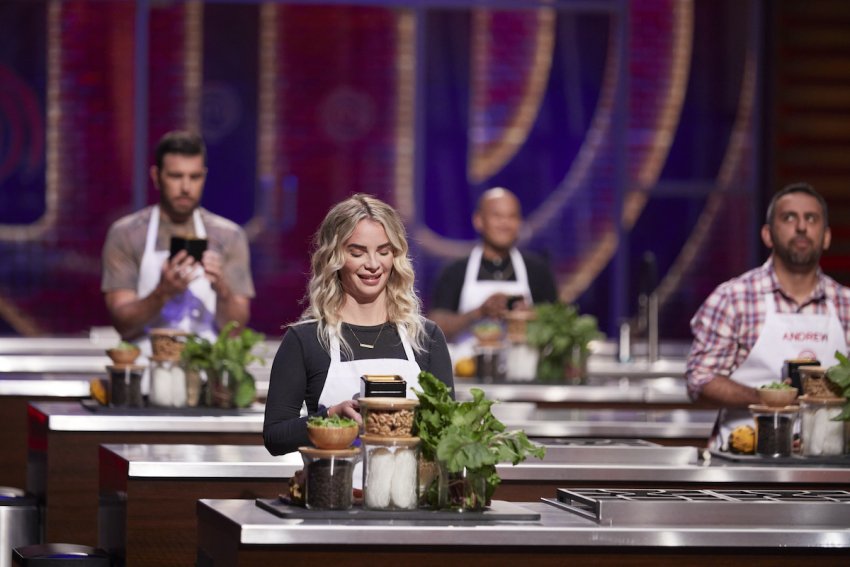 Michael tells the chefs that the judges would like them to use as many of the ingredients as possible and Alvin reminds them that the winner of the challenge will receive a major advantage in next week's episode.
The winner will also get the opportunity to collaborate with Ikea in developing a recipe that will be showcased in select Ikea restaurants across the country. It's been a long time since I've indulged in an Ikea hotdog, but it does appear they've significantly expanded their offerings since my last visit.
The chefs proceed to race to the pantry where they have a wide selection of sustainably-minded ingredients at their disposal.
Mystery Box Challenge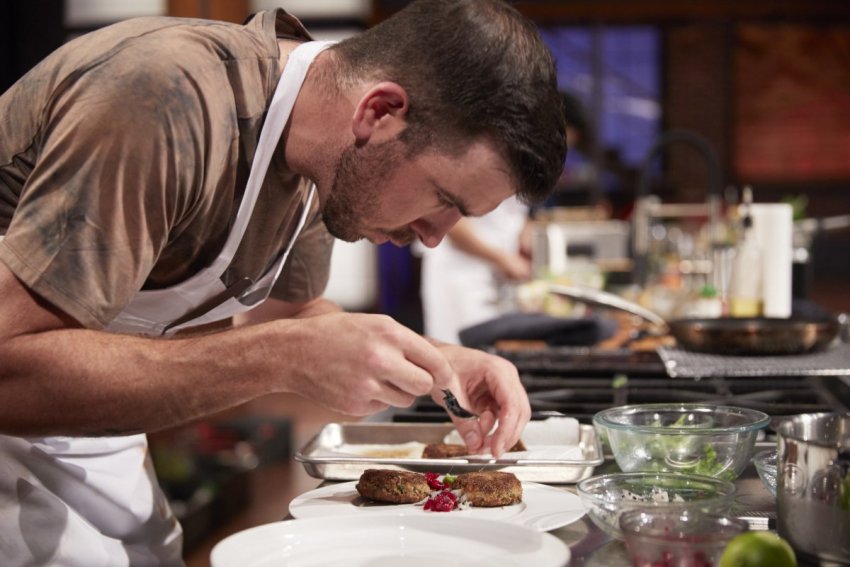 Unlike last week's more lighthearted and jovial ambience, this week the kitchen is almost dead silent and the chefs all appear to be supremely focused.
Christopher, who over the last two episodes has likely struck fear into the hearts of his fellow competitors with his ability to create masterful dessert dishes, elects to go the savoury route this time around. He wants to show the judges that he's just as good of a cook as he is a baker.
Jeremy was clearly paying close attention to the judges' evaluation metrics and decides to take a very tactical approach to his dish. He says he's only going to take a few ingredients from the pantry so that he's able to utilize as many of the mystery box components as possible.
He's going for a Philipino-inspired squab sotanghon soup with an aromatic squab bone broth, mung bean noodles, enoki mushrooms, and a cricket and squab skin chicharon. He mentions he's never actually cooked squab before and that he plans to treat it like a small chicken, but as the judges point out, squab is a much leaner protein and has a more assertive flavour profile.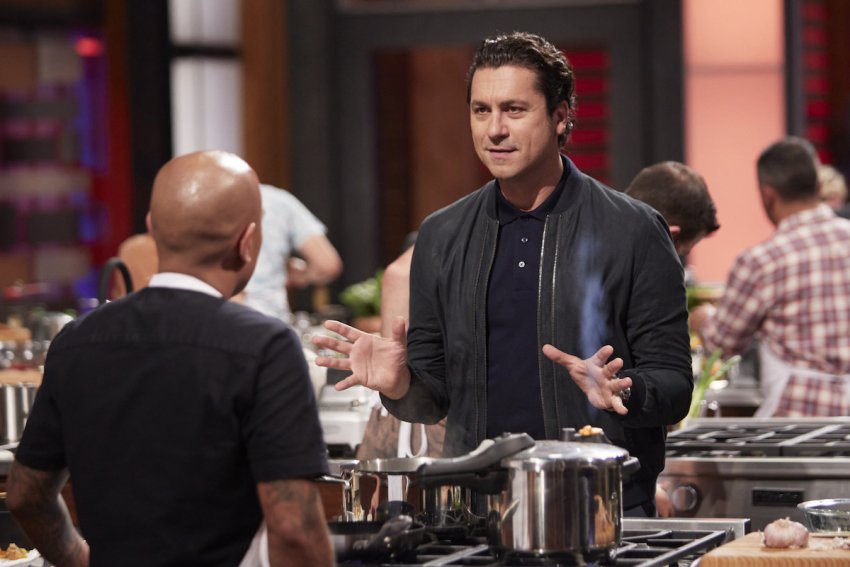 Usually, I would consider it a risky decision, but in this case I'm pretty sure most of these ingredients rarely find their way into the competitors' kitchens. I have faith.
Andy has chosen to go with a dish that is similar in nature to one he cooks frequently at home. He's doing salmon fish cakes using cricket flour as the binding agent, along with a smoky chipotle aioli and a pico de gallo made with diced nopales, prickly pear, okra, and dragon fruit.
Andre is making a cricket crusted salmon with pumpkin curry sauce and grilled nopales. His approach is to utilize spices he cooks with often to build a familiar flavour profile around ingredients he is unfamiliar with. He also mentions that he recently found out his wife is pregnant, and while he thinks his current profession at the hospital is a good one, he believes he belongs in the food world. I wholeheartedly agree.
Andrew has also selected salmon as his protein and says that the dish he's making will pay homage to his mother and her favourite way to cook salmon. He's doing a stewed okra with tomatoes, pickled wild rice, beet balsamic gastrique, smoked hummus puree, cricket walnut crumble, and what he describes as a "bug tuile". Andrew says zero-waste cooking is paramount to the culinary ethos of his Halifax restaurant, so this challenge should be right up his alley.
I've pointed out in previous recaps that I think Mai has been wise to remain in her comfort zone, but now that the competition is as stiff as ever, instead of going with an Asian-themed concept, this week she is going for more of a Nordic style of cuisine.
Her dish will be a pan-seared squab breast with roasted beets, beet greens, prickly pears, and lingonberry au jus, inspired by acclaimed Edmonton chef Chrstine Sandford, who employs an award-winning and highly sustainable cooking style at Biera using oft-overlooked ingredients such as herb stems and potato peels, which in most kitchens would likely wind up being composted.
Christopher is making what he describes as a "Mushroom Garden" using braised morels, confit chanterelles, fried enokis, and fried crickets. He says he's somewhat worried that the judges might knock him because thematically, the dish is fairly similar to last week's "Into the Ravine" concept, but he believes it's the best way to showcase the crickets, so it will be worth the risk.
Alvin approaches Thea's station and so far, she's conveyed that she's extremely unfamiliar with the ingredients on offer, but when she describes her dish to the Demon Chef it seems to me like she's on the right track. She's doing a salmon filet with a sweet potato puree, tempura squash blossoms, puffed wild rice, and a cactus salsa, inspired by both her husband and her mother in law.
Mystery Box Surprise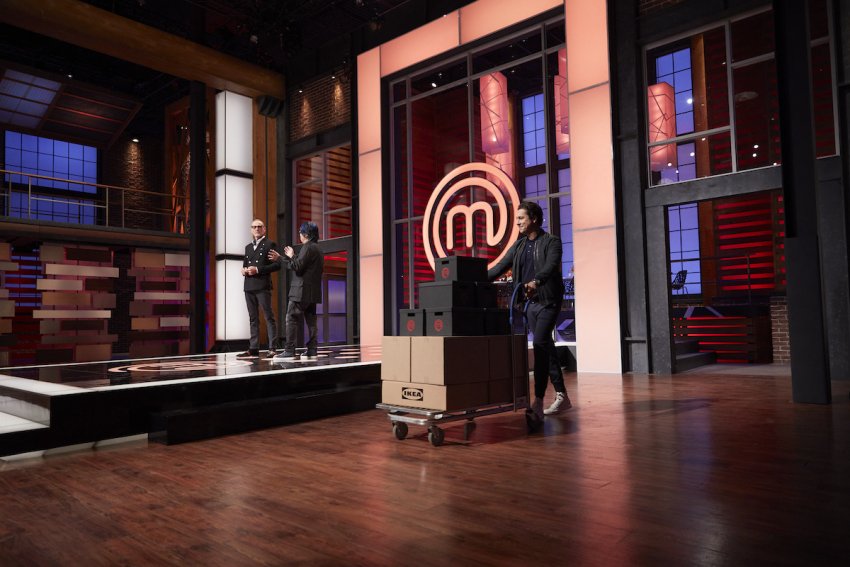 At the 30 minute mark, Alvin stops the clock and surprises the cooks with an additional mystery box twist. Claudio wheels out an entirely new batch of boxes and the chefs open them up to find four additional Ikea products: organic lingonberry preserves, whole-grain mustard, dark chocolate, and a processed fish roe spread. The chefs are told that they must now incorporate at least one of the additional ingredients into their dish.
Andrew appears to have lucked out. He chooses the whole-grain mustard and states that it will compliment his pickling liquid perfectly. Andre selects the fish roe spread, which he immediately incorporates into his curry. Jeremy also believes that he's lucked out. The main component of his broth is fish sauce, so he believes the cod roe will add an additional depth of flavour to his initial concept.
Christopher is not so lucky.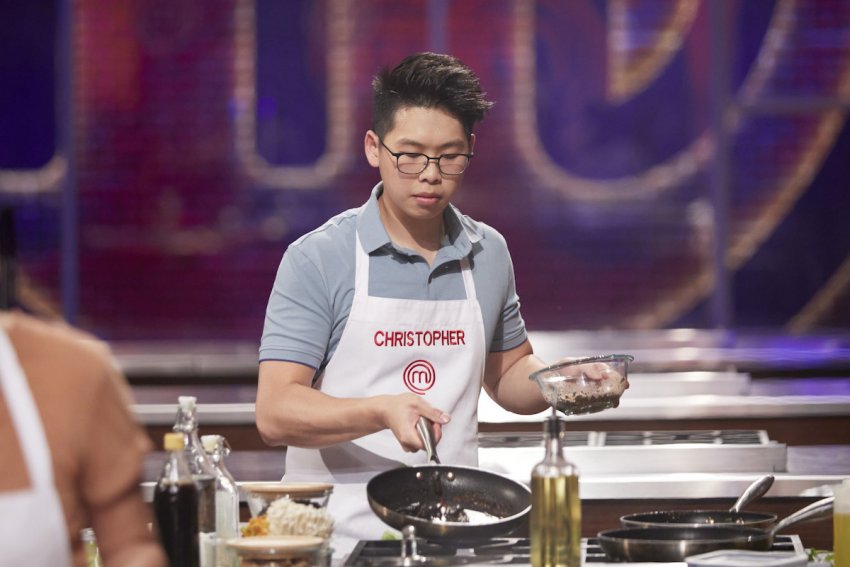 He's typically very pragmatic in his process when it comes to conceptualizing a dish, but he decides to take both the mustard and the roe and begins to infuse them into his puree. Andy also elects to utilize two ingredients from the Ikea mystery box, incorporating the mustard into his aioli and the lingonberry into a sauce that will be served underneath his fish cakes.
Since Mai is already using lingonberry syrup in her dish, she decides to use the lingonberry spread in its stead and says she will incorporate the mustard into her au jus. Michael refrains from commenting on her approach to the challenge, but does pay her a compliment for her butchery skills on the squab.
Thea decides to switch directions somewhat and is now creating chocolate covered crickets. She seems a bit concerned that melting and tempering the chocolate will take too much time, but she proceeds forward nonetheless. Michael appears concerned with the high level of risk involved in the decision, but Claudio points out that if she's successful, her dish will be delicious and the risk will have been worth it.
Judges' Table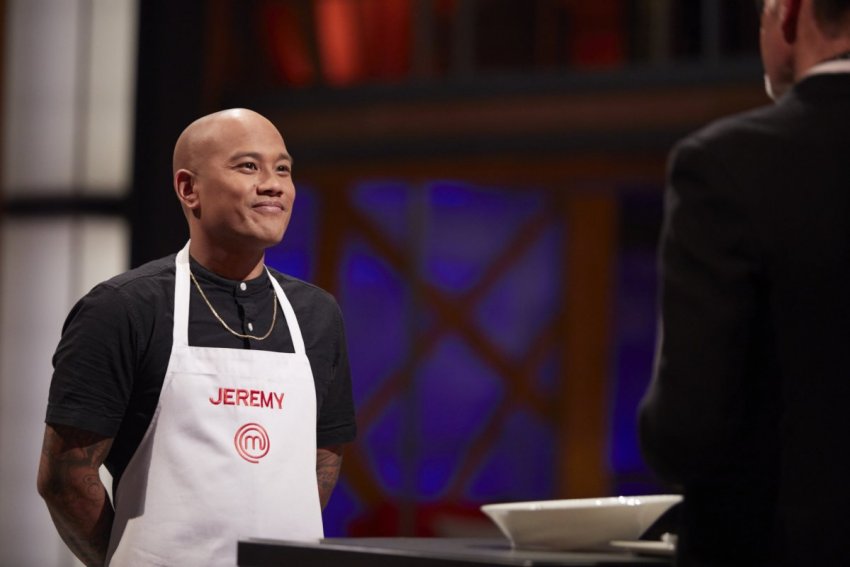 Jeremy is the first to approach the judges' table. Although an hour is a relatively short time frame to build a broth, his sotanghon soup appears to be bursting with flavour. Claudio seems as impressed by the presentation as I am, but suggests that it could have been even better if he had sliced the squab and placed it on top of the noodles instead of underneath. He proceeds to take a single bite and declares it a knockout dish.
Although Andy had a fairly firm concept in mind when he began cooking, it appears as though he didn't pay any heed to how he would plate his dish until it was actually time to do so. He says he's concerned that his presentation is not on the same level as his fellow competitors, but he's confident that his flavours will shine through. Michael confirms that the presentation is lacking, but as Andy had hoped, the flavour profile is on point.
It looks like Thea has taken a page out of Christopher's conceptual playbook. She describes her dish as an interpretation of bugs walking through the mud of a forest, and while I'm not sure how well that particular theme has been conveyed here, the dish itself does look quite lovely. Claudio comments on the unusual flavour combinations and states that her salmon could use more seasoning, but both he and Michael agree that the dish as a whole is a triumphant success.
Mai sets her dish down on the judges' podium and so far, it looks to be the most beautiful dish of the day. However, when Alvin cuts into the squab, he comments on both the rareness of the meat and the lack of rendering on the fat cap. After taking his first bite, his concerns regarding the rareness of the meat seem to be alleviated thanks to the balance created by her caramelization and lingonberry sauce.
Once again, Christopher's dish looks innovative, playful, and as he would likely describe it, high concept, but Michael is quick to point out the very thing Christopher was nervous about; it's strikingly similar to his last presentation. After digging in, Michael dispels any doubt Christopher may have had, stating that the flavours of his "Mushroom Garden" are bold, wonderfully savoury, and showcased incredible technique.
At first glance, I thought Andre's plate looked a little underwhelming and somewhat devoid of the vivacious colour palette we usually see from the talented Whitby chef, but without hesitation Claudio says that he's impressed by the presentation. Unfortunately, he's not as thrilled about the saltiness that the addition of fish roe created. He says that overall, the dish is on the right path, but that it could use another element to bring it all together.
Andrew is the final chef to step up to the judges' table. He inadvertently overcooked his beet balsamic reduction and had to restart with very little time on the clock, but it looks like he was able to pull everything together. His plating is pristine and Michael says it has both the cookery and flavour to match. The salmon is moist and flavourful and the hummus is authentic, smoky, and delicious.
As the judges deliberate and discuss the final seven chefs' fates, they say they have been blown away by the talent and tenacity of the chefs across the board, but that there are a couple of chefs that are starting to stumble. It seems like it was a very close call, but they determine that Andrew and Jeremy created the best dishes of the night, with Andrew once again being declared the best overall.
The judges then reveal that the bottom two for today's challenge are Andy and Andre. They point out that in any other season, their respective dishes could very well have won the day, but because the competition is so fierce, even the smallest mistakes can have massive repercussions. They determine that of the two bottom dishes, Andy's was just slightly better and Andre is eliminated from the competition.
Kitchen Scraps
All things considered, I would say the chefs' performance this episode was easily the best of the season and this type of challenge was an excellent way to showcase the elite talent each contestant is capable of producing.
With that in mind, the fact that Andrew continues to rise to the top proves that not only has he come a long way since his first appearance in Season 2, but that he's taking the mantra of "Back to Win" very seriously. The passion he infuses into each dish is remarkable, and that passion seems to fuel both his creative ambition and his culinary conviction in the MCC kitchen.
Jeremy arguably had his worst showing in last week's episode and this week he bounced back with a vengeance. Along with Mai and Andrew, he appeared to be the most undaunted by the various obstacles thrown his way this episode, and if he continues to take on challenges with the same focus and determination, I believe he will find himself in the finale.
I'm not sure if it's just the way the episodes are edited, but Thea often appears to struggle somewhat during the cooking process, however, when the clock expires she always delivers. She still has yet to win an individual challenge, but she seems to get closer to that goal each week.
Andre may have been eliminated, but I genuinely hope he does follow his culinary dreams because he truly is a talented chef. Additionally, as Michael pointed out, while each of his fellow competitors were honing their skills in preparation for this competition, Andre was busy working in the hospital throughout the pandemic. Had he the opportunity to prepare to the same extent as the other chefs, I think there's a very good chance we wouldn't be bidding him farewell so soon.
MasterChef Canada: Back To Win airs Sunday nights on CTV.