With six cooks left standing and only four more episodes until the MasterChef Canada: Back To Win finale, it still feels hard to single out any one of the remaining competitors as the sole favourite. Every person left in the competition has a great track record, so it will be interesting to see how things play out tonight.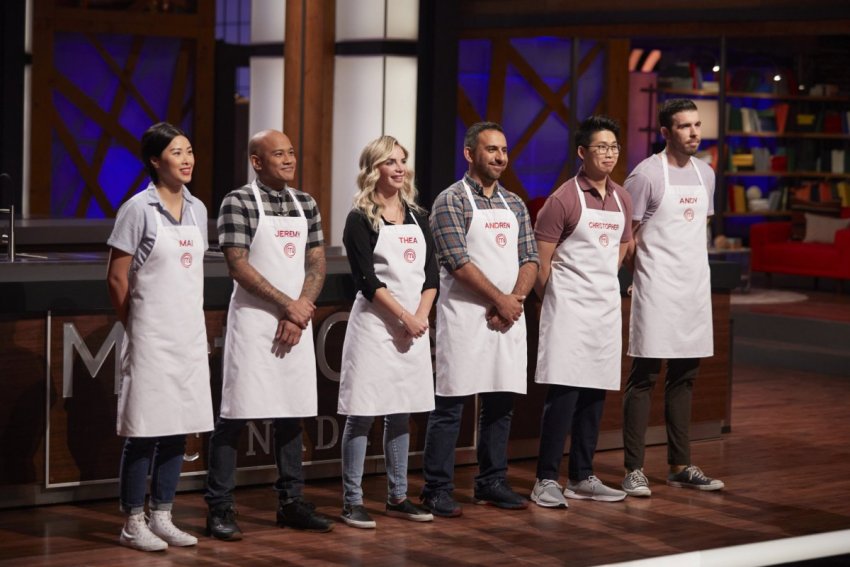 In today's challenge, the chefs are being asked to replicate what Claudio describes as a luxurious seafood platter.
On the particularly large demo platter, we see a seafood spread consisting of steamed mussels in a white wine broth, fritto misto (fried halibut, smelt, oysters), grilled sardines with gremolata, red snapper ceviche, coquilles Saint-Jacques (poached scallops with cream sauce) topped with a Gruyere cheese gratin, and pan-fried squid stuffed with fennel, pinenuts, and breadcrumbs.
Being located near the ocean could potentially give coastal chefs Andrew (Halifax), Andy (Dartmouth), and Thea (Vancouver) a slight advantage over their landlocked competitors, but it's probably safe to assume each of the remaining chefs have had their share of experience with a wide range of sea-centric provisions.
Just as I was about to say that this might be Thea's best chance yet to win her long-sought-after first individual challenge, she reveals that she has a shellfish allergy. She says she's cooked with seafood before, but it definitely doesn't seem like she's thrilled to be doing so today.
In addition to what appears to be a fairly intricate and time-consuming replication challenge, the chefs are also being grouped into teams of two. As the winner of last week's challenge, Andrew will not only have the luxury of picking his own teammate, but he will get to choose the other two teams as well.
Without any hesitation, Andrew picks fellow Nova Scotia-based chef Andy as his partner. He then elects to pair Christopher with Mai, leaving Thea and Jeremy as the final duo. Although Christopher and Mai have both stood out in their own rights, Andrew suggests that Christopher's particularity and Mai's headstrongness may cause the two to clash.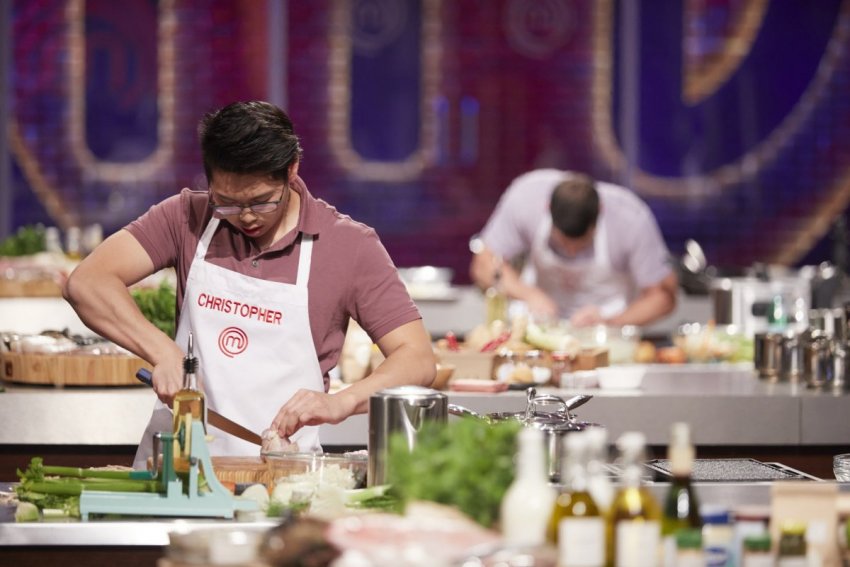 Mai immediately objects to Andrew's assessment and I personally have to side with Mai on this one. Mai's approach to her leadership role in episode 3's team-based challenge was open-minded and highly collaborative. She also points out that such an assertion would never be directed toward a male chef, and while I dont think there was any malicious intent in Andrew's comment, once again I think she's spot on. Christopher says he's thrilled to be paired with Mai.
Andrew goes on to say that he believes Jeremy is his biggest competition and that due to Thea's aversion to shellfish, pairing the two together should level Jeremy down. I'm not sure if Jeremy also objected to what Andrew said about Mai, but he fires right back at the East Coast chef, stating that his extensive experience with seafood gives him the advantage, regardless of where the other chefs happen to call home.
I think Andrew may have just added fuel to Mai's and Jeremy's already fiery determination.
Claudio tells the competitors that one chef will be allowed to cook at a time and that they will have to switch periodically throughout the 60 minute challenge, however, when the judges announce the final switch, both tag-team partners will have the opportunity to work together.
Tag-team replication challenge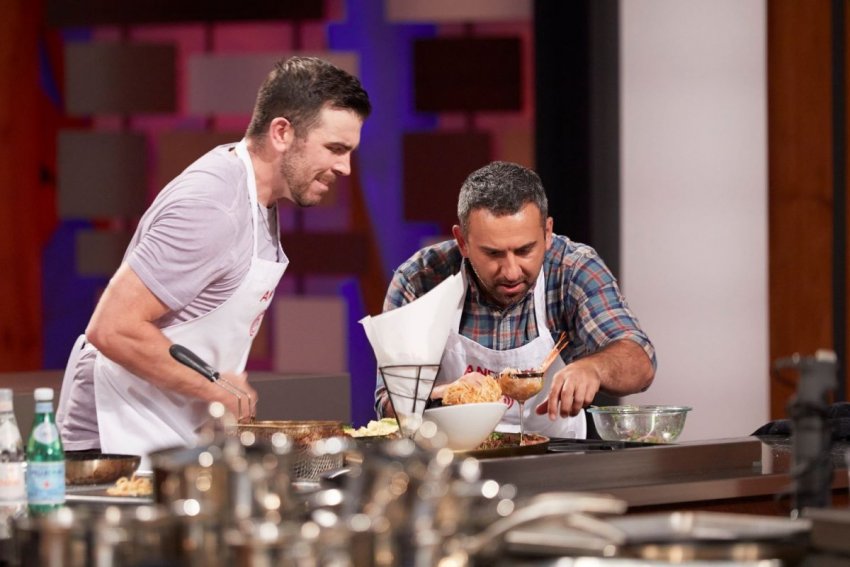 To start the challenge, Andy, Thea, and Christopher each begin to prep their stations as their counterparts offer aid and instruction from the sidelines.
Of the three chefs, Andy, who prides himself on his quickness, seems to take an early lead. Unfortunately, his rapid pace causes him to cut himself not once, but twice–in rather quick succession–which in turn causes the East Coast duo to fall a bit behind from the pack.
As the clock hits the 15 minute mark, the judges announce the inaugural switch. At this point, the chefs' need for speed seems to also be deterring the dynamic between Mai and Christopher. The two chefs appear a little disjointed in their approach to this stage of the challenge, as Christopher tends to prefer a pragmatic approach, while Mai seemingly wants to complete as many components as she can during her time in the driver's seat.
Over on Jeremy and Thea's station, Jeremy begins skinning his squid with a pace and precision that immediately impresses the judges. He uses a very unique technique, which Michael claims to have never seen before. Earlier in the competition, Jeremy said that he's been breaking down squid since he was a young child, and it's becoming quite clear that he was not exaggerating in the slightest.
Halfway through the challenge, just as Jeremy and Thea begin to take their first lead of the day, the judges announce the second switch. So far, the switches have each come in 15 minute intervals, but once Thea begins stuffing and searing the squid, they surprise the competitors with yet another swap.
With 15 minutes left on the clock, each of the three chefs who are currently cooking have really found their respective rhythms. Thea does seem a bit frustrated by Jeremy's lack of communication, but she continues to provide him with plenty of positivity and encouragement.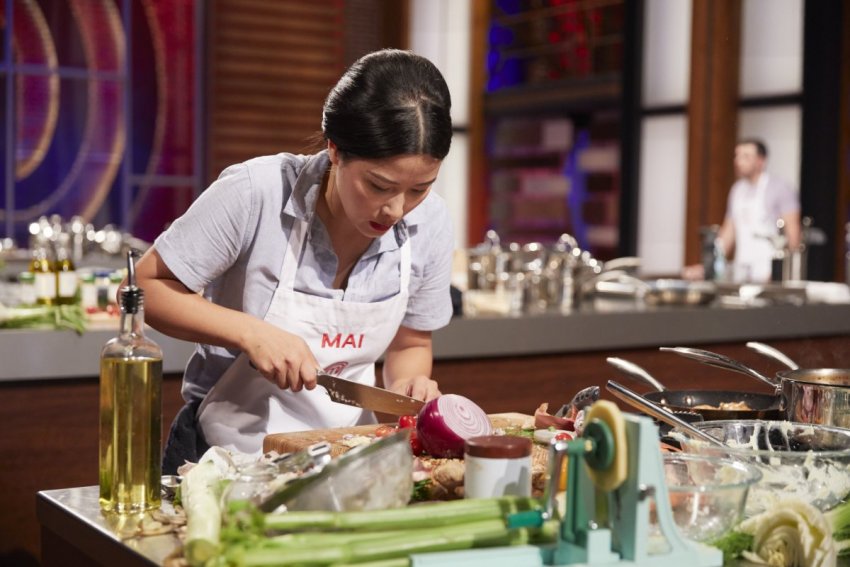 After another series of swaps and a palpable increase in intensity, cooking commences and the chefs begin to realize just how much is left to be completed. With five minutes left on the clock, only a few of the final products have begun to take form. Of the three teams, it appears as though Mai and Christopher have now taken the lead.
I had assumed that the final switch would take place much sooner in the challenge, but as it turns out, the teams are only given 60 seconds to work together to plate and present their final platters. Although the plating process was far from pretty, the three teams seem to have each finished on time.
Judges' Table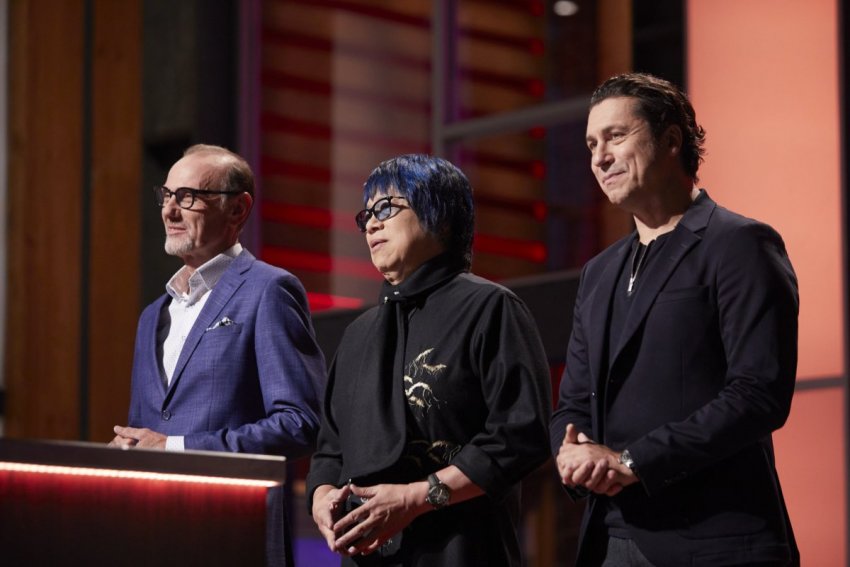 Andrew and Andy are the first to present their seafood platter to the judges. At first glance, I'd say it looks fairly similar to the demo platter, but it does appear to be missing a component or two. Claudio tells the East Coast chefs that he thinks they were on the right path, but that there were obviously a few missteps that led to a somewhat sloppy presentation.
After digging into the ceviche, Claudio remarks on the rareness of the fish, the lack of seasoning, and the amount of liquid remaining in the dish, but states that he's much happier about the mussels. Michael dives right into the sardine, which is beautifully cooked and full of flavour. Although their coquilles Saint-Jacques isn't picture-perfect, the cook is on point and Michael seems pleased. Alvin rounds out the judgement process with some objections to the doneness of the fritto misto and the lack of sauce, but states that their squid component is excellent.
Mai and Christopher's platter looks almost identical to the one they were told to replicate. Alvin tells Andrew that he clearly misjudged the two competitors, and after tasting the squid, he praises the precision, technique, and flavour the two chefs were able to produce. The fritto misto is slightly underdone, but the aioli is impeccable.
Claudio approaches the podium and is initially in awe of the ceviche presentation, but after finding a bone in his first bite, his tune promptly changes. Christopher shoulders the blame, but it seems like a oversight on both chefs' part considering Mai is known for her butchery skills. Although he was clearly displeased with the ceviche, Claudio does proceed to compliment the cook on the mussels and the depth of flavour of the broth. Michael follows by stating that the sardine is fabulous and the coquilles Saint-Jacques are fluffy and delicious.
Jeremy and Thea place their platter on the podium and before the judges can even offer their critiques, both chefs appear to have already conceded. They're missing the fritto misto and the aioli, and their mussels are missing their garnish. Despite his obvious disappointment, Michael compliments the cook of both the coquilles Saint-Jacques and the sardine. The chefs appear somewhat alleviated, but the feeling is quickly diminished after Claudio tells them that their mussels are badly overcooked, and that their ceviche is dry and lacking in complexity. Alvin offers some reprieve by applauding their squid, but neither of the two seem that relieved.
The judges then reveal what the chefs likely already knew; Mai and Christopher created the top platter of the day, while the bottom belongs to Thea and Jeremy. What comes next, however, comes as a surprise to every chef in the MCC kitchen; the two will now have to compete in a head-to-head replication challenge to determine who moves on to the final five and who goes home for the second time.
Head-to-head Elimination Challenge
Claudio tells the two competitors that since they've struggled enough with the surf, they'll now have to fight for their lives with the turf. Claudio unveils a classic steak au poivre, which has been crusted with crushed peppercorns, cooked to medium rare, and topped with a creamy pan sauce.
If that wasn't enough, they will also have to prepare a steak tartare, and they will only have 15 minutes to complete the two dishes.
As Michael points out, both chefs were finalists in their respective seasons, so this kind of pressure isn't exactly new to either of them. Thea seems to acknowledge the difficulty of the challenge, but remains looking relatively confident. Jeremy looks like he's about to go to war.
The countdown commences and the two chefs begin to prep their dishes. Jeremy elects to start by trimming the fat from his filet, while Thea chooses to work on breaking down her peppercorns. Despite some concern from the balcony that Thea has spent too long on the pepper crust, both cooks appear to start searing their steaks at roughly the same time.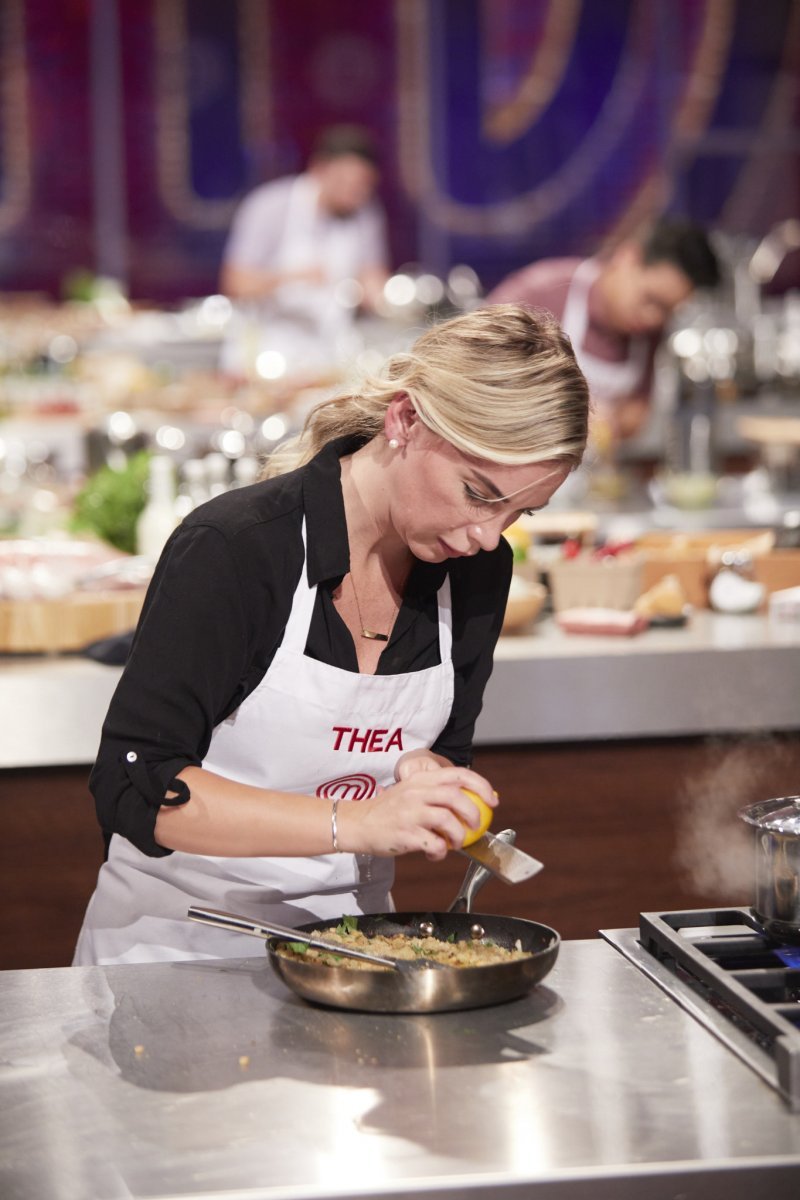 One distinct deviation between the two chefs' approach is that Thea has chosen to cook two filets and Jeremy is only cooking one. Claudio believes Thea has chosen the superior tactical approach, but Alvin questions whether or not there will be too much going on in her pan.
After deglazing their pans in preparation for the sauce component, both chefs begin to add their cream, but both sauces suddenly split. Fortunately for the two former finalists, they each manage to reduce their heat in time and seem to recover after adding more cream. We don't get to see much in terms of either chefs' tartare preparation, but as the countdown concludes they both have seemingly succeeded in plating each dish on time.
As the two chefs approach the podium, Jeremy notes that his pan sauce hasn't turned out the way he had intended, but that he believes his steak is cooked perfectly. Thea also expresses concern regarding her sauce, which she seems to have reduced just a tad more than the demo dish.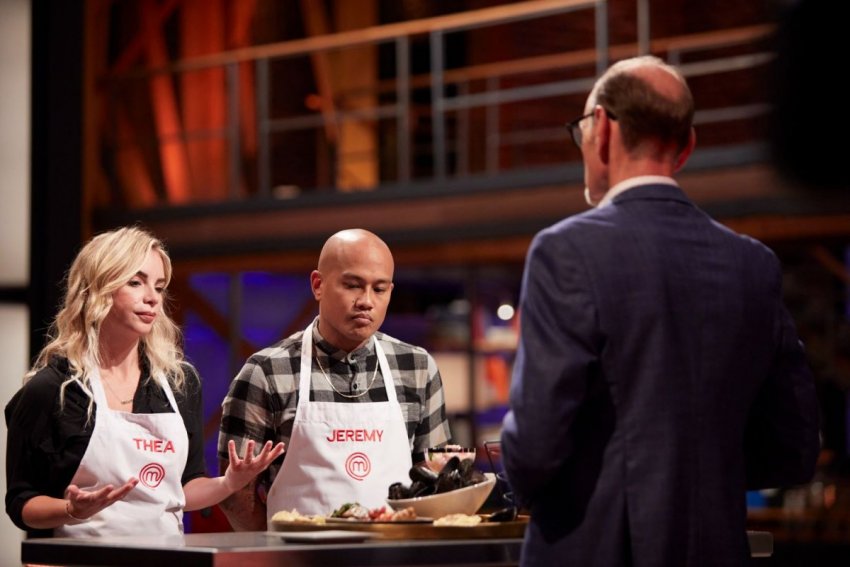 Michael cuts into Thea's steak and just as she raises her hands to celebrate the cook, Michael points out that he believes that it's leaning ever so slightly toward the rare side. The seasoning, flavour profile, and overall balance of the steak, however, are spot on and the sauce is lush and rich.
Claudio steps up to sample the tartare and to Thea's delight, he has nothing but adulation for the Vancouver-based chef. The tartare packs a pleasant punch, the garnishes are great, and the seasoning is superb.
Michael moves on to Jeremy's dish and unlike Thea, Jeremy appears to have been unable to salvage his separated sauce. Although Michael states that the sauce is unsightly, he believes Jeremy has achieved a perfect medium rare cook, and despite how it looks, the sauce is nicely seasoned and well-balanced.
After digging into his tartare, Alvin tells Jeremy that he's done a tremendous job. He's used a perfect combination of seasoning, aromatics, and spices. It looks like the deciding factor will come down to Thea's slightly undercooked filet versus Jeremy's broken pan sauce.
At this stage of the competition it's tough to see anyone eliminated for such a small slip-up, but after a brief deliberation, the judges determine that Jeremy's steak au poivre was the weaker of the two, and he is eliminated from the competition.
Kitchen Scraps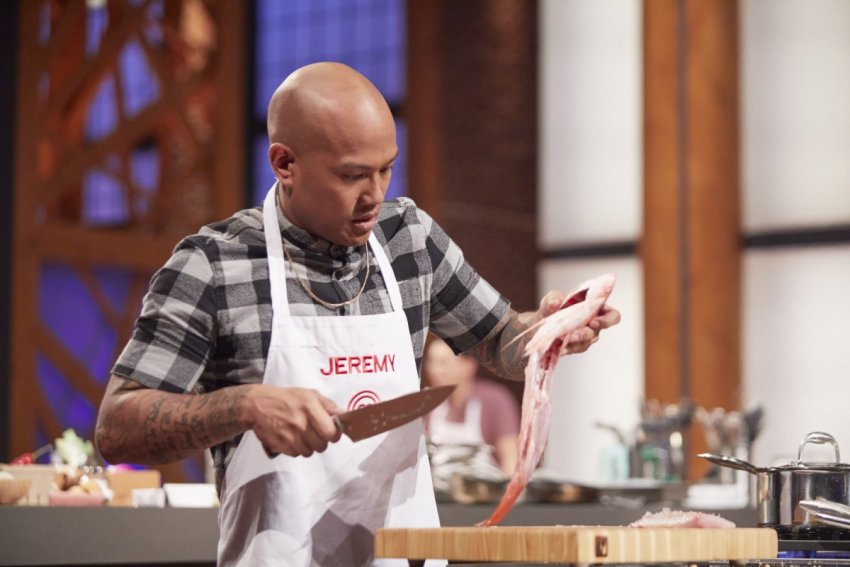 I think Jeremy was correct in that he probably took on too much in the tag-team challenge. Had he allowed Thea to have more responsibility, I think she would have risen to the occasion. Ultimately, the decision led to his untimely undoing and unfortunately, one of the competition's frontrunners was eliminated.
That being said, this is the season of All-Stars and Thea has most certainly proven that she is a top contender as well. As much as she's expressed that she wants to win her first individual challenge, as long as her consistently-strong performances continue to see her through each stage of the competition, individual challenge wins won't really be that important.
Mai and Christopher showcased a special kind of synergy today that left me hoping to see some kind of future collaboration between the two talented chefs. Christopher has also now made it as far as he did in his initial MCC run, and if he continues to cook the way he has the last few weeks, I think it's highly likely that he will go on to surpass that feat.
Each of the final six chefs ran into their share of snags during today's challenge–Andy in particular has the battle scars to prove it–but considering how much they were tasked with completing, they should all feel proud of what they accomplished.
MasterChef Canada: Back To Win airs Sunday nights on CTV.