We're now down to the final five on MasterChef Canada: Back To Win. Although Andrew's individual success so far could place him as the competition's current frontrunner, last week's tag-team battle and the unexpected departure of one of the season's strongest chefs showed us that anything can happen in the MasterChef Canada kitchen.
The chefs enter the MCC studio and in place of their usual setup, they find a luxurious long table adorned with decorative decal and three dapperly-dressed judges awaiting their arrival. Andrew is quick to joke that he's "not the most fanciest of fancies," so perhaps his momentum may be momentarily rendered moot.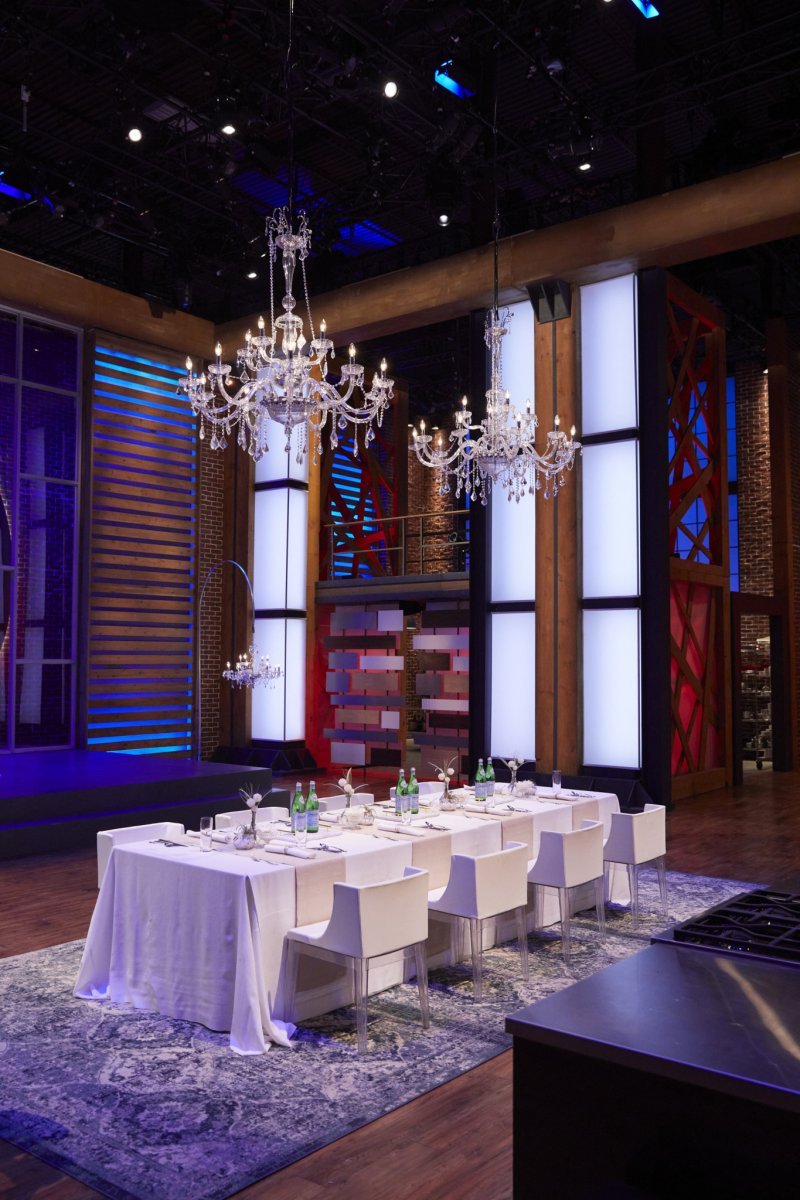 The judges inform the final five that in tonight's challenge, they'll be hosting a dinner party for eight culinary insiders with very discerning palates. Michael explains that the chefs will have to work together to develop a cohesive five-course tasting menu, and each competitor will be responsible for creating one of the five dishes.
Unlike previous challenges, it sounds like the judging process for this portion of the competition will be based solely on the feedback of their eight mystery guests.
The chefs all head to the pantry to discuss their potential menu ideas. Thea is extremely quick to claim ravioli for her course but Andy reminds her that since cohesiveness is crucial to the conceptualization of a multi-course menu, they should sort out their general theme first.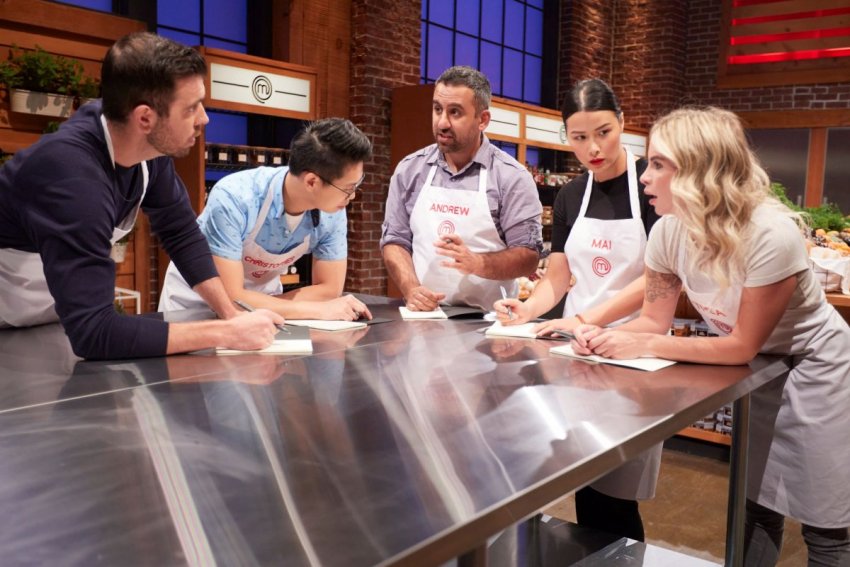 Mai suggests they do an Italian fusion concept, which the chefs all seem to agree upon, but after stating that she wants to do a seafood dumpling, Thea questions whether doing two stuffed pasta-style dishes is the right choice. Neither of the two appear willing to compromise, so instead of wasting more time figuring out which dish is the better choice, the five chefs decide to do both.
In an attempt to balance out the starchiness of Thea and Mai's dishes with something light, Andrew elects to take on a salad course, but immediately thereafter, Andy decides to do a patatas bravas. Christopher is the last to chime in, but fortunately for the Ontario pastry chef, only the dessert course remains.
So far it seems like all of the cooks apart from Andrew are far more concerned with the individual aspect of the challenge, but I am starting to wonder if his decision to support the team by serving a salad could potentially come back to bite him.
Dinner Party Challenge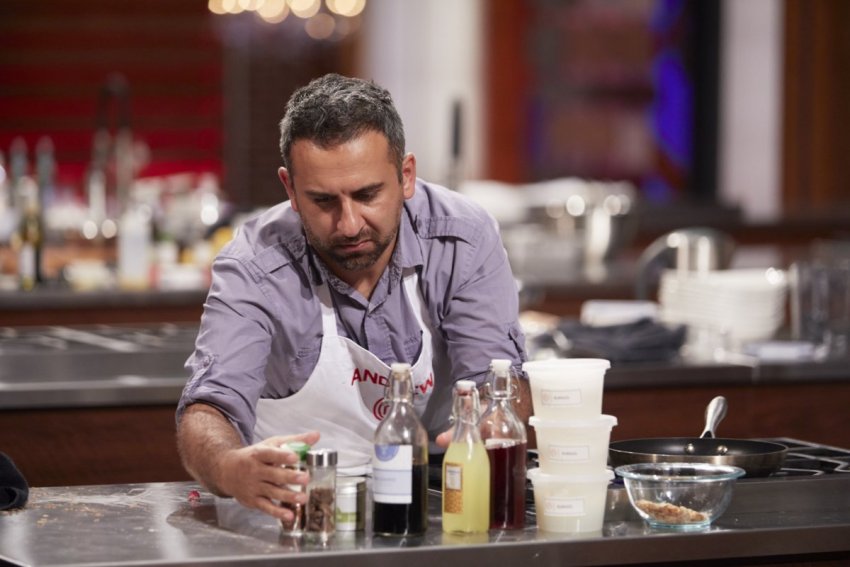 The chefs race back to their stations and begin prepping their dishes. Andrew appears to be aware of the potential disadvantage in his decision, stating that he probably has the hardest job because it's also the easiest. He's going for a caprese salad composed of pine nut picatta, dehydrated ibérico ham, burrata cheese, caramelized fennel, balsamic reduction, and a medley of fresh and smoked-and-roasted garlic tomatoes.
Mai points out that while savoury dumplings are her bread and butter at her business in Edmonton, she has yet to showcase the particular style in the MCC kitchen. For the second course, she's doing lobster and spot prawn stuffed cappelletti in a miso, chili oil, and yuzu seafood broth. Michael offers some concern regarding the similarities between Thea and Mai's dishes, but Mai insists that the differences in their stuffing will suffice.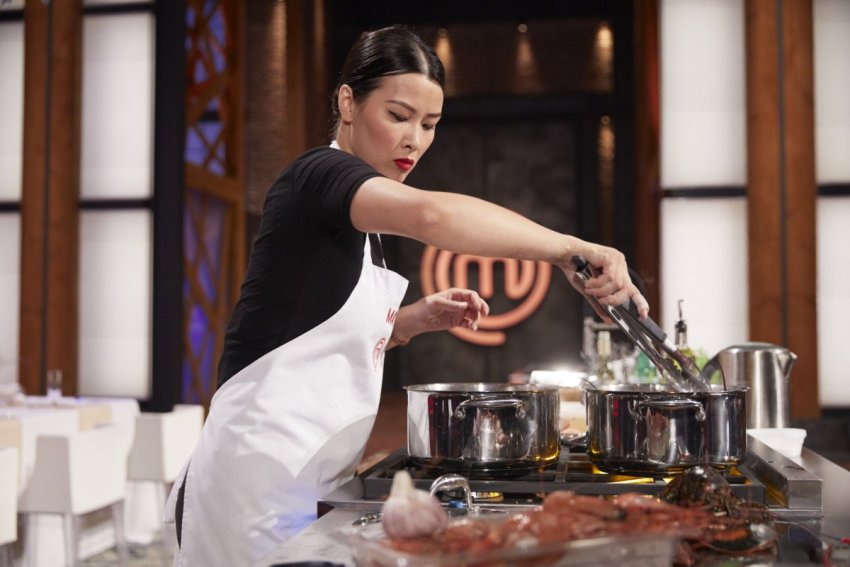 For the third course, Andy is doing patatas bravas confited in duck fat with octopus on a garlic and lemon aioli and a rich tomato paprika sauce. Although his dish is obviously very Spanish, he explains to Claudio that it fits into his team's theme because he's using predominantly Italian ingredients. Claudio also points out that Andy's dish is adding a lot of heaviness to an already starch-centric menu, and recommends adding something light to balance it out.
I have to say I'm a bit perplexed by Andy's choice of cuisine here and I'm not entirely sure he's made the right decision, but I imagine it will be tough to send him home solely on that premise if he executes the dish perfectly.
Thea is taking on the fourth course. Her dish is a ravioli doppio stuffed with braised skirt steak. Claudio is quite quick to question her choice of protein, since skirt steaks typically take much longer to braise than other more naturally-tender beef-based options.
One could argue that Christopher has an obvious advantage in doing the dessert course, but since he rarely elects to make things easy on himself, he's decided to make a caramel-infused hazelnut chocolate mousse with a truffle egg yolk vanilla ice cream and gold flake garnish. Despite the complexity of the tasks he's set out to complete, I have a feeling he will once again rise to the occasion.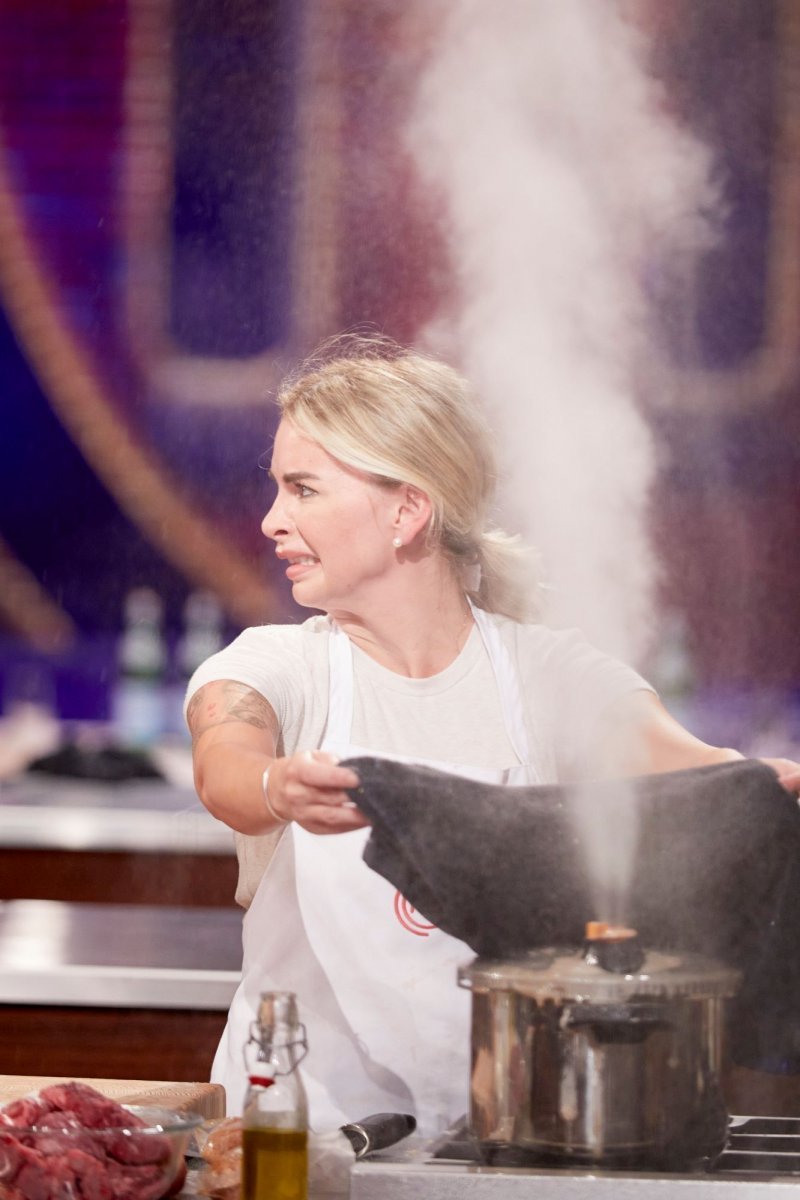 As the pressure of tonight's challenge continues to build, a few of the final five chefs have started to stumble; smoke is pouring out from Andy's station after his crostini catches fire, while Thea's pressure cooker begins erupting liquid like a geyser.
With little time left on the clock, despite making some solid steps to regain her footing, Thea suddenly calls for a medic and falls to the floor. She's pushed herself extremely hard to get to the plating process, but everyone has a limit and she appears to have hit hers here.
Thankfully, after a bit of medical attention and some encouragement from the judges and her fellow competitors–who each halted in their tracks to make sure she was alright–she manages to get up on her feet and back to her station to finish what she started.
The countdown concludes and all of the chefs–including Thea–manage to plate their eight dishes on time.
Judges' Table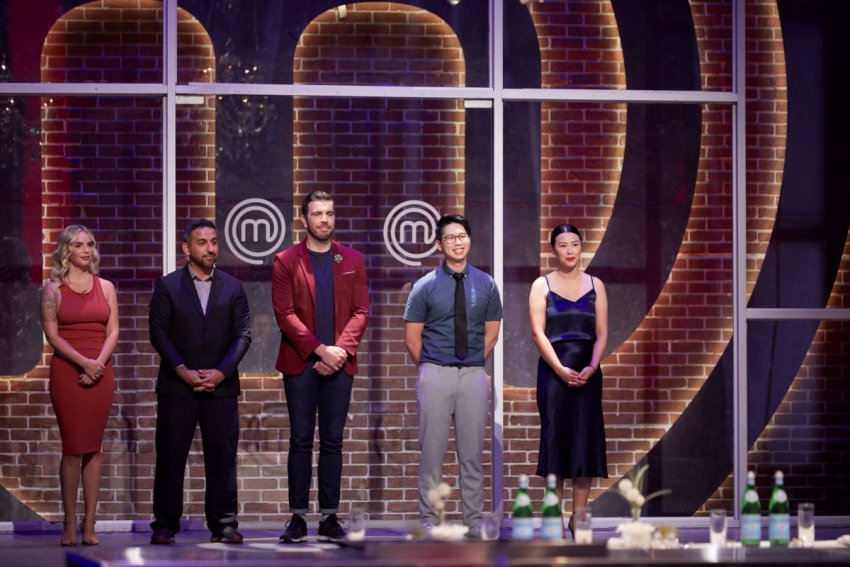 The judges commend the chefs for putting their hearts and souls into tonight's meal and suggest that the dinner party guests will undoubtedly be impressed by their performance. Michael then surprises everyone by saying that tonight's guests have already arrived; the eight culinary VIPs are the final five cooks and the three esteemed MasterChef Canada judges.
I guess it kind of seems obvious in retrospect, but since nothing like this has ever happened in the history of the six-and-a-half season series, I for one definitely did not see it coming.
After exiting the kitchen to change into more appropriate attire, the competitors return to the MCC long table to join the judges for dinner where they will be tasked with ranking each of their competitors' courses from best to worst.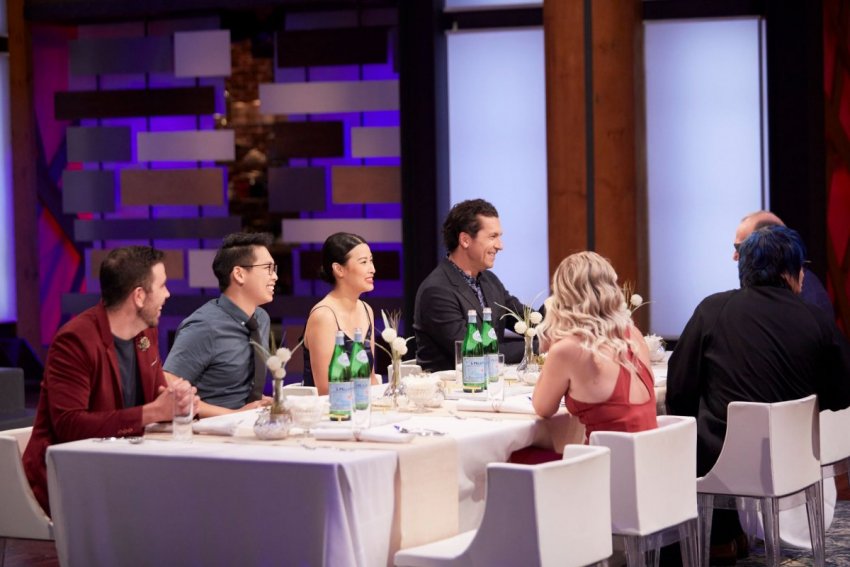 Andrew kicks the dinner off with the first course and at first glance, it looks like he's accomplished exactly what he set out to do. Despite the inherent simplicity of a salad course, he's managed to showcase a fair amount of technique and finesse for a light and subtle salad course.
His fellow competitors seem impressed by the presentation, texture, and balance Andrew was able to achieve, but Mai, Christopher, and Andy each offer critiques regarding the lack of assertiveness within his overall flavour profile.
Mai sets down her second course dishes and almost instantly apologizes for the "messy plates" but everyone at the table appears to be impressed by the presentation. Andrew says that it tastes as good as it looks, but he would prefer a single seafood stuffing as opposed to two. Christopher seconds that notion and adds that due its delicate nature, the texture of the prawns can be a bit mushy.
Andy delivers the third course and his presentation is also quite lovely, but I'm still wondering where it fits within the overall theme. Although he hasn't shown any lack of confidence about the concept itself, he does seem more nervous than usual.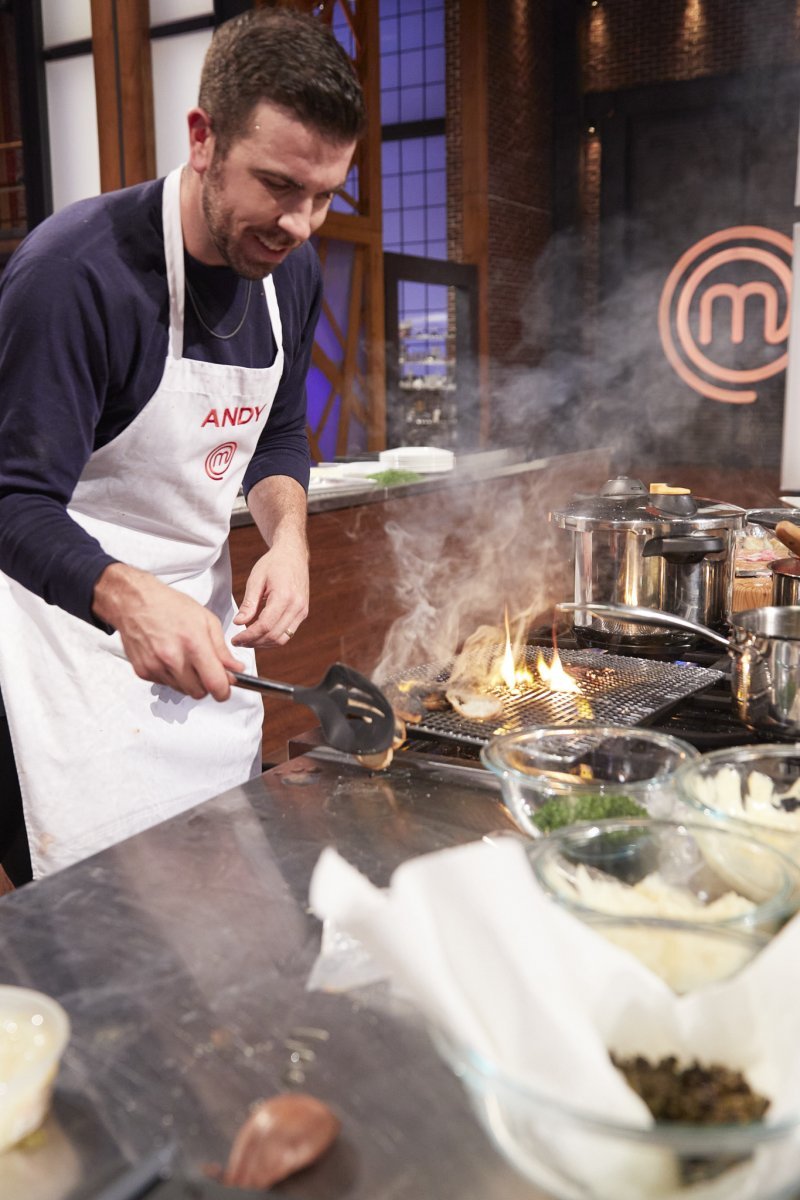 Christopher is the first to offer his critique, stating he enjoys Andy's play on patatas bravas, but that the octopus is slightly chewy and that some of his garnishes added to the heaviness of the dish. The other chefs also express their concern with the octopus' doneness, as well as the decision to divert from the Italian theme.
As Thea presents the fourth course, much like Mai, she starts out her description with an apology. As the camera zooms in on her dish, it looks like the presentation of her ravioli is also strikingly similar to Mai's. Although Thea burnt her original broth in chaos of the final countdown, she was able to produce a last-minute beef reduction that each of the chefs seem to enjoy.
Mai offers several compliments about the flavour of both the broth and the ravioli, but says she would have enjoyed a bigger bite. Alvin asks Christopher how he feels about having two pasta dishes and to Mai and Thea's dismay, he subtly calls into question their unwillingness to compromise for the good of the team.
At this point everyone appears to be in agreement that they shouldn't have elected to do two pasta dishes, but after Mai states that the fourth course should have been a protein, the criticism seems to only be directed at Thea. Neither chef was willing to divert from their original concept, so in my opinion, they are both to blame for this scenario.
After Andrew diffuses the brief moment of tension by praising Thea's remarkable determination in finishing the challenge, Christopher presents the final course. The chefs and judges begin to dig in and aside from some slightly subdued confusion-driven laughter, everyone at the table is initially speechless.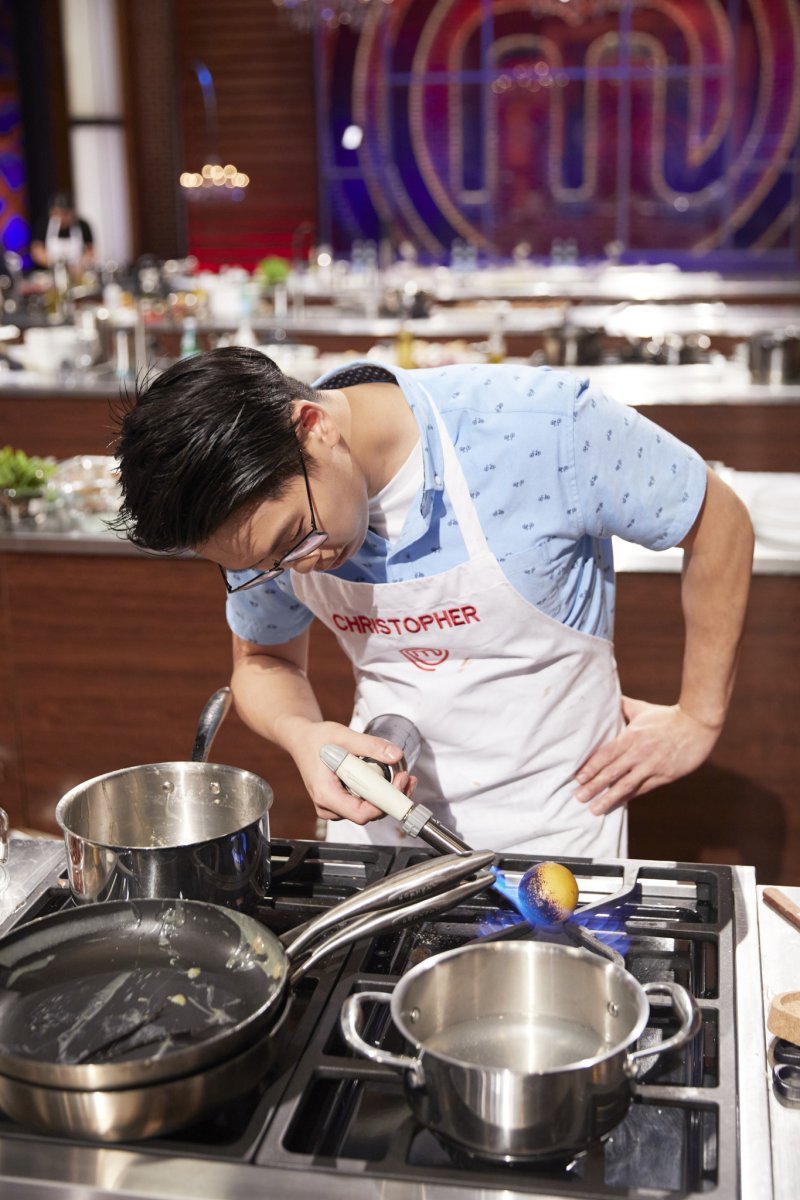 Andy sums up his experience by saying that his brain is trying to catch up to what he just ate. He says he didn't think he liked the truffle ice cream at first, but the more he ate it the more he enjoyed it. Mai and Thea however, do not appear to have enjoyed it. They both felt that the flavour combinations didn't really come together.
When he executes a dish the way he wants to, Christopher usually exudes confidence, but that confidence is now starting to falter. He says that if he had known his fellow competitors were going to judge him, he would have strayed from such a polarizing concept in favour of a more comforting approach. The judges are each blown away by what Christopher created, but unfortunately for him, they won't be doing the judging this time around.
As the chefs head back to their stations to rank their fellow competitors, Andy points out what I believe to be a critical flaw in tonight's challenge; Christopher is a huge threat to him and if he wants a shot to sneak his way into the finale, he needs to use the opportunity to eliminate Christopher today.
After the chefs submit their rankings and the judges tally the votes, they declare Mai the overall winner with the most positive feedback of the night, followed by Andrew and Thea in the runner-up positions. Of the final two, Andy received the most approbation, leaving Christopher in the last place position.
However, in yet another shocking turn of events, the judges, who once again commend Christopher for the dessert he created tonight, announce that he will be spared from elimination. He will be faced with a disadvantage in next week's challenge, but he will live to cook another day.
Kitchen Scraps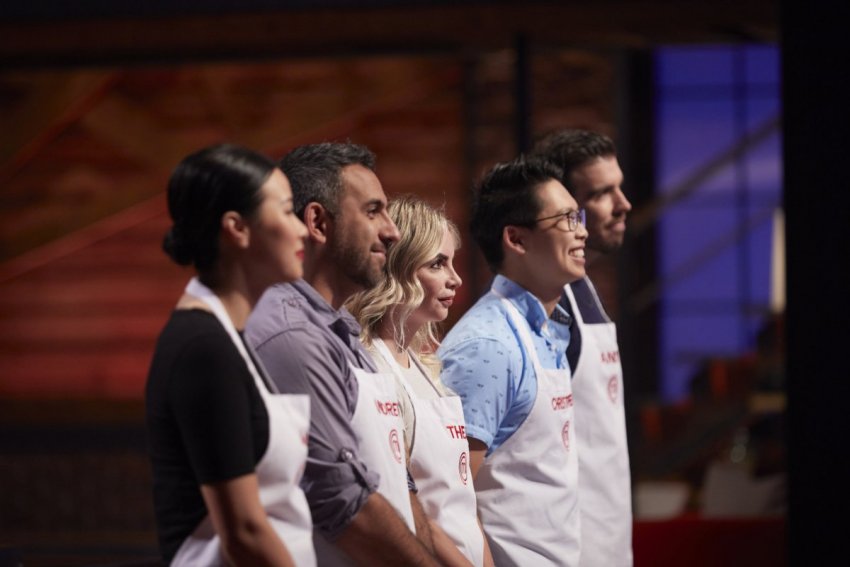 I have a lot of mixed emotions about tonight's episode. I would have been genuinely upset if Christopher were to have been eliminated by strategic voting from his fellow competitors, but with only three episodes remaining, do we really need what basically amounts to a filler episode?
I haven't watched it in a long time, but tonight's episode kind of gave me Hell's Kitchen vibes.
In terms of individual performance, I think it's safe to say that Mai probably deserved the win. She certainly didn't showcase the same kind of team spirit she portrayed in previous team-based challenges, but she did exactly what she needed to do to move onto the next round.
Conversely, Andrew surprised me somewhat with his willingness to sacrifice his chances of standing out for the benefit of the team. I was initially a bit worried that doing so would make him an easy target for elimination, but he was able to utilize his extra time efficiently and delivered a dish that still managed to highlight his creativity and technique.
Without getting the chance to actually taste Christopher's dish, I can't really comment on the quality of his dessert, but I do trust the judges' palates and they appeared unequivocally impressed by what he was able to produce. He continues to push boundaries and dazzle the judges with his innovative thought process, technique, and thorough understanding of complex flavour profiles.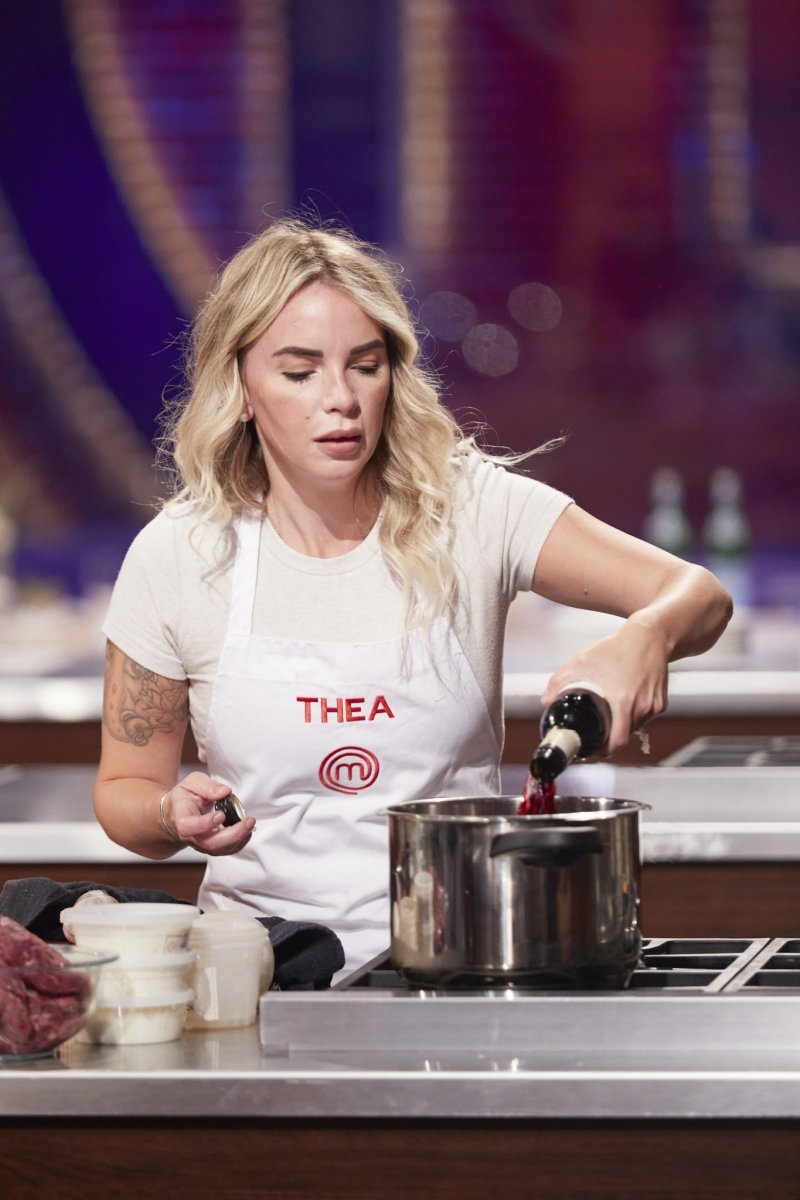 Although it was extremely distressing to watch Thea struggle toward the end of the challenge, witnessing the reaction of the chefs as they disregarded the high stakes moment in favour of ensuring Thea's well-being was overwhelmingly uplifting. Throughout the entirety of the Back to Win season, Thea's ability to overcome the odds in the face of seemingly insurmountable pressure has been remarkable.
I have a sneaking suspicion that we might be in store for our first double elimination of the season next week, but as it currently stands, it's still hard to single out any one of the remaining cooks as a sure bet to compete in the finale.
MasterChef Canada: Back To Win continues with episode 10 on Sunday, May 2 on CTV.